In an effort to aid the state in reaching new environmental goals, the ports of Long Beach and Los Angeles will once again update the Clean Air Action Plan (CAAP).
Originally published in November 2006, the CAAP was a joint effort between both ports to develop strategies to reduce greenhouse gas emissions from port operations. The ports worked with the United States Environmental Protection Agency, the California Air Resource Board (CARB) and South Coast Air Quality Management to create these strategies.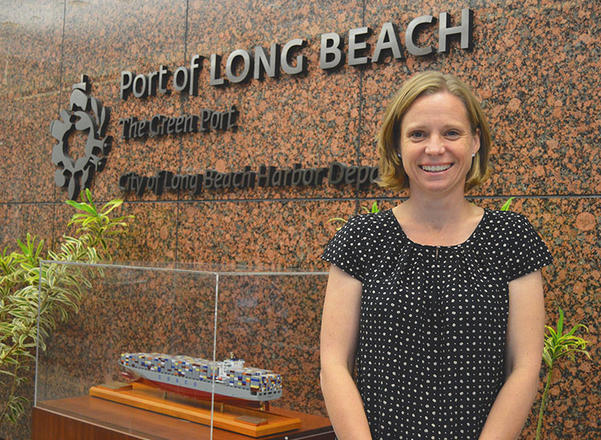 The ports of Long Beach and Los Angeles will once again update the joint Clean Air Action Plan. The original plan was published in 2006 to greatly reduce greenhouse gas emissions from port operations. It was updated in 2010 and the latest update is scheduled for completion in early 2017. A preliminary discussion document is scheduled to be released in next month, according to Heather Tomley, pictured, director of environmental planning for the Port of Long Beach. (Photograph by the Business Journal's Larry Duncan)
"We did an update to the plan in 2010. We built on the strategies that were in there and laid out longer term emission reduction goals that we were trying to achieve," Heather Tomley, director of environmental planning for the Port of Long Beach, said. "Over the last 10 years, we've made huge progress in reducing the emissions from the port operations. So diesel particulate matter has dropped by 84%, nitrogen oxides are down 48% and sulfur oxides have been cut by 97%."
Original strategies for cargo ships included financial incentives for having the newest engines, which are 80% cleaner than older models; decreased speeds upon entering the harbor, which reduces emissions; and utilization of shore power by plugging into the port's electrical grid while loading and unloading, rather than idling auxiliary engines. As of 2012, trucking companies were banned from operating trucks that did not meet 2007 emissions standards.
The ports boast the cleanest locomotive fleet in the country, with the Pacific Harbor Line maintaining the cleanest available locomotives and limiting idle time to 15 minutes. Cargo-handling equipment and harbor craft have also been upgraded to reduce emissions.
Tomley explained that at its current stage, every strategy in the original plan has been fully implemented or is well underway. With the finalization of Gov. Jerry Brown's California Sustainable Freight Action Plan (CSFAP) – the culmination of his July 2015 Executive Order B-32-15, which called for state agencies to develop a statewide strategy to drastically reduce emissions – the ports will soon be updating the CAAP for a second time.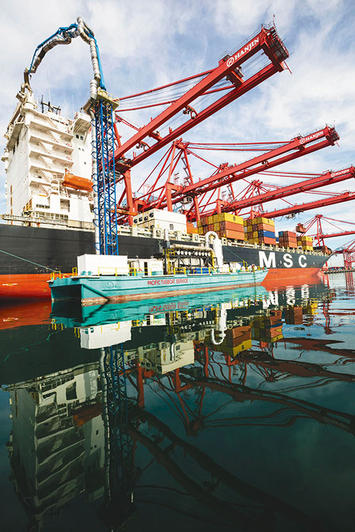 The Advanced Maritime Emissions Control System is a project to eliminate at-berth emissions when ships are unable to connect to shore power and are forced to run auxiliary engines. The system can be seen collecting emissions from the smoke stack of a ship. The collected emissions are then run through scrubbers and filters, preventing them from entering the environment. (Photograph courtesy of the Port of Long Beach)
"The specific strategies will be included in the discussion document which we're going to be releasing at the beginning of November that lays out all of the concepts that we're proposing to move forward with," Tomley said. "Then what we intend to do is, over the next several months, we want to go through a robust stakeholder outreach process and gather input from all of our different stakeholders on the proposals that we're putting out there. Then finalize the plan and take it back to our joint boards for approval in early 2017."
After the discussion document is released to the public in early November, the ports will have a joint board meeting later in the month to discuss the updated plan before the outreach to stakeholders. A date for the meeting has not been finalized, as both ports want all commissioners present.
"The Port of Los Angeles looks forward to updating the Clean Air Action Plan so that we can continue the great progress that we've made over the past decade," Phillip Sanfield, director of media relations for the Port of Los Angeles, said.
According to CSFAP, the state goal is to reduce greenhouse gas emissions to 40% below 1990 levels and cut petroleum use in cars and trucks by half of the current level by 2030. Even though the ports of Long Beach and L.A. have made significant reductions in a fairly short period of time, Tomley said these new goals will still be a big challenge, especially financially, for the ports and related industries to do their part.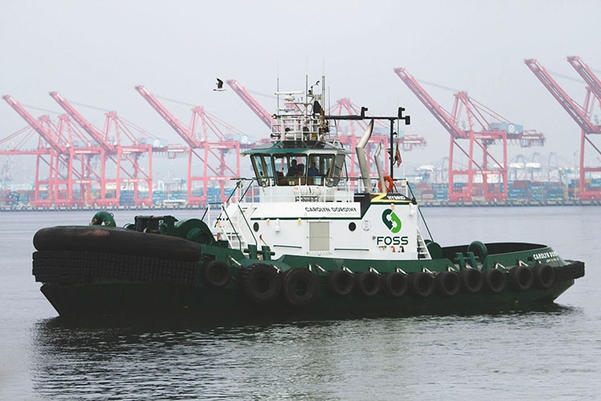 The ports of Long Beach and Los Angeles utilize hybrid tugboats to decrease port greenhouse gas emissions. The hybrids are operated by the Foss Maritime Company and are the world's first hybrid tugboats according the company's website. (Photograph courtesy of the Port of Long Beach)
"We have been in discussions with CARB pretty regularly about what we are trying to achieve here, and they have indicated that there is significant funding that will be available through various programs like cap and trade and the VW [Volkswagen] settlement and other things that are out there," Tomley said. "We want to make sure that we're proactive, so having this information out there and really charting this path puts us in a good position for that funding to be directed here."
To aid trucking, railway and shipping companies further, Tomley explained that the updated action plan will include conducting feasibility assessments in advance of industry deadlines for transition. According to Tomley, these studies will consider the state of technology development and economic factors, and they will include progress reports on the implementation of zero-emission vehicles.
"These strategies that we're talking about are going above and beyond," Tomley said. "Just like the last time around with the Clean Air Action Plan, we have challenges going forward across all the different source categories to hit the emission reduction goals."