With one of the first POW! WOW! Long Beach murals serving as the backdrop for a press preview event today, city officials and artists convened outside the Varden Hotel at 335 Pacific Ave. to celebrate and kick off the annual, weeklong art festival.
Introduced to Long Beach in 2015, POW! WOW! is an international street art series that gathers artists from around the globe to paint murals in various cities, such as Honolulu, Tokyo, Seoul and others. A Hawaii native, Jasper Wong founded POW! WOW! to promote art and culture in public spaces. The festival has allowed artists to decorate Long Beach buildings and walls with colorful visuals.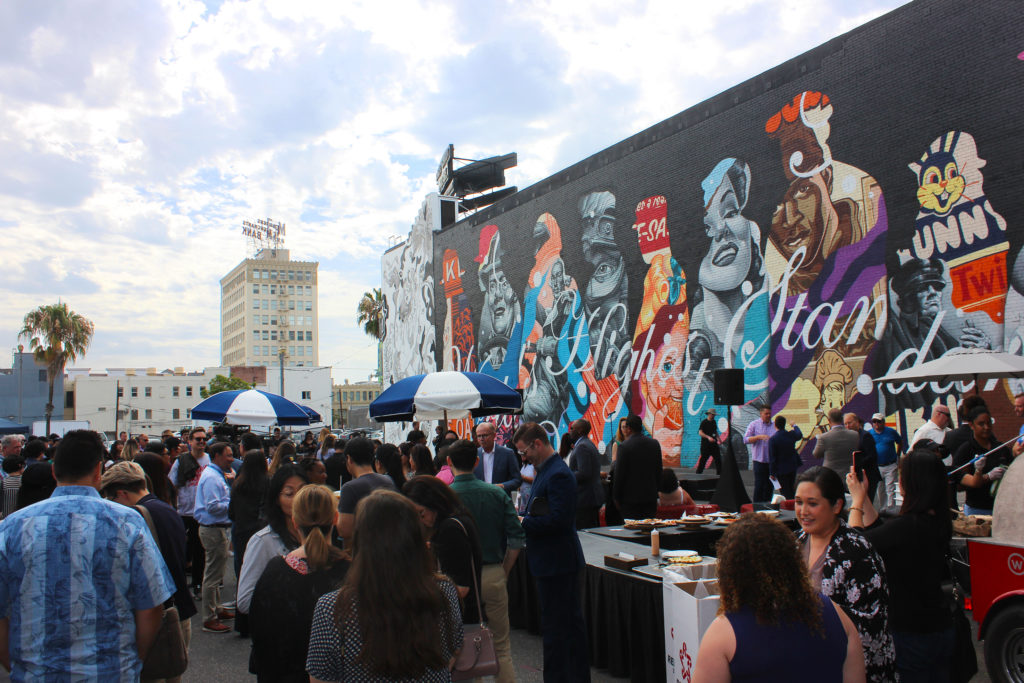 For the fifth consecutive year, the Long Beach community is welcoming free POW! WOW! mural showcases this week at 20 locations, including Drake Park, the Long Beach Convention & Entertainment Center, Rose Park Roasters and others. A full guide is available at powwowlongbeach.com.
The press preview, which included music, food and drinks from local eateries, served as an introduction and expression of gratitude to the community for allowing artists to practice their craft throughout the city, Wong told the Business Journal. "It really is thanks to the community for coming onboard and supporting all the volunteers," he said. "I would say Long Beach is one of the more heavily supported projects that we have throughout the globe."
POW! WOW! was initially a difficult concept to execute in the city, said Julia Huang, CEO of interTrend Communications. A key factor in introducing POW! WOW! to Long Beach, interTrend is a Downtown Long Beach creative agency that serves to connect brands and consumers by focusing on culture and emerging trends.
Local volunteers had to visit Long Beach neighborhoods and pitch the POW! WOW! idea to business owners and organizations, Huang recalled. "The first year was the toughest, because you can imagine going to a wall owner and saying, 'Oh, we're going to have someone paint your wall,'" she told the Business Journal. "They always equate it to graffiti. So, it wasn't really easy."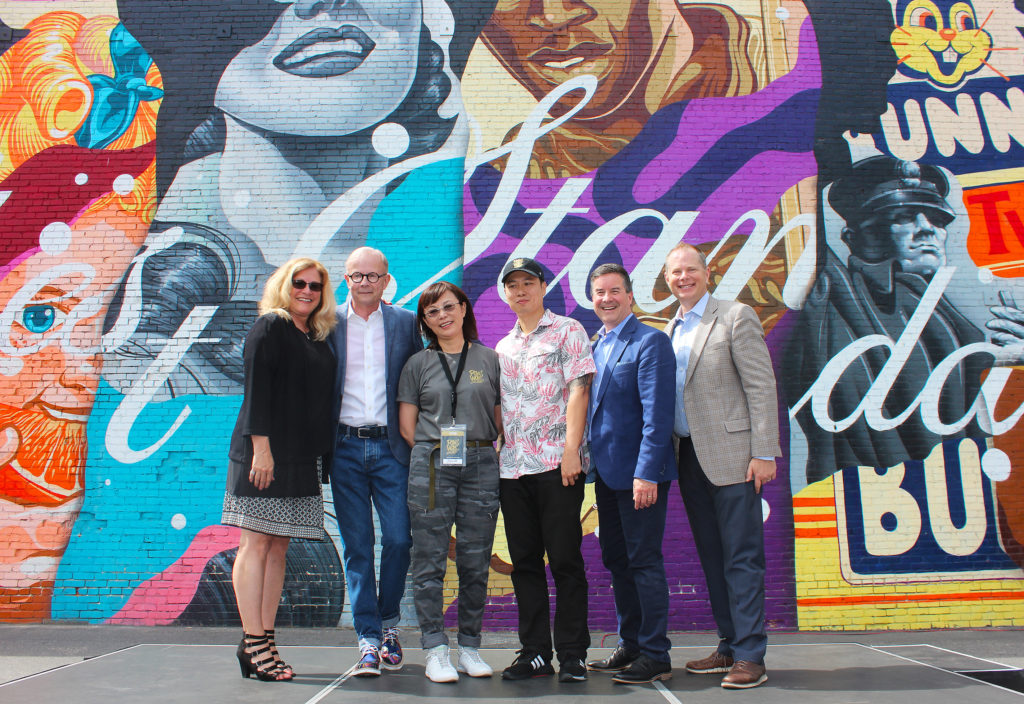 Eventually, the POW! WOW! concept launched with support from the Long Beach Area Convention & Visitors Bureau (CVB) and the Long Beach Museum of Art. In the first year, POW! WOW! resulted in 12 painted murals throughout the city, including the one located on the Varden Hotel's exterior, Huang said. After this week, POW! WOW! artists will have introduced more than 100 paintings citywide since 2015.
Wong said POW! WOW! has received enough notoriety to readily solicit the work of artists for Long Beach. "We're lucky in that respect, where we have this network of artists that's global, and we can pull them in and have them be involved here for POW! WOW! Long Beach," he said. "It's an opportunity to also work with younger and emerging artists that are still developing their work or haven't even done a mural before."
In the past, artists have arrived from places such as Dubai, Berlin and Tokyo, said Steve Goodling, president and CEO of the CVB. By bringing in global artists, Goodling told the Business Journal that POW! WOW! cements Long Beach as a tourist destination. "The murals themselves add to the vibe of all of Long Beach," he said. "A lot of things are in Downtown Long Beach, and it adds further to that visitor experience when people come for conventions or come down to the waterfront for an extended getaway weekend."
This year, through its sponsorship program, the Port of Long Beach contributed $20,000 to POW! WOW! Long Beach, according to Kerry Gerot, director of communications and community relations with the port. "The port is really happy to support all the arts organizations around town," she told the Business Journal. "We feel that a really vibrant community is vibrant because of the arts." She commented that, perhaps next year, the POW! WOW! festivities will bring a mural to the port. "So, I was talking to [Julia and Jasper] earlier today about doing something at the port, so we'll see," she added.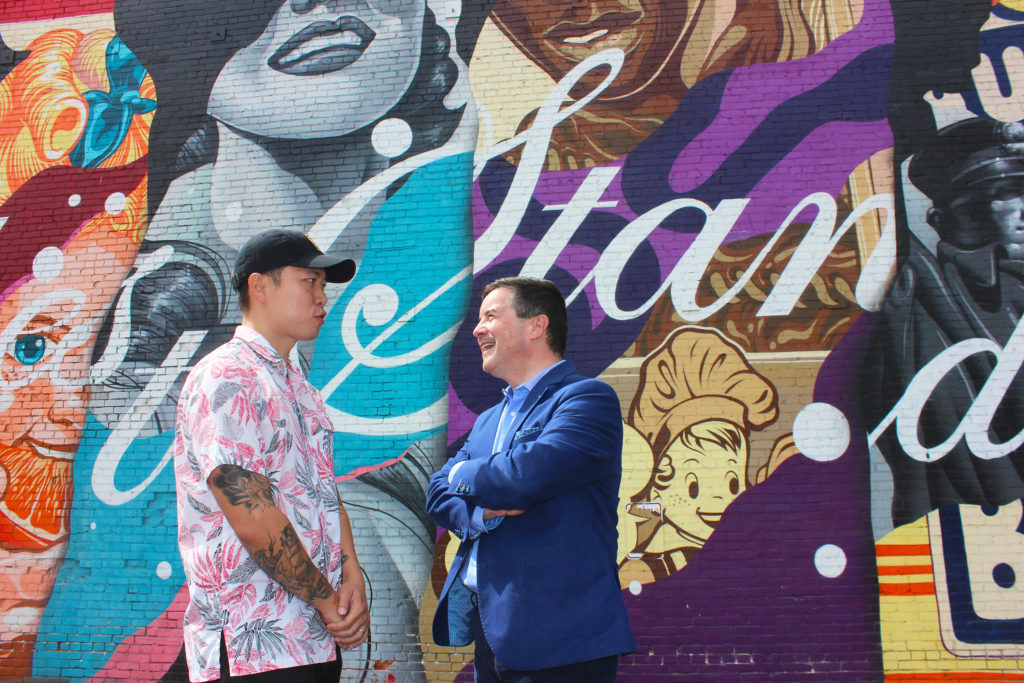 One of the highlights of this year's event is that artists will be creating works at the Long Beach Museum of Art, said museum Executive Director Ronald Nelson. He told the Business Journal that artists will paint a mural outside the museum and also work on three-dimensional sculptures for the event. "I look at it as one big exhibition," he said.
A previous visitor of other POW! WOW! festivals around the globe, Nelson said he truly understood the significance of the event after seeing its influence on an international audience. He said that, in his view, art is something that ties people together in the community. "I think it's infectious," he said. "It's lovely for Long Beach, but it really puts Long Beach on the map internationally. That's always been my goal, and I really feel like we're advancing that. . . . That's all good news for the city. It's really amazing."