With an increased focus on small learning communities and industry-specific education within the Long Beach Unified School District, it is easier for private sector companies to actively reach out to students at a younger age to help garner interest in specific industries.
Long Beach-based P2S Engineering Inc. participates in the ACE Mentor Program of America at Rancho Dominguez Preparatory School in Long Beach. The program is after school and focuses on architecture, construction and engineering. Wes McKean, a group manager at P2S, said Turner Construction Company and MHP Structural Engineers also participate.
"What we do is we come in and share what we do and set up different activities for the kids," McKean said. During the fall semester, activities include the companies bringing in tools of their trade, field trips to construction sites and union halls, and structural building competitions among students, he explained.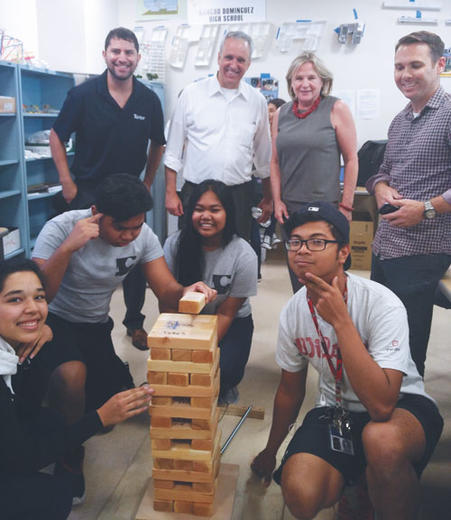 P2S Engineering Inc., Turner Construction and MHP Structural Engineers participate in the ACE Mentor Program of America at Rancho Dominguez Preparatory School in Long Beach. The afterschool program focuses on architecture, construction and engineering at the high school level and includes competitions, field trips and projects meant to engage students and get them excited about the industries. Pictured from left: Mike Lopez, Turner Construction; Wes McKean and Carolyn Keith, P2S; and Dan Fox, MHP. (Photograph courtesy of P2S Engineering)
In the spring, all ACE programs are given a virtual plot of land and assigned a building to design. McKean said the project takes a development project from beginning to end, with students sketching initial designs, constructing wood or cardboard models and finally using a 3D design program called SketchUp to produce the final, digital submission to the ACE organization to be placed in a digital model with all other school projects.
"Kevin and Kent Peterson – they were raised in Long Beach. They went to school at Cal State Long Beach. Their business is in Long Beach. It's their home," McKean said. "Obviously, school is very important, but we want to get them excited about career paths for them. So we all are excited about reaching out to students because they are the future. And at the end of the day, we just want to give back to the community."
McKean explained that P2S recruits employees out of CSULB, so it is pertinent for the company to attempt to encourage high school students to study engineering once they move on to college. He said the company has even had interns right out of high school because it is hard to find people that are excited about engineering. McKean said female students often ask about women in the industry, so P2S makes it a point to bring its female employees to show they do the exact same work as their male counterparts.
Recently, P2S allowed a Rancho Dominguez teacher to spend two days shadowing mechanical and electrical engineers to give him a better idea of what they do. McKean said the hope is that this insight would be passed onto the students, who would become even more excited about the field of engineering.
Though the Port of Long Beach is not a private company, it is intertwined with the maritime and logistics industries in such a way that it can play an integral role in educating students about the industries involved at the port and provide a career path into those industries. It is with this mindset that the port took over the Cabrillo High School Academy of Business and transformed it into the Academy of Global Logistics (AGL), which is gearing up for its second year.
"Within a short year, we were able to accomplish more than 30 experiential learning opportunities, which included harbor tours, speakers, industry mixers. We were able to create a very large advisory board, as well, with industry partners," Alejandra Guitron, community relations specialist at the port, said.
"These are the enriching experiences that the port helps coordinate in addition to what the teachers and Long Beach Unified are teaching the kids – math, history and all the other things that are going to be required of high schoolers in Long Beach," Lee Peterson, media relations specialist at the port, added. "But these experiential events really enrich and bring the program into what it is."
Rather than beginning the program with incoming freshmen, as many programs do, the port opened AGL to all grades its first year. Between 450 and 500 students participated in the program last year, with 105 incoming freshmen signed up for the 2017-2018 school year.
Guitron said one of AGL's greatest accomplishments after its first year was obtaining National Academy Foundation certification, which pushes for industry and business involvement in education, particularly in underserved areas. The previous business program at Cabrillo failed to obtain certification for six years.
The port assists with transportation and branding, and it partnered with CSULB to develop the program's curriculum. Guitron said one of the port's most important goals through its work at Cabrillo is to be a role model for other businesses in the area. She said the port wants to act as a catalyst for businesses taking a greater interest in their communities and educating the future workforce.
"Obviously, we are a big community partner, and we want to be able to give back," Guitron said. "We have to educate students at a young age how the port works and what opportunities lie within it. Being able to create a pipeline and a framework for these students to follow is really our long-term goal."
While partnerships with industries and businesses are relatively new for Long Beach's local high schools, certain partnerships with colleges have been successful for decades. Ben Anderson, president of Encore Welding Supply in Signal Hill, said his company has been working with Long Beach City College and Orange Coast College for 30 years.
Anderson said Encore assists students in the welding technology and metal fabrication programs with obtaining all the proper equipment and materials for each level of courses. He explained that the company offers a student discount and sometimes even donates equipment to students needing help financially.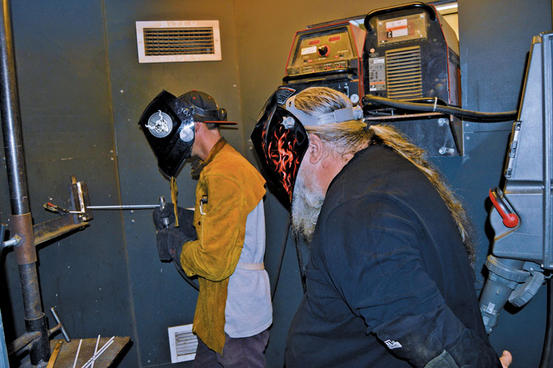 Signal Hill-based Encore Welding Supply provides discounts on welding equipment to students enrolled in the welding technology and metal fabrication programs at Long Beach City College. In addition to equipment, Encore hosts student nights where students learn about different aspects of the trade. (Photograph by the Business Journal's Larry Duncan)
"The student is the future welder who becomes supervisor then manager and quite often ends up owning their own company and becomes a customer for life," Anderson said. "We're promoting the trade and helping the industry. We're very short on welders as a career due to the retiring age compared to the number of people coming in to fill the voids."
Anderson explained that he often tell his customers about promising students in hopes of assisting graduates in obtaining work quickly. He said the company also hosts quarterly student nights at its facility, where students learn about specific aspects of the industry, whether it's from a manufacturer of welding machines or a company looking to promote welding at their business. Additionally, Anderson said Encore hosts events at various companies' locations to promote the variety of work available in welding or skilled trades.
Earlier this year, the California Department of Transportation (Caltrans) supported a Joint Training and Certification Program for materials testing technicians in the specialties of Portland cement concrete, hot-mix asphalt, soils and aggregates at CSULB with a $1.3 million grant. The program was proposed by eight construction trade associations in 2014.
"[The associations] approached Caltrans and asked if they wanted a joint training and certification program where their technicians would be gaining certification side by side with Caltrans technicians," Shadi Saadeh, principal investigator and CSULB associate professor in civil engineering, said. "Basically, they wanted a consistent, same level of training and certification to be provided to both state and private agents."
The school is coordinating the effort, including providing venues, classrooms, instructors and a training process to give students hands-on experience. Saadeh said current certification and training is inconsistent, often leading to disagreements on job sites. CSULB will also promote the program to ensure every relevant entity in the state is aware of it.
Saadeh said the program is a response to California Senate Bill 1, which increases the gasoline tax to pay for improvements to the state's transportation system, including road repair. With the expected influx of transportation funding and projects, Saadeh said the program would ensure quality control and smooth projects.
"We're trying to reinforce and improve the level of confidence in the testing personnel. This is achieved by consistent and uniform training, as well as improving the communication between Caltrans and private industry," Saadeh said. "When both technicians are subjected to the same training in the same environment and they're both going to the field, it will most likely reduce the number of disagreements between them."
The program is not reserved for Caltrans and those already in the industry. Saadeh said it would be open enrollment for all who are interested in the field. He explained that those not already affiliated with a company who complete the program would be a step ahead when applying for a position. The program is expected to begin a pilot class in December or January at CSULB and San Jose State University, according to Saadeh.
Judy Fix, chief nursing officer, and Susan Crockett, director of clinical workforce development at Long Beach Memorial and Miller Children's & Women's Hospital Long Beach, have worked on a partnership program between the hospital and CSULB since its inception in 2004. Lucy Huckaby, director of the nursing program at CSULB, has also helped manage the program from the beginning.
"Through the agreement with CSULB, we provide funding for them to have the additional faculty necessary to teach theory at the college campus," Fix said. "In addition, the hospital provides expert clinic technicians to be the clinical instructors when they come to do . . . training at the hospital."
The additional funding and savings on certain expenditures allows CSULB to enroll an additional 108 registered nursing students, according to Fix. She explained that these students are on a faster track than those in the regular program and that the hospital works with them through a tuition reimbursement program and offers them a job upon graduation.
Long Beach Memorial also partners with Long Beach City College to allow nursing students to perform their clinicals at the hospital. However, Fix said the Institute of Medicine is pushing for 80% of hospital nursing staffs to have bachelor's degrees or higher by 2020. She said in 2003, 19% of Memorial nurses had bachelor's degrees. Today, 70% of the 2,000-person nursing staff have bachelor's degrees, including 850 graduates of CSULB, which Crockett said is a huge achievement.
"I think one of the things that is really to be noted is that it's very difficult to find a partnership that looks like this," Crockett said. "It's the combination of Cal State and Memorial's resources that we're able to pull this together. I think it's really fortunate for the community to have something that worked out this well that serves the whole region."