A decision by the Port of Los Angeles Board of Harbor Commissioners to allow the use of automated, driverless vehicles at one of the port's terminals has made waves all the way up to Sacramento. On June 20, the board denied an appeal by the International Longshore and Warehouse Union to block a permit requested by APM Terminals Pacific, allowing the terminal operator to go forward with its plans for automation. But the ILWU's appeal set off a broader conversation about the effects of automation on the communities surrounding California's ports.
On June 17, just days before the board's decision to deny the appeal, Assemblymember Mike Gipson of Compton amended a previously submitted bill, AB 1321, to address the permitting process for automated technology at ports operating on public land.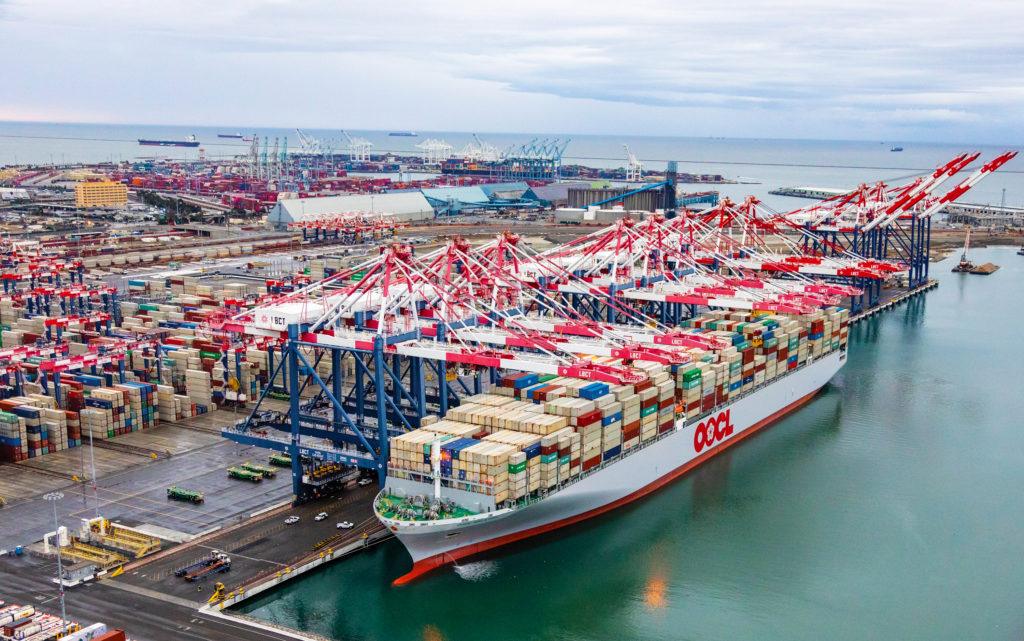 The bill sought to create a permitting process that would have required any use of automated technology at most California ports, including the ports of Los Angeles and Long Beach, to be approved by the State Lands Commission, potentially slowing down automation overall. "This is about not creating mass unemployment in my district," Gipson told the Business Journal. "If we completely go automated, we're talking about an erosion of my community and job loss, and I'm concerned by that."
Los Angeles City Councilmember Joe Buscaino brought with him similar concerns from his constituents when he requested the city council veto the board's decision on APM's automation permit. "If the current course of automation proceeds, I can only imagine the devastating effect it will have on these communities," Paul Simmonds, who described himself as a "casual dock worker" wrote in his letter to the council. "Do not turn your backs upon the people that put you in this position to represent them. Do not turn these communities into another Detroit."
"The reason why we're here today, colleagues, is because this matter is of great importance. Not just for the harbor area, but for our region and our country," Buscaino told a packed city council chamber on June 28. The 15th District Councilmember went on to list friends and family members whose livelihoods depended on the ports, at one point appearing to fight back tears. "We must be a city and a country where technology creates jobs, not kills jobs. And we, as a city, can not use public lands to kill jobs for our city and our region," Buscaino continued, as cheers erupted from the audience. "We refuse to be the next Detroit."
The Los Angeles City Council voted unanimously to veto the harbor commissioners' decision, sending the matter back to the board for further review.
Gipson's initial version of AB 1321 sought to put in place a case-by-case approval process for any automated technology to be implemented at ports built on public land, a proposal that received major pushback from the Pacific Merchant Shipping Association, the Pacific Maritime Association and others.
"This bill would place an unnecessary burden on the State Lands Commission to evaluate basic business operations at all port facilities, including, for example, automated phone answering systems, parking lot payment systems, and vending machines," Pacific Maritime Association President and CEO James McKenna wrote in a letter of opposition addressed to Senate Natural Resources and Water Committee Chair Henry Stern. McKenna further argued that the bill would jeopardize the environmental benefits of new technology, make California ports less competitive and stand in conflict with existing labor agreements at the Port of Los Angeles.
In the two weeks following the Los Angeles City Council's vote to veto the automation permit granted to APM by the Los Angeles Port Board of Harbor Commissioners, similar letters from the Pacific Merchant Shipping Association (PMSA), the California Retailers Association and the California Chamber of Commerce arrived at Stern's desk. In the meantime, local officials in Los Angeles doubled-down on their criticism of automation at the nation's largest port.
In a letter to Gipson, Los Angeles County Supervisor Janice Hahn expressed her support for AB 1321. "Up and down our state, our ports have long been a source of good-paying jobs. In San Pedro and Wilmington, longshore jobs at the ports of Los Angeles and Long Beach have supported an entire middle class community," Hahn wrote. "Any threat to port jobs is a threat to our entire local economy." In addition, the 4th District supervisor argued, automation would increase the ports' vulnerability to cyber attacks, a point she emphasized further in a June 29 op-ed published in Torrance's daily newspaper, The Daily Breeze. Hahn also requested an economic analysis of the local community impact and potential job loss associated with automation, which was approved by the Los Angeles County Board of Supervisors on June 25.
Despite such public expressions of support from local elected officials in Los Angeles, Gipson's bill was amended shortly before its final vote in front of the Senate Natural Resources and Water Committee on July 9. Instead of the initially-proposed approval process, the amended bill called for a study of the issue, to include conversations with "port districts, public agencies including special districts, labor organizations, shipping companies, marine-oriented trade associations, nonprofit organizations, and all other groups with a demonstrated interest and expertise on the subject." AB 1321, as amended, passed the committee with a 7-1 vote on July 9, with Senator Andreas Borgeas casting the only dissenting vote.
Gipson argued that replacing the proposal for a state-wide regulatory process with a study of the issue doesn't constitute a step back in his efforts to prevent the loss of jobs in port communities. "It raises the level of conversation to the importance of this," Gipson said. "This is just the first bite of the apple." The ILWU, one of the staunchest supporters of the original bill, did not respond to several requests for comment. "Everything is fluid, it's a compromise," Gipson added. "As we move forward, we're still meeting with stakeholders."
The PMSA is yet to release its official position on the amended bill, but President John McLaurin said AB 1321 and similar efforts to slow automation at the local level are a cause for concern. "Everybody in the supply chain is taking a close look at this legislation," McLaurin said. "I think people are concerned. Concerned about whether the ability of the ports to evolve and change, modernize, to handle additional cargo growth will be impacted in any way by the legislation."
On Thursday, July 11, the Los Angeles Board of Harbor Commissioners voted to reaffirm its approval of APM's plans to deploy automated, driverless vehicles at its Los Angeles port terminal. The vote was 3-2.