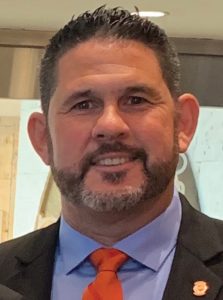 Robert (Bobby) Olvera, Jr., the international vice president (mainland) of the International Longshore and Warehouse Union, was recently appointed to the Harbor Commission, which oversees operations at the Port of Long Beach. Olvera began his 30-year history with the ILWU in 1989 as a third-generation longshoreman and has held several leadership roles within the organization.
Long Beach Business Journal: What motivated you to seek the appointment as harbor commissioner?
Olvera: Although I did not actively seek the appointment, when asked by city leaders to join the Harbor Commission I could not ignore my civic responsibility.  Service to my community has always been very important to me. As a resident of Long Beach and a longshore worker, I understand the importance of the Port of Long Beach to the economic and social well-being of this community. The opportunity to bring my personal and professional experience to the formation of port policy was appealing. And I sincerely believe that I have much to offer to those discussions. I feel extremely fortunate to be able to join the commission at this time, as I believe we have an optimal mix of voices and perspectives on this board.
LBBJ: You come from a family of longshoremen and have been one yourself. How do you think that experience will shape your positions as a commissioner?
Olvera: My family is very important to me, and being part of a longshore family has been key in developing my values. I think those values—centered on the importance of hard work, service to community, teamwork, collaboration, caring about your brothers and sisters—will continue to guide me as I begin my time as a harbor commissioner.
LBBJ: The relationship between the ILWU and the Pacific Maritime Association has been tense at times, including strikes at the Port of Long Beach. How will having a union presence on the board affect that?
Olvera: Keep in mind, there has been no strike by ILWU longshoremen since 1972. There have been some job actions and there have been lockouts by PMA, but there also has been a great deal of agreement and collaboration in getting the job done.
As it pertains to any consideration of contracts and such, my union role and my commission role would be separate and distinct. The port does not employ the longshore workers and does not participate in the contract negotiations.
In general, however, my experience and perspective as a longshore worker are seen as benefits for this commission, and I think that viewpoint will be proven in the months and years ahead.
LBBJ: What are your biggest priorities for your time on the board?
Olvera: My priority is to contribute to the discussions of port policy and in doing so bring a voice to both local workers and local small businesses alike. Similarly I hope to engage the other commissioners in discussions about the rich history that the port has and how we protect what generations before us worked so hard to build.
This gateway has so much to offer the shipping industry and I want to see the Port of Long Beach increase its market share, knowing full well that it will require all port stakeholders to collaborate on strategies and policy.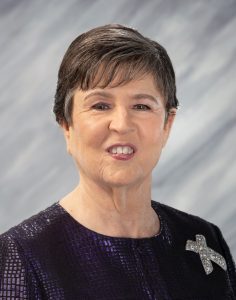 Sharon Weissman is one of two new members appointed to the five-member Harbor Commission, which oversees operations at the Port of Long Beach. She has been involved in public service in Long Beach for 45 years, including serving most recently as an adviser to Mayor Robert Garcia.
LBBJ: What motivated you to seek the appointment as harbor commissioner?
Weissman: I first came to Long Beach in 1973, when I was a student at Cal State Long Beach, and I moved here in 1975. And remember at the time—and I've lived here ever since—many people viewed the port as a liability to the city. And since that time, over the years, I have seen just a huge change. And it has come because of the actions of the port. Certainly the air is cleaner, the water is cleaner. And the port also really became a part of the community. Of course the port has been the economic driver in this region for a very long time. But it started to take seriously its obligation to really just be an asset and not a liability to the city. I just really want to be a part of the harbor commission in working with the port to continue what I've seen is great progress. I was retiring from from my work, but I did not want to retire from being active in Long Beach, I had no intention of staying here when I moved here to go to college, but I fell in love with the city and have never left and will continue my involvement with the city and organizations in the city as long as I'm able.
LBJJ: What are your biggest priorities for your time on the board?
Weissman: The most important priority is the financial stability of the port. I mean, we're dealing, from the port side, with a number of crises. It started with the tariffs two years ago. Our biggest trading partner is Asia, China specifically. And the tariffs have really taken a toll on the amount of cargo that passes through our port. And now, of course, with COVID-19, a number of people have said to me, it's an interesting time to join the harbor commission, and it is. But clearly, it has caused the administration of the ports to make a lot of changes. So financial stability and remaining competitive in this climate is certainly a priority of mine.
I consider myself an environmentalist. I don't think that anyone has the right to pollute our air or our water. The port has done a marvelous job of decreasing the amount of pollution in our air and water. And now of course the big conversation is clean trucks. Really making sure we lessen the impact on the environment as much as possible is one of my priorities.
LBBJ: You mentioned trade tariffs and the current economic slowdown caused by the coronavirus pandemic. Both have reduced cargo at the port and slowed down trade overall, what is your strategy for recovery?
Weissman: As a new harbor commissioner, I have a great deal still to learn. If you look at my calendar, it's filled with briefings every day. And I don't think that I can really answer that question yet.
What I can say is that maintaining our current market share is certainly important to us. And I think that finding ways to communicate with our trading partners, in this time when we can't travel, is a challenge for everybody. So continuing our relationships, making sure the port remains competitive, and we're certainly doing that … We're continuing our construction to increase our capacity. Certainly when we open the replacement for the Gerald Desmond Bridge, it will allow for larger ships to come in. But long term, I would really love to get back to you with that answer in a month.
LBBJ: And given the existing and expected loss in revenues, which are some areas where you see the potential for savings at the port?
Weissman: The budget was reduced by much less than anyone expected. I think that people thought there would be a bigger reduction in cargo than there has been. I've been watching the commission meetings since the mayor spoke to me about this appointment. And so I know the budget was cut 15%. In terms of the details, that's another one where to get back to you because I don't have all the details on that yet. I want to know more about where the cuts have been made before I would speak specifically about any future cuts, if necessary.
LBJJ: More broadly, where do you see the biggest challenges for the port during your term?
Weissman: Well, I think clearly the biggest challenges are in terms of competitiveness. With the widening of the Panama Canal, with other ports stepping up to be more competitive, the big challenge for us is to remain competitive. And not only—in my opinion—to keep our market share, but to increase our market share. You know, it's certainly no surprise to anyone that we are the economic engine. One out of every eight jobs in the region is either directly or indirectly tied to the port. I do think that we need to look at how to increase our market share and part of the way to do that is by looking at efficiency. Do we run the port as efficiently as possible? Because clearly, the two major things for shippers are going to be people handling cargo and part of choosing the Port of Long Beach, the Port of Los Angeles, the San Pedro Bay, is how quickly does cargo get in and out? And how much does it cost? And so if we can find efficiency, not only in cost, but in handling, I think that's going to be key. And for truckers: How many truck trips can they make a day? How can we make sure that trucking remains a viable occupation and a good occupation for people?
LBBJ: Where do you see the biggest opportunities?
Weissman: I think the biggest opportunities are going to be in increasing our efficiency, increasing our productivity. That will, I believe, increase our market share and enable us to increase the amount of cargo coming in and out. Clearly, one of the challenges that we have is goods movement. It's not just what happens at the port, but what happens when that truck or that train leaves the port. The 710 Freeway is a major artery in getting cargo out of the port. The Metro board approved a plan to modernize the 710 Freeway. And that modernization will make the freeway move more smoothly and will also make it safer to move cargo out of the port to where it needs to go regionally. That project is incredibly important to the port and so being a good partner with Metro, and working to do whatever we can to modernize that freeway, is clearly going to be important to us in how efficiently and how quickly we can move cargo out of the port. That's an opportunity and a challenge.