Development News
World Trade Center Undergoing Major Renovation
Renovations are underway on the iconic, 27-story World Trade Center in Downtown Long Beach.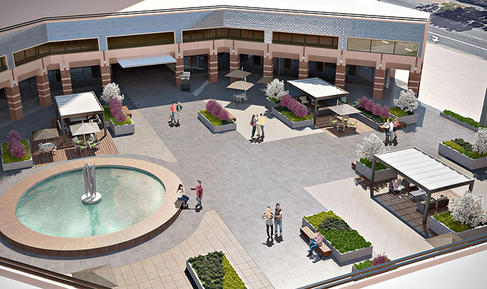 A rendering of the World Trade Center courtyard improvements. The office building is located on Ocean Boulevard in Downtown Long Beach. The complex's rear parking lot, with entrance off Broadway, is being offered as a development opportunity by its owner, the Port of Long Beach. See this issue's back cover for more information. (Renderings courtesy of SAA Interiors and Architecture)
Stillwater Investment Group and Greenlaw Partners are spending more than $5 million to transform the 1989 aesthetic to a "vibrant environment demanded by today's workforce," according to a press release. The Orange County-based real estate firms purchased the building in 2015 from SteelWave Inc. for around $105 million – $45 million less than the company paid for it in 2007.
The investment will see both interior and exterior improvements to the property, designed by SAA Interiors and Architecture. "We are honored to redesign and reposition the World Trade Center, Long Beach's finest Class A office tower," Rick Shlemmer, principal at SAA, said in an e-mail to the Business Journal.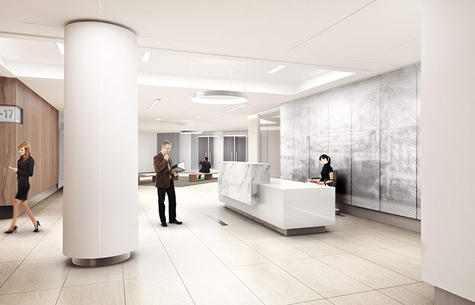 A rendering of the World Trade Center interior improvements. (Renderings courtesy of SAA Interiors and Architecture)
The interior renovations include cladding over granite walls with contemporary wood and white glass, a rebuild of the elevator mechanics and interiors, refinishing all brass metal fixtures and replacing the granite floor with porcelain tile. Exterior renovations will transform the plaza connecting to the Hilton Hotel with landscaping, wood decking, soft seating areas, custom-designed shaded structures and Wi-Fi capabilities. The project will also be rebranded with new signage, wayfinding and a corporate identity.
The project is scheduled for completion by early May, according to Shlemmer.
Commission Approves Zoning Change For 40-Home Development
At its January 5 meeting, the Long Beach Planning Commission voted unanimously to recommend that the city council approve a site plan review, a vesting tentative tract map and a general plan amendment to rezone the property located at 3655 N. Norwalk Blvd., as well as certify the environmental impact report, for 40 new detached single-family homes.
Port Asks For Public Comments On Proposed Rail Yard
The Port of Long Beach scheduled two public hearings to receive feedback on the draft environmental impact report for the redevelopment of the Pier B On-Dock Rail Support Facility. The proposed rail yard would allow for longer trains to be assembled in the Harbor District, making operations more sustainable and moving cargo faster. The first public hearing was held on January 11, with the second scheduled for tomorrow, January 18, at 6 p.m. at the Port of Long Beach offices, located at 4801 Airport Plaza Dr. Comments on the study will be accepted through February 13. For more information, visit polb.com/pierb.
Former Post Office Property In Escrow
The former United States Post Office property located at 2300 Redondo Ave. is now in escrow with an undisclosed buyer, according to Amy Bodek, director of the Long Beach Development Services Department. According to a listing, the 22.3-acre site includes a 326,000-square-foot warehouse distribution facility and an 11,225-square-foot vehicle maintenance facility, along with 671 parking spaces.
Proposal To Redevelop Ocean Center Building
A proposal has been made for the redevelopment of the historic Ocean Center Building into a 139-room upscale boutique hotel, including more than 15,000 square feet of bar, restaurant and retail space. Located at 110 W. Ocean Blvd., the proposal is accompanied with a request for an economic subsidy in the form of a transient occupancy tax sharing agreement between the city and the developer.
New Home For Firefighters Union

Interior improvements are underway at what will be the new home of the Long Beach Firefighters Local 372 at 2201 Cherry Ave., across the street from the Signal Hill City Hall. The 7,500-square-foot building was purchased from Robert and Judith Pyre for $1.5 million. The Business Journal was unable to get its calls returned to determine a move-in date. The union currently leases offices at 3333 E. Spring St. The transaction was handled by INCO Commercial's Paul Phillips, Bill Townsend and Brad Miles. (Photograph by the Business Journal's Larry Duncan)
Retail News
Aguas Way Opens In North Long Beach
Aguas Way, a new eatery specializing in aguas frescas, a popular Mexican fruit drink, celebrated its grand opening on January 2. Located at 5248 Long Beach Blvd. and open every day from noon to 9 p.m., the family-owned business also offers carne asada fries, California burritos, acai bowls, homemade salsas and champurrado, along with regular specials.
Nordstrom Rack To Leave Lakewood For Long Beach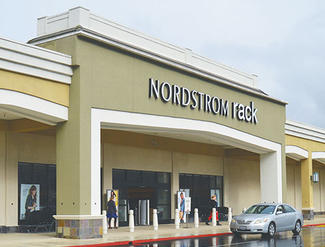 Seattle-based Nordstrom Inc. recently announced plans to relocate its Nordstrom Rack store from Lakewood Center to the forthcoming Long Beach Exchange on the southwest corner of Lakewood Boulevard and Carson Street at Douglas Park. The 26-acre-plus development by Burnham Ward Properties LLC is scheduled to open in spring 2018, according to a press release. Nordstrom would occupy approximately 28,000 square feet.
SteelCraft Vendors Begin Serving Residents
Vendors have begun operations at SteelCraft, a new hub for craft food and drink in Bixby Knolls that is constructed of modified shipping containers. Located at 3768 Long Beach Blvd., Steelhead Coffee, Smog City Brewing Co., DeSano Pizza Bakery and Waffle Love are already serving residents, weeks before the center's grand opening the first weekend in February.
Chicago Style Pizza In Belmont Shore
Rance's Chicago Style Pizza owners Aaron Tofani and Rance Ruiz will celebrate the grand opening of their second location on Saturday, January 28. Located at 5258 E. 2nd St., the new pizza joint will offer select pies for 50% off from 11 a.m. to 4 p.m., with 25% of sales to be donated to the Community Action Team, a Long Beach nonprofit spearheaded by activist Justin Rudd.
Professional Services News
New H&R Block At Kilroy Airport Center
Block Advisors, a new division of H&R Block designed to aid small local businesses with tax returns and bookkeeping, recently opened at 3750 Kilroy Airport Way, Suite 120. Staff members have a minimum of 15 years experience and specialize in clients who are incorporated or self-employed, as well as trust and estates. For more information, visit blockadvisors.com.
New Skin Care Treatment In Naples
Peaches Skin Care recently opened its newest location at 5608 E. 2nd St. in Naples. The store offers microdermabrasion facials, oxygen retinol renewal treatments and hair removal, along with a full line of skin care products. Store hours are Tuesday through Friday from 10 a.m. to 6 p.m. and Saturdays from 9 a.m. to 3 p.m. For more information, visit peachesskincare.com.