Commercial Real Estate Is Business As Usual Across All Markets
All sectors of commercial real estate remain stable in terms of average asking rents and vacancy rates, with only minor changes occurring from the fourth quarter of 2018 through the first quarter of this year, according to local real estate firms. The Long Beach office market continues to struggle more than the retail and industrial markets, which are both experiencing added inventory with several new development projects.
New Retail Centers Cause Slight Vacancy Increase
The Long Beach retail real estate market is in constant flux, with businesses shuttering and new ones opening in their places. The Long Beach Exchange retail center at Douglas Park, where businesses began opening their doors one year ago, and 2nd & PCH in Southeast Long Beach are the newest additions to the retail market and have attracted many local, chain and high-end tenants. Retailers along 2nd Street in Belmont Shore, where there is a mix of local small businesses and chain stores, have voiced concerns about the new luxury center opening down the road. However, Centennial Advisers Partner Doug Shea thinks the development will only bolster business in the area.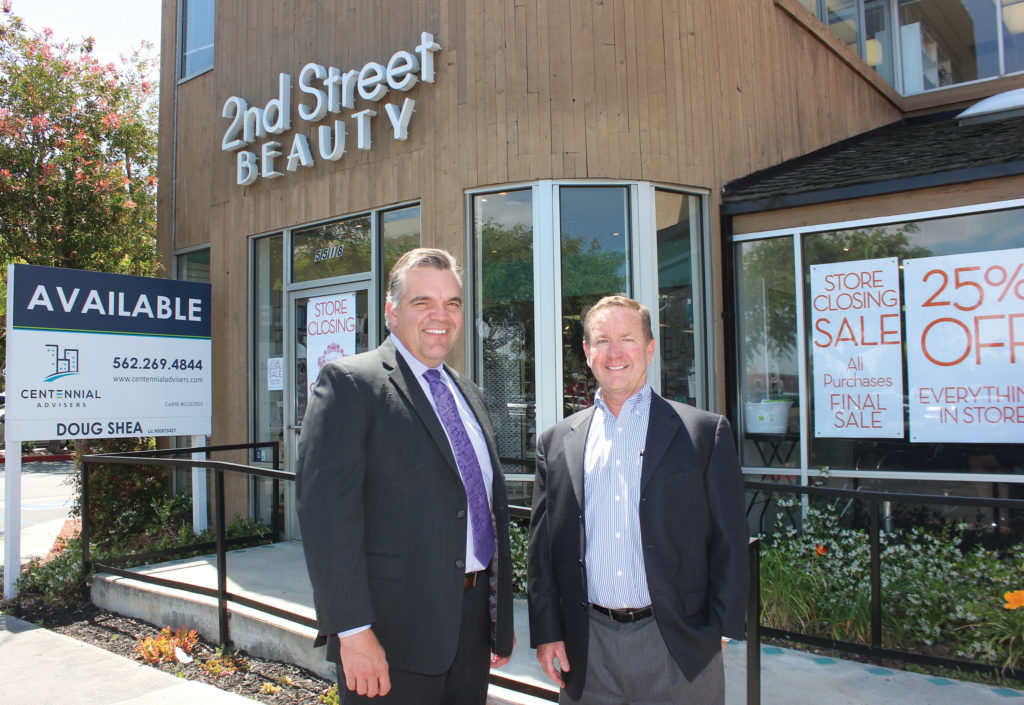 "I think the only reason it feels [like residents] like the local small business atmosphere is because that's all they ever got," Shea said. "And I think [2nd & PCH] is going to bring a ton more people to 2nd Street who haven't seen it before or forgot about it. I think it's a good thing for 2nd Street."
Lee & Associates Principals Noel Aguirre and Sean Lieppman shared a similar sentiment, stating that support for small business is ingrained in Long Beach's DNA but that the new developments are the "shiny new toy" for locals and visitors alike. For established or new businesses looking to enter the Long Beach market, the new retail centers are achieving much higher rental rates, with some spaces costing tenants anywhere between $6 to $8 per square foot, according to Aguirre.
Vacancy rates have increased slightly due to new construction, according to Lee & Associates data. During the fourth quarter of last year, both downtown and suburban vacancy rates were at 5.3%. In the first quarter of this year, downtown vacancy increased to 5.4%, while the suburban vacancy rate increased to 5.6%. As of the first quarter, average asking rents have increased 1.1% and 1.4% in the suburban and downtown markets, respectively, year-over-year.
There has been an increase in new food concepts, Lieppman noted. "I do think that it is important for them to differentiate themselves from their competition," he said. "In certain areas you'll see so many restaurants offering a lot of the same – gastro[pub] food or burger spots. It's important for the new businesses to offer something different."
William Morris Commercial Vice President Catherine Morris agreed, stating that shops and restaurants must become destinations by creating an atmosphere that is shareable on social media. Morris used the example of an ice cream shop or bar that has one particular dessert or drink that is photo-worthy, attracting guests seeking to share the experience with their Instagram followers.
Online shopping and the experiential evolution of retail continue to claim casualties within the soft goods industries. Major retailers have shuttered some or all their brick-and-mortar locations, including Charlotte Russe, Payless ShoeSource and Gap, which are all set to close hundreds of stores in 2019. Even Starbucks announced the closure of 150 locations within saturated markets in 2019, according to moneywise.com.
"People want higher quality," Morris said. "I think we're entering into a more quality-driven era versus quantity."
Leasing and sales activity by service companies, such as small branches of insurance or investment management companies, has increased in the retail market, according to Shea. He explained this is because finding a small space in a retail center is easier than finding one in an office building, despite retail space being more expensive in most cases.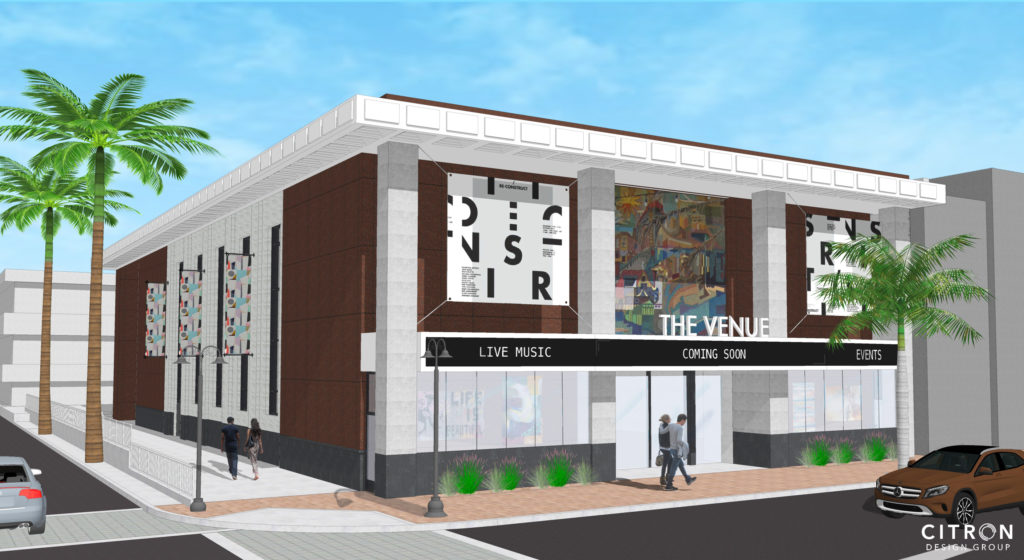 Lower Demand For Office Continues, Potentially More Conversions To Come
Despite increased office vacancies, rental rates remain strong in Downtown Long Beach and have increased in the suburban market, according to a Cushman & Wakefield report. Average asking rent in the suburban market increased by nine cents to $2.38 per square foot in the first quarter compared to the previous quarter, while rents in the downtown market decreased two cents to $2.43 per square foot.
The downtown vacancy rate increased from 18.8% overall in the fourth quarter of 2018 to 19.9% during the first quarter of this year. Vacancy in the suburban market increased from 8.1% during the fourth quarter last year to 9.3%.
While the suburban market is seemingly stronger than the downtown market in terms of vacancy and rent growth, it is important to note that two large buildings are being vacated within the next 18 months: the Port of Long Beach interim offices and the Epson America headquarters. The port offices at 4801 Airport Plaza Dr. are being vacated within the next several months when the port transitions to its new building at the Long Beach Civic Center. The administrative offices currently encompass all eight stories of the 176,375-square-foot building. Epson currently occupies a five-story building totaling about 136,000 square feet at the Kilroy Airport Center, but recently announced it will vacate the building in summer 2020 when it moves to Los Alamitos.
A third, but uncertain, loss in Long Beach's suburban office market looms, according to CBRE Senior Vice President David Smith. He explained that Molina Healthcare is likely to vacate a "fair amount of space" at 1500 Hughes Way.
"It's up in the air right now. They are currently occupying about 170,000 square feet," Smith said. "It's to be determined how much they will actually vacate, but I would say at least half. Maybe all of it."
Despite the loss of major tenants, Smith noted that full-building vacancies could open up opportunities for property owners to renovate the properties into more creative and inviting spaces, which are not widely available in the suburban market. He described creative office as having more open floor plans, amenities for employees to enjoy, outdoor spaces and common areas for employees to collaborate in a relaxing environment.
Regardless of what happens with the buildings, Smith noted that having spaces vacate on a staggered timeline will make it easier to backfill them than if all properties were to hit the market at the same time. Brian Russell, vice president of Kinnery's Brokerage House, said it is unlikely that the vacated buildings would be taken over by a single tenant. He agreed with Smith, noting that the buildings will likely be renovated for smaller users. Russell added that it will, optimistically speaking, take a year for the suburban market to recover once these buildings are vacated.
Of all commercial real estate sectors, Russell said office space is the one still lagging behind in terms of vacancy. "The Chase Bank building is being sold for . . . residential development," he noted. "Switching it to residential shows you the lack of demand for office."
Located at 401 E. Ocean Blvd., the Chase building is currently listed for sale on loopnet.com for $32 million. The 134,773-square-foot building is listed as a redevelopment opportunity, perhaps for residential or hospitality use. Russell added that a conversion of the building to residential would add it to a lengthening list of converted downtown office space over the years, including the former Verizon Building, the Edison building and the former Security Pacific National Bank building.
As entire buildings are removed from the office market, others – mostly downtown's Class B and C properties – are being converted into creative spaces to remain competitive, according to Coldwell Banker Commercial BLAIR WESTMAC President Becky Blair. Vacant retail spaces are also being converted, she noted.
"Larger retail businesses that are trying to compete with Amazon are having big vacancies," Blair said. "As an example, there's a building . . . in Los Angeles, a department store, that's recently been transformed to creative office space. It shows some of the different uses that are happening."
In March 2017, Long Beach-based Retail Design Collaborative opened its new office inside a former Nordstrom Rack location. The architecture firm moved out of a Class A office building into the 34,300-square-foot space, which now provides its employees with a creative work environment.
Companies in the market for smaller office space, around 5,000 square feet or less, are still looking to buy, Blair said. She explained that current sales prices coupled with relatively low interest rates make purchasing a building more attractive than renting if the company can afford it. An example of this trend is the Terminal development at Douglas Park. The project consists of 100,000 square feet of new for-sale office condominiums, which broke ground in October 2016 and sold out as of March of this year. In some cases, Blair said companies are buying their own buildings and leasing out portions of them to other companies to generate income.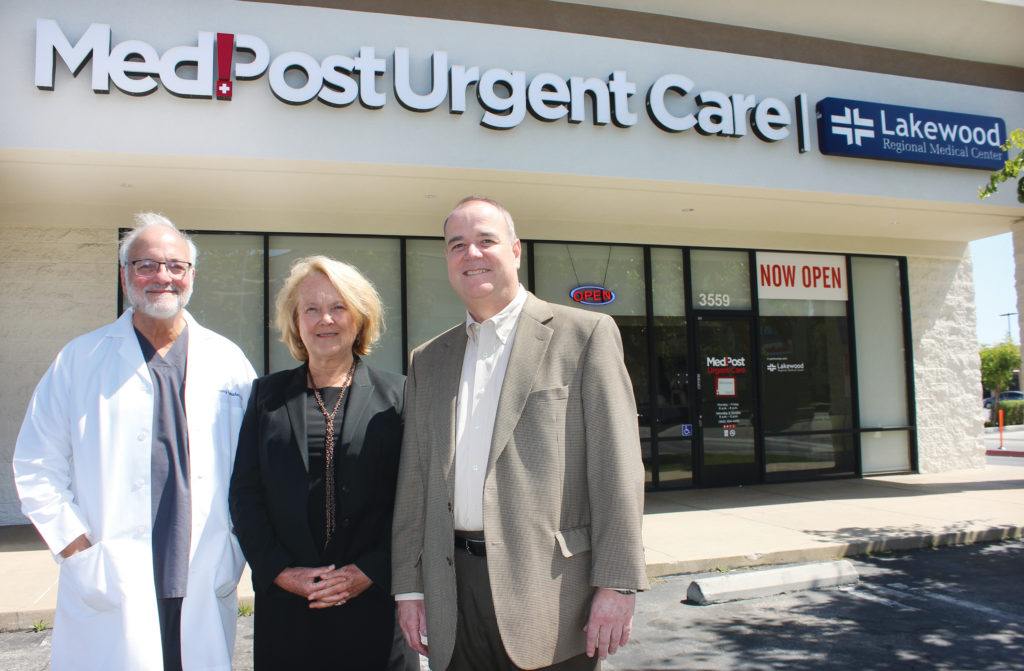 Industrial Market Likely Unchanged Despite New Construction
Due to continued demand and a lack of supply, the industrial real estate market has been busy and active, according to INCO Commercial President Bill Townsend. New projects, including Pacific Pointe Northwest at Douglas Park and Pacific Edge, are set to add nearly 700,000 square feet of Class A industrial space that has garnered much interest, Townsend said.
"There's just such limited supply and limited amount of land but people still want to be here," Townsend said. "Those [new projects] are phenomenal locations – by the airport, by the freeways, close to Orange County and L.A. But I don't think they're going to have a huge impact. We're in one of the most dynamic areas in the country, so [the new space] will get absorbed pretty quickly."
In Long Beach, interest from cannabis users has decreased because more cities have approved cannabis uses, Townsend explained. While cannabis businesses continue to pay higher rents than tradition industrial users, he said the peak pricing for these businesses was hit about a year ago, with rental rates since decreasing.
The potential effects of tariffs on port activity is one factor Townsend said could potentially have a negative impact on the industrial market, should imports decline and less warehouse space be needed.
Tight supply and high demand continue to put upward pressure on average industrial rents, which increased from $1 per square foot in the fourth quarter of 2018 to $1.02 per square foot in the first quarter of this year, according to Lee & Associates' reports. However, while average rents continue to increase, the average sales price continues to decrease, falling for the second quarter in a row from $186.06 per square foot in fourth quarter 2018 to $179.92 during the first quarter of this year. Average sales price reached a peak during the third quarter of 2018 at $259.88 per square foot.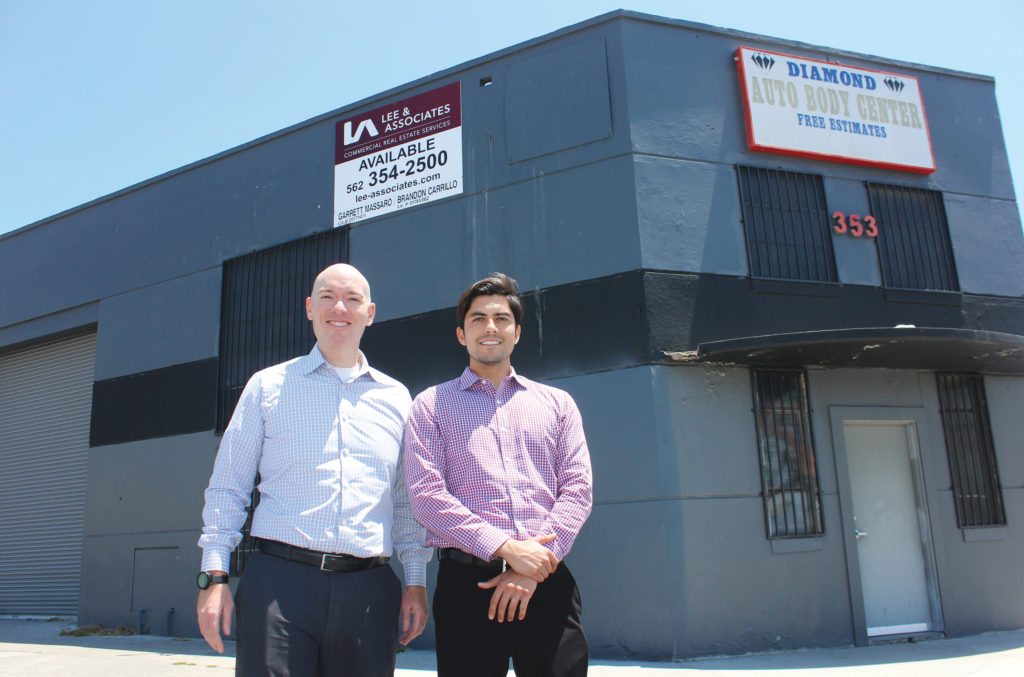 "Our biggest challenge is the product shortage. The lack of product in the marketplace is having an effect on deal volume," Lee & Associates Principal Brandon Carrillo said. "[Some] startup companies, as well as companies looking to expand into this market, are having a real difficult time justifying the lease rates."
Municipal government policies are impacting the ability of truck and trailer operators to find space in Long Beach and surrounding areas, Carrillo explained. Unless a site already has a permit for trucking or trailer use, companies have to go through the process of obtaining a conditional use permit, which takes time and money.
Total sales transactions decreased from $176.83 million during the fourth quarter of last year to $153.96 million during the first quarter of this year. Carrillo explained that new environmental laws coming into effect is making sales more difficult. Costly requirements for additional environmental reviews may cause total transactions to decline further.