As the ports of Long Beach and Los Angeles continue to increase cargo throughput, each having had record-setting years in 2017, officials are consistently examining their operations for opportunities to increase efficiency. Currently, between 25% and 30% of containers are transported out of the ports by rail, but they hope to increase these numbers.
"The San Pedro Bay ports complex itself has an enormous rail infrastructure. If you look at the Port of Long Beach (POLB) today, we're moving on-dock cargo at the rate of about 25% of our containers," Sean Gamette, managing director of engineering services at POLB, said. "We're looking forward to making a significant investment in our rail infrastructure to create more efficiency and push that percentage of on-dock cargo to 35% or maybe more."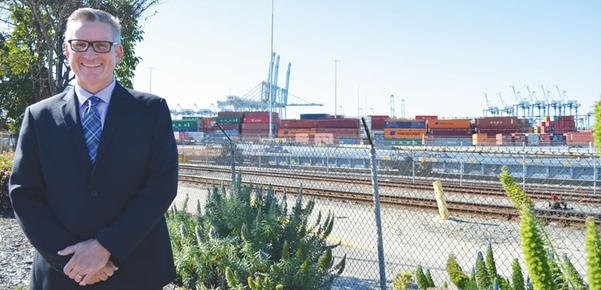 Sean Gamette, managing director of engineering services at the Port of Long Beach, said the port has plans for $1 billion worth of rail infrastructure projects to relieve bottlenecks and increase efficiency. The port currently transports about 25% of cargo by rail but Gamette said the projects could increase that number to 35%. (Photograph by the Business Journal's Pat Flynn)
POLB currently sees about 60 trains pass through its terminals each day, along about 102 miles of tracks. The port has about $1 billion worth of planned rail infrastructure projects, including adding double-track access between Piers J and G and a fourth track at Ocean Boulevard from Pier B, expanding the railyard at Middle Harbor, and the Pier B on-dock rail and support facility.
The importance of increased and efficient rail within the port complex is speed to market – ensuring that goods get to their destination as quickly as possible, Gamette explained. In order to remain competitive with other West Coast ports, including those in Canada and Mexico, the San Pedro Bay ports must be able to discharge, load and move cargo through its infrastructure network faster than other ports. Rail is a large part of that, he said.
The double-track project between piers G and J is currently being designed and will go out for bid this year, according to Gamette. He said the project would add an 8,000-foot mainline track (the main artery for through trains) between the piers, which is currently a bottleneck for the rail system. The port estimates the extra track would allow for one more train to pass through that area per day, about a 25% efficiency gain.
"Projects like the fourth track at Ocean Boulevard are really just small, simple projects that . . . allow for a little bit more efficiency through what [are currently] bottlenecks," Gamette said. "It's not a lot of additional trackage there but it's a very key element to increasing our efficiency."
Long Beach Container Terminal is the largest terminal at the Port of Long Beach, with an annual capacity of 3.3 million twenty-foot equivalent units (TEUs) of cargo. Currently, the terminal's railyard has about 10,000 linear feet (a little less than two miles) of track. The final phase of the terminal redevelopment project, which is currently underway, includes increasing that figure to 75,000 linear feet, or just over 14 miles.
The Pier B project will have five 10,000-foot arrival/departure tracks, as well as 40 storage tracks measuring 90,000 linear feet. Gamette said there is nothing comparable to this project currently at the port. No trucks will call at the facility, as containers will move directly from ship to train – a concept called on-dock rail. The project has received pushback from dozens of Westside Long Beach businesses that will be displaced because of it. However, after court proceedings and appeals, the project has gotten the greenlight.
"It's one thing to say that we can handle these larger ships with upwards of 18,000 containers, but to load and discharge cargo from a ship that size requires a massive amount of infrastructure behind it on the land," Gamette said. "If we're focusing on speed to market, we have to be able to move those containers right onto rail and through a facility like Pier B without having to go through bottlenecks, and get that 10,000-foot-long train out to places like Chicago."
POLB has a rail efficiency team that meets monthly to evaluate the rail network and identify ways to increase efficiencies by working with the railroads or recommending small changes to the network. For major projects, Gamette said the ports approach them strategically and scientifically by first conducting a study of the entire San Pedro Bay complex. The last study was conducted in 2006 and another study is about to get underway, according to Tony Gioiello, deputy executive director of development at Port of Los Angeles (POLA).
"Our board just approved the cost-share agreement with the Port of Long Beach for the study. So it's probably going to start in a month or two and be about a two-and-a-half year study," Gioiello said. "We'll work with the railroads and the different stakeholders to really identify the needs, and the breadth of the infrastructure needs out there."
The study will examine the existing capacity of the complexes' rail infrastructure and compare it to cargo growth projections. Gioiello said the comparison would then be used to identify future projects needed to keep up with demand, as well as when those projects would need to come online.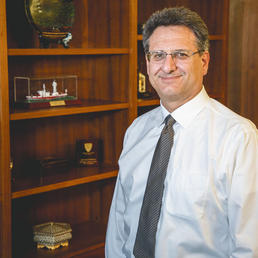 The San Pedro Bay ports are getting ready to begin a two-and-a-half-year study of its rail infrastructure, according to Tony Gioiello, deputy executive director of development at Port of Los Angeles (POLA). The study will evaluate current infrastructure and identify future needs, including major projects and a timeframe for implementation. (Photograph courtesy of the POLA)
One of the major projects POLA will be examining during the study is an expansion of the Badger Avenue Bridge, which serves port operations on Terminal Island. Currently, the bridge has two tracks; however, Gioiello said the port anticipates needing a third track and possibly more depending on the outcome of the study. He added that the project will likely be needed in about 10 years.
"On the L.A. side . . . every single one of our container terminals has an on-dock facility. We just finished our last one [at] our TraPac terminal a little over a year ago," Gioiello said. "We recognize that having rail as close to the terminal as possible is critical to reduce truck trips, and having rail where you can get the cargo onto the trains as quickly as possible . . . is important."
While every terminal has on-dock rail facilities, Gioiello said the port is looking to maximizing them by increasing the amount of track. He explained that the current layout leaves space between tracks for top picks (a forklift-type vehicle used to move shipping containers) to maneuver and load trains. The next generation of POLA railyards will see tracks added between the existing ones to maximize accommodating the number of trains waiting to be loaded. To accomplish this, the port will abandon the use of top picks at these facilities, instead utilizing cranes that span the tracks.
POLA is also looking at a couple of projects to increase mainline capacity by adding a second mainline track in certain areas. By doing this, trains can move in and out simultaneously, rather than having to wait for another to completely clear the only mainline track into a terminal.
Gioiello said that, with each new project, POLA invests a lot of capital to maintain separation between rail and other infrastructure. He explained that the separation is needed to ensure that any addition to rail does not impede or disrupt other aspects of port operations, such as by blocking truck traffic. Paying attention to these details allows the port to move cargo through the complex quickly.
"Speed to market is critical to our business model here in L.A. and on the West Coast. It's one of the many reasons that shippers choose L.A.," POLA Director of Media Relations Phillip Sanfield said. "The cargo gets here quicker than if it was going to the East Coast . . . but it also moves out of here quicker. We're just a couple of days away from Chicago, New York, Denver and the Midwest."