The heads of both the Port of Long Beach (POLB) and Port of Los Angeles (POLA) agree that cargo volumes for the remainder of the year are hard to project at this point, given current shifting dynamics in trade-supporting industries. POLB CEO Jon Slangerup said he's confident in estimating a 3.5 to 4.5 percent growth for the year, while POLA Executive Director Gene Seroka indicated it would be too difficult to forecast the outcome for 2016 at this time.
So far this year, the Port of Los Angeles posted its best first quarter in its 109-year history, and the Port of Long Beach had its best first quarter since 2007. Both experienced large decreases in cargo volume in March compared with the year prior, because, at that time last year, the ports had been recovering from epic congestion and as a result were processing massive amounts of backlogged cargo.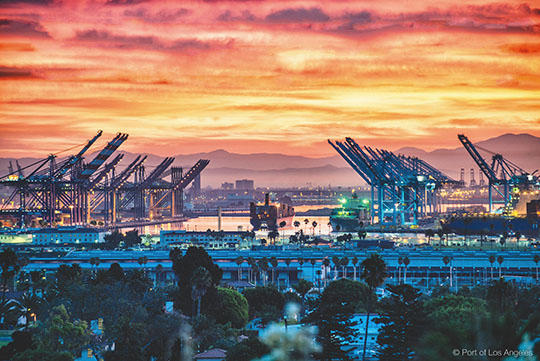 (Port of Los Angeles photograph)
Daniel Hackett, whose consulting, research and advisory firm, Hackett Associates, produces the National Retail Federation's monthly Global Port Tracker report, told the Business Journal he projects a slight decrease in imports and a slight increase in exports through the San Pedro Bay ports this year.
"In our most recent forecast that we released at the beginning of April, we were projecting about a 0.6 percent decrease in 2016 for the combined ports of L.A. and Long Beach, and that's for imports," Hackett said.
While economic indicators in the U.S. and China are stronger than Hackett had anticipated they would be so far this year, some concerns are playing into his conservative forecast. "The consumer spending in the U.S. is weak," he said. In late March, the U.S. Bureau of Economic Analysis downgraded its estimated increase in personal consumer expenditures for the period of December to January from 0.4 percent to 0.1 percent. Hackett called this growth "anemic, at best."
"In terms of imports, it all comes down to why the consumers aren't opening their wallets and spending money," Hackett said. "We don't have an answer for that."
Also playing into Hackett's forecast is that in February the ratio of the average inventories of national manufacturers, retailers and merchant wholesalers compared with actual sales was 1.41. In other words, businesses had inventories that cost about 41 percent higher than the total revenues they earned in sales. Such a high ratio has not been seen since the Great Recession. "While that was unchanged from January, that's still significantly higher than it has been either before or after the recession," Hackett said.
On the other hand, Hackett expects exports through the San Pedro Bay ports to increase by less than 2 percent this year, although that's just a preliminary estimate for the time being. While the strength of the U.S. dollar compared to other international economies stymied U.S. exports last year, "the dollar has been halted a little bit, so that will definitely help," Hackett said.
U.S. industrial manufacturers also seem to be faring better than they were doing recently, which could lead to increased exports, Hackett observed. U.S. manufacturing grew by 2.3 percent from February to March, according to the Institute for Supply Management's (ISM) PMI Index, which gauges the health of the manufacturing sector based on new orders, inventories, deliveries and trends in employment and production. That brings the PMI rating to 51 percent, a rating that ISM's report stated indicates expansion. A rate below 50 percent indicates a contraction.
"We're sort of worried that growth is going to be flat for the year," Hackett said of cargo growth at U.S. ports, including those at the San Pedro Bay. "Although we just increased our forecast for 2016 a little bit, at the same time we're keeping an eye out for a potential downturn."
Some good news is that, while major shifts are occurring in the ocean carrier industry as major lines consolidate and thereby shift the scheme of shipping alliances, larger ports shouldn't have much to worry about, according to Hackett. "The bigger ports are already served by all the lines anyway, so I don't think they will suffer," Hackett said.
The shipping industry is also in the midst of increasingly using mega-ships able to carry 18,000 twenty-foot equivalent units of containerized cargo and more. As a result, larger ports like those in the San Pedro Bay are investing heavily in infrastructure to ensure they're prepared to accommodate the ships. The Port of Los Angeles has several major terminal upgrades planned, including at Yusen Terminal and TraPac Terminal. The Port of Long Beach is in the midst of a massive project to upgrade Middle Harbor and build a higher replacement for the Gerald Desmond Bridge, enabling larger ships to pass beneath it.
"The San Pedro Bay ports are definitely capable and ready to handle the new, bigger ships that are reaching North America, and that's the way ports should be operating," Hackett said. Smaller ports that can't accommodate the trend of mega-ships are likely to be squeezed out of the picture, he noted.