Outfitted with a wireless microphone, Port of Long Beach Chief Executive Jon Slangerup seemed to channel Steve Jobs – known for his walk-and-talk onstage product reveals sans notes – as he walked along an elevated stage at the Pacific Room at the Long Beach Arena on January 21, giving his State of the Port address to an audience of supply chain stakeholders, elected officials, Long Beach leaders, local high school students, port staff and media. As images were projected on a huge screen behind him, Slangerup reflected on the trials and successes of the past year, and promised a hopeful, greener, growing future for the port.
Following a quick thank-you to attendees, the address began with a dose of frankness from the chief executive as he recalled the events of the first quarter of 2015.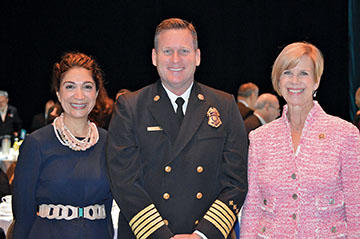 From left: Third District Councilwoman Suzie Price, Long Beach Fire Chief Mike DuRee and Congresswoman Janice Hahn, who represents California's 44th District, which includes San Pedro and Wilmington.
"Last January, we found ourselves in an epic struggle with severe congestion and gridlock," he said. "Let's take a moment to reflect on 2015 and what was a very painful and public meltdown of our marine supply chain, along with the extraordinary turnaround that followed."
The meltdown Slangerup referenced was caused by a confluence of issues plaguing the supply chain from August 2014 through the first quarter of 2015, which were greatly exacerbated by a work slowdown on the part of longshore workers, who were in the midst of labor contract negotiations at the time. Over the course of months, ships backed up in the harbor and beyond, awaiting entry to deliver goods, and terminals were clogged with unloaded cargo.
But despite the logjam at the start of the year, 2015 ended up being "one for the record books," Slangerup said. For the third time in its history, the port moved more than seven million 20-foot equivalent units of cargo, and overall cargo volumes increased by 5.4 percent compared with 2014. In July and August, the port "achieved record cargo volumes resulting in the port's biggest quarter in history," Slangerup noted.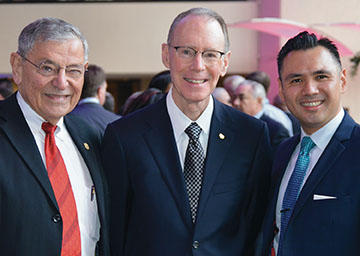 From left: Long Beach Harbor Commissioner Doug Drummond; Nautilus International Holding's President and CEO James Callahan, and the port's Dr. Noel Hacegaba, managing director of commercial operations.
In 2015's peak shipping season, the port experienced no significant congestion issues, which Slangerup lauded as result of the resolved longshore labor contract, improved chassis pool operations and a supply chain optimization initiative.
Last year, through a Federal Maritime Commission agreement, the Port of Long Beach and the Port of Los Angeles teamed up to gather supply chain stakeholders for a series of ongoing discussions to improve goods movement through the ports and the entire supply chain.
"Since April, port staff has facilitated nearly 50 standing-room-only meetings and conference calls with our stakeholders," Slangerup said. "We are addressing peak operations, chassis availability, terminal optimization, rail capacity, trucking operations, data management and integration, as well as other key performance indicators."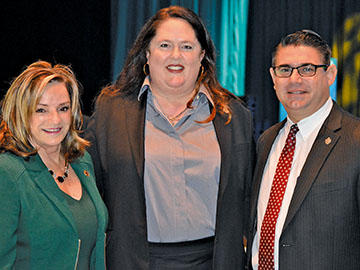 From left, Long Beach Harbor Commissioners Lou Anne Bynum and Tracy Egoscue with the port's Rick Cameron, managing director of planning and environmental affairs.
Slangerup went on to emphasize the port's value proposition, as it "offers the shortest, fastest and most cost-effective gateway for movement of seaborne goods from Asia to America's major consumer markets." While many have speculated that the expansion of the Panama Canal might cause shippers to route away from Long Beach and harm the port's business, Slangerup pointed out that doing so would increase shippers' costs between 20 to 40 percent.
As highlighted by Slangerup, other strengths lending to a promising future for the port include its investment in security measures, infrastructure and technology. The Gerald Desmond Bridge Replacement Project and the Middle Harbor Redevelopment Project are creating new, expanded infrastructure to allow for the megaships of the future, he pointed out.
The Middle Harbor project has reached a milestone, as its first phase is now undergoing testing and is expected to be operational this year, Slangerup said. After showing a video about the revamped terminal, a curtain in the arena dropped, revealing, to applause, one of the zero-emission, automated vehicles for moving cargo that are now undergoing testing at Long Beach Container Terminal within Middle Harbor.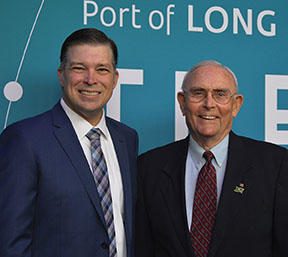 Long Beach Harbor Commissioner Rich Dines, left, with former harbor commissioner and Long Beach City Attorney John Calhoun.
Another major project the port is involved in is the city's effort to rebuild its civic center in Downtown Long Beach, where the port will eventually be headquartered, Slangerup noted.
In the coming year, the port will continue to earn its moniker, The Green Port, by updating its joint Clean Air Action Plan with the Port of Los Angeles, developing strategies for Slangerup's Energy Island concept, and continuing to invest in clean technologies. (See story in this edition on "The Green Port: Toward An Even Greener Future.")
"Together, we have the opportunity to transform the Port of Long Beach from merely a world class port into the world's best port," Slangerup said in closing. "Thank you – and welcome to the port of the future."
(All photographs by the Business Journal's Larry Duncan)