Since April, representatives from every link in the supply chain – labor, freight forwarders, beneficial cargo owners, terminal operators, rail lines, truckers and others – have been meeting at least once a month under the guidance of the ports of Long Beach and Los Angeles to resolve issues impacting goods movement. The competing ports are able to facilitate these meetings thanks to a discussion agreement authorized by the Federal Maritime Commission following massive congestion that lasted from August 2014 through spring of this year.
Several supply chain stakeholders involved in what has become known as the supply chain optimization working group told the Business Journal that being able to meet together regularly around one table is progress in itself because, to their knowledge, it has never been done before.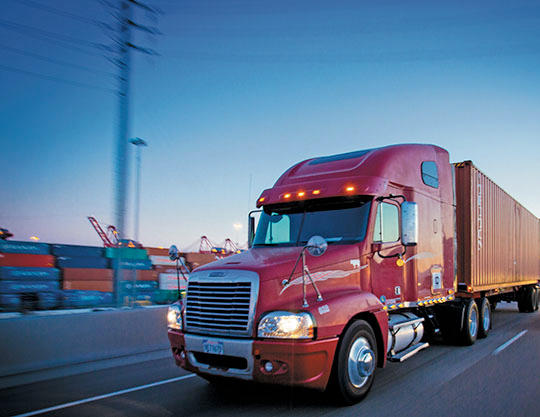 (Port of Long Beach photograph)
"I have been doing this for 30 years, and this is the first time I have seen every member of the supply chain sitting around the table at one time," Mark Hirzel, president of the board of directors of the Los Angeles Customs Brokers & Freight Forwarders Association (LACBFFA) Inc., reflected.  The LACBFFA represents 325 member companies and 6,000 jobs in the customs brokering and freight forwarding industry, which works with beneficial cargo owners (BCOs) to route their cargo shipments from the point of departure to the final destination.
Lena Kent, director of public affairs for BNSF Railway, said the freight rail line has already seen benefits from the dialogue at these meetings. "We appreciate [the ports'] role in bringing all the key partners across the goods movement industry together and the opportunity to work collaboratively as the ports plan for the peak season, a critical time of year for many of our customers," she wrote in an e-mail to the Business Journal.
During last year's peak shipping season, the ports experienced epic levels of congestion due to changes within the supply chain. These changes included use of larger ships by ocean carrier alliances with randomly loaded cargo, a change in the ownership of chassis (the truck trailer equipment used to carry cargo), and a contentious labor contract negotiation process between the longshore workers at West Coast ports and their employers.
While the congestion has since been cleared, it became evident to the ports and supply chain stakeholders that they needed to work together to identify and resolve the issues that had caused it.
The first step in the process has been getting to know the other parties involved in the supply chain, according Reade Kidd, director of logistics for The Home Depot. "That has been sort of a necessary part of the journey . . . to understand everyone's perspectives and how they are coming into this," he said.
Anderson Hay & Grain Co., Inc., which has a plant in Wilmington to export alfalfa and other animal feeds, views the supply chain working group meetings as an opportunity to network, according to Craig Larson, director of plant operations. "The other thing, too, is we have also been able to go talk to terminals to get their perspective of how they think we can help them," he said.
Right now, Kidd is focused on resolving the most basic supply chain issues. "Maybe it's because we're a home improvement company . . . but we believe in the foundation being the most important part," he said.
One issue identified by the working group early on was the way terminals and truckers were calculating turn times – the time it takes a truck to enter a terminal, pick up or drop off a container, and leave again – was fundamentally different. The inconsistency in logging turn times comes down to "where that information begins and ends," according to Robert Loya, director of operations for California Multimodal LLC. Loya represents the California Trucking Association in the ports' supply chain optimization group meetings.
The trucking community includes the amount of time a trucker waits outside of a terminal gate and the amount of time spent inside the gate when calculating turn times. Terminal operators typically only measure time spent inside the gate, Loya explained. That can amount to hours' worth of discrepancies.
The supply chain optimization group has identified creating a common system for measuring turn times as a priority. Kidd said it is at the top of the list of goals for Home Depot.
"We feel like a lot of the conversations around terminal productivity is some times a very heated, passionate and subjective conversation, and we find it a little ironic that metrics and numbers become the subject of conversation as opposed to objective," Kidd explained. "So we find that the first step is to really just get some objectivity around the numbers."
In general, Loya feels there should be more transparency around information affecting supply chain stakeholders. "I don't know if this is a pie-in-the-sky thing, but every stakeholder would love to see transparency," he said. For example, "I would love to know how many chassis are at the port at any given time," he explained. "If we know that there are chassis available at any particular point in the day, that helps a trucker be more efficient."
Loya understands that making this information readily available to all involved parties is not going to be an easy task. "To get there, it takes a lot of work, because that means there has got to be a central web portal that all terminal operating systems are communicating to," he said.
A major topic of discussion during supply chain group meetings has been ways to not just document but actually improve truck turn times. John Cushing, president of PierPass, said one cause of slow turn times has been the amount of time containers are allowed to dwell within terminal gates. PierPass works with marine terminal operators to improve congestion issues by incentivizing truckers to come during nighttime shifts by imposing a fee to enter terminals during the daytime. The collected funds are used to fund night shifts at the terminals.
"The sooner a container is picked up and taken off the terminal, the better, because it frees up space on the terminal," Cushing said. "It is a big concern when containers stay on the terminal for extended periods of time, because that means that they continue to be put into stacks or blocks that become storage," he explained. "And when a truck arrives to pick up a container, the likelihood is that the terminal operator will have to move several containers to get to the one that is needed. Right now, on average, three containers must be moved out of the way to get one container."
A focus of the supply chain working group has been to promote further use of peel-off programs, in which importers, shipping lines, terminal operators and trucking companies agree to group containers on a terminal by common destination. With this approach, a trucker picks up the top container in a stack rather than waiting for others to be moved to pick up a specific container, thus saving time. "It has been in place at terminals in the past but we continue to promote it as something for everyone in the supply chain to work together to utilize," Cushing said.
Cushing said the group has also been discussing the possibility of more marine terminals using appointment systems for trucks to pick up containers. While currently only five of 13 terminals in the San Pedro Bay port complex use appointment systems, another five will start using them next year, he said.
Another issue being discussed at length during supply chain optimization group meetings is a shortage of chassis within the ports. While partially resolved earlier this year by a new system in which chassis owners allow their equipment to be used interoperably, issues remain. "One of the biggest ones we've been working on now is during peak times there is a chassis shortage," Larson said.
Anderson Hay has its own fleet of chassis to accommodate its heavy loads, but Larson said his company is still keenly interested in ensuring the chassis pool in the port complex is functioning efficiently. "I look at it from a larger picture where it is important to us as a company, because if there is a lot of congestion, people can't find chassis. Then my trucks can't get in and out efficiently either," Larson said.
Ultimately, Hirzel said the goal of the group is to "help increase the efficacy with which cargo moves through our ports, so we could have more business in both the San Pedro Bay ports."
Not accomplishing this end could – and to some extent, already has – result in lost business. "What we all know is that even the threat of a disruption is enough to cause the BCOs to route their cargo through other ports," Hirzel said. "I know of customers, BCOs who I can't name, who have told me proudly that they have routed 100 percent of their cargo around L.A. and Long Beach. They would rather pay more for a more reliable supply chain so that they can calculate with greater precision when a part will be at their factory so they can incorporate it into the products they manufacture."
"I would say there have been issues that have gone on for a long time and haven't been addressed," Hirzel said. "Sometimes, when things break, it helps to identify what really needs to be fixed in the long run to make it even better in the future." The supply chain optimization-working group of stakeholders is key in that process, in his view. He concluded, "I think this is the best thing that has happened to the ports since containerization."