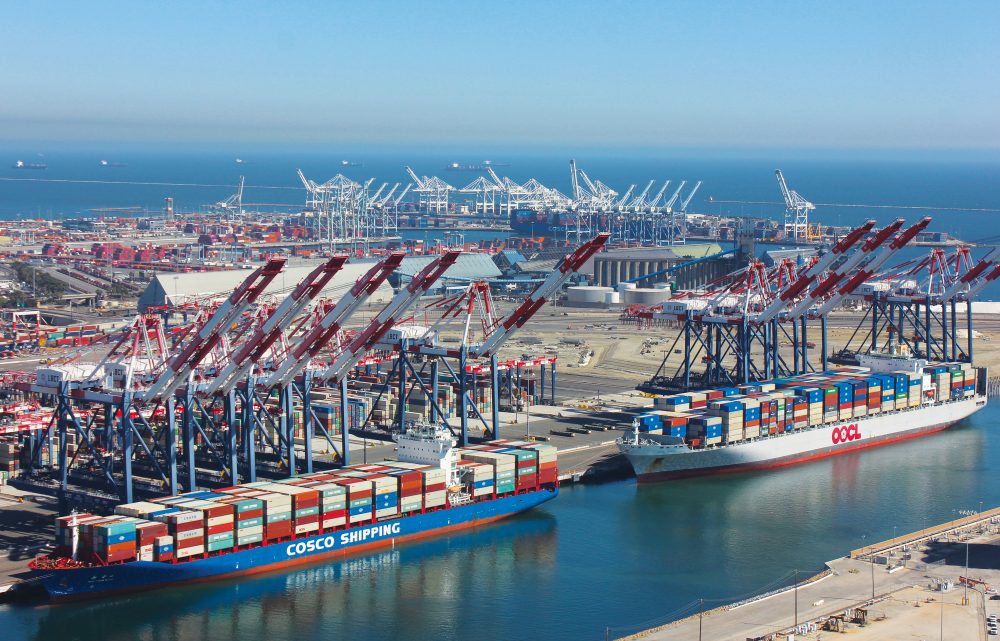 Air pollution out of the ports of Long Beach and Los Angeles has been a point of contention for years, particularly for its impact on communities of color. Both ports have developed and redeveloped plans to reduce emissions. However, the California Air Resources Board voted unanimously Thursday to approve a new rule to reduce large amounts of pollutants from ships at berth.
The new regulation bolsters existing clean-air mandates by requiring more ships to physically connect to onshore electrical grids to meet the ship's energy needs, allowing auxiliary engines to be shut down and reduce emissions—a practice known as shore power.
Goods movement through the port accounts for nearly a third of California's economy but about half of the state's air pollution, according to state and CARB data. By 2031, the new regulation is expected to eliminate thousands of tons of pollutants.
The previous at-berth regulation was approved in 2007 and required cruise, container and refrigerated-cargo vessels to connect to shore power. Since then, shore power has been installed at 65 berths statewide and on more than 500 vessels, resulting in an 80% reduction in emissions from those ship classes as of this year.
Hector De La Torre, who made the motion to adopt the regulation, said oil tankers are the greatest polluter of the vessels currently not required to connect to shore power.
"We cannot look the other way on the emissions we're seeing from … tankers," he said during the meeting. De La Torre noted that the successes of the 2007 regulation proves the expanded regulation will be effective.
Other ships currently not required to connect to shore power are bulk ships, which carry unpackaged cargo such as grains, coal and ore, and roll-on/roll-off vessels that transport wheeled vehicles such as cars, trucks, trailers and railroad cars.
The approved regulation sets timelines for compliance based on ship type: all container, refrigerated and cruise ships by 2023, roll-on/roll-off (ro-ro) ships by 2025, and tankers by 2025 in Southern California and 2027 in Northern California.
The measure also includes the ability for companies to use CARB-approved innovative concepts as an alternative to shore power. Once berthed, ships have two hours to connect to approved emission control equipment.
Under the new regulation, nitrogen oxide emissions from ships are expected to be 46% less in 2031 compared to projections based on the 2007 regulations. Similarly, diesel particulate matter is expected to decrease 52%. At the ports of Long Beach and LA, by 2031 there is expected to be a 55% decrease in cancer risk associated with air pollution.
Additional benefits outlined by CARB include reduced mortality, hospitalizations and emergency room visits associated with poor air quality, the promotion of advances in research and development for cleaner marine technologies, and a reduction in diesel particulate matter, a known carcinogen linked to lung cancer.
"Keep in mind, these emissions reductions still won't kick in for another couple years," said Francis Yang, a Long Beach and South Los Angeles community organizer with the Sierra Club's My Generation campaign. "That's more time that ships get to continue to pollute our air. That's more time for the same frontline communities to have to wait to breathe." 
Total net costs for the measure from 2021 to 2032 is estimated at $2.23 billion, while the state would save $2.32 billion by avoiding adverse health impacts brought on by excessive air pollution, according to CARB. Anticipated costs per vessel are $1.14 per 20-foot equivalent unit on container and refrigerated ships, $4.65 per passenger on a cruise ship, $7.66 per vehicle on ro-ros and less than one center per gallon of finished product on an oil tanker.
Following the vote, the International Longshore and Warehouse Union Local 94 and 29 released a joint statement saying the regulation puts California ports at a disadvantage.
"We are disappointed in the decision … which has the potential to jeopardize hundreds of good-paying jobs," the statement reads. "It is not feasible for ro-ro vessels to comply with CARB's required technology by 2025, and even once the technology becomes available the cost will be out of reach for the ports."
Rather than placing the burden solely on California ports, the union said elected leaders should push for national air quality and environmental standards to maintain a "level playing field." Specifically, they argue that ro-ro vessels may now bypass California ports in favor of facilities without such requirements, including Houston, South Carolina and Mexico.
De La Torre was critical of the port of Long Beach and LA during the meeting, saying he is frustrated at recent decisions to delaying environmental fee collections for trucks that do not meet environmental standards. He said the ports made the decision based on "economic uncertainty," while the ports were experiencing high cargo volumes.
"They knew they had very high volumes in the month of July," de la Torre said. "That, to me, is a complete lack of commitment to their Clean Air Action Plan. That container fee has to be part of the solution."
The ports experienced an increase in cargo volumes because of a surge in online shopping amid the coronavirus pandemic, Lee Peterson, a communications specialist with the Port of Long Beach, said in an email. He confirmed a proposal has been made to delay the trucking fee implementation to next year. Peterson went on to say the port is supportive of the new regulation.
"[We] will be working on developing the required Port Plan … [that] will describe the actions the Harbor Department needs to take in order to ensure compliance," Peterson said, adding that the plan is due to CARB on Dec. 1, 2021.
Port cities must be held accountable for air pollution that impacts surrounding communities, De La Torre said. At the same time, board member John Gioia said landlocked communities across the country also must do their part by accepting slight increases in consumer goods prices when costs are inevitably passed onto consumers.
"Fees are really small compared to the value of goods that are being transported," Gioia said. "[Port] communities shouldn't pay the price for providing the United States with consumer goods that are coming into our ports."
CalMatters contributed to this story.