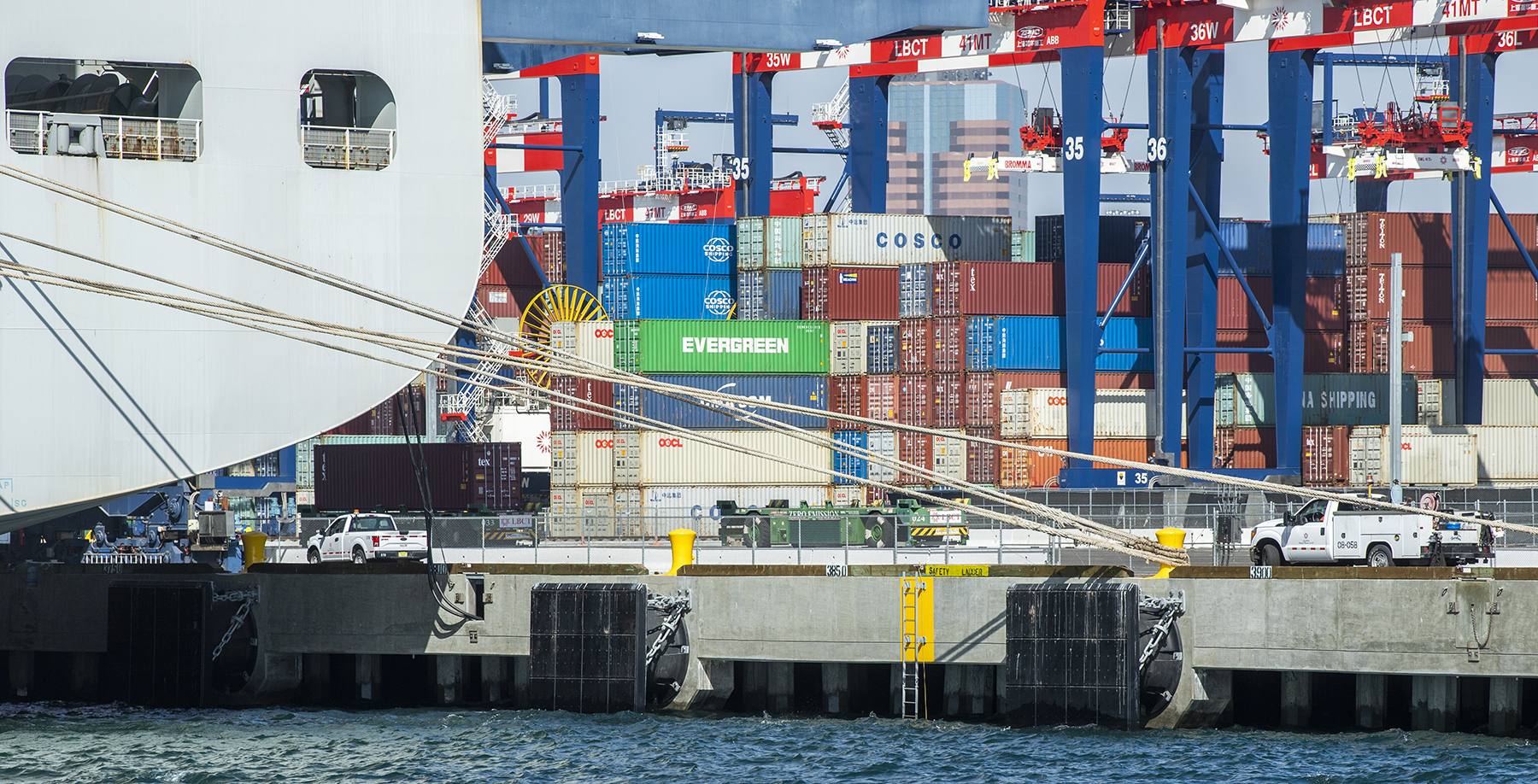 State legislators in an extensive Wednesday morning hearing surveyed solutions to the ongoing challenges in the supply chain that have led to cargo delays and record congestion at the San Pedro Bay ports.
"This is a multi-faceted problem and it will require multi-faceted action," said Assemblymember Patrick O'Donnell, D-Long Beach, who chairs the state Assembly's committee on goods movement and called for the joint hearing with state senators. "There's not one switch you can flip."
Legislators and representatives of different links along the supply chain spoke about efforts already underway, like charging shippers penalties if containers linger too long at the ports, and other avenues that could help moving forward, like intervention from the federal government. 
The penalties on shippers at the ports of Long Beach and Los Angeles will go into effect later this month in the hopes that they will incentivize shippers to move containers off port property more quickly.
Containers lingering at the ports in excess of nine days will incur a fee of $100 per container per day if they are to be transported by truck. The same fee will be applied if they remain at the port for six days if they're supposed to be loaded onto a train for further transport.
In September, the average dwell time for containers being moved by truck reached 5.94 days, its highest level since the Pacific Merchant Shipping Association began tracking the data point in May 2016. Prior to the pandemic, dwell times were about 2.5 days, according to a spokesperson for the Pacific Merchant Shipping Association.
Container dwell time for rail, meanwhile, was 5.5 days in September.
Mike Jacob, VP and general counsel of the Pacific Merchant Shipping Association, although critical of the fee, expects it to be effective in reducing these longer-than-usual dwell times. Getting cargo off the port property and onto retailers shelves is the core mission of the carriers he represents, Jacobs said. "We need to make sure that they're moving goods to market."
Shippers, he added, are working to increase at-sea capacity to transport goods and empty containers. "We have a capacity shortage, and we're bringing more ships into service," Jacobs said.
In the meantime, the state is looking to identify additional land to be used for storage near the twin ports of Long Beach and LA. An Oct. 20 executive order issued by Gov. Gavin Newsom directed state agencies to find state, federal and private land for short-term container storage by Dec. 15 and temporarily exempt weight limits on select freight routes.
In another temporary fix to one of the most prominent issues impacting the supply chain at the moment, David Kim, secretary of the California State Transportation Agency, suggested the federal government might invoke the Defense Production Act to produce chassis, which are mostly produced abroad and currently in extremely short supply.
"That is something we have raised and will continue to do so," Kim said.
In the long term, experts and legislators are hoping to alleviate some of the issues contributing to the current supply chain crisis, such as declining numbers of truck drivers and a need for more infrastructure investments, by emphasizing workforce development in the trucking industry and advocating for more federal funds to go to California ports.
Solving the current supply chain challenges and preventing future crises will have to be a collaborative effort, all in attendance agreed. "Even a large state like California cannot solve this problem on our own," Kim said.