A high frequency of residential, industrial and retail projects have cemented Long Beach as a city undergoing considerable development, according to local construction executives. While construction firms oversee and facilitate many of these projects, they often solicit the work of contracting firms, whether they specialize in design or physical building, to complete these citywide developments.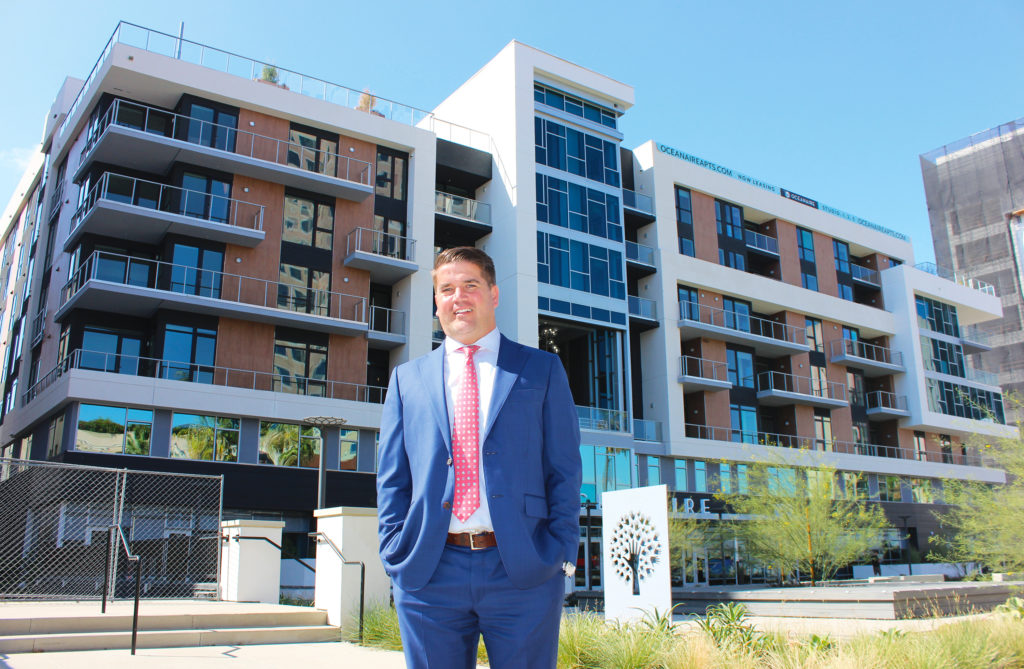 The Business Journal contacted general contractors and construction firms to learn about current and past Long Beach projects and the history of their companies.
Brandywine Homes
Based in Irvine at 16580 Aston St., Brandywine Homes was founded in 1994 by Jim Barisic with the purpose of building family developments in the region, according to Melissa Reese, the firm's director of sales and marketing. The company has 30 employees.
In Long Beach, the firm developed the Riverdale community, a neighborhood of 131 single-family-detached homes that was completed in 2018 at 4747 Daisy Ave. "Brandywine specializes in infill communities, which means they develop underutilized pieces of land in existing communities," Reese said. "Most of the time, it is an asset of the neighborhood. It improves the neighborhood and increases the value of the home." She said the community sold all its homes as of this August.
Adjacent to the Riverdale community is David Molina Park, 4951 Oregon Ave. Reese said Brandywine developed the park as part of an agreement with the city to complement the neighborhood. "Of all the communities, I felt like Brandywine and that community had such a strong bond and contribution to one another," she said. "It was one of my best experiences ever in developing a community."
She said Brandywine Homes is working on various developments in Carson, although she indicated that the firm hopes to develop a future community again in Long Beach.
Clark Construction Group
Carlos Gonzalez, regional executive officer of Clark Construction Group in Irvine, said the firm has had a strong presence in the Southern California area since the 1980s. The company was founded in 1906 in Maryland and has multiple offices nationwide.
Among the most well-known of the firm's projects in the city is the recently completed Pacific Visions wing at the Aquarium of the Pacific and the new Long Beach Civic Center. The major projects were completed consecutively in May and June of this year.
In late May, the Aquarium debuted Pacific Visions, a 29,000-square-foot facility that includes live animal exhibits, a new theater, art galleries and digital installations, according to Gonzalez. Successfully completing the civic center on June 29 at 411 Ocean Blvd., the $523 million project includes a new city hall, civic chambers, a Port of Long Beach headquarters and the Billie Jean King Main Library, he added.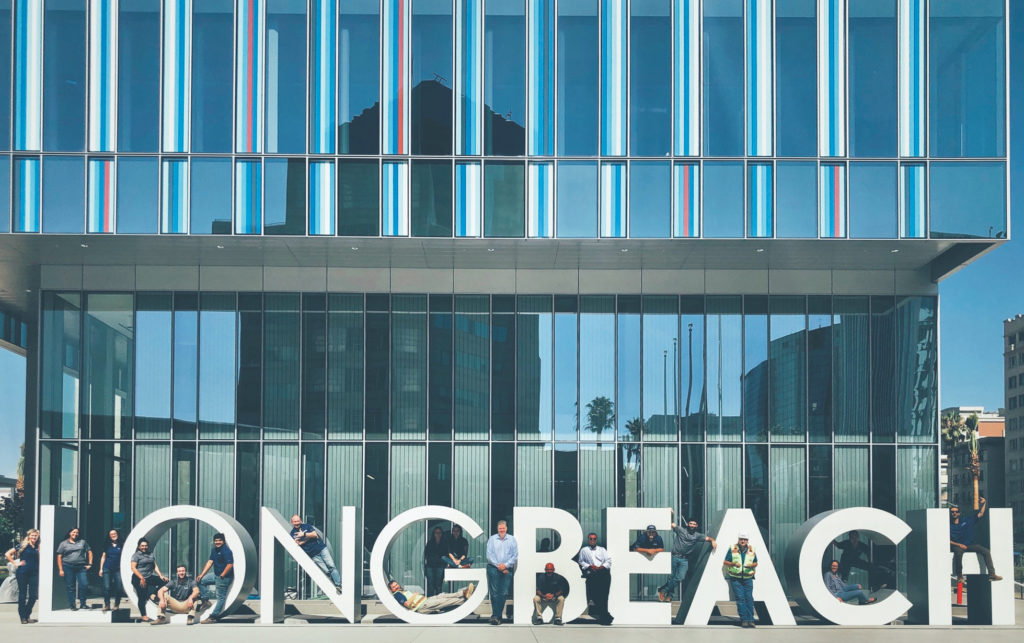 "We have a professional but very positive relationship with the city," Gonzalez said. "We think of [it] as a good professional, trusted partner, and we believe [the city has] a similar appreciation for the Clark Construction team."
Gonzalez said the Irvine office, 18201 Von Karman Ave., governs the Southern California operations of the company and has 90 employees.
Next up for the Clark Construction Group team is to work on the upcoming expansion of California State University, Long Beach's Steve and Nini Horn Center, which houses the college's undergraduate advising center, computer center and university art museum. The construction start date is set for May 2020 and set for completion June 2021, according to Gonzalez.
Millie & Severson, Inc.
The main project Millie & Severson, Inc. is facilitating in the Long Beach area is software developer Laserfiche's new corporate headquarters at 3545 Long Beach Blvd. According to John Grossman, senior vice president of Millie & Severson, the project is in the pre-construction phase and is set to begin construction within the next 30 days.
A groundbreaking ceremony for the new 102,000-square-foot corporate headquarters was hosted in July. According to Laserfiche, the site will be the first new office development along Long Beach Boulevard in Bixby Knolls for nearly three decades.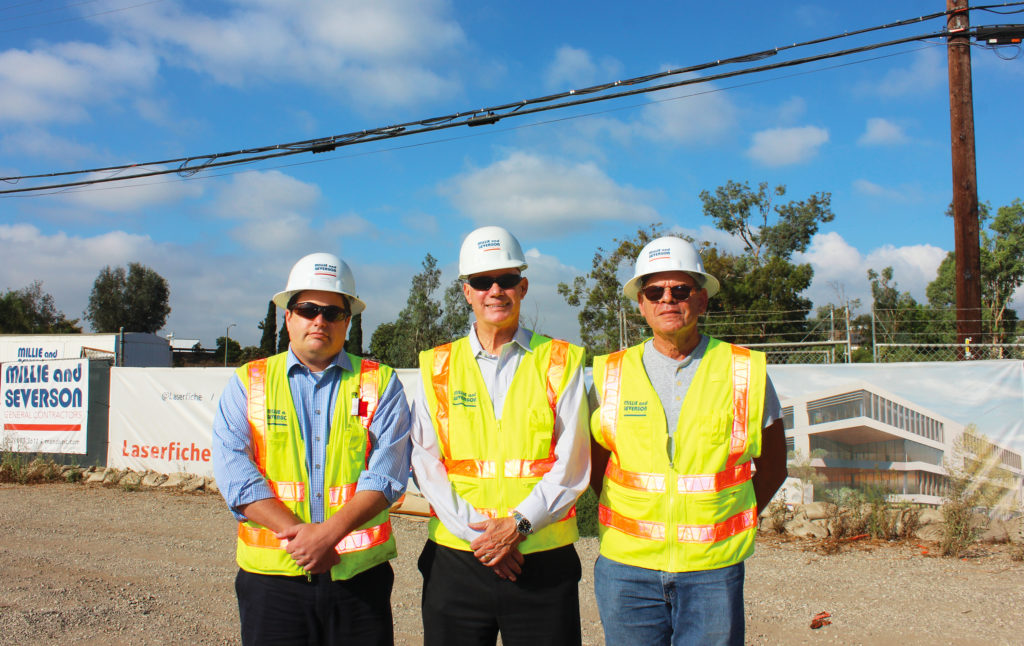 Millie & Severson, Inc. was founded in 1945. The firm's headquarters is located at 3601 Serpentine Dr. in Los Alamitos, according to Lisa Gasdaglis, director of corporate marketing for the company. The location has about 55 employees. "We've been building almost exclusively in California since that time," she said. "We've been very active in the Long Beach area." Millie & Severson's past work includes various developments at Douglas Park and multiple renovations to MemorialCare Long Beach Medical Center, among many others.
"As a long-term Long Beach employer and builder, we're certainly committed to building in Long Beach for our clients," Gasdaglis said. "It's driven, of course, by the market and the industry. We [expect to continue] building in Long Beach because we are a well-respected builder in Southern California."
Norm Wilson & Sons, Inc.
Recently celebrating 37 years of operating in Long Beach, Norm Wilson & Sons, Inc. has helped build multiple Signal Hill and Long Beach projects, such as the Mercedes-Benz West Coast Campus, Douglas Park developments, Signal Hill Gateway and Mother's Market.
Owner Randy Wilson founded the company, which he named after his father, in 1982 at 3400 E. Spring St. Of the 55 people the firm employs, 30 are Long Beach residents and at least 10 are members of Wilson's family. He said the firm is licensed to build in Oregon and Arizona, although work is primarily conducted in Southern California. "I've lived here my whole life, [and] I think the city is doing a great job," he said of the region. "I live right by the Long Beach Exchange . . . [and] everybody around couldn't be more excited [about that space]."
One of the firm's most significant projects is the Mercedes-Benz West Coast Campus, located at 3860 Lakewood Blvd. Wilson said his workers converted roughly 1,100,000 square feet of an existing airplane hangar into a vehicle preparation center for Mercedes-Benz. The center is one of three that Mercedes-Benz has nationwide and plays a significant role in the company's inspection of vehicles on the West Coast, Wilson said. The project was completed in late 2015.
Located across the street from the Mercedes-Benz site is another Norm Wilson & Sons project: The Terminal, a four-building office development located in Douglas Park at 4265 E. Conant St. Wilson said the project was separated into two phases. It broke ground in 2016 and sold out earlier this year, according to developer Urbana Development. Each office space ranges from 2,300 to 2,800 square feet.
Additionally, a distribution facility at 1901 W. Pacific Coast Hwy. for Nippon Express, a global logistics services company, will be completed this year.
Pulte Group, Inc.
Pulte Group, Inc., the nation's third largest builder, was founded in Detroit in 1950. The company is the general contractor for the Dorado residential project in East Long Beach at 8055 Dorado Cir. The firm's Southern California office in Mission Viejo houses 111 employees, according to Darren Warren, vice president of land at Pulte Group's Southern California Division. On average, Warren said this division develops about 700 homes a year throughout the region.
The Dorado development is a community of 40 homes ranging from 2,465 to 2,900 square feet, for sale at an average price of $900,000. Dorado is Pulte Group's first development in Long Beach, he said. "Grading and development started in January of 2018, with a grand opening of models in November of 2018," Warren said. "The project is ongoing with about 25 left to sell. . . . We've wanted to operate in this strong Southern California market for some time now, and we are just pleased we found the right opportunity . . . to be able to offer one of our quality communities in a great location."
Although there are no current plans to develop another project in Long Beach, Warren said Pulte Group hopes to continue its presence in the city.
SFI Joint Venture
SFI Joint Venture (SFI JV) is a collection of three general contractors that have united to work on the Port of Long Beach's Gerald Desmond Bridge Replacement Project, an effort to replace the old bridge and improve traffic flow and safety.
Shimmick Construction Company, FCC Construction and Impregilo S.P.A together make up SFI JV. "It's a single-purpose venture just for this project," said Robert Schraeder, SFI JV project manager and vice president of Shimmick Construction. "We put together a joint venture specifically to execute this job because it's very large. We combined our technical skills, and now we have the resources to execute the work." Shimmick Construction, located in Irvine, has been in business for 23 years.
Set for a spring 2020 completion date, the Gerald Desmond Bridge Replacement Project is 90% done, according to Schraeder. Workers are finalizing cable work on the main portion of the bridge. When complete, the bridge will have three traffic lanes flowing in each direction, emergency lanes on the inner and outer shoulders to reduce traffic delays and accidents and a vertical clearance to allow larger vessels to pass through, according to the Port of Long Beach website.
The completion of the bridge represents an exciting time for Long Beach, Schraeder said. Of the 250 total workers onsite constructing the bridge, 52 are Long Beach residents, he added. "A lot of our guys are excited to be a part of the project," he said. "They realize this is once-in-a-lifetime moment for them and their families, and they're excited that they can tell their children and grandchildren that they built this bridge. . . . As far as infrastructure, it's really the premiere infrastructure on the West Coast right now."
Snyder Langston
The opening of the Long Beach Exchange retail center last year provided a much-needed boost to an underserved portion of the neighborhood, according to Richard Cavecche, senior vice president of operations with general contractor Snyder Langston.
Developer Burnham-Ward Properties selected Snyder Langston in late 2016 to execute the physical build of the Long Beach Exchange. During the pre-construction period, Cavecche said his team collaborated with DRA Architects to understand the specifics of the site's layout. "We try to make sure that our teams have the requisite experience necessary to build a particular project and to understand what's important to the client and the vernacular of each type of product, whether it's residential or office or retail," he said. "They each have their own specific requirements."
Snyder Langston has offices in Irvine, El Segundo and Pasadena. The corporate office, at 17962 Cowan in Irvine, has 50 employees, eight of whom are from Long Beach, Cavecche said. Nine management staff members oversaw the Long Beach Exchange project, but hundreds of onsite workers built the center.
Although there is pride in developing a center for a community, Cavecche said it is always a "bittersweet moment" to conclude a project like the Long Beach Exchange. "It's always bittersweet, because you put your heart and soul into this project for two years, and then they open it up and nobody knows who you are," he said. "You go from the most important person to just a member of the general public in literally a day – and that's actually the way it should be. But it is a little bittersweet."
This isn't the first time Snyder Langston has constructed a retail project in Long Beach. The firm built the Pike at 95 S. Pine Ave. 15 years ago, according to Cavecche. "From what I understand, it has gone on to be quite successful," he said. "I was there the other day, and I was very pleased to see everybody using the facilities. It's always fun to see the public using a facility for what it's designed for."
WW Stephenson Co.
A decade in the making, the Port of Long Beach's Middle Harbor Redevelopment Project aims to significantly reduce air pollution while expanding the terminal to hold more cargo, according to Mike Morrow, president of WW Stephenson Co.
According to the Port of Long Beach, construction on the terminal began in 2011. Morrow said the project is on pace to conclude in June 2020. The terminal will span 311 acres and have the capacity to process 3.3 million 20-foot equivalent units of containerized cargo.
The nearly $1.5 billion project is separated into phases, Morrow said. The first phase, which concluded in 2016, completed about 170 acres of the site, while the second phase features the expansion of the terminal's on-dock rail yard.
WW Stephenson Co., located in Signal Hill at 1305 E. Burnett St., was founded in 1977 and provides general engineering and general building contractor services, Morrow said. "Our primary focus is working the port," he said. "It's just geographically desirable, and we've been doing it a long time."
Zwick Construction Company
Jeffrey Bleak, division manager of Zwick Construction Company, said the firm just concluded work on the Oceanaire apartment development at 150 Ocean Blvd. in June. Oceanaire is a 450,000-square-foot development with 216 units. Bleak said the owner, Lennar Multifamily Communities, began leasing the space during the summer.
"The project has a unique design with a fountain located in the center courtyard," he said. "It has great views over the top of The Pike looking toward the Queen Mary."
Zwick Construction Company was founded in 1969, according to Bleak. The company has three division offices: two in Utah and one in Irvine at 101 Academy Dr. that governs the firm's Southern California operations. Zwick's Southern California division has 25 total staff members, but only about seven work primarily in the office. The other employees are out scoping various projects throughout the region.
Bleak highlighted Downtown Long Beach as a particularly active development market, commending the work of city officials to promote the area as a prime destination for real estate. "Long Beach is a hot bed right now for new development, which is great for the community, all the while keeping the developments unique to the history and culture that Long Beach offers," Bleak said.