Known as The Green Port for its comprehensive environmental projects and programs for toxic air emissions reductions, water quality improvements and community health, the Port of Long Beach (POLB) is not resting on its laurels. Instead, it is pushing for an even greener future by re-evaluating its environmental policies, investing in cleaner technologies and infrastructure, and making sustainable and earth-friendly initiatives a key component in its capital improvements.
One of the POLB's main points of focus this year is its joint effort with the Port of Los Angeles to update their Clean Air Action Plan (CAAP), according to Rick Cameron, managing director of planning and environmental affairs for the POLB. The plan, which outlines strategies for meeting air emissions reduction goals and sets benchmarks for those goals, was last updated in 2010.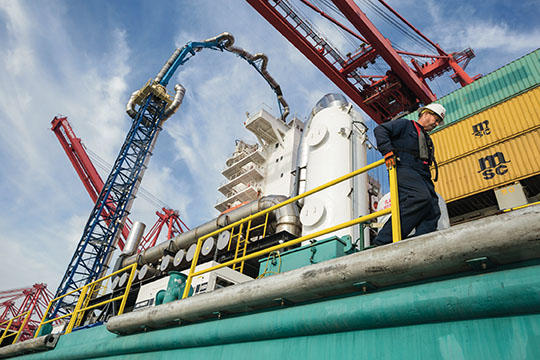 The barge-mounted Advanced Maritime Emissions Control System hooks up to a ship's engine, sucks out harmful air emissions, and cleans the exhaust. The Port of Long Beach has invested in the testing of this equipment, which was recently approved for use on some container ships. (Photograph courtesy of the Port of Long Beach)
Last year, the POLB announced it had exceeded its air emissions reduction goals for 2014. Diesel particulates were reduced by 85 percent since 2005, exceeding the goal of a 72 percent reduction. Nitrogen oxides and sulfur oxides were reduced by 50 percent and 97 percent, respectively, exceeding reduction goals of 22 percent and 93 percent.
Considering that the port is ahead of achieving its air emissions goals, and factoring in new state policies and regulations related to climate change, the POLB is working with its neighbor, the Port of Los Angeles, on what Cameron calls CAAP 3.0. "It is going to go well beyond what we had originally set out in the CAAP, which was looking for technologies for diesel emission reductions. We are talking about going away from combustion in a variety of sources at the port," Cameron said.
The updated plan is going to contain strategies for including more near zero and zero emission technologies in port operations. The ports' joint supply chain optimization (SCO) efforts, which aim to increase goods movement efficiencies from all ends of the supply chain, will also be rolled into the plan, Cameron noted. "Over the course of the next year, targeting a few strategies coming out of that [SCO effort] will also have inherent benefits when it comes to the environment, air quality or just overall reduction of impacts, such as traffic congestion, noise and things of that nature," he explained.
The port is already investing in cleaner technologies. The Middle Harbor Redevelopment Project, which involves combining two aging terminals and upgrading them to accommodate bigger ships, includes electric, zero-emission cranes and automated vehicles. When complete, the massive terminal will help the port achieve its air emission reduction goals.
Expanding rail infrastructure for cargo movement    also holds potential for reducing air emissions associated with port operations. "For every train we build, it can have a reduction of 500-plus trucks that would otherwise go onto the I-710 [Long Beach Freeway]," Cameron explained.
"One of the signature projects we are going to be really pushing for in the coming years is what we call our Pier B rail yard," Cameron said. "What our Pier B rail yard will do is expand the overall storage track, enhancing utilization of the on-dock facilities at each of our marine terminals. This helps us build more trains within the port, and it takes trucks off the I-710." This project will help the port move toward its goal of having 50 percent of all cargo move via rail, he added.
The POLB is also investing in new technologies that hold promise for greener port operations. Over the past year, the port has funded testing of the Advanced Maritime Emissions Control System, a new technology that provides an alternative for ships unable to plug into shore electric power while within the port. The system is mounted on a barge and connects to the engines of container vessels, capturing and cleaning their harmful air emissions. The California Air Resources Board (CARB) recently approved the technology for use on container vessels with certain kinds of engines, Cameron said.
"Moving forward, we want to continue with what we call a phase two demonstration program, which looks at getting approval by CARB to use this unit on non-container vessels," Cameron said.
One of the port's most expansive environmental initiatives, Energy Island, is the brainchild of Chief Executive Jon Slangerup. Since he announced the concept at last year's State of the Port address, the port has completed a series of white papers examining strategies for renewable energy sources to support port operations and air emission reduction goals.
One of the key goals associated with identifying renewable energy sources for the port is to ensure that its operations are able to continue functioning if the Southern California Edison energy grid experiences a black or brown out. "Energy Island is really about . . . having the infrastructure in place to keep the port operating so that our customers feel comfortable in investing in zero and near-zero emission technologies," Cameron said.
"We have looked at a variety of different strategies and are starting to prepare some proposed pilot projects that we will bring to our board of harbor commissioners in the coming year," Cameron continued. The port is working with stakeholders such as Southern California Edison and the California Energy Commission to identify strategies for Energy Island, as well as opportunities for state funding. "The long-term vision is that we would incorporate a lot of these strategies into our sustainable design guidelines for future port development and infrastructure programs over the course of the next 10 to 15 years."
Eventually achieving near-zero emission operations will take leadership, collaboration, incentives for supply chain stakeholders, and well-thought out planning – and it won't happen overnight, Cameron emphasized.
In addition to focusing on air quality and clean energy initiatives, POLB is also dedicated to improving water quality in and around its facilities. "The overall ambient water quality in the harbor meets and in some cases is well above compliance," Cameron said. "Not only do we monitor the ambient water quality in the harbor complex as a whole, we also have a very aggressive monitoring and storm water program."
The port conducts bio-surveys to assess the well-being of aquatic wildlife, and has recently found that kelp, which is very sensitive to water quality, is in abundance in port waters, Cameron pointed out.
"The thing we are going to be focusing on in the future to continue to improve our water quality and our habitat within the harbor complex is addressing a lot of the contaminated sediments from past discharge of storm water and other contaminants that come down the L.A. River or the Dominguez Channel," Cameron said. As part of the Middle Harbor project, for example, the port removed contaminated sediment during the dredging process, cleaned it up, and reused the sediment as fill for port projects. "From a port perspective, it's a lot more cost effective, more sustainable," he said of this process.
As the port works toward a greener future, port staff and the Long Beach Board of Harbor Commissioners have committed to continually evaluate the mitigation grants program for the community, which provides funding to offset the adverse health impacts of port operations. "We have funded over 170 projects in a variety of size and scale: everything from HVAC systems for schools, new doors and windows . . . health care diagnostic centers," and more, Cameron noted.
"In the long run, we are going to reduce our overall emissions that have an impact on the health of our communities," Cameron said. "And then, in the interim period, how can we prevent any of the emissions that are going to continue until we get to where we need to be? That has been the focus of those programs."