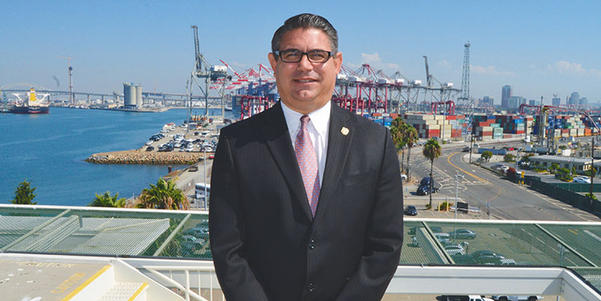 The Port of Long Beach (POLB) of the future needs to be one prepared for anything that comes its way – from changes in the shipping industry to cybersecurity threats, the port must have the infrastructure in place to be resilient. It also must be as efficient and green as possible to remain competitive and ensure the health of the environment and surrounding communities. This is the vision for the port of the future as detailed by Rick Cameron, managing director of planning and environmental affairs for POLB.
"Moving forward in the next 10 to 20 years, we're working with the harbor commissioners right now to identify what the green port of the future looks like," Cameron said. In the next six to eight weeks, port staff will collaborate with the Long Beach Board of Harbor Commissioners on updating the port's master plan. "That will be the core of where we want to have the roadmap for the green port of the future."
POLB must be prepared for changes in shipping alliances and even company bankruptcies, according to Cameron. Last year, South Korean shipping line Hanjin, which had the majority stake in one of the port's largest terminals, went bankrupt. Shipping alliances have shifted from four groups to three, and mergers continue to take place, he noted.
"OOCL and Cosco, they're merging now," Cameron said. "That's another one of these transformational adjustments that we are having to make, with two of our major carriers now merging." Both companies have orders on the books for ships able to carry 18,000 twenty-foot equivalent units (TEUs) and 20,000 TEUs of cargo. Most ships calling on the Port of Long Beach today range in size between 10,000 and 14,000 TEUs, according to Cameron.
The port is already in the midst of several projects to prepare for the future, including a massive $4 billion capital improvement program to become big ship ready. This program includes the Middle Harbor Redevelopment Project, in which Long Beach Container Terminal is being upgraded to handle the largest ships in the world, and the Gerald Desmond Bridge Replacement Project, which will allow larger vessels to pass into the inner harbor.
"We need to also think about how we better utilize our existing resources and our infrastructure, our facilities," Cameron said. "That goes back into being more efficient." The port has been working with industry stakeholders – marine terminals, trucking companies, shipping firms and others – to identify ways to optimize the flow of cargo.
"We have containers now that will sit on the terminal for three to five days and are touched anywhere between 6 to 10 times. That's not efficient," Cameron said. To help alleviate bottlenecks, the port is looking into ways to share data among stakeholders to better plan out cargo movement, he noted.
The draft of the Clean Air Action Plan update, a document that lays out strategies for reducing air emissions for port operations, includes a provision for a universal truck appointment system that would ideally improve turn time of trucks visiting terminals, Cameron pointed out.
Investing in rail is another way the port is looking at increasing efficiencies and greening its operations. "One of our centerpiece projects is our Pier B on-dock support rail facility project," Cameron said. Adding on-dock rail at Pier B could result in six to eight additional trains going out per week, reducing as many as 4,000 truck trips. The port may also soon pilot an electric switching locomotive within its complex, he added.
In continuing to advance its environmental initiatives, which have significantly reduced air emissions and improved water quality, Cameron said that the port must work with private industry to demonstrate and implement new technologies and with the state and federal governments to seek new sources of funding.
To ensure operational resiliency in the future when more equipment is likely to be electric, the port is investigating ways to be grid independent. "We're looking at a pilot project that is going to add some renewable solar panels, some battery storage and even what we call a microgrid," Cameron said. "That is all part of the green port of the future."
In the end, Cameron said, "We want clean air. We want jobs. We want healthy communities."