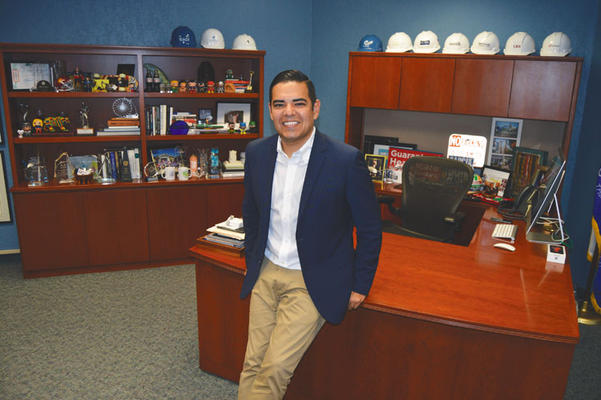 Twenty years from now, Mayor Robert Garcia envisions a climate resilient Long Beach with an active coastline, a still-bustling port, multimodal streets and healthier communities. Garcia and the city government are planting the seeds now to ensure that this vision becomes a reality.
At the top of the list of Garcia's goals for the city is activating its miles-long beach. "Twenty years down the road, I hope to see an active coastline with a reconfigured breakwater," he said in an interview at his city hall conference room overlooking the downtown shoreline. The U.S. Army Corps of Engineers is currently undertaking a study on reconfiguration options to allow for ecosystem restoration.
"We want more people to access the beach and the coast and the water. And the main way of doing that is making sure that we have enough coastal activity and restoration and tidal flow so that the water is not only incredibly clean but [also] so that people can actually enjoy it," Garcia said.
While Long Beach may never be a "surf town," improving water quality and flow could have economic benefits, Garcia pointed out. "It does a lot for the economy along the coast and businesses and home values. I think it's a huge economic boost to reconfigure the breakwater," he said.
Garcia envisions a bright future for the city's hospitality and tourism industry. "We're adding another Carnival Cruise Line terminal. We're building the Queen Mary development, Queen Mary Island. We're developing the downtown," he said. "I do think that 20 years from now we're going to be even more of a destination than we are today."
The city is currently investing in its communities with tax funds from Measure A, a sales tax measure approved last year to fund public safety and infrastructure improvements. "Ten years from now when that project is done, we're going to have a lot to show for when it comes to public streets and buildings," Garcia said.
Garcia also aims to improve streets so that they serve multiple modes of transportation. "We have got to build multimodal streets. We can't only build streets for cars," he said. "We are used to a car-only culture. And I think that we have got to diversify that. . . . I think when you have multimodal communities, your neighborhoods are healthier."
Two decades from now, Garcia also hopes that poverty will have dramatically decreased in Long Beach, where about one-fourth of the population currently lives below the poverty line. "Our biggest concentration of poverty in the city is in Central Long Beach. But we know already that poverty and crime also go hand in hand, and the crime is dramatically decreasing in the center of the city," he said. "I think the city is well-poised to help folks."
Garcia believes that Long Beach will still be known as a hub for international trade in the future but that such a future depends on making investments in the port today. "The port is having some really great months lately. We have got to continue that, strengthen the port, invest in the port," he said.
The port has been a major leader in implementing environmentally friendly policies such as its Green Port Policy and its joint Clean Air Action Plan with the Port of Los Angeles. This is just one piece in a greater puzzle of making Long Beach a climate-resilient city, one of Garcia's priorities for the future.
"We are part of the Paris Climate Agreement as a city. So we are planning for dramatic changes around climate," Garcia said, referring to the international agreement ratified by 146 countries.
"We know that 20 years from now the planet will actually be warmer, which means Long Beach will be warmer," Garcia said. "Overall, we're continuing to green the port and green the city and be environmentally responsible," he said.
When it comes to Long Beach's identity in the future, Garcia reflected, "I really think people associate us with international trade. But I also think that Long Beach will just become a much more international destination. And I think that certainly the downtown will rival downtowns on the coast anywhere in the country in the next five or 10 years."