With the bankruptcy of Hanjin Shipping behind it, the Port of Long Beach has rebounded from associated cargo impacts last year, recently closing out its best first quarter since 2007. Mediterranean Shipping Company (MSC) has taken over Hanjin's majority stake in the port's largest terminal, Pier T, and recently granted Hyundai a minority stakeholder role, according to Interim Chief Executive Duane Kenagy.
"March was a very good month for us. Imports were up about 20%," Kenagy told the Long Beach Business Journal in an interview at the Joint Command and Control Center on Pier F. While exports decreased 8.3% compared to March 2016, overall cargo volumes increased 8.7%, according to a statement from the port.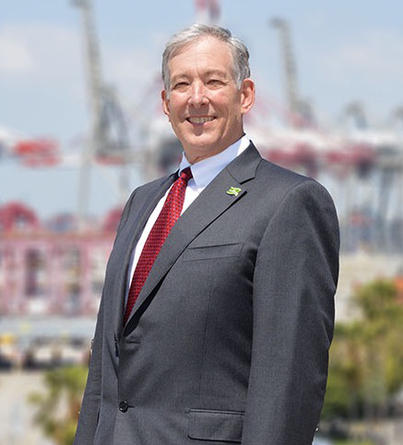 Port of Long Beach Interim Chief Executive Duane Kenagy views modernization of the port's facilities to accommodate ever-increasing vessel sizes as a major priority in the port's future development. Increasing use of on-dock rail is also a key priority. (Photograph by the Business Journal's Larry Duncan)
Kenagy said he expected to remain in the role of interim chief executive until Mario Cordero, the newly appointed executive director, takes over sometime in May. Kenagy, who previously served as the port's capital programs lead, said he is in talks with the harbor commission office about his future role. "Ultimately, I want to talk with Mario and kind of get his idea on how the transition should work," he said.
"We think that consumer optimism and the like is good for volumes coming through this gateway," Kenagy said. "We're cautiously optimistic that this is going to be an up year for us."
Kenagy continued, "We're anticipating modest growth compared to more historic years. The impacts of the Hanjin bankruptcy have been largely absorbed, and we're very happy with the new situation at Pier T with TIL, MSC's subsidiary. They're doing a great job, and we're very excited about that partnership." TIL is the operating entity at Pier T.
This month, Hyundai officially became a partner with TIL, assuming a 20% stake in Pier T, according to Kenagy. "We are very pleased this month to welcome back Hyundai to the Port of Long Beach, and we are also very pleased to be welcoming the new carrier SM Lines, which will be calling at Pier A beginning this month," Kenagy said. SM Lines was formed with assets acquired from the Hanjin bankruptcy, he noted.
The shipping industry continues to struggle with overcapacity, Kenagy pointed out. "That has manifested itself in [shipping] rates that don't reimburse costs for the shipping lines," he said. "There have been a variety of factors that have caused that overcapacity: changes in alliances and, obviously, the industry consolidation that is going on as we speak," he said. Various shipping line mergers have occurred in the past two years, with that of Cosco and China Shipping among them.
As of April 1, the four alliances of major shipping companies have reshuffled into three alliances. "We're cautiously optimistic that rates will accrue and we'll start to see some stability as we work out the issues related to the new alliance structure that started with a shotgun start on April 1," Kenagy said.
The first port calls by vessels operating under the new alliances are expected in the next couple of weeks, according to Kenagy. It is expected that the alliances will deploy fewer, but larger, ships on the transpacific route to the San Pedro Bay ports. "The total volume or cargo that we anticipate coming through this gateway probably won't change a lot relative to the total volume," Kenagy explained.
A group of industry stakeholders that regularly meets with Port of Long Beach and Port of Los Angeles officials to discuss supply chain optimization strategies met recently to strategize ahead of the rollout of the new alliances, Kenagy said. "We had a meeting earlier this week that was primarily focused on how chassis were being dealt with to make sure we don't have temporary, localized chassis shortages with the rollout of the new alliances," he explained.
The Port of Long Beach already provides an off-terminal chassis yard at Pier S to store the equipment when not in use, thereby reducing congestion at terminals and providing a localized chassis source in times of high demand. There is interest among stakeholders in creating more of these sites throughout the port, Kenagy noted.
Asked if he was concerned about anything President Trump has said regarding potential trade policy shifts, Kenagy said it was "hard to say" what actual trade policies could be impacted at this point. "I'm an optimist, and I think it's hard to separate rhetoric from what will ultimately be a policy," he said. "But you know, I'm certainly encouraged by the stock market over the first months of the Trump administration. [That] has reflected positive growth and optimism about the future. I think that's good for consumer confidence, and ultimately, that's good for the ports."
The Port of Long Beach continues to track federal and state legislation that could benefit its operations, including California's proposed Senate bills 1 and 4, according to Kenagy. Senate Bill [SB] 1 would provide hundreds of millions in funding for deferred road maintenance, while SB 4 would allocate $600 million in state bonds for goods movement-related emissions reductions and expanding the use of clean trucks.
"We want to track that closely because one of the challenges that we have as a port is how do we fund projects that are essentially infrastructure projects," Kenagy said. While the port typically has the means to fund revenue-generating projects, infrastructure projects like the proposed expansion of on-dock rail at Pier B are more difficult to finance, he explained. "So how do you fund those projects? We need partnerships with the state and partnerships with federal government, so we monitor that [legislation]."
Another point of focus is the harbor maintenance fee, which is assessed on the movement of goods and passengers through ports. Revenues are deposited into the Harbor Maintenance Trust Fund, which is intended to pay for harbor maintenance and infrastructure projects. But in recent years, Congress has restricted appropriations from the fund.
"The Port of Long Beach and most West Coast ports are concerned about first getting full spending of the Harbor Maintenance Trust Fund," Kenagy said. "A considerable amount of money comes out of this gateway. We get very little back."
The port's ongoing capital improvement projects are progressing steadily, including the Gerald Desmond Bridge Replacement Project. Westbound and eastbound approaches to a new bridge are beginning to take shape, and its towers are already well above the existing Gerald Desmond Bridge. "We hope to open the first lane of traffic at the end of 2018," Kenagy said, noting that this would be for westbound traffic.
The redevelopment of Middle Harbor into one larger, state-of-the-art facility for Orient Overseas Carrier Line subsidiary Long Beach Container Terminal is in its second and third phases of construction, Kenagy said. "We're anticipating that [LBCT] will be moving their entire operation over to the new terminal sometime this summer. And that will allow us to begin demolishing the existing facility and completing the final construction," he explained. "So we should be fully operational . . . by about 2020."
Both San Pedro Bay ports are working together on the third iteration of their Clean Air Action Plan (CAAP), which sets parameters for air emissions reductions and standards in the port complex. One of the principle ways this is achieved is by creating requirements related to the use of clean technology.
"We have a lot of people to bring along in the process – the very sincere environmental interests but also the industry interests," Kenagy said of the CAAP update. "That's kind of the process right now. [It] is trying to find where the common ground is and what's feasible, and obviously, various parties don't always agree on what's feasible."
A draft plan is expected to be released this summer, according to a port spokesperson. "Obviously, the plan needs to balance the commercial feasibility of what we do," Kenagy said. "We had such great success with CAAP 1.0 and CAAP 2.0 through cooperation and commitment from our industry partners, and we need to continue that going forward."