Development News
Groundbreaking On Aquarium's New Wing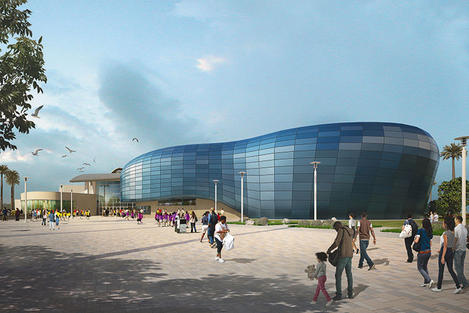 (Rendering provided by the Aquarium)
The groundbreaking event for the Aquarium of the Pacific's Pacific Visions wing is scheduled for February 2 at 10 a.m. The $53 million, 29,000-square-foot wing is the Aquarium's first major expansion since opening in 1998. The expansion will consist of a 300-seat immersive theater, including a 32-foot-tall, 130-foot-long, 180-degree arc digital projection wall and a 30-foot-diameter floor projection disc. A total of 6,000 square feet is to be added to the existing changing exhibit gallery space. These exhibits will rotate "periodically to reflect current scientific issues and discoveries and will be developed in conjunction with the theater experiences," according to the Aquarium website. The entrance to the wing will be through the Pacific Visions Art Gallery, which will feature changing installations meant to create an emotional connection with the ocean and marine life.
Groundbreaking For Molina Park At Oregon Avenue/Del Amo Boulevard
At its January 24 meeting, the Long Beach City Council voted to name the park located at 4951 Oregon Ave. after C. David Molina, founder of Molina Healthcare. A groundbreaking ceremony held at the 3.5-acre park on January 28 marked the beginning of construction of athletic fields, a playground, a walking path and access to the Dominguez Gap Wetlands. Construction is expected to be completed in the fall.
Staybridge Suites Approved Adjacent To Holiday Inn Long Beach Airport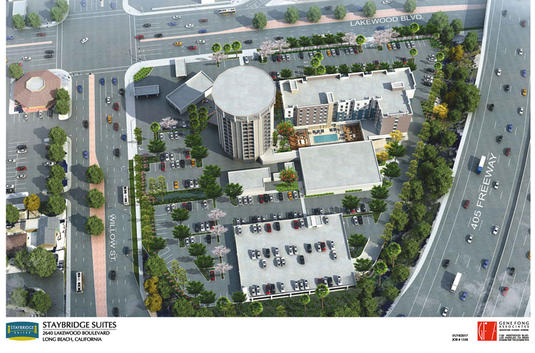 (Rendering, Holiday Inn Long Beach Airport)
At its January 19 meeting, the Long Beach Planning Commission approved a site plan review, conditional use permit and zoning change for a six-story hotel at 2640 N. Lakewood Blvd. The property is part of the existing Holiday Inn, and the project calls for the demolition of the two-story, 50-room portion of the hotel, including conference space. The new Staybridge Suites building would consist of 125 rooms, 2,498 square feet of conference space and a fitness center, totaling a combined 94,299 square feet. The project also includes an outdoor pool, landscape improvements, a two-level parking structure and surface parking, totaling 385 parking stalls.
Studio One Eleven Completes Parasol Park Project In Irvine
Long Beach-based architecture firm Studio One Eleven celebrated the opening of Parasol Park in Irvine on January 21. The firm designed the "Living Room" community building and greenhouse structure at the 2.5-acre park, which is the third of the Great Park Neighborhoods that is connected to the Orange County Great Park.
Real Estate News
Lee & Associates To Submit Offers For Former Redevelopment Properties
City staff will begin reviewing offers for former redevelopment properties located at 2110 W. Cowles St., 2114 W. 14th St., 1680 Santa Fe Ave., 1675 Santa Fe Ave. and 1404-1420 Hayes Ave. Long Beach-based Lee & Associates Commercial Real Estate Services was tasked with marketing and promoting the properties for the city and will submit all offers for review within the first two weeks of February.
Parking Lot At Trade Center For Sale
The Port of Long Beach is selling the 5.6-acre parking lot located behind One World Trade Center and the Hilton Hotel in downtown. The port has not set a price for the lot, which it acquired in 2011; however, the last sale price before the port bought the property was $18 million in 2005. Proceeds from the sale would go into the port's general fund, according to a press release.
ValueRock Realty Partners Acquires Office Building
Irvine-based ValueRock Realty Partners acquired a two-story office building located at 6700 E. Pacific Coast Highway from the Colton Companies for $24 million. The 76,939-square-foot property – originally known as Congressional Place – is currently 100% occupied, including tenants such as Morgan Stanley and Wells Fargo Advisors.
Stepp Commercial Completes $3.5 Million Sale
Stepp Commercial, a Long Beach-based real estate agency, completed a $3.5 million sale of the Atlantic Avenue Apartments, a 20-unit property located at 5075 Atlantic Ave. Los Angeles-based Realty Holdings PSBJ purchased the property from June Quest One LLC. Stepp represented both companies during the transaction.
Retail News
Smog City Off-Site Consumption Beer Sales Approved
Smog City Brewing Co., located at the new SteelCraft complex at 3768 Long Beach Blvd., was approved to sell beer for off-site consumption at the planning commission's January 19 meeting. The brewing company already serves its beers for consumption on-site, but it will now be able to sell bottles or growlers of beer to be consumed at a later time.
Lasher's Kitchen To Open In February
Long-time Long Beach restaurateur Ray Lasher is scheduled to open Lasher's Kitchen in mid-to-late February at 5292 E. 2nd St., the former site of Pho-nomenon. Lasher has been in the restaurant business for 42 years and owned Lasher's on Broadway for 16 years before selling in 2012. Lasher said the new restaurant will serve up comfort foods, some seafood and new-world cuisine with an eclectic menu and shared-plate experience. Lasher's classics, such as fried-green tomatoes with Andouille sausage and a Cajun cream sauce, will share the menu with new items, such as a waffle cone with mashed potatoes, fried chicken and maple gravy. The location will also have vegetarian and vegan options and will serve beer and wine.
AhiPoki Opens Eighth Location
Located at 1938 N. Lakewood Blvd. at Stearns Street, AhiPoki, which opened on January 20, is a fast casual restaurant that serves up build-your-own Hawaiian poke bowls. Guests can choose from a variety of seafood, unlimited toppings and flavor sauce over rice or salad. The Long Beach location is one of 10 that AhiPoki is planning to open throughout California and Arizona this year.