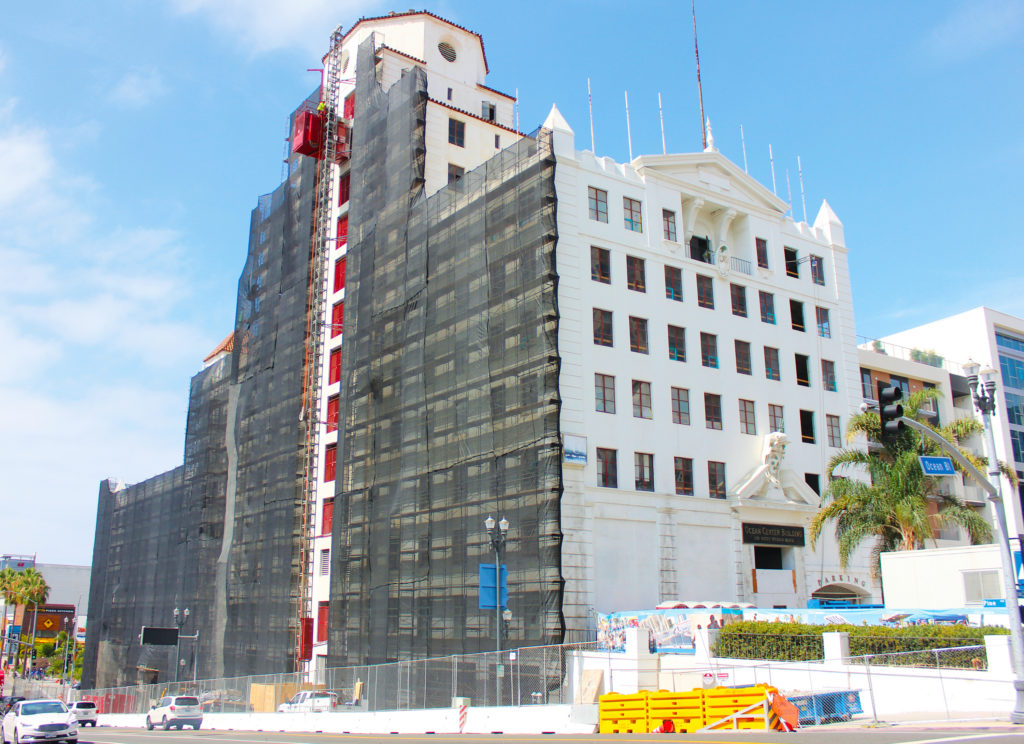 City To Face Lawsuit Over Tenant Relocation Ordinance
On June 11, the Long Beach City Council approved a tenant relocation assistance ordinance, a step that tenant advocacy group Long Beach Residents Empowered, or LiBRE, called a "momentous victory." But soon, the City of Long Beach will face a lawsuit from property owner rights group Better Housing for Long Beach (BHLB), according to the organization's attorney, Paul Beard, a partner at Alston & Bird.
"The big issue that we are raising is the relocation ordinance is a blatant transfer of property from one private party to another – in this case from a landlord to tenant," Beard told the Business Journal. "And it doesn't have any means testing to make sure that only the most needy tenants get the payment. There's no correlation between the amount being asked of landlords to actual relocation costs, and the ordinance doesn't even require a tenant to use any payments for actual relocation."
Effective August 1, the ordinance requires landlords to pay tenants between $2,700 to $4,500 if they choose to move rather than pay a rent increase of 10% or more. To qualify for relocation assistance, tenants must have lived in the unit for at least one year and not engaged in any actions worthy of eviction. The ordinance applies only to complexes with four or more units.
Prior to the council vote, Beard submitted a letter to the city, including all councilmembers and the mayor, on behalf of BHLB, a letter he said received no acknowledgement. The main issue noted within the letter is the claim that the ordinance violates the Takings Clause of the Fifth Amendment of the United States Constitution, which states government cannot take private property for public use without "just compensation." The Fourteenth Amendment makes the law applicable to local governments, Beard noted. Additionally, Beard says the relocation ordinance fails to even meet "public use" requirements, as the money transfer is to another private citizen.
"It appears to be just a gesture to a group that has significant political clout at this time – the tenant rights groups that came out in full force at the hearings and demanded that this ordinance be passed," Beard said. "What the city could do is pass a tax that goes into the General Fund that . . . pays for any relocation assistance required by tenants who may be displaced. Better Housing for Long Beach doesn't have an issue with relocation assistance, as such. The question is, who pays for the relocation assistance?"
The lawsuit will not be filed for at least a few months, according to Beard, who added it will certainly happen during 2019. He noted that it has not been determined whether the suit will be filed at the state or federal level. On June 21, in the case of Knick v. Township of Scott, Pennsylvania, the Supreme Court ruled that property owners do not have to go through the state court system before bringing their taking-compensation cases to federal court.
When asked if he believed BHLB had a case against the city, Long Beach City Attorney Charles Parkin said he does not think so. "We've looked at their letter," he said. "Other cities have passed similar ordinances, but . . . I don't want to speculate."
Beard said litigation will likely take several years. He added that the case will be a good "test case" to determine if cities nationwide can pass similar ordinances, according to the Supreme Court, making the case not only important for Long Beach landlords, but property owners across the country.
Laserfiche Breaks Ground On Expansion
Long Beach-based software developer Laserfiche celebrated the groundbreaking of its new 74-foot-high, 102,848-square-foot headquarters at 3459 Long Beach Blvd. on July 11.
"We created Laserfiche to accelerate how business gets done, by creating software people love to use," Laserfiche CEO Chris Wacker said in an e-mail to the Business Journal. "Thirty years later, we've been fortunate to grow enough to expand our presence in Long Beach, improve the overall appearance of this section of Bixby Knolls and continue to drive innovation forward in our community and beyond."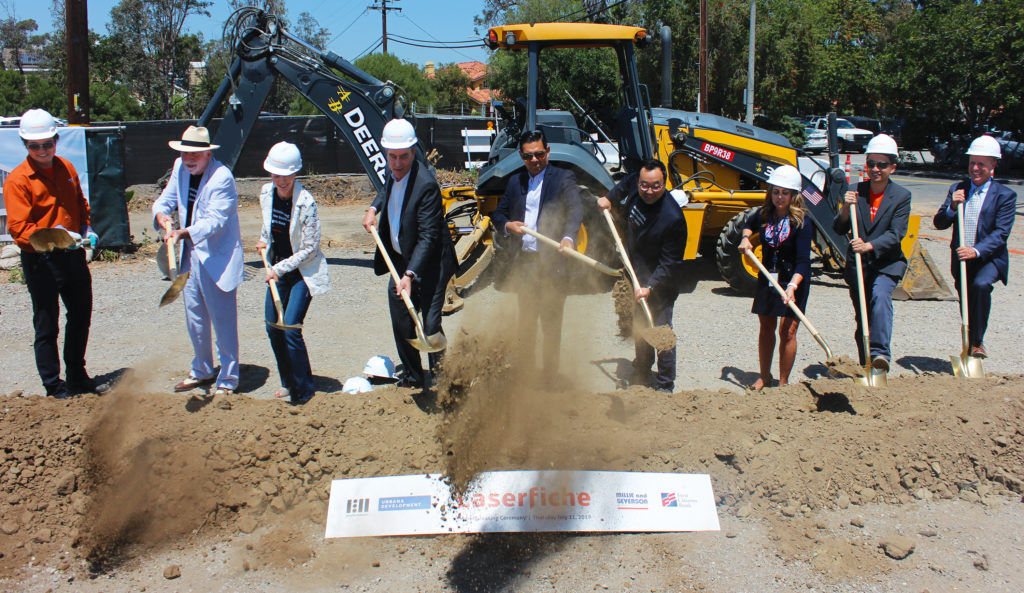 The creative office was designed by Long Beach-based Studio One Eleven and is being constructed by Urbana Development, also a Long Beach company. The building is the first new office building along Long Beach Boulevard in the Bixby Knolls neighborhood in nearly 30 years, according to Laserfiche.
"Laserfiche is a key local employer and partner, so I am delighted that they are expanding their presence in Long Beach and building a beautiful new headquarters in our city," Mayor Robert Garcia said in an e-mail to the Business Journal.
Located on a site originally designed for oil extraction, the new building will bring a more sustainable use, as it is targeted for LEED and WELL Gold certifications. The design also utilizes natural elements, such as light, to decrease stress, enhance productivity and promote physical health.
Laserfiche will not be vacating its current headquarters, located less than one block north of the project site, when the new building is completed in late 2020. Rather, the company is expanding its Long Beach footprint to keep pace with projected growth. The company expects to double in size from 300 to 600 employees by 2025.
"This is just another example of how dedicated Laserfiche is to building lasting relationships in the community it operates in," Wacker said. "We're thrilled to be able to work in the city of Long Beach, and we're proud to be able to call it Laserfiche's home."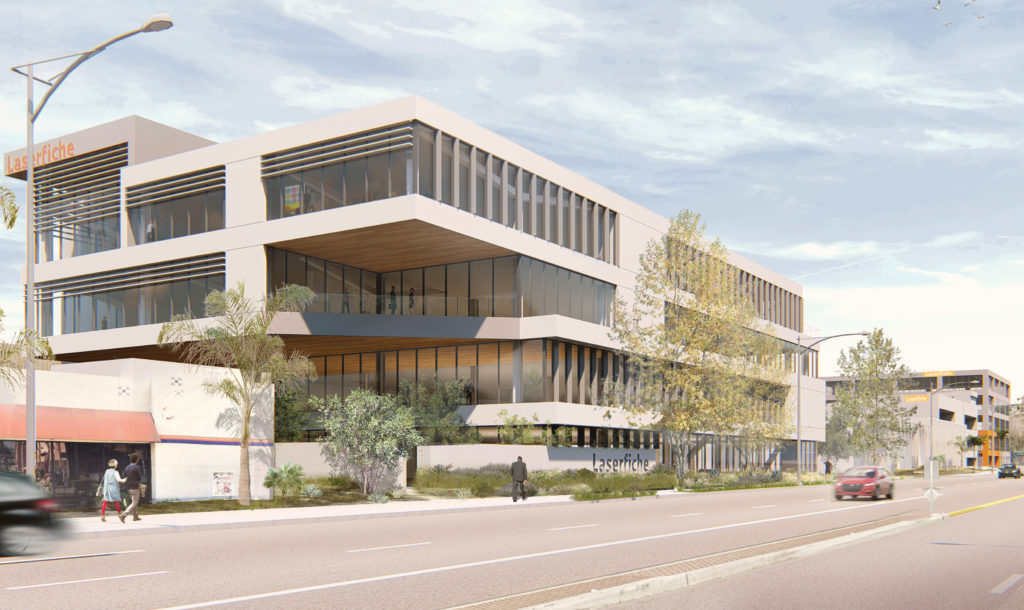 County Supervisors To Vote On Affordable Housing Funding
During its July 9 meeting, the Los Angeles County Board of Supervisors unanimously approved funding for six multi-family affordable housing developments, including one Long Beach project. Third District Supervisor Sheila Kuehl was absent. The six loans total $40.88 million comprised of Affordable Housing Trust funds, Measure H funds and Mental Health Housing Program funds. The Long Beach development is cited as "the PCH and Magnolia Project." According to a citywide list of projects by Long Beach Development Services, the project fitting that description is by LINC Housing located at 469 W. Pacific Coast Hwy. The project consists of 40 affordable units in a three-story structure, as well as a recreational and community serving amenity space. The development has been approved, but construction has not begun. Other projects to be funded are located in Los Angeles, Lancaster and El Monte.
Drive-Through Ordinance Coming To Council
The Long Beach City Council is considering an ordinance related to drive-through facilities during its July 16 meeting. The proposed zoning amendment would add a "comprehensive and clear" definition of drive-through facilities, which do not exist in the current regulations that have not been amended since 1999, according to the staff report. The amendment also would require a conditional use permit for all new drive-through establishments and expansions in commercial and industrial zones. Currently, only fast food drive-through facilities in commercial zones require planning commission review, while industrial zones allow drive-throughs by right, meaning they require no review unless within 300 feet of a residential district. The city currently has 116 drive-through facilities. In the last five years, 17 drive-through applications have been approved, four are pending and one has been denied. The report notes that of the 17 approvals, six "involved multiple drive-through lanes, resulting in a total of 25 new drive-through facilities." The new policy would address quality of life issues, sustainability and site design, to "minimize impacts on pedestrians," improve safety and improve the welfare of the community, the staff report states.
Long Beach Homeowners Among Those Paying Highest Monthly Rates
Of the 50 largest cities across the country, Long Beach homeowners pay the 10th highest amount on housing each month, according to financial technology company SmartAsset. The data analysis considered only median monthly housing costs, including mortgage payments and property taxes. The report shows that Long Beach residents have average monthly housing costs of $1,431, trailing just behind New York and Los Angeles, which have average monthly costs of $1,435 and $1,548, respectively. San Jose is the most expensive, with an average monthly housing cost of $2,257, while Detroit had the lowest cost at $679 per month.
Cushman & Wakefield Release Q2 Long Beach Office Report
Lease rates for Long Beach office space continue to rise, as vacancy rates begin to decrease, according to a new report by Cushman & Wakefield. The overall vacancy rate of office space in suburban Long Beach is 8.9%, down from 9.3% the previous quarter, while Downtown Long Beach vacancy is 19.3%, down from 19.9%. The citywide office vacancy rate is 15.2%, down from 16.3% from the first quarter of this year. These slight decreases contrast with the greater South Bay market, which increased from 17.6% to 18.1% quarter over quarter.
"Although there has been a slowdown in economic growth, the underlying economic fundamentals that drive demand for office space remain healthy," the report stated. "Most notably, job growth remains steady and we expect demand to remain solid." Suburban Long Beach Class A lease rates increased nine cents to $3.02 per square foot, while Downtown Long Beach Class A rents increased one cent to $2.95 per square foot. A key first quarter transaction in Downtown Long Beach was a new 59,721-square-foot lease by Zwift at 111. W. Ocean Blvd.
Multi-family Complex Sells For $3 Million
Centennial Advisers' Ryan Rayburn represented the seller in the $3 million sale of a 24-unit apartment complex located at 1133-1336 Hoffman Ave. The transaction closed on June 26. The property consists of two 1920s buildings and is comprised of 90% studio apartments. The property has no parking and a "substantial amount of deferred maintenance," Rayburn noted. Sixteen offers were made on the property, which ultimately sold for full list price after several offers backed out citing the city's impending tenant relocation assistance ordinance that takes effect August 1. "It's an interesting time as some owners don't think rent control and tenant relocation fees matter and some are getting out because they don't want to be stuck holding the bag," Rayburn said.