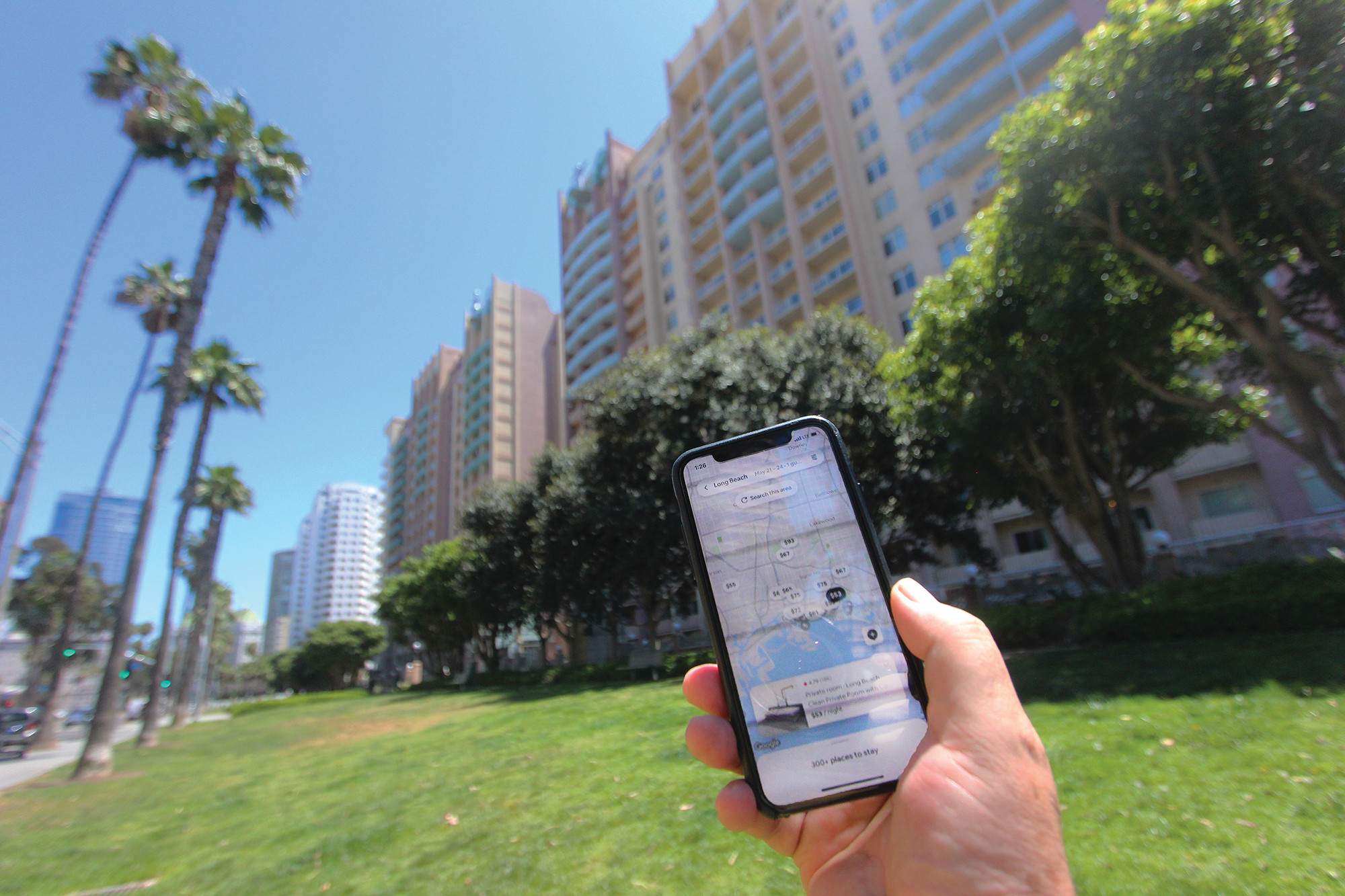 The deadline for submitting an application has passed but hundreds of unregistered short-term rental units continue to operate in Long Beach. Now, the city has teamed up with Airbnb to enforce compliance.
Over the last several months, Airbnb has worked with city officials to share information with hosts about the new rules, regulations and deadlines as part of the city's short-term rental ordinance. Despite that effort, many hosts remain non-compliant.
There are around 900 short-term rentals in Long Beach, according to city data. Scott Baldwin, an administrative analyst with Long Beach Code Enforcement, said a third-party vendor tracks short-term rental hosting platforms such as Airbnb and Vrbo and provides data to the city.
Since the application process to register with the city opened in October, Baldwin said the city has received 260 applications as of April 22—the deadline to submit before enforcement began. Of those applications, 190 had been approved and 11 had been denied. The most common reason an application has been denied is if the unit in question is not legally permitted through the Building and Safety Bureau, Baldwin said.
Originally passed in June of last year and expanded in December, the city's ordinance requires all short-term rentals to be registered through the city. Using Airbnb's City Portal tool, officials can better understand users' profiles and ensure listings are in compliance with the local ordinance, according to the announcement.
"Airbnb is committed to being a good partner to the [city], that includes doing our part to promote and support compliance of the recently adopted short-term rentals rules," John Choi, public policy manager for Airbnb said in a statement. "The City Portal tool will help the City of Long Beach enforce [its] short-term rules and help protect short-term rentals as an economic lifeline for residents and the local economy as the city ushers the safe return of travel."
About one-third of short-term rental units in Long Beach are in the coastal zone, Baldwin said, which means the ordinance will not apply to them until the California Coastal Commission approves the ordinance. That leaves more than one-third of hosts who have not registered or submitted an application to the city.
Now that the April 22 deadline has passed, the city can begin enforcing the ordinance, but it is not an easy task, Baldwin said, noting the city does not have the manpower to track every listing in the city and crosscheck compliance.
"I just don't have time to go through all these listings and do all this detective work," Baldwin said.
But enforcement on the two most popular sites will become automatic on June 1 when Airbnb and Vrbo will require hosts to provide a registration number for each listing. Any listing that does not include a registration number will be automatically removed from the site.
For unregistered rentals discovered on other sites, Baldwin said hosts will be given 30 days to register. If the host fails to do so, a fine of $1,000 would be issued. Registered hosts who violate the ordinance, including exceeding maximum occupancy limits and not providing guests with a local contact person, among other things, are subject to the same fine.
Airbnb's City Portal was launched last year by the hosting platform using numerous pilot cities and tourism organization partners. Tools include a dashboard with local and global Airbnb data insights on short-term rental markets and remitted tourist tax revenue, resources such as hotlines and a law enforcement portal and direct access to Airbnb staff for one-on-one support.
The announcement comes weeks after allegations from regional union UNITE HERE! Local 11 that there is a "near complete lack of compliance" with the city ordinance. Citing an analysis by community group Better Neighbors, the union claims 93% of short-term rentals in Long Beach are not permitted.
The groups did not mention the coastal zone exemption or elaborate on the analysis methodology.
"We can't reasonably expect compliance to happen on its own," Norberto Lopez, project director for Long Beach Residents Empowered, said in a statement. "We're in the middle of a housing and health crisis, we cannot afford to shelve vital housing stock in favor of illegal short-term rentals. The City must dedicate additional resources to increase enforcement."
Better Neighbors and the union claim 1,767 Long Beach rentals are listed on Airbnb alone as of March 25, a figure that far surpasses the city's data.
Airbnb declined to comment on the discrepancy or provide listing data for Long Beach.
UNITE HERE! stated that one-third of all short-term rentals in Los Angeles are listed on platforms other than Airbnb, which means non-compliance is likely even higher. However, Baldwin said Airbnb and hosting site Vrbo account for over 90% of all short-term rental listings in Long Beach.