Landlords continue to increase rents in Long Beach this year as overall vacancy remains low, according to multi-family residential real estate experts, who add that demand for apartments is high as unemployment has declined since the recession and young people are more open to renting instead of buying.
The average monthly rent for a one-bedroom apartment in Long Beach increased by about 7.6 percent in September year over year, rising to $1,100 a month, according to a report from ApartmentList.com, which monitors rental pricing across California. The report states that the average monthly rent for two-bedroom apartments in the city was $1,620, a 6.5 percent year-over-year increase.
Property owners have been able to raise rents in recent months as the overall vacancy rate for apartments in Long Beach has fallen below 3 percent, according to multi-family residential real estate brokers.
Local experts said rents should continue rising over the next couple of years and high demand for apartments isn't expected to change. While the economy has improved and the unemployment rate in Long Beach has dropped to a seven-year low of 7.6 percent, wages haven't grown high enough for homeownership.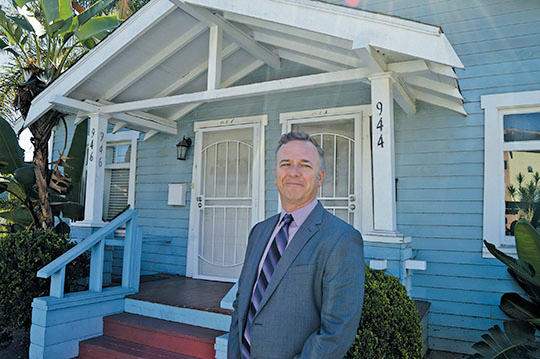 Eric Christopher, an apartment specialist with INCO Commercial, is seen in front of a duplex for sale on 5th Street in Long Beach. He said apartment rents have continued to rise in recent months as vacancy of multi-family residential units in the city has remained consistently low. (Photograph by the Business Journal's Larry Duncan)
As landlords have increased rents, prices of multi-family residential properties have climbed as well, rising about 10 to 15 percent, according to experts. In fact, apartment prices have increased faster than those for single-family homes, experts said.
While the difficulty of renters being able to find available units at reasonable prices raises concerns about lack of affordable housing, landlords are receiving multiple offers for listings, particularly in the most desirable areas of the city.
"To find apartments for rent in Long Beach right now is pretty challenging and rents are increasing," said Steve "Bogie" Bogoyevac, apartment specialist for Marcus & Millichap. "As an apartment building owner, it's great because it used to take you 30 to 60 days to rent a unit, and now you have a waiting list. You've got people moving in that weekend or putting their deposits down before the units are even available."
A 30-unit apartment building that recently went up for sale in Long Beach, for instance, has already leased up to a third of the units before tenants are even allowed to move in.
In Long Beach, where roughly 60 percent of residents are renters, vacancy has consistently remained low, primarily because of a built-in, localized employment base, said Eric Christopher, apartment broker for INCO Commercial.
"We've got a solid built-in workforce here that insulates the vacancy rate," he said, adding that cities in farther reaches of the county, such as in Palmdale or Lancaster, where there is more of a commuter workforce, vacancy rates are higher.
There are a number of reasons why people are choosing to rent an apartment rather than buy a home, Christopher said. One reason he noted is that wages haven't grown enough for people to buy a home,  adding that underwriting requirements for mortgages are stricter than they were before the recession and many people have a hard time coming up with a down payment.
Generational Shift
Another factor driving up demand for apartments is a generational shift in the housing market in which younger generations, including millennials age 18 to 35, are more open minded to renting rather than owning a home than previous generations.
Johanna Cunningham, executive director of the Apartment Association, Southern California Cities, said young people, who typically would be considered first-time homebuyers, are taking more time to become grounded in a career or job before buying a home.
Young people are also more particular about what they spend their money on, especially since recovery from the economic downturn has been slow, and also depending on how passionate they are about what they are doing in life.
"It's not like what has happened in the past, where someone took a job and stayed there for 40 years and retired from that job with the gold watch and the whole nine yards," Cunningham said. "They're looking at different careers. There're more mobile. They want to be available to what's next. They're less concerned and more open to the idea of moving and change, more so than any other generation. . . . Until they are feeling grounded, I think they want to keep their options open."
She said young people like being able to stay mobile and it may take longer for them to buy a home than previous generations.
"Once they find what it is they're really passionate about and want to do, they'll stick around and probably purchase a home, but, until then, it's attractive to be able to have that mobility," Cunningham said.
Renting an apartment also comes with benefits of having amenities and repairs paid for by the property owner while owning a home, on the other hand, often comes with mortgages and homeowners association fees, she said.
Christopher said that rents should continue to rise in the next 36 months, adding that many property owners during and after the recession have kept rents flat in an effort to retain tenants through the economic downturn.
He added that multi-family residential property values have increased proportionately with rising rents, adding that, in the most desirable areas of the city, such as in 90802 or 90804 ZIP codes, properties have fetched above asking prices, and multiple offers.
Bogoyevac said that, if the economy continues to improve next year, rents should continue to rise. However, higher interest rates may eventually cause sales of multi-family properties to level off a bit, he added.
Tackling Affordability
The steady rise in rents and low vacancy, meanwhile, has raised concerns about the possibility of a lack of affordable housing in Long Beach and across California.
While the state eliminated redevelopment, which used state property tax increment funding to subsidize developers to create units for low-income residents, many government officials, calling the situation a "housing crisis," are seeking new ways to address the need for affordable housing.
Most recently, the Los Angeles County Board of Supervisors voted unanimously in October to create an affordable housing program that would be endowed with $20 million next year with a goal to receive public investments of up to $100 million annually in the next five years to build or preserve affordable housing units.
In Long Beach, about 500 new rental units at newly constructed buildings, mostly in the downtown area, are expected to be available early next year, said Cunningham, who added that more are needed. She didn't say, however, how many, if any, would be priced for low-income residents.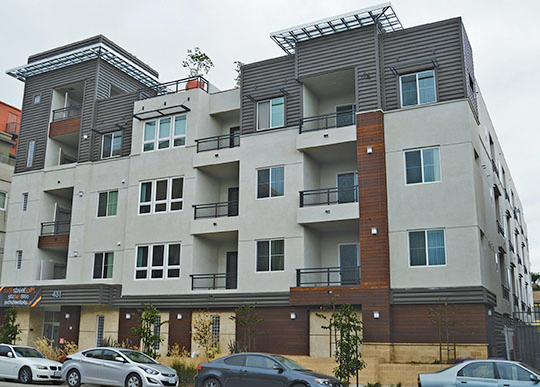 Construction on 6th Street Lofts, one of several new rental housing developments in the Downtown Long Beach area, was completed on October 30. Scott Choppin, founder and CEO of the development firm, Urban Pacific Group of Companies, said the project is already 50 percent leased. Floor plans include studios and one- and two-bedroom units, ranging in cost from $1,675 to $2,400 per month. Choppin said his firm plans to build three other multi-family projects, including one off 3rd Street and Daisy Avenue, another at the corner of 7th Street and Pacific Avenue, and one at 1112 Locust Ave. In total, the developments will create 110 new housing units. (Photograph by the Business Journal's Larry Duncan)
Additionally, there are more than 2,000 multi-family residential units either under construction or planned in the downtown alone, with other housing projects planned on former redevelopment properites north of the downtown area. Still, many are expected to be market rate.
"I think we're making a dent, but it's still a dent and we still have a need," Cunningham said. "Apartment owners have to have a heart for wanting to place people and wanting to house people and I think we're doing that. It's a slow process, but catching up from that economic downturn is just going to take time, but I think Long Beach is still affordable, especially as a beach city."
Bogoyevac added that, while apartments are still a good investment, construction of new multi-family properties is challenging as costs for land and materials is high and finding vacant space is tough.
Christopher pointed out that the city has a diverse mix of rental units, more so than any other city in the region, and the most apartment units per capita than any city in the state, adding that apartment rents can vary nearly 40 to 50 percent within a few blocks.
Josh Butler, executive director of Housing Long Beach, a nonprofit group created nearly four years ago to advocate for affordable housing in the city, said increasing rents forces renters to use more of their income on housing, which ultimately hurts the local economy since residents have less disposable income.
While the city has planned to meet state requirements for ensuring that low-income housing is provided, Long Beach "falls short" when it comes to providing affordable housing units, he said, adding that more resources are needed to address the situation.
Andre Beasley, 55, who has lived in Long Beach for 10 years, said that he and his wife now spend 70 percent of their combined incomes on rent, adding that his landlord has increased the rent about 50 percent over the past eight years.
Beasley, who has four children in a three-bedroom apartment, said his family might have to move to a two-bedroom apartment or leave Long Beach entirely to a more affordable city if the rent is raised higher.
"If I had to move, I would, but I'd rather stay in Long Beach," he said.
Butler said that there is an effort from city officials to get more Section 8 housing (government subsized rental housing) on the market and to house homeless veterans, but more needs to be done to react to the changing housing market.
"We definitely need to be reacting to these changes and make sure that residents of Long Beach can continue to feel like they can be residents of Long Beach," he said. "We have ethnic communities that are an important part of our fabric, and I think it's important that we make sure to carve out space for them and make sure they feel like they have a sense of place here in Long Beach."