Businesses have begun opening their doors at Long Beach's largest experiential shopping center, with many more highly anticipated vendors to come. Measuring in at approximately 266,000 square feet of retail and restaurant space on the southwest corner of Lakewood Boulevard and Carson Street, Long Beach Exchange (LBX) is about 80% leased, according to owner and developer Burnham-Ward Properties.
"We're at a point right now where we want to be very, very selective because we only have so many bullets left in terms of spaces we can put businesses," Partner Scott Burnham said. "As we finish the project, we can be extremely selective and make sure that we have the right tenant to fill those spaces. We have had to turn down a lot of people who are great tenants but they would have cannibalized someone else or they just wouldn't have been the right tenant for us."
The Hangar is an architectural focal point of Burnham-Ward Properties' latest retail center, Long Beach Exchange at Douglas Park. Designed to resemble an aircraft hangar like those that occupied the same land under Boeing, McDonnell Douglas and Douglas Aircraft Co., the space will house 14 small, artisanal food vendors and boutique retailers. It is set to open at the beginning of September. Pictured from left: Therese Hotvedt, president of Burnham USA Equities, a Burnham-Ward affiliate; and Burnham-Ward Partners Steve Thorp, Scott Burnham and Bryon Ward. (Photograph by the Business Journal's Brandon Richardson)
Initially approved by the Long Beach Planning Commission in October 2016, LBX came about after several viable development entities proposed projects that were not well received by master developer Sares-Regis Group and the City of Long Beach, Burnham explained. Sares-Regis approached Burnham-Ward in 2014 about bringing "something special" to Douglas Park's retail space, something to engage local residents, businesses and the nearby Long Beach City College and Long Beach Airport.
"We came in and we gave it a lot of thought, looked at what the intrinsic values were of the location and how we could better serve the area," Burnham said. "Our vision from the very beginning was pretty clear in terms of what we wanted to accomplish here."
Partner Bryon Ward said previous developers had been considering the site for one or two big-box retailers surrounded by other national brands, a la Long Beach Towne Center, a model which the city was disenchanted by. From the beginning, Burnham-Ward wanted to create an experience – a heavy food focus to bring people together, a well-curated tenant mix and plenty of space for events such as farmers markets, festivals and more.
At the center of the experience is The Hangar – a nearly 17,000-square-foot structure reminiscent of an aviation hangar of the McDonnell Douglas/Boeing days long past when military and commercial aircraft were constructed on the site. The space will be home to 14 small, artisanal food vendors and boutique retailers, including Portola Coffee Roasters (worldwide Micro Roaster of the Year in 2015), each set up with between 400 and 600 square feet of space. Burnham described the space as entertainment for the eyes that is unique and unusual, adding "color to the canvas" that is LBX.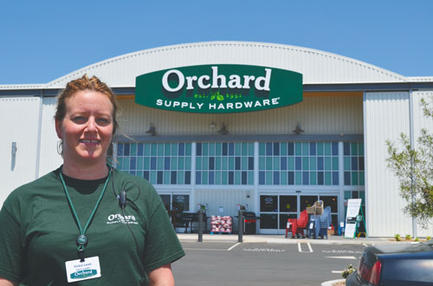 Orchard Supply Hardware was the first business to open its doors at Long Beach Exchange back in March. Pictured is store leader Vickie Lowe. (Photograph by the Business Journal's Pat Flynn)
"We'll have a craft beer provider, which will feature hard-to-find beers and wine from all over the world," Ward said. "And we'll have a cross-section of cultural food – everything from Vietnamese bánh mì sandwiches to savory sandwiches with French fries and authentic poutine, Korean barbecue, Mediterranean grill, desserts. [The tenants] are all identified and either signed or will be signed in the next couple weeks."
At the center of The Hangar will be a common seating and dining area that is moveable to allow for various public and private events, parties and fundraisers, Ward explained.  The vendors inside The Hangar will have opportunities to participate in these events as a sort of in-house catering service.
Burnham-Ward connected with the Long Beach Historical Society and Boeing's historian to collect 26 rare photographs of the early days of plane manufacturing at the site. These photographs will be duplicated into large prints that will hang throughout The Hangar to add a museum-like element to guests' dining experience.
Exiting The Hangar, visitors will find themselves on "the runway," a walking path that cuts down the middle of a park-like area with grass, fountains and even an herb garden for The Hangar vendors to utilize in their various cuisines.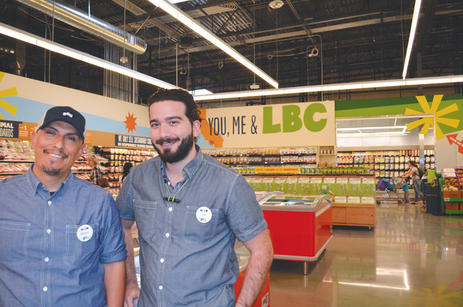 The Whole Foods 365 at Long Beach Exchange is the company's third location in Southern California. Pictured are store team leader Moses Garcia, left, and associate store team leader Jon Can Ayyildiz. (Photograph by the Business Journal's Pat Flynn)
"We're really paying homage to what this property was all about for decades to the aviation industry," Burnham said. "There will be graphics on walls that will be patinaed in such a way that they look like they have been there for decades . . . There will be a lot of candy for the eyes to walk around and enjoy."
"There are a lot of hidden details," Partner Steve Thorp added. "We don't want to share everything – we want people to look and explore – but, just as an example, the '68' on the runway, there were originally 68 employees on this campus. That is a significant number. That is where all of this started from."
Many people who worked for McDonnell Douglas or Boeing on the site of LBX still live in the area, Ward said. Because of this, Burnham-Ward thought there would be no better way to honor their contributions to aviation than by celebrating the history by paying close attention to the smallest details.
The fountains in the park area are topped with busts of the various aircraft previous manufactured on the site, which will be accompanied by plaques describing the craft. Other plaques will line the walkways of the park telling the history of the site.
Outside of The Hangar, much of the center is set up similarly to outdoor shopping centers such as Long Beach Towne Center; however, there is greater attention to architectural features and walkability for pedestrians to traverse the site. The tenancy of LBX is also curated in a way to showcase local purveyors of goods and services. For example, Costa Mesa-based cycling studio GritCycle will open its third Southern California location at LBX, Orange County-based Ra Yoga will open its fourth SoCal location and Newport Beach-based Images Luxury Nail Lounge will open its fifth SoCal location. Additionally, national tenant Whole Foods 365 has partnered with Torrance-based Asian cuisine joint Yellow Fever and L.A.-based coffeehouse Groundwork to open locations at LBX, all three of which are already open for business.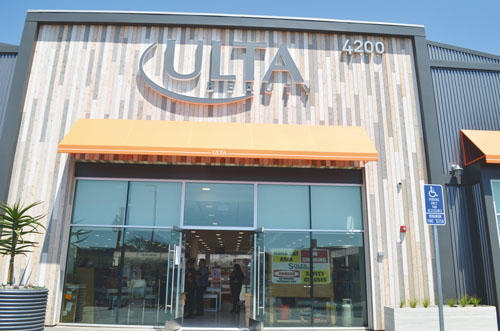 Ulta Beauty, the Chicago-based cosmetics and beauty products firm, is now at Long Beach Exchange. (Photograph by the Business Journal's Pat Flynn)
These local businesses will join regional and national tenants, including Nordstrom Rack and Ulta Beauty, which open for business May 11 and 12, respectively. Dunkin' Donuts, MOD Pizza, Orchard Supply Hardware and PetSmart are already open. Other confirmed tenants include AT&T, In-N-Out Burger, Orangetheory Fitness, T.J. Maxx and T-Mobile, which will open in the coming months.
Tenant relations are important to Burnham-Ward, which houses several of these vendors at SOCO and The O.C. Mix, a Costa Mesa center akin to LBX, according Therese Hotvedt, president of Burnham USA equities, a Burnham-Ward affiliated company that handles the day-to-day management of the company's properties.
"We manage all our own properties because we like to be actively involved in everything," Hotvedt, said. "We're constantly here – tenants know all of us and that doesn't happen often with CEOs and presidents and partners of companies. We're heavily involved with events – we show up and we make it fun."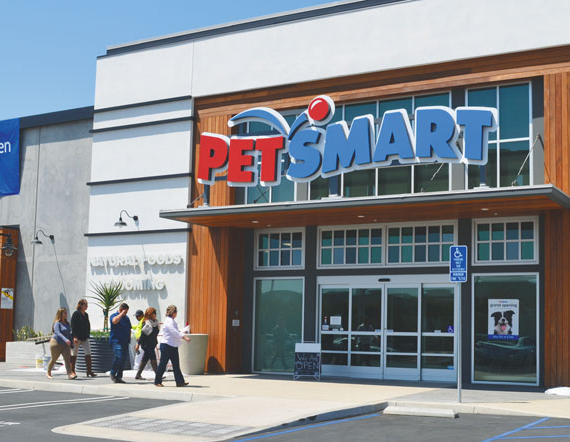 PetSmart opened its doors at Long Beach Exchange on April 23. (Photograph by the Business Journal's Pat Flynn)
The aviation theme of the project can be seen throughout in the architecture, which Burnham described as sophisticated. He said a tremendous amount of thought went into the design, with attention paid to the smallest details down to the light posts that are made of raw steel and wood rather than aluminum. Aside from the visible design, Thorp said the entire project is LEED certified, utilizing all drought-tolerant vegetation, reclaimed water and on-site water retention.
Though Burnham-Ward's first priority was to create an amenity for Long Beach residents and surrounding businesses, Ward said LBX will have a regional draw from both L.A. and Orange counties. The project is expected to be fully occupied by the first or second quarter of next year, but grand opening celebrations for The Hangar and the center as a whole will likely take place at the beginning of September, with the possibility of Don Douglas of Douglas Aircraft being in attendance. Once fully occupied, Thorpe said the center will employ around 1,300 people and generate, conservatively, $200 million in taxable sales annually.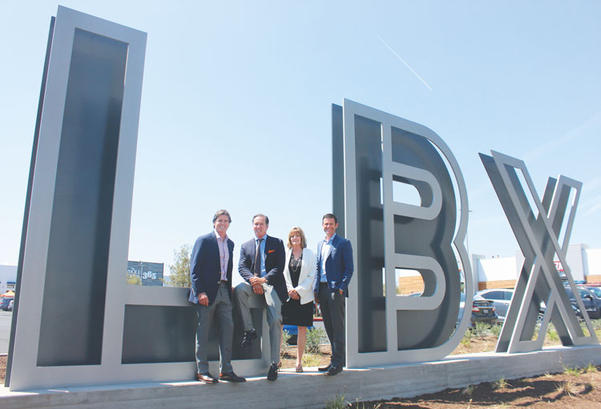 Retailers are beginning to open their doors at the 266,000-square-foot Long Beach Exchange, LBX for short, on the southwest corner of Lakewood Boulevard and Carson Street. Grand opening celebrations are being planned for early September. Pictured from left: Burnham-Ward Properties Partners Bryon Ward and Scott Burnham; Therese Hotvedt, president of Burnham USA Equities, a Burnham-Ward affiliate; and Burnham-Ward Partner Steve Thorp. (Photograph by the Business Journal's Brandon Richardson)
With the realm of retail changing rapidly, Burnham explained that LBX is the company's latest attempt to stay ahead of the curve by creating an experience through placemaking. Many large centers have not been able to keep up with the change, hence the underperformance and even closure of many big-box stores nationwide, he explained. However, Burnham said their company is nimble, flexible and was able to recognize the shift early on.
"It's not like going to the old, traditional mall where you go, pick up a T-shirt and leave. People will spend the day here," Burnham said. "At the end of the day, we feel as though we are creating an amenity and leaving a real legacy that will be enjoyed for generations to come – long after we're gone."