There is a high level of interest in Long Beach's newest industrial development, Pacific Edge, according to Neil Mishurda, co-founder of development firm Pacific Industrial. In fact, the smallest of the three buildings has already been leased by an undisclosed Long Beach-based company. Construction is expected to be complete in the fall.
"The [industrial real estate] market is very tight – the economy is strong, companies are growing and e-commerce is increasing demand. But that doesn't mean you can cut corners," Mishurda said. "There's new projects that sit vacant because they weren't designed right. You can't get greedy. Our whole philosophy is, whether you're in a good market or bad market, if you build the best asset possible . . . you're going to attract a tenant."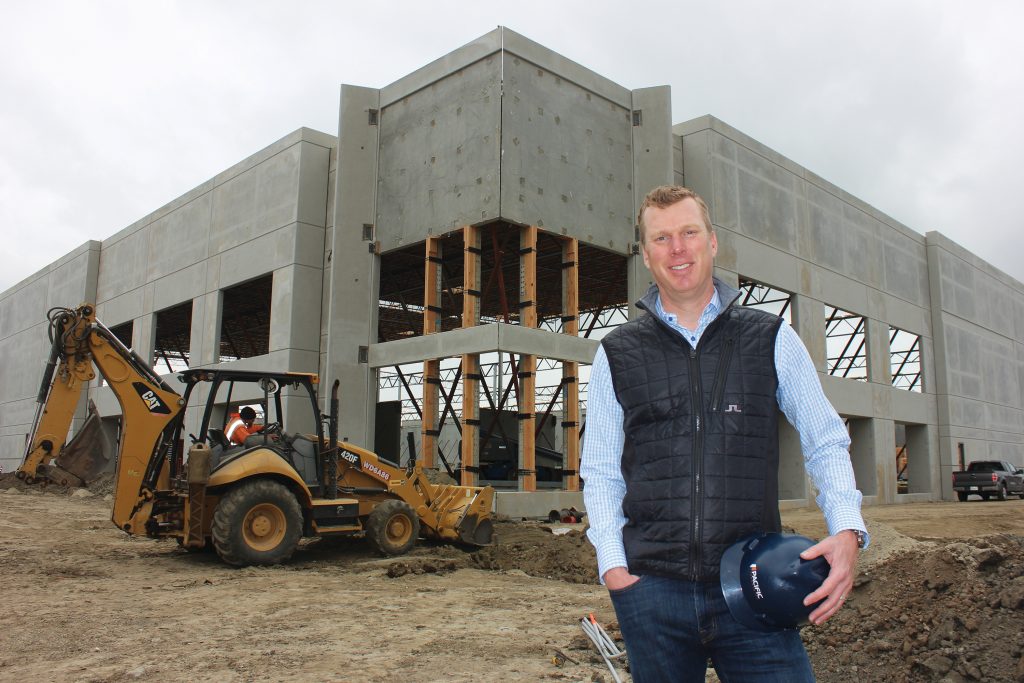 Pacific Edge consists of three industrial buildings at 2300 Redondo Ave., a 19-acre site previously occupied by the U.S. Postal Service (USPS). The campus includes a total of 421,692 square feet of building space – Building 1 is 204,936 square feet; Building 2 is 111,752 square feet; and Building 3 is 105,004 square feet.
According to Mishurda, the company invested in several design elements that were more expensive than average. He explained that the company develops sites with the intention of retaining the assets long term. So aside from making projects more attractive to potential tenants, he said spending extra money up front also saves Pacific Industrial in the long run on maintenance and energy costs.
"We're building . . . to attract companies that are looking for both a corporate environment and an industrial component under one roof. That's what the city's goal is – to build buildings that generate jobs. Not just 40 jobs [for] warehouse employees and truck drivers," Mishurda said. He added that planning commissions in Los Angeles and Orange counties often mistakenly view industrial development as "dirty and smelly and that it brings a lot of trucks." However, he explained, "The reality is this is where jobs are growing."
While some developers devote 5-8% of industrial building space to office use, Mishurda said that 15-20% of the square footage of Pacific Edge buildings are dedicated to office. The buildings feature elements not typically seen in industrial developments, including two-story glass tower lobby entrances, floating staircases with glass railings, tile walls, imported stone floors and built-in bench seating. In Long Beach, numerous high-profile companies occupy similar corporate-industrial hybrid buildings, including Virgin Orbit and Human Touch.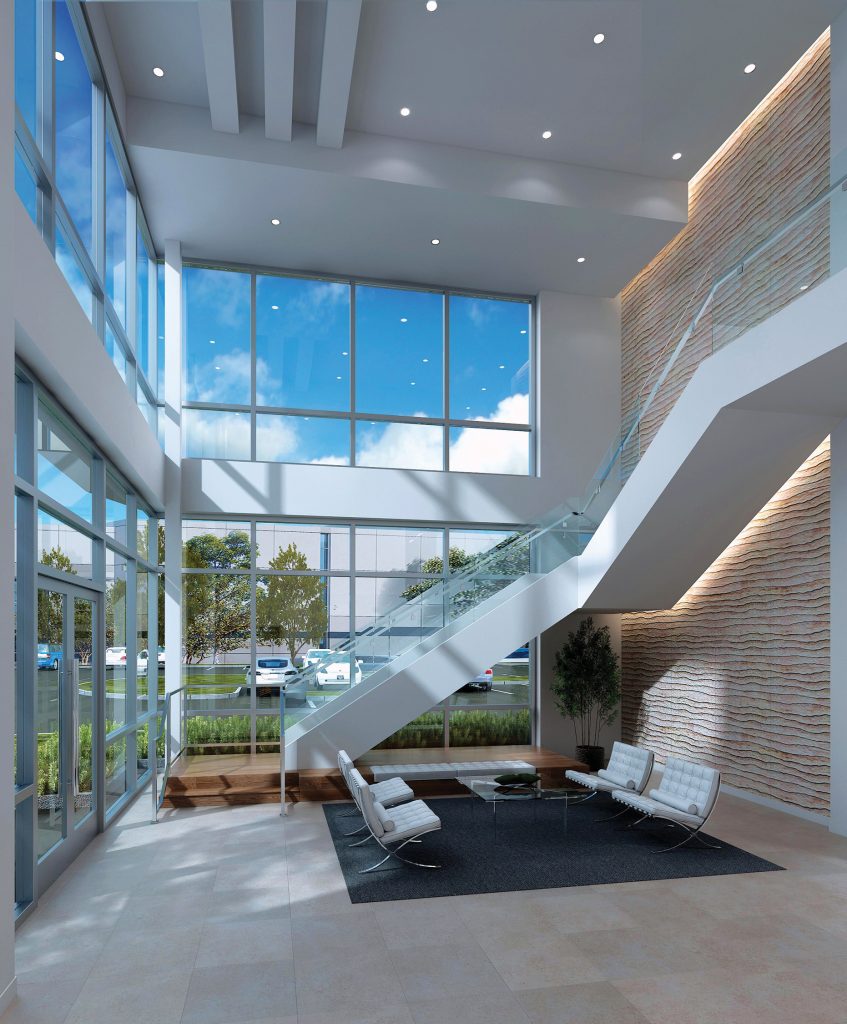 Pacific Industrial purchased the property from USPS in spring 2017. USPS leased back the property for one year while a new post office was constructed adjacent to the site and while Pacific Industrial entitled the project. Demolition began in spring 2018 and construction began in the fall. While the company was founded in Long Beach by Mishurda and Dan Floriani in 2012, Pacific Edge is its first Long Beach development.
"It's exciting to do something in our own backyard – it has a different feel. It's like taking care of your own kid versus someone else's kid." Mishurda said. "We feel like we're part of the community. It's just a really well-run city, it's growing and it's got incredible demographics – 5.2 million people can drive here within 30 minutes. That's amazing."
The project site's proximity to multiple freeways, Long Beach Airport and the ports of Long Beach and Los Angeles were a key factor in Pacific Industrial's desire to acquire it, Mishurda added.
In its seven years, Pacific Industrial has developed over 5.8 million square feet of industrial space and closed more than $1 billion in transactions. Including Pacific Edge, the company currently has seven buildings under construction throughout Southern California, totaling 1.5 million square feet.
"We're not going to compromise our site plans to . . . or reduce the number of loading docks or cut corners to make a building cheaper. We're just not going to do it," Mishurda said. "If the competition beats us because they're willing to, that's okay. We're going to stay true to our roots because it works."