Visible from the 405 Freeway since it opened in 1967, the iconic circular tower that is Holiday Inn Long Beach Airport soon will share its location with the city's newest extended-stay hotel concept: Staybridge Suites.
"The reason we [decided to redevelop the site] was to broaden our target market [beyond] business or leisure travelers staying for a weekend or a weekday," Mooyon Kim, general manager of the Holiday Inn Long Beach Airport, said. "We also want to provide accommodation for business people or people in between moving or renovation in the extended-stay market."
Located near the northeast corner of Lakewood Boulevard and Willow Street, the new six-story hotel consists of 125 rooms on floors two through six – from 310-square-foot studio suites to 845-square-foot two-bedroom suites. Each Staybridge room will have a living room area and come equipped with full-sized appliances, including a refrigerator, stove, dishwasher and microwave.
The ground floor of the building will include a lobby, a living room area with seating and a TV, an entertainment room with a TV and a pool table, a breakfast area, free self-service laundry, a bike kitchen, 10 meeting rooms and a small-scale convenience store. The full list of stock food items is still to be determined, but Kim noted most will be simple items for residents to cook meals in their rooms, as well as pre-packaged meals. He added that some fruits and dairy products will be stocked, and that vegetables are being considered.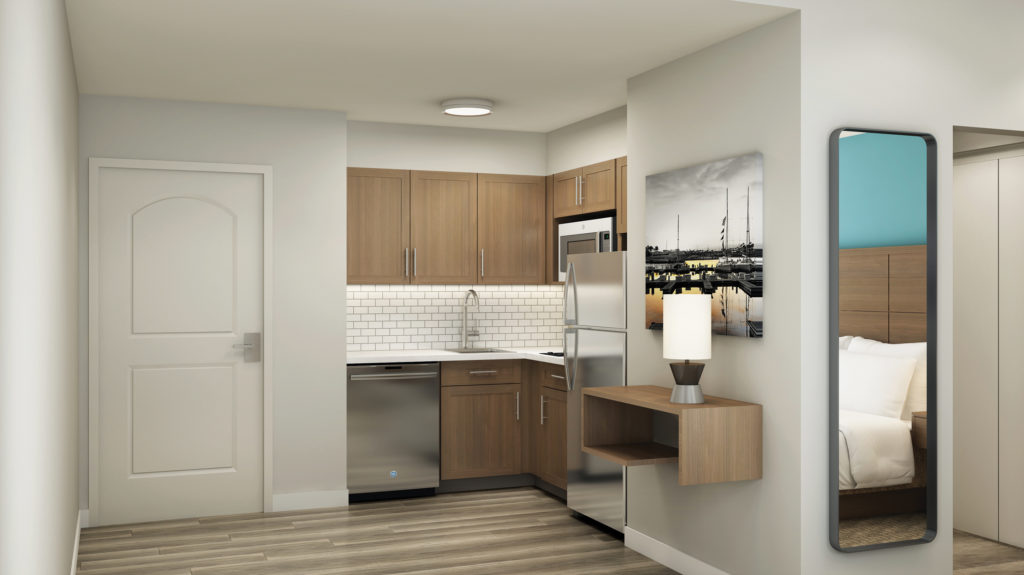 Shared amenities between the Holiday Inn and Staybridge hotels will include a newly renovated pool area, including a 3,000-square-foot deck that can be used for events. The relocated pool will be larger than its predecessor and sandwiched between two hot tubs, one of which is reserved for 21-and-over guests. The pool area will also feature two barbecue grills, seating and a fire pit. A 1,500-square-foot, state-of-the-art fitness center with floor to ceiling glass walls will overlook the pool area. The two hotel concepts will share a total of 16,500 square feet of indoor and outdoor meeting and event space.
"The majority of our guests will stay an extended time here, so we tried to create a home-away-from-home atmosphere," Kim said, adding that the average Staybridge stay is five to seven days, with many lodging there two weeks or longer. "We'll have special events for our guests throughout the week – afternoon barbecues, morning yoga sessions. We haven't decided yet, but most likely, [these] events will be offered to both Holiday Inn and Staybridge guests."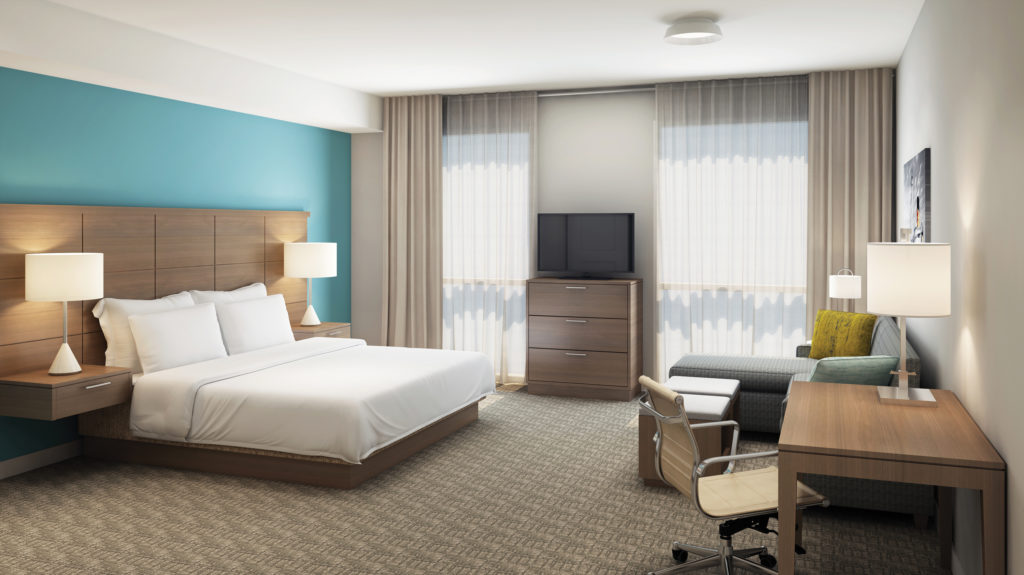 Kim explained that Staybridge will have its own staff and general manager, since different hotel brands have different standards. However, the Staybridge team will report to Kim, as both hotels share ownership. Room rates for Staybridge will fluctuate depending on demand and length of stay, according to Kim, who noted that people staying longer will pay less per night than those who stay one or two nights.
The Staybridge replaced the Holiday Inn tower's two-story, 50-room auxiliary structure, which was demolished during the first half of 2018. Demolition and pre-construction took longer than expected, Kim noted. Construction of the new hotel began in July 2018 and is expected to be completed by mid-March next year, barring any delays.
"Long Beach is booming. There is a lot of development going on throughout the whole city and our Staybridge is part of it," Kim said. "We definitely trust that Long Beach will be growing over the next five to 10 years and demand will grow as well. There's a lot of potential and opportunity, especially for the extended-stay market as part of the growing Long Beach market."