After serving as a military police officer in the Vietnam War, Phil Jones went home to Sacramento, where he declined the recruitment overtures of the local police force in lieu of a career in real estate, an industry his father was in and encouraged him to pursue. He received his real estate license in 1968, his broker's license in 1970, and eventually became the owner of a Sacramento residential real estate firm. He moved to Long Beach in 1989 and, after leading various firms, in 2000 he co-founded what has now become, by his estimation, one of the top two residential real estate firms in Long Beach.
"Since 2010, we've either been the No. 1 or No. 2 Coldwell Banker affiliate office in the State of California," Jones, owner and CEO of Coldwell Banker Coastal Alliance, told the Business Journal. The firm has consistently earned this recognition based on its annual revenues, he noted. "It's really a testimony to our associates. They are very professional, productive sales associates. I'm very proud of them."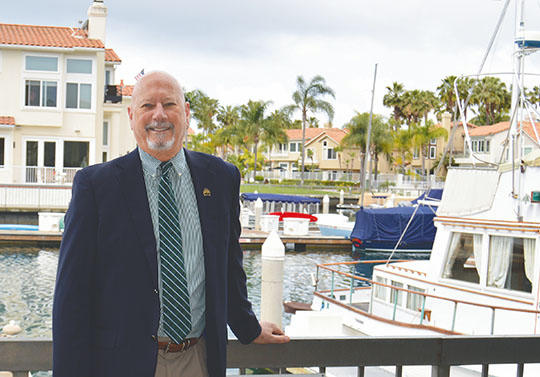 Phil Jones, owner and CEO of Coldwell Banker Coastal Alliance, is highly active in state and national real estate organizations as an advocate for homeowner rights, which he said are under constant threat. (Photograph by the Business Journal's Larry Duncan)
Coldwell Banker Coastal Alliance has a staff of 130 agents, a figure Jones said the firm maintains by hiring new recruits as agents retire. He noted that the firm has a scholarship program for military veterans. "We handle the initial cost of getting into the business: licensing school and exam fees. We pick that up for the veterans," he said.
Thanks to online access to the Multiple Listing Service database of properties for sale, the firm has been able to expand its reach well beyond the borders of Long Beach. "Our sales associates sell from the desert to North San Diego County," Jones noted. "We cover quite a large area." In particular, Coastal Alliance has "a very strong market share in the upscale market," Jones said.
In his career, Jones has seen many real estate cycles and changes to the residential market. But no time was more challenging than the market fallout caused by the subprime mortgage crisis and ensuing Great Recession.
"The biggest downturn of course was the one we've just gone through," Jones said. "It created hardships for just about everybody in society, and our industry was near ground zero," he recalled. "That was the single most difficult time in the business. Our business has recovered to a degree, but we have not recovered fully yet, and it's been nine years."
Jones counts among his greatest successes not only co-founding and leading one of the top Coldwell Banker firms in California, but even more so, his work advocating for homeowners' rights through state and national real estate organizations.
Jones is a director on the boards for the National Association of Realtors (NAR) and the California Association of Realtors (CAR), and also serves on the latter's executive committee. Locally, he is on the executive committee of the Pacific West Association of Realtors. He is also a member of the Realtors Political Action Committee's hall of fame. These groups are often referred to as "organized real estate," he noted.
"I think the biggest accomplishment that organized real estate has is we are the single voice for homeowners and their rights – private property rights," Jones said. "We're protecting them from point-of-sale mandates, parcel taxes, [and] costs that would add to the costs of home ownership."
Jones's interview with the Business Journal took place between advocacy trips – he had just returned from Sacramento, where he visited with state legislators, and was preparing to leave for Washington, D.C., to do the same at the federal level.
"What makes the California Association of Realtors and the National Association of Realtors so effective is we're bipartisan. Our issues are not politicized," Jones said. "We are a very powerful special interest group because of the size of our membership," he noted. CAR has about 186,000 members, and NAR has about 1.2 million, he added.
The groups' advocacy efforts have resulted in positive outcomes for homeowners. For example, "In 2012, the California Association of Realtors was successful in defeating point-of-sale mandates that would have added approximately $30,000 to the cost of selling a home," Jones said.
But "there are constant threats," Jones said. For example, some legislators are seeking to challenge Proposition 13, a 1978 amendment to the state's constitution that limited property taxes, according to Jones. "Proposition 13 saves Californians millions of dollars collectively, but it will be under attack," he said.
While the residential real estate market has improved steadily since the recession, with homes in Long Beach having regained most of their value, some factors are constraining the market from growing as it should be, according to Jones. "The Dodd-Frank bill that was passed in 2010 has been particularly onerous, and responsible for a great deal of the fact that the housing market hasn't had a robust recovery," he said.
The Dodd-Frank Wall Street Reform and Consumer Protection Act established regulatory reforms for the financial services industry. It also created the Consumer Financial Protection Bureau (CFPB), a federal organization formed to protect consumer rights.
Jones said the CFPB has little oversight, is very powerful and has been responsible for creating barriers for homeowners and potential buyers. "They have caused significant additional costs in the lending arena," he said. "And they are reducing competition because only the big banks and big lenders will survive, simply because the smaller organizations cannot afford the cost of compliance."
Jones continued, "It is the pinnacle of government intervention and regulation, and it has been very damaging to the marketplace as a whole. They do it under the guise of consumer protection. It is ludicrous to see how much disclosure and additional time is added to producing a process that the consumer does not benefit from at all." He added, "Our efforts to at least bring some sanity to it were essentially ignored."
In general, the regulatory environment surrounding residential real estate at both the state and federal government are creating barriers to market growth and housing affordability, according to Jones. In the fourth quarter of 2015, 30 percent of Californians could afford to buy a median-priced home, while nationwide, 58 percent of the population was able to do so. In Los Angeles, just 27 percent of residents could afford to purchase a median-priced home.
Housing affordability is low in California in part because of state regulations related to home building, according to Jones. "We need to be creating 300,000 new housing units a year, and we're not even coming close because of the difficulty in California in getting new developments and buildings approved."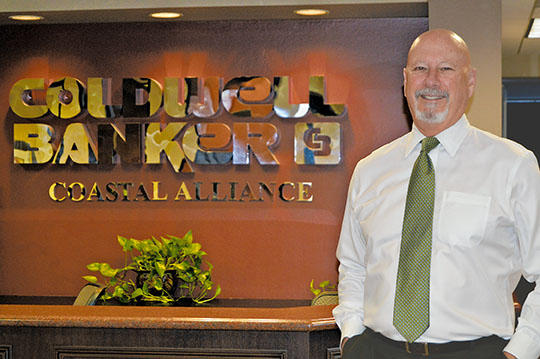 Phil Jones, owner and CEO of Coldwell Banker Coastal Alliance, said that Long Beach is becoming increasingly recognized as a desirable place to live, work and play. His business, focused on single-family real estate, is consistently rated among the top Coldwell Banker firms in California. (Photograph by the Business Journal's Larry Duncan)
While Jones said he understands concerns about the environment, as a special interest group, environmentalists often "deter the quality of life for the protection of a few." Environmental initiatives and restrictions add to the cost of creating new housing, in turn impacting inventory of available homes and affordability, he explained.
The mixed-use project originally proposed for the corner of 2nd Street and Pacific Coast Highway – where the aging SeaPort Marina Hotel is located – is one example of a project that was scrapped due to environmentalists' concerns, Jones pointed out. The project would have improved the corner with retail, residences, a hotel and more. The Long Beach City Council voted down the project due to concerns from environmentalists, he said, and the project has since been revised to exclude residences and a hotel. It is still awaiting approval as the city continues a lengthy process to revise its building standards for the area.
"If you saw the renderings [for the project], it was a beautiful development that would have created over 2,000 jobs and generated over $22.4 million in tax revenue for Long Beach," Jones said. "People don't understand how environmentalists, and the unions, really deter the quality of life for the protection of a few."
Despite challenges to affordability and a constant onslaught on proposed new regulations impacting housing, the outlook for Long Beach's residential market is stable for the near future, by Jones' estimation.
"I think it's going to be a pretty stable market. Interest rates are historically low still," he said. A shortage of inventory in the area is still impacting people in that sellers aren't able to find a replacement property to move to, which is putting pressure on home prices, he noted. "That may be the norm for at least another year, minimum."
Long Beach is becoming increasingly attractive to those in the real estate industry, as well as visitors and potential residents, according to Jones. "With all the new development that's going on, particularly around the Pike and downtown, they are overly impressed – blown away, quite honestly," he said. "That is a similar sentiment of people who are relocating to Long Beach and taking tours with our agents," he continued. "I think we're on an upward trajectory in terms of the impression our city makes on people."