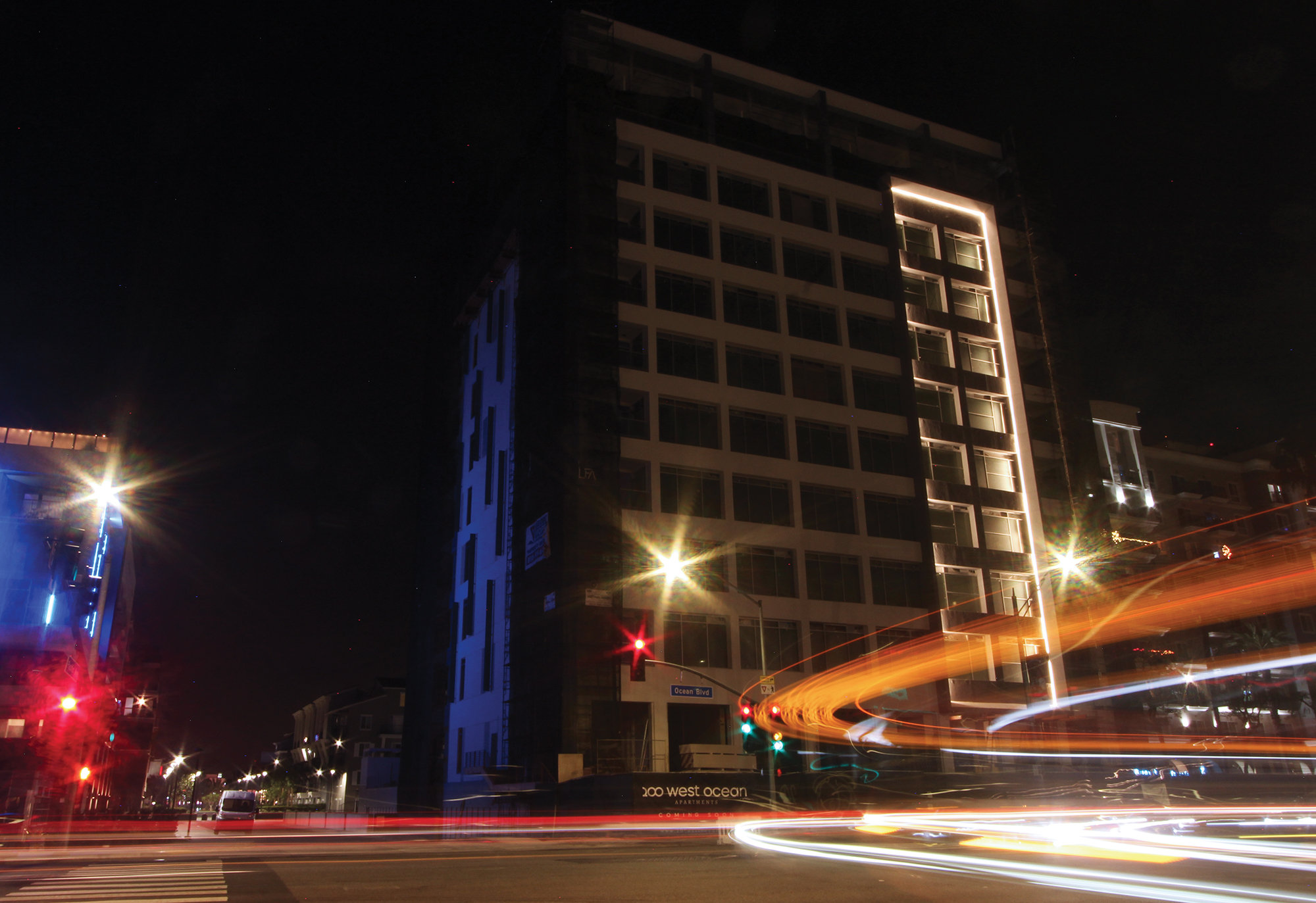 The revival of the former Verizon building in Downtown Long Beach, a 1968 structure on Ocean Boulevard that has sat vacant for the better part of a decade, is nearly complete.
Work to reinvigorate the building as a residential space began in 2017, and now the 11-story, 106-unit apartment building is slated to open in the spring.
Michael Bohn, senior principal for the project's design firm Studio One Eleven, said converting the building at 200 W. Ocean Blvd.—rather than creating an entirely new structure—produced a unique project.
"What's really great is that we had to work with the bones of the existing building," he said, "so it ended up being a building where we have a great variety of unit types."
The ground floor, for example, has higher ceilings than the rest of the building, which lent itself to creating lofts rather than the traditional apartment units that can be found elsewhere in the development.
"We have these lofts so you kind of live, eat, work on the ground floor," Bohn said, "and then there's a staircase that takes you up to your sleeping quarters."
Particularly now, when many people have made what may be a permanent transition to working from home, he said, the loft units can provide the best of both worlds. But not everyone prefers that style of living, and the project offers more traditional living quarters as well.
"The idea of having ground floor lofts is that somebody that occupies that space—if they were working from home, they can feel connected to the street," Bohn said. "It has definitely more of a commercial vibe to it than when you're on the upper floors. Those can feel more residential and are less connected directly to the street."
And if neither lofts nor the traditional studio, one-bedroom or two-bedroom apartment units appeal, there's yet another option: two-story penthouse townhomes.
"The roof originally had all of the original mechanical equipment, and you have to think about: With a building this old, the mechanical was out-of-date and much heavier than what you need today," Bohn said. "So we were able to build townhomes on the roof because we removed the weight of existing mechanical equipment, without negatively impacting the structural capacity of the building."
Overall, the project includes 10 ground-floor studio lofts that range from 750-to-1,000 square feet; 88 traditional apartment units that range from 675-square-foot studios to 1,200-square-foot two-bedrooms; and eight two-story townhouse units, which are all two or three bedrooms and range from 1,300-to-2,220 square feet.
While Bohn was excited to discuss the rooftop townhouses—"I don't know of any units like that in Downtown Long Beach," he said—he was even more enthusiastic about his firm's ability to take a piece of history and turn it into something new.
"The greenest building is always the oldest building that you can save," Bohn said. "We're taking an office building and bringing new life to it. We're not throwing away all the materials. We're just rejuvenating a building."
"It's wonderful to see it get new life," he added, "and become relevant now in the 21st century."