Demand for Downtown apartments will not slow, study says 
AMLI Park Broadway, one of Downtown Long Beach's newest luxury apartment complexes, opened in April 2019 with starting rates of around $2,150 for a studio and $2,500 for a one bedroom.
Less than a year later, the 222-unit complex at the corner of Pacific Avenue and Broadway is more than 70% full. It's expected to hit more than 90% capacity by the spring, said assistant manager Mike Johnson.
"We saw a big demand for the smaller studios and one bedrooms," he said. "Those went pretty fast."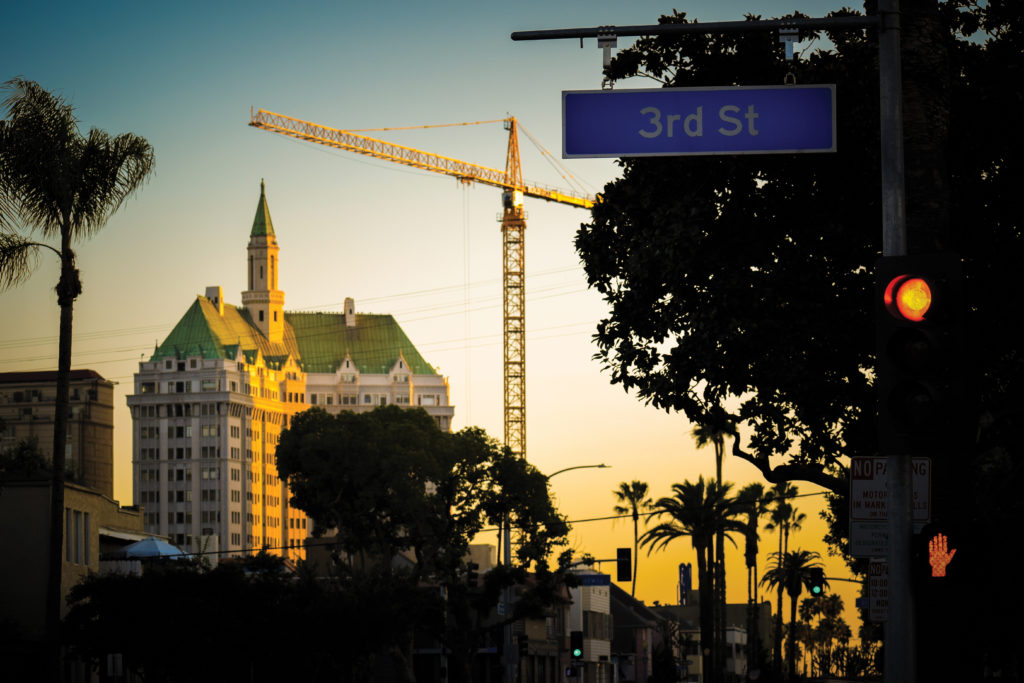 Long Beach is in the midst of a roughly $3.5 billion construction boom that will add thousands of new residential units to the Downtown skyline over the next few years. But many of those units will be too costly for the average Long Beach resident as the city faces an affordable housing crisis.
Downtown Long Beach will likely become pricier in the future, and experts say the demand shows no signs of slowing down.
A study released this month from the Downtown Long Beach Alliance, a taxpayer funded property and business improvement district, showed the Downtown residential market had a 93% occupancy rate last year, despite adding more than 500 new housing units.
The number was down slightly from 96% in 2015, due to several new apartment complexes opening last year, according to the study by CoStar Group, a leading provider of real estate information.
While rent per square foot increased last year, overall annual rent growth was just under 1%, which was lower than Downtown's three-year average of 3% from 2016 to 2019.
In total, Downtown's inventory passed 10,000 units, up 6% from 2017.
The study showed that Long Beach, despite its rental increases, remains more affordable than other beach cities and is below the regional average of $2.55 rent per square foot.
"While annual rent growth in Downtown Long Beach is smaller in comparison to areas such as San Pedro and Downtown Los Angeles, additional metrics such as inventory growth indicate a stable, more affordable market," the study said.
Professor Edward Coulson, the director of research at University of California, Irvine's Center for Real Estate, said the area's high occupancy rates show a steady demand for new housing.
Downtown this year is expected to see more than 400 new units, but Coulson said he doesn't expect the new additions to have much of an effect on occupancy rates.
"Long Beach has long had this reputation as being relatively more affordable than many other parts of the Southland, and that's created this big construction boom that we're seeing now," he said. "At this rate, we know there's a big demand for high amenity areas and that's anything along the coast. Thousands of people want to live here, and the only thing holding them back is availability."
Coulson said he also doesn't foresee much of an impact on rental prices as more units become available because the demand remains so high, as indicated in the high occupancy rates.
"I think we might see a little slowing in rent increases, but I don't see them coming down," he said.
As for who's renting these pricier Downtown apartments, trends have shown a rise in single, college-educated workers who live alone. One of the fastest growing segments is so-called "metro renters" who comprise about 32% of the Downtown core, according to a 2018 DLBA report.
These residents' average age is about 33, with a median income of $67,000.
Rising rents have been a major concern throughout Long Beach as city leaders work to address the affordable housing crisis.
Next month, the Planning Commission will consider an inclusionary housing ordinance that would require developers to include affordable units in their developments. The ordinance is expected to go before the City Council later this year.
For now, many apartment complexes in the Downtown area say the demand remains strong, even for some of the costlier units.
Randa Issa, a spokesperson for Gallery 421, which opened more than a decade ago, said the newer developments haven't impacted occupancy rates for the luxury building at Broadway and Chestnut Avenue. Gallery is currently at 98% occupancy, she said.
"We initially thought there might be an impact but that doesn't seem to be the case," she said. "The demand is still there."
Long Beach's newest luxury complex, Oceanaire Apartments, opened on Ocean Boulevard in August and is at more than 40% occupancy, a spokesperson said. The complex is hoping to see a more than 90% capacity rate by the summer.
The Current Apartments has a 93% occupancy rate, with studios starting at around $1,900 and one-bedrooms starting at $2,300, said Jorden Kaufman, a leasing consultant.
Kaufman said occupancy rates have remained stable since the building opened near the corner of Ocean and Alamitos Avenue in 2016.
"We've been pretty steady and I think it speaks to all the amenities—the location near the beach, the walkability, we're close to everything," she said. "People love to live here."