The final appeal filed against the 2nd & PCH retail development was withdrawn this morning, allowing the project to move forward immediately, according to Steve Shaul, senior director of development for CenterCal Properties LLC.
"We are looking to break ground next week," Shaul told the Business Journal. "It will just be the oil well abandonment and the removal of the hotel now through December. We will be doing a formal groundbreaking ceremony in January."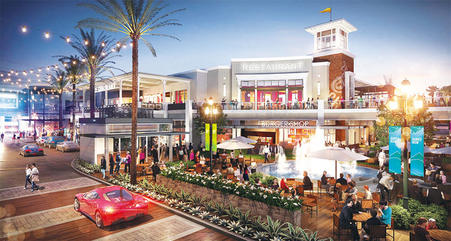 Rendering courtesy of CenterCal
The site of the defunct SeaPort Marina Hotel is to be transformed into a 245,000-square-foot retail center on the southwest corner of 2nd Street and Pacific Coast Highway. The project includes numerous retail and waterfront dining options and is anchored by a 55,000-square-foot Whole Foods, which is relocating from its current location in the Marina Shores Shopping Center.
"We're trying to hit a summer of 2019 opening. It's a good day here. We're excited to move forward," Shaul said. "It's such a significant and well-known site and it's going to be pretty dynamic when it's done. It's been a long time coming."
For additional information, see the October 24 edition of the Business Journal.