Although closures of all stores by sporting goods giants Sports Chalet and Sports Authority will leave two large vacancies on the market in Long Beach, leases and sales of retail space, particularly for small startups and restaurants, are expected to stay strong this year, according to real estate brokers interviewed by the Business Journal.
Over the past few quarters, leasing activity for retail spaces about 1,500 to 3,000 square feet in size, typically referred to as "shop space," has been "vibrant," while anything above 10,000 square feet is tougher to fill, said Brian Russell, vice president of Coldwell Banker Commercial BLAIR WESTMAC. New entrepreneurs are breaking into the market and taking advantage of low interest rates in an improving economy, he said.
"Entrepreneurs are finding fairly cost-effective money, because, for whatever reason, they've got savings and they're following their dreams," Russell said. "They feel that a lot of things are lined up for them to be successful and it's a very empowering thing."
Doug Shea, president of INCO Commercial, said sales of retail property in Long Beach has also been strong following upward momentum seen in all commercial real estate sectors, including office and industrial, noting that a driving force has been low interest rates.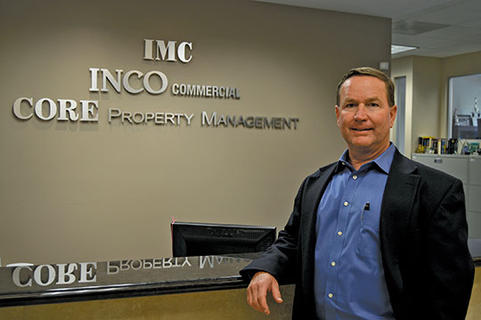 Doug Shea, president of INCO Commercial of Long Beach, is seen at his office at 6621 E. Pacific Coast Hwy. He said sales of retail property in the city is expected to stay strong this year as demand for space continues to grow while interest rates remain low. (Photograph by the Business Journal's Larry Duncan) 
Zoning changes enacted by the city council last year have helped draw craft breweries to the city, he said, noting that a new craft brew location to be called Long Beach Brewery is slated to open on Pine Avenue in Downtown Long Beach, not far from where Beer Belly of Koreatown in Los Angeles is expected to open on Long Beach Boulevard.
"I think it's still pretty hot," Shea said. "If there's a listing, it will be sold before you know it even in the retail realm . . . People will buy right now. Interest rates are still fantastic and they need to remain fantastic for the economy to stay where it's at."
In addition, the rise of private investment in commercial real estate property in Long Beach from nontraditional sources such as the Wall Street bond market and life insurance companies is a sign the local economy is moving in a positive direction, he said.
"The fundamentals must be good or they wouldn't be in this market," Russell said. "So I think that's a wonderful tribute to the marketplace we have now."
According to a report by Irvine-based CoStar Group, Inc., the general retail submarket in Downtown Long Beach had a vacancy rate of 3.8 percent in the first quarter of 2016 while the Long Beach Suburban market for retail had a vacancy rate of 3.5 percent. Citywide, Long Beach's overall vacancy rate for retail space is at about 10 to 11 percent, Russell said.
For Los Angeles County as a whole, the vacancy rate was 4.5 percent for the first quarter, with a positive net absorption of 683,466 square feet, down a fraction from a 4.6 percent in the fourth quarter last year, the report states.
CoStar statistics provided by Coldwell Banker Commercial BLAIR WESTMAC show there were 22 sales and 43 lease transactions of retail property in Long Beach in the first quarter this year, with an overwhelming majority below 10,000 square feet.
For the foreseeable future, vacancies of retail property in Long Beach will be absorbed with more occupancy filling the market this year, Russell said. However, he added that Sport Chalet's two-story store at the Long Beach Towne Center and Sports Authority's store at the Marina Pacifica Mall, both about 20,000 square feet in size, will be tough vacancies to fill.
The closures highlight the "vulnerability" of big-box retailers in a tough business climate where large retailers are competing not only against other brick-and-mortar rivals but also growing online stores, such as Amazon.com, that are able to offer cheaper products, he said.
Remaining sporting goods retailers will likely become stronger as a result of the closures, Russell said, noting that the same situation occurred in the home electronics industry, with only Best Buy left standing. He said a good fit for the empty spaces in Long Beach would be a furniture store.
Shea said he sees Pennsylvania-based Dick's Sporting Goods or Minneapolis-based Play It Again Sports, which both have locations in nearby Los Alamitos, gaining traction and taking over shuttered stores. He said the closures had more to do with lack of customer service than online competition, adding that there is still a need for brick-and-mortar sporting goods retail shops.
Grocery stores, meanwhile, are also in flux. For instance, Haggen, a Northwest food & pharmacy chain, closed its doors in Long Beach shortly after opening on Spring Street, while Fresh & Easy left five spaces empty after closing all locations last year. Emeryville-based Grocery Outlet Bargain Market, which opened a location on Spring Street in February, plans to fill at least two vacancies left by Fresh & Easy in Long Beach, Russell said.
Vacant retail space continues to fill up in Bixby Knolls as well. A large space at a shopping center at Atlantic Avenue and 45th Street formerly occupied by Orchard Supply Hardware, for instance, is being divided into two spaces for retail tenants, one of them being Smart & Final.
Russell said rental rates for retail properties are expected to remain "stable" for the rest of the year. He added, however, that there may be some possibility for slight increases of 1 percent to 3 percent, barring any new federal tax measures or interest rate hikes.
"I think rents will continue to be stable and maybe make some incremental upward movement but not a lot," Russell said. At the same time, he said there is still enough vacancy on the market for tenants to receive concessions from landlords.
Russell added that, despite upward momentum, increasing the retail sales tax in Long Beach by 1 percent, as proposed by city officials in a ballot measure for the June 7 election, to pay for infrastructure and public safety, would be a step backwards as customers may choose to make large purchases of durable goods elsewhere to save money.
He said retail space in Long Beach is still "competitively priced" compared to nearby coastal cities, but if the tax hike is passed that may change.
"The calculus is that Long Beach needs the revenue and there's enough upward momentum in retail to tolerate that, but I'm not so certain," Russell said. "Overwhelmingly, I think it is positive, but there are some significant downsides."
Shea said rental rates for retail real estate are expected to increase slightly this year as vacancy rates continue to decline. However, he said in some places, such as on 2nd Street in Belmont Shore, rates have already peaked and will likely remain stable.
"At some point, landlords are going to have to realize they can't continue to raise rates and have a retailer or restaurateur make any money themselves," Shea said. "They just can't afford it."
As for new development, major retail projects in Long Beach are planned along the coast and near office and industrial businesses, catering to professionals in the local workforce.
The most notable retail development moving forward is planned for Douglas Park adjacent to Long Beach Airport. About 250,000 square feet of retail is planned for a currently vacant lot at the corner of Carson Street and Lakewood Boulevard.
Newport Beach-based developer Burnham USA Equities, Inc., which purchased the land from Sares-Regis Group (SRG) last year, plans to build an "airport-themed" retail development, which is currently in the planning phase, at the site and is seeking possible tenants, according to Larry Lukanish, senior vice president for SRG.
He confirmed with the Business Journal that the project is moving forward and is expected to break ground by the end of the year, while construction of a new 241-room hotel proposed by Nexus Development at the site is expected to begin in July.