Originally founded in Long Beach in 1972 as an industrial property development and management firm, INCO Commercial now offers property management and regulatory consulting services, as well as brokerage services for all property types – office, industrial, retail and multifamily – with the exception of single-family homes.
As INCO has grown, so have its deep roots in Long Beach; its partners and brokers have strong ties to the city, having been born here, gone to school here and worked with local nonprofits and organizations. These ties, coupled with the collective experience of staff, are what have enabled the company to grow, according to partners Doug Shea, Bill Townsend and Brad Miles.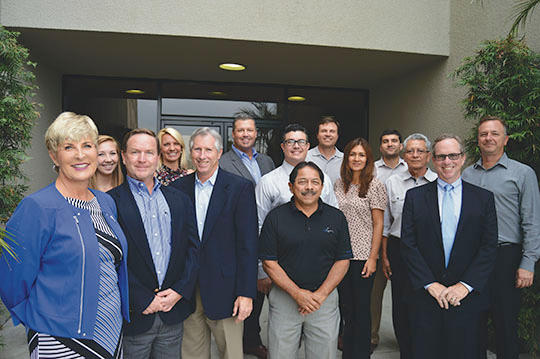 INCO Commercial, founded in Long Beach in 1972, has since grown to include two divisions and has four partners, 15 brokers and support staff. Pictured from left are INCO employees: Debra Orth, Nicolette Coey, Doug Shea, Krystle Wahl, Bill Townsend, Mark Beat, Jay Price, Rudy Licerio, Paul Phillips, Jessica Avila, Peter Pappageorge, Jim Arias, Brad Miles and Eric Christopher. Not pictured: Lynsey Polacheck, Craig Mitchell, Dave Baker, Jerome Ristrom, John Rendon and Sylvia Pullen. (Photograph by the Business Journal's Larry Duncan)
"We're all kind of intertwined in the Long Beach fabric," Townsend, who is also president of INCO, told the Business Journal. "We live here and we are involved in the community and nonprofit work. . . . We have all served on multiple boards of directors for nonprofits, chambers [of commerce] and hospitals."
Shea pointed out that, because he and his colleagues have worked and lived in the area for many years, they have strong knowledge about Long Beach's history. And between INCO's four partners (John Rendon joined the firm as a partner around 2009) and 15 agents, the firm is quite well connected, according to Miles, who serves as INCO's chair.
"It's not six degrees of separation in Long Beach; it's two," Miles said, referring to connections between INCO and Long Beach locals. Townsend agreed. "It's a big small town," he said.
The company, founded by Albert Iten, was originally a real estate development and property management firm focused on industrial facilities. Shea has been with the company since its earliest days. He grew up across the street from Iten, who asked Shea to work for him when he was in junior high. "I was a laborer for the projects they were developing. I would work summers and stuff like that," he recalled. "In 1988, he brought me on to start the brokerage side [of the business]."
Eventually, INCO moved away from real estate development to focus on commercial real estate brokerage. The company also provides property management services through its CORE Property Management division.
In 1991, Shea bought out the business when Iten retired. Ten years later, Townsend and Miles came on as partners.
"At that time, we had six or seven agents and we were really just an industrial leasing company," Miles said. "And, because of the new partners and the new agents we brought in, we expanded to include not only the industrial [market] but also retail, office, multi-family and investments." In other words, with the exception of single-family housing, "We specialize in everything," he said.
About seven years ago, INCO added another division, IMC Consulting, when former Long Beach City Manager Jerry Miller joined the firm. "They do real estate and regulatory consulting," Miles said. The division most often works with "municipalities who have real estate issues, or companies that have real estate issues with municipalities," he explained. Shea called the division a "natural fit" for Miller.
INCO's agents have varying specialties and backgrounds. "We have five guys who have at least 20 years of experience," Townsend said of INCO's team. Another five team members have about 10 years of experience, while the remaining five are relatively new to the real estate industry. Between them, "There is not a [type of] transaction we haven't seen or done," he said.
The majority of INCO's team is based at the company's Long Beach headquarters, but the firm now has a Riverside satellite office and freelance agents working in Irvine. The firm's primary operating region is Long Beach and surrounding cities, including Lakewood, Paramount, Los Alamitos, Signal Hill, Bellflower and others.
"We have generalized commercial expertise; but our real expertise is we know the region and we know the players," Miles said. Townsend noted that in addition to working with the business community, the firm is also experienced in assisting nonprofit organizations with their real estate needs.
Currently, the Long Beach industrial market is "very strong and very tight" according to Townsend. "It's very hard to find product," he said. Shea added that the number of sales transactions for industrial properties in Long Beach at the moment is fairly low, not because of a lack of demand, but because there are few properties available for sale.
While high demand for and low supply of properties is driving up lease rates and sales prices in the industrial market, activity in Long Beach's office market has been fairly flat, according to Miles. "There is not much of an increase in lease rates," he said.
Townsend noted that, while Downtown Long Beach office buildings have a fairly high combined vacancy rate, in other areas of town many office buildings are almost completely leased out. "If you're by the airport, it's tight," he said of available office space, adding that the same can be said for office space in certain parts of East Long Beach. Several multi-family developments underway in Downtown Long Beach may eventually draw more office users to that area, Townsend said.
Activity in the Greater Long Beach area retail market now rivals pre-recession levels, with lease rates to match, Miles said. "We have very few vacancies," he observed. Some existing retailers are expanding their existing spaces or opening new locations, he added.
"We've been getting a tremendous number of calls from people wanting to open restaurants," Shea noted. "The retail [business] side [of the market] doesn't seem as strong to me as the food side."
The partners agreed that mobile devices and the Internet are changing the way they do business. Namely, it makes it easier for INCO's agents to pull up information about properties quickly and easily, no matter where they are at the moment. "I would say technology has helped our industry tremendously," Shea said.
Looking forward, "We hope to grow the company by another 30 percent," Shea said.