In just seven years, Long Beach-based Innovation & Design In Architecture (IDA) has grown from a founding team of four to a staff of nearly 30. The firm's retail and restaurant clientele include the likes of Benihana, Ruth's Chris Steak House, Nike, Lucky Brand Jeans, Lids and many other national brands. Due to the company's reach, it is licensed to do business in nearly 40 states.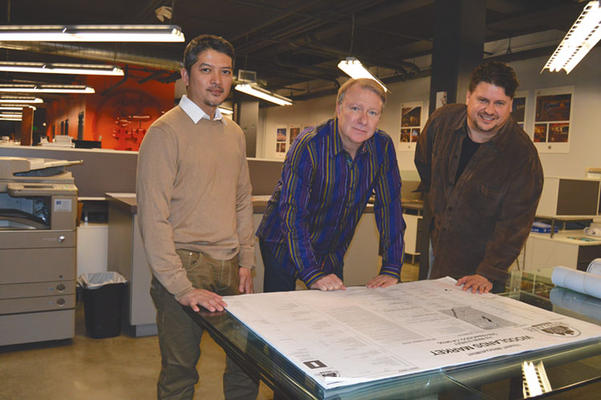 Innovation & Design In Architecture started out seven years ago with just four founding partners and has since grown to a firm with nearly 30 employees and an extensive list of national restaurant and retail clients. Pictured from left are founders Geoffrey Lim, Dallas Barker and Joshua Cool. Not pictured is co-founder Matthew Walsh. (Photograph by the Business Journal's Larry Duncan)
IDA's founders and owners – Joshua Cool, Dallas Barker, Geoffrey Lim and Matthew Walsh – attribute the firm's success to their deep understanding of the connection between retail and restaurant environments and the lifestyle experience a company is trying to convey. In essence, IDA is known for experiential branding through architecture and design. (Walsh was unable to participate in this interview).
The four founders have extensive backgrounds in architecture and design, and they all hail from the same firm in Newport Beach. They left to form a new architecture arm of a contracting company around 2008 and then struck out on their own in 2010.
"When we started in 2010, we had a very good ongoing relationship with Nike," Cool said. "Based on the relationships we had with Nike, Benihana and certain other national retailers, we felt that the four of us could probably move out on our own and sustain our business."
Cool and Walsh both lived in Long Beach at the time (and still do), and they recognized the potential in locating a business there. "We saw where Long Beach was going," Cool said. From the start, the firm had clients in Los Angeles, Orange County and San Diego, so Long Beach was an ideal central location, he noted.
Locating in Downtown Long Beach was also attractive for employees, Barker noted. "When we came down here, we were like, you can walk anywhere you want. You can go to restaurants and don't have to worry about getting in your car," he said.
The firm started off in a 2,000-square-foot office at 115 Pine Ave. Lim said they signed a seven-year lease thinking the space was large enough to accommodate the growth they expected. But it wasn't.
Right off the bat, Benihana tasked IDA with remodeling 13 existing restaurants. Nike acquired Converse, which became IDA's client as well. "That immediately sparked our growth based on those two companies," Cool said.
With a quickly growing portfolio of projects, IDA's staff grew to 20 employees within two years. "The space only fit about 15. We at one point had about 24 people on staff," Barker said. Lim added, "We had a whole library and materials section that all got converted to work spaces."
In 2013, IDA moved to its current location on The Promenade with more than double the office space. "Where better for a restaurant/retail architect to be located [than] in the heart of what's going to be the future of Long Beach's restaurant and retail?" Cool said.
Initially, about 80% of IDA's clients were retailers, including Lids, Lucky Brand Jeans, Nike, Converse and others. But after IDA was approached by Veggie Grill, a vegan eatery, to create a new branded restaurant location at Marketplace Long Beach, IDA began attracting many more eateries as clients.
"We took a lot of what we learned about branding and retail design from Nike and other companies, about how to create environments that are all about their brand, and we applied it to restaurants," Cool said. "We developed a whole new brand identity for Veggie Grill. Based on that, we started working for various national restaurants."
Cool continued, "As time went on, we did Lemonade, Urban Plates, Luna Grill, Yalla Mediterranean, Counter Burger – a lot of local brands that were expanding nationally."
IDA is currently working with Norm's, a diner chain that is looking to add more locations, including in Long Beach. IDA also just added Outback Steakhouse and Black Angus as clients. "We just signed up with Outback. They are redoing [the] Rainbow Harbor [location]," Cool said.

From left: Innovation & Design In Architecture's (IDA) design for Table 301, a new restaurant concept slated to open where the redesigned City Place shopping center meets The Promenade at 3rd Street; IDA's concept for the R Bar, a new bar/eatery slated to open at City Place; Veggie Grill asked IDA to redesign and rebrand its location at Marketplace Long Beach. (Art provided by IDA)
IDA's fusion of branding and architecture are what have made the firm a success, the owners agreed. "We look at marketing and branding as connecting with your core customer," Cool said. "With the explosion of fast casual [eateries] . . . you're going to continue to see this happen. Branding is becoming a huge thing for them because they want to separate and define themselves."
The firm's use of building information modeling (BIM), a process of digitally modeling architecture in a three-dimensional format, has also helped attract clients. Representatives from BJ's Restaurants once showed up to IDA's Promenade office unannounced because of word-of-mouth recommendations related to IDA's use of BIM, Cool said.
About two years ago, the firm established lower rates for local businesses and, as a result, continues to grow a local client base, which includes Pier 76, Broadway Pizza & Grill and Linden Public. IDA is also designing Table 301 and the R Bar, new restaurant and bar concepts slated to open at the redesigned City Place.
Moving forward, IDA's leadership expects retail to become increasingly experiential. "It's going to be more interactive," Lim said. IDA is working with online retailer Hudson Jeans to create its first retail location – described as an "anti-store" – in Santa Monica. "It's about the experience and educating the consumer to what their product is, which is kind of fascinating," Cool explained.
Another transformational trend they foresee for retail and restaurants in the future is a fusion with recreational marijuana thanks to its recent legalization in California. "It has already happened in Colorado," Cool said.
As the firm continues to take on new clients and projects, more employees will be added. Two new staffers recently came on board, and IDA is currently hiring for three more, according to Cool. About half of IDA's staffers live in the downtown area.
Cool, who serves on the Downtown Long Beach Alliance's economic development committee, emphasized that IDA is committed to working with local entrepreneurs. "For local businesses on the restaurant and retail side, we'd love to talk to them about how we can work with them to expand," he said.
"All of us really love Long Beach," Cool said. "We like being a part of this community."