Steadily increasing interest rates are likely to slow the sale of properties across all real estate sectors, according to real estate experts and economists. After the most recent quarter-point hike in September, the federal funds rate, which directly impacts mortgage loans, is 2.25%. Three more increases are anticipated in 2019. According to Wells Fargo, the current mortgage and refinance interest rates are 4.125%.
For single-family housing sales, affordability constraints are causing the market to struggle, according to Robert Kleinhenz, economist and executive director of research at Beacon Economics. "Prices are rising, but sales have been struggling the entire year," he said. "Higher interest rates coupled with the continued increase in home prices have really curbed demand over the past several months compared to a year ago."
The average amount of time homes are spending on market increased from 19 to 21 days year-over-year in Los Angeles County, still "very low" by historical standards, Kleinhenz said. At the state level, the number of single-family home listings increased 20% year-over-year, which could temper price appreciation, he added.
Kleinhenz said that, historically, prices continue to increase for several quarters following the a peak in sales. So, while sales seem to have peaked, home prices may continue to increase into 2019. He said that the seasonal trend of home prices softening in the fourth quarter and into the new year is likely to occur, but that homeowners should not worry, as market fundamentals have not weakened.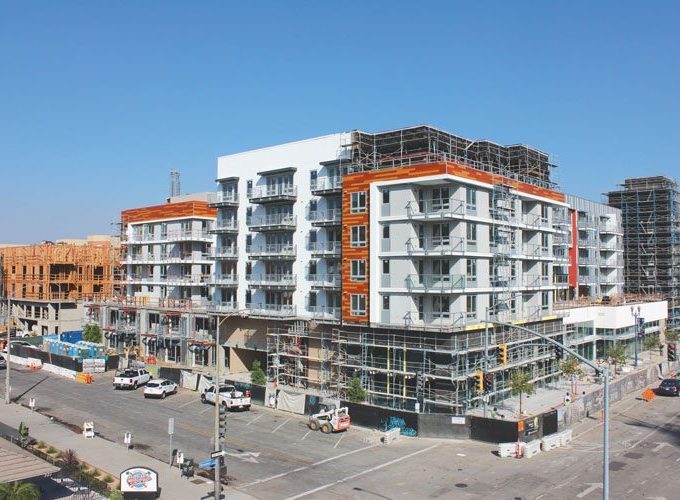 "Zillow reported for September a median home price of $585,200 [locally]," Kleinhenz said. "Depending on which area you [live] within the county or across the state, your median home price is pretty close to or maybe a little bit above the pre-recession peak."
In the multi-family market, the price for property sales has leveled off, in part because of rising interest rates, according to market experts. Petra Durnin, director of research and analysis for CBRE, noted Long Beach has 1,600 units currently under construction, with more in the pipeline – a sign that Long Beach has "finally arrived" in terms of its desirability for living and working.
The midterm election vote on Proposition 10 could have negative impacts on the multi-family market, according to its opponents. If passed, Proposition 10 would repeal the Costa-Hawkins Rental Housing Act, allowing cities to adopt rent control policies affecting any type of rental housing, including single-family homes, regardless of when they were constructed. The act currently states rent control cannot be enacted on units first occupied after February 1, 1995.
Stuart Waldman, president of the Southern California Valley Industry and Commerce Association, stated that the proposition "will ultimately harm the very people it is trying to help. The only way to solve the housing crisis is to build more." Supporters of the proposition claim repealing Costa-Hawkins will protect residents from unfair displacement due to rapidly increasing rents.
Based on continued demand for housing in California, Durnin said she expects rental rates to continue to increase for the foreseeable future. However, she noted that rents will likely flatten when the current economic cycle nears an end.
In the coming year, Durnin explained that multi-family vacancy rates will fluctuate in Long Beach and L.A. County as a whole, depending on how many new units come online in each quarter. The more units that come online at once, the higher the vacancy rate is likely to be, she said.
"Multi-family is growing," Durnin said. "Long Beach Airport is undergoing upgrades, the Aquarium is undergoing renovation – all of this factors into that live, work, play paradigm, which is only going to attract more tenants. When you have more tenants, then you have more amenities, and that's really the glue that holds it all together."
As part of the live, work, play mentality, Durnin said developers are now offering multi-family residents more than just a unit to live in. Full gyms, rooftop pools, community space, bike kitchens, ride-share programs and other amenities are becoming more common, she said.
Commercial real estate is continuing strong due to low unemployment and increased spending money for residents, Kleinhenz said. The office market in particular is benefiting from job gains, he explained.
"From January through September of this year compared to January through September of last year, we added 62,000 jobs year-over-year in L.A. County," Kleinhenz said, noting that this is down from around 100,000 jobs added annually several years ago. "About 15,000 [of those jobs] are in healthcare and social assistance."
Allotting fewer square feet per employee is a continuing trend that is changing the dynamics of office space, Kleinhenz noted. Additionally, he said more people are working from home. Because of these two trends, Kleinhenz said he expects office vacancy rates to remain flat.
Creative office space continues to be desired by employees, and companies are working to accommodate them, Durnin said. In fact, she went a step further, positing that creative and office have become synonymous. "It's to attract and retain talent," she explained. "If [interviewees] see drywall walls, wood doors, low ceilings and no natural light – [companies] are not going to get the best talent that way. You really do need to have a creative space that attracts talent."
E-commerce continues to drive strong demand for industrial space in Long Beach and the South Bay, especially for third- and fourth-party logistics companies, Durnin said. Last mile and quick product delivery needs are keeping upward pressure on industrial space prices, particularly for warehouses. "[Rents] can't go up indefinitely. So, I do think there will be a bit of a leveling off," Durnin added.
In Long Beach and the South Bay, there is little open space to develop more industrial buildings to give the market any relief, Durnin said. Currently, much of the new stock is being produced in the Inland Empire, she explained. The next step for industrial space is multi-story warehouses, but that trend is likely a ways off for the Southern California region, she said.
Vacancy for industrial space in Long Beach and the South Bay are relatively unchanged from last year, both hovering around the 1% mark, Kleinhenz said. The area has experienced similar vacancy rates for the last three or four years, he added.
Despite the strong demand for industrial space, Kleinhenz said there are concerns over the looming effects of trade deals and tariffs by the Trump administration. "Should we be worried about what happens with the trade wars?" he said. "The situation with China can obviously have an impact on what comes through the ports," which could potentially have a negative effect on industrial space, he explained.
While big-box stores and traditional retail continue to struggle and shutter locations, experiential stores and centers are thriving, Kleinhenz said. This is evident in the success of Long Beach Exchange at Douglas Park and tenant interest for the 2nd & PCH development, which is under construction and set to open in October next year.
Much of the growing retail market consists of food and beverage, Kleinhenz said, which is illustrated by the numerous restaurants and breweries that have recently opened or are planned in Long Beach. "Now that we're so many years into an economic expansion, now that we're at full employment and incomes are on the rise, we're seeing people open their wallets and spend more money on going out to eat, picking up fast food, stuff like that," he said.
For brick-and-mortar stores, Kleinhenz said they are adapting to the experiential or e-commerce markets or they are failing. Stores such as Walmart, Target and Best Buy have successfully integrated online sales into their business models, whereas companies such as Sears, Kmart and Toys "R" Us, did not – the latter of which have or are in the process of closing some or all locations. However, even stores such as Best Buy are reducing their brick-and-mortar footprint, Kleinhenz added.
"We've seen plenty of headlines about how brick and mortar is dying, but it's undergoing an evolution," Durnin said. "Brick-and-mortar stores are going online to stay relevant, and the online stores are opening brick and mortar to reach a wider audience. For different goods, people prefer to shop in different ways."