In the midst of what some have called a renaissance, Long Beach has seen a mass uptick in the number of residential developments breaking ground. Countless companies are behind projects that will bring thousands of new units to the city. Ensemble Real Estate Solutions & Investments, based in the city, is leading this resurgence. It has two residential projects under construction, another already approved and a fourth in the pre-development stages – for a total of approximately 718 units.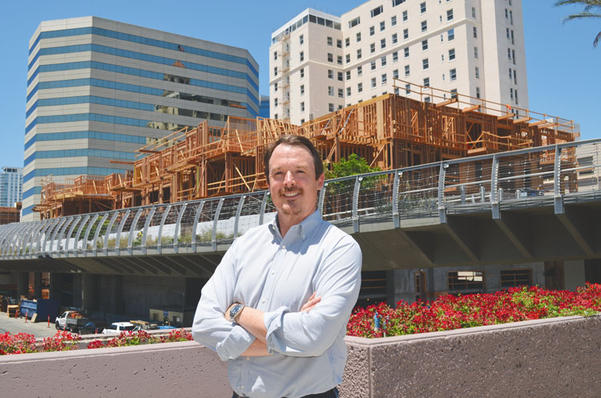 Tyson Sayles of Ensemble Real Estate Solutions & Investments is pictured at the company's Sonata Flats development at 207 Seaside Way. The project is one of four residential projects Ensemble has under construction or planned in Downtown Long Beach, totaling more than 700 units. "Long Beach as a city has a lot to offer. We are currently looking in some other parts of Long Beach and other districts," Sayles said. "With the new Land Use Element, it's opened up some opportunities to do a lower-density version of what's happening in Downtown Long Beach in some other parts of the city. We're definitely interested in and looking at those opportunities." (Photograph by the Business Journal's Pat Flynn)
"Ensemble has been committed to Long Beach, and specifically Downtown Long Beach, for over 20 years," Tyson Sayles, principal of the multi-family and mixed-use properties group for Ensemble, said. "We're big believers in Downtown Long Beach, not just in the short term but in the long term because it's an amazing, diverse city that has fantastic pedestrian, bicycle and public transportation amenities, as well as civic and cultural amenities."
The company is not new to Long Beach. Founded in Los Angeles in 1990, Ensemble opened its Long Beach headquarters in 1996. Though its current residential projects represent its first foray into residential development in the city, Ensemble has made significant investments in Long Beach over the years, such as the ground-up development of Residence Inn in downtown, and the purchase and renovation of the World Trade Center, the property now known as the Hotel Maya, and the 444 W. Ocean high-rise office building, where the company's headquarters is located.
Sayles said the company saw the potential in residential development because the city, particularly in the downtown area, offers a "great" quality of life for residents seeking an urban, pedestrian-friendly home. Sayles noted that Long Beach is still affordable compared to cities in Los Angeles and Orange counties, especially those near the beach.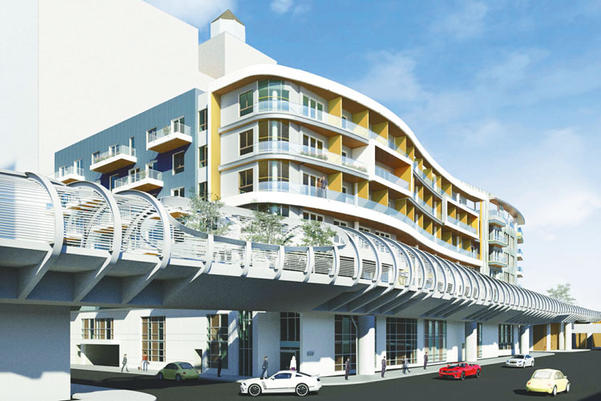 Sonata Flats, 207 Seaside Way
Ensemble leadership believed these characteristics presented an opportunity, and the company brought Sayles on board four years ago to launch the residential division. The company's first residential development at 442 W. Ocean Blvd., dubbed 442 Residences (previously known as Serenade Modern Flats), broke ground last year. Soon after, the company's second Long Beach development, Sonata Flats, broke ground at 207 Seaside Way.
"Over the last five years in Long Beach, [Ensemble] has seen a level of energy and momentum that has exceeded anything that's happened in previous [real estate] cycles," Sayles said. "That comes from a combination of the public officials and our mayor's office, as well as from significant private investments."
Prior to joining the Ensemble team, Sayles worked for investment management and development firm Cityview and was involved with the renovation of historic buildings in Downtown L.A. He explained that L.A. went through a shift about 10 years ago that saw developers seeking "authentic" neighborhoods with "character" rather than those typical "manufactured stucco boxes." Long Beach is currently undergoing a similar transition, Sayles said, noting the city's home-grown creative community and plethora of old and historic buildings.
The company's 442 development consists of a mix of 94 studios and one- and two-bedroom units. Sayles said the building provides a boutique hotel-like ambiance with high ceilings, inventive furnishings and amenities that include a rooftop club, fitness center, a plaza-level paseo and a dog park.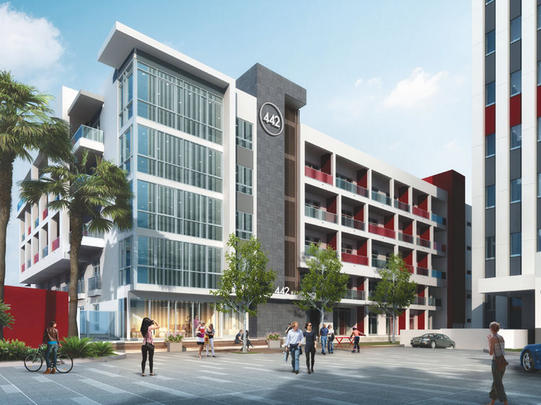 442 Residences, 442 W. Ocean Blvd.
Located directly behind the California Bank & Trust office tower at 444 W. Ocean Blvd., Sayles said the residences are the next step in the evolution of the company's improvements to make the office building into a campus. He explained that the units would serve as the perfect housing opportunity for employees in the 444 building as well as those working at the nearby World Trade Center, the forthcoming new Long Beach Civic Center and other office buildings. The project is expected to open early next year.
The Sonata Flats development includes 112 units directly across the street from the Long Beach Convention & Entertainment Center and will provide the same boutique hotel vibe as 442, Sayles explained. The project is a mix of studio, one- and two-bedroom units, a rooftop sky lounge with a club and a pool, and a café and retail space where the building adjoins with the 605-foot-long Rainbow Bridge pedestrian walkway.
"It's going to be completed next spring, and we're really excited about this building," Sayles said. "It's going to be a real unique showpiece opportunity to integrate with the bridge because the café and the amenities space open out onto the bridge and create a wider pedestrian promenade."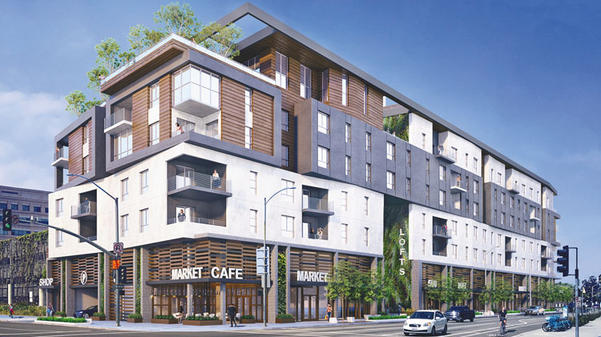 Magnolia and Broadway Residences, 500 W. Broadway
Currently in the plan check stage with the city and not yet under construction, Ensemble's Magnolia And Broadway Residences development is named for its location. The project includes a mix of 142 studio, one- and two-bedroom units at 500 W. Broadway. Sayles said that, according to the Downtown Long Beach Alliance, the intersection of Broadway and Magnolia is one of the highest pedestrian traffic areas in the city during the week. Due to the foot traffic, the location could better serve the community as a mixed-use development rather than its current use as additional parking for the courthouse, Sayles explained. The plans feature 4,100 square feet of ground floor retail.
To increase the area's bikeability and connectivity, Ensemble plans to widen the sidewalk adjacent to the Magnolia and Broadway project. The company hopes to break ground on the development early next year, with an estimated build-out of 24 months.
Ensemble's largest project is Third & Pacific, which is also named for its location at 3rd Street and Pacific Avenue. In the pre-development phase, project plans currently consist of two buildings – a 21-story high rise and a seven-story structure – for a combined total of 370 units. Sayles said Ensemble plans to get feedback from residents of the area soon, and hopes to take the project before the Long Beach Planning Commission for approval later this year. If this timeframe is met, the project could break ground late next year, with an anticipated build-out of about 24 months.
"What's most exciting to me about Third & Pacific is West Roble Way, which is the paseo between the buildings and the connection through to Pine Avenue that will have landscaping, string lights, improved paving and the concept of a gourmet alley," Sayles said. "I think those found spaces, those kind of aha moments when you're walking as a pedestrian in this city and all of a sudden you come upon this beautiful, unexpected courtyard is really kind of a fun thing that makes a space feel great."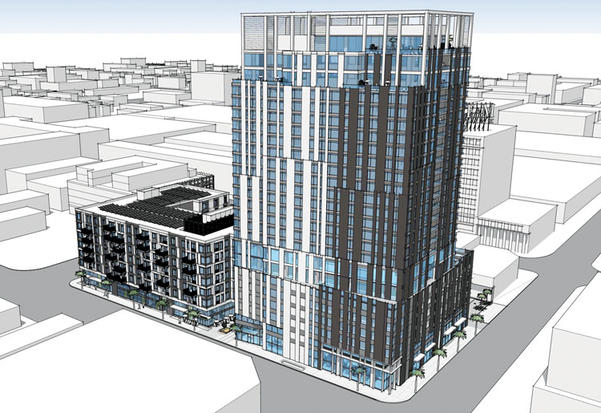 Third & Pacific, 131 W. 3rd St.
Each of the company's four projects has its own identity and market positioning, Sayles said. However, overall, he explained that Ensemble's goal is to provide high-quality housing with a luxurious, urban lifestyle at an attainable price point. For this reason, while each development does have built-in amenities, they will also rely on the downtown area to provide ample dining, nightlife and entertainment for residents to enjoy.
Sayles said the focus of Ensemble's projects is not to maximize unit count but to create a more "intimate" community atmosphere. By keeping the unit counts modest, residents can get to know their neighbors, and management can have a more personal touch, he explained.
While the main focus of Ensemble's residential development work is in Downtown Long Beach, the firm also has four projects in Northern California and two in Philadelphia, according to Sayles. But Ensemble isn't necessarily done developing in Long Beach just yet.
"Long Beach as a city has a lot to offer. We are currently looking in some other parts of Long Beach and other districts," Sayles said. "With the new Land Use Element, it's opened up some opportunities to do a lower-density version of what's happening in Downtown Long Beach in some other parts of the city. We're definitely interested in and looking at those opportunities."