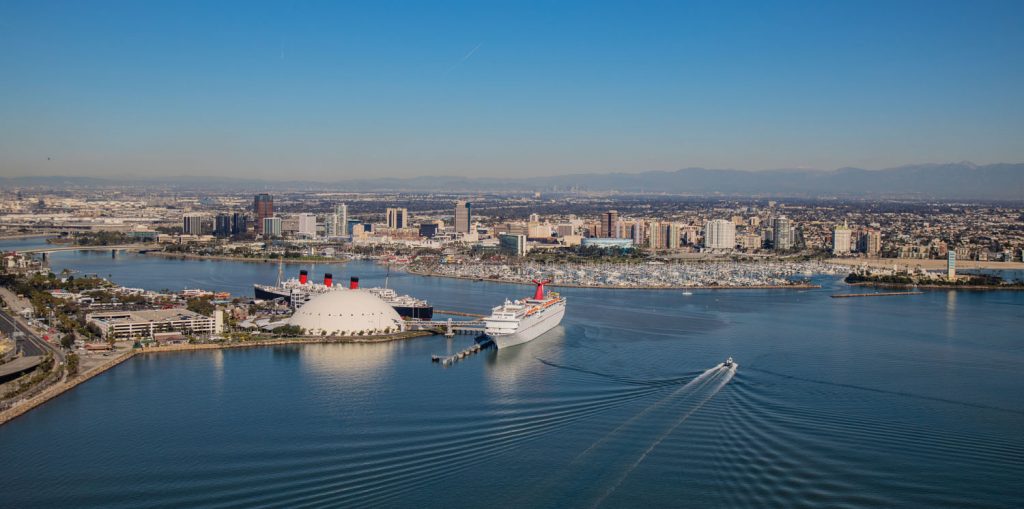 A diversity of business sectors drive the Long Beach economy, some with roots dating back to the city's origins, and others that have blossomed more recently. The city's economic strength and stability has been bolstered by the variety of its industries; when one slows, another is there to pick up the slack.
Major employers in the City of Long Beach include businesses and organizations in the aviation and aerospace, financial services, health care, hospitality and tourism, oil, technology and trade sectors.
Perhaps the greatest single driver of economic activity in the city and greater region is the Port of Long Beach, which, combined with its neighboring Port of Los Angeles, is responsible for processing about 39% of the country's maritime international trade. The port supports businesses in the trade, logistics and real estate sectors, including trucking firms, customs brokers and freight forwarders, shipping lines, warehouses and other enterprises.
Following is a more detailed glimpse into Long Beach's industries.
Aviation And Aerospace Snapshot
By Staff Writer Pierce Nahigyan
Long Beach's history as a hub for aviation and aerospace dates back to the early 1900s, but the industry blossomed during World War II with the establishment of the Douglas Aircraft Company's manufacturing plant near the Long Beach Airport (LGB). This is where the company built C-47 Skytrains, SBD dive bombers, C-54 transports, A-20 and A-26 attack bombers and B-17 bombers. Douglas merged with McDonnell Aircraft Corporation in 1967 and with Boeing in 1997, which continued to manufacture aircraft in the city until 2015.
Many aviation and aerospace companies continue to operate in and around LGB today. These include the airport's largest leaseholder, Gulfstream, which employs approximately 800 workers in the city and performs maintenance and service on several models of its jets.
At Douglas Park, a former McDonnell Douglas site, Virgin Orbit is developing a system to launch rockets from a modified Boeing 747. Virgin employs just over 500 people in Long Beach, and last year expanded into a second building in the business park. Other major businesses around the airport include the training school FlightSafety International, fixed base operators Ross Aviation, Signature Flight Support and Airserv, and a variety of businesses located in two business parks owned by LGB.
Airserv provides ground-handling services for commercial flights as well as corporate, military and cargo aircraft. Owner and President Kevin McAchren said that the company has often serviced flights for local sports teams, including the Anaheim Ducks and Los Angeles Angels of Anaheim. "It's a busy time of year for us in the spring and summer," McAchren said. "We have such teams as the Baltimore Orioles, the Cleveland Indians, the Detroit Tigers, among others that use Long Beach because of the excellent facilities here."
Curt Castagna is the CEO and president of Aeroplex/Aerolease Group, which develops and manages airport real estate at LGB and across the country. Castagna told the Business Journal that LGB has been and continues to be a major asset for the local economy. "The City of Long Beach benefits from the diversity of its tenant mix at the airport," Castagna said. "What makes Long Beach so unique is that we have Gulfstream and Ross Aviation and Signature and White Buffalo, FedEx, UPS and the airlines. It's that diversity that really is the value to the community in protecting their quality of life, and at the same time maximizing the economic benefits."
The airport offers commercial flights to 18 U.S. destinations and has five commercial air carriers: American Airlines, Delta Air Lines, Hawaiian Airlines, JetBlue Airways and Southwest Airlines.
Financial Services Snapshot
By Staff Writer Alena Maschke
Long Beach residents and business owners have a variety of financial services to choose from, ranging from national and regional providers to homegrown institutions. Both Farmers & Merchants Bank (F&M) and International City Bank (ICB) were founded in Long Beach and have maintained headquarters in the city.
"Being headquartered here in Long Beach since our inception, we feel that we have a pulse on the business community," Michael Miller, president and chief operating officer of ICB, told the Business Journal. "All decisions are made here, locally, in Long Beach," he noted. "That's the advantage that we have."
The bank, which was founded in 1984, is expanding its online services to ease access for both local and regional clients. "In today's environment, due to technology, brick-and-mortar is not quite as critical as it once was," Miller pointed out. Still, he said, the bank periodically reviews options to branch out physically as well. ICB currently holds $270 million in assets and has just over 30 employees across its two branches, according to Miller.
Farmers & Merchants Bank, which holds $7.3 billion in assets and has 750 employees across Southern California, was founded by C.J. Walker in 1907 and has remained in the Walker family since. "Our foundation, our beginning, was in Long Beach. It embodies who Farmers & Merchants is, our 112-year heritage, our values, and our commitment to the city," F&M President W. Henry Walker told the Business Journal. "It makes sense for California's strongest bank to be headquartered in California's strongest city."
Walker said F&M has also taken steps to expand its digital services, in addition to the 25 branches the bank operates across Southern California. "We've been investing very heavily in our technology, so that we can continue our long tradition of offering our clients the latest in banking security, convenience and speed," Walker said.
In addition to these two locally-headquartered banks, various other banks and credit unions have offices and branches in Long Beach, including Wells Fargo, First Bank, Chase Bank, Comerica Bank, City National Bank, Bank of America, OneWest Bank, Bank of the West, Citibank, U.S. Bank, Banc of California, United Business Bank, Union Bank, Luther Burbank Savings, California Bank & Trust, VA Desert Pacific Credit Union, LBS Financial Credit Union and others.
Long Beach's financial services industry also offers a full spectrum of wealth management, investment and accounting services. The city is home to offices of national firms like HCVT Certified Public Accountants and locally-founded financial service providers, such as the accounting firm Windes and the wealth management institution Halbert Hargrove.
Halbert Hargrove was founded in 1933 by a group of successful oil entrepreneurs who didn't trust anyone else to manage their newfound wealth, the firm's president and chief operations officer, JC Abusaid, recounted. "We've had the same phone number ever since," Abusaid said. "There's a lot of tradition. We like to do things a certain way and we stick to it."
The city has developed a robust financial services industry since the early 20th Century, when oil created fortunes in the area. "There's strong, very reputable firms, and I think there's a lot of collaboration happening," Abusaid noted. "It's a great community and a great place to do business."
Health Care Snapshot
By Editor Samantha Mehlinger
Multiple hospitals, two major health plan providers, a regional U.S. Veterans Affairs medical center and many private medical practices are located within the City of Long Beach, meeting the myriad health needs of its nearly 500,000 residents.
One of the largest health care institutions operating in the city is MemorialCare Health System, which runs two hospitals – MemorialCare Long Beach Medical Center and Miller Children's & Women's Hospital Long Beach – as well as multiple outpatient and imaging centers. Its affiliate health plan, Seaside Health Plan, is headquartered in Long Beach. According to a MemorialCare spokesperson, the nonprofit supports more than 8,600 jobs within the City of Long Beach. In addition to hospital workers, this figure includes affiliated physicians, physician residents and fellows, as well as nursing students and contracted food service employees.
Long Beach Medical Center houses nine institutes of health, including programs focused on heart and vascular care, breast health, joint replacement, strokes, cancer and other specialties. The medical center, which was founded as Seaside Hospital in 1907, also houses an imaging center. The hospital's emergency department serviced nearly 109,000 patients in 2018, the hospital's chief operating officer, Ike Mmeje, recently told the Business Journal.
Miller Children's provides care for children and expectant mothers. About 5,600 babies are born at the hospital each year, according to a hospital representative. To consolidate outpatient care services for child patients, which are scattered throughout the hospital and city, MemorialCare is planning to build a new four-story, 80,000-square-foot Children's Village next to Miller Children's. The hospital's board has approved the project, but it still must be considered by the Long Beach City Council.
Dignity Health – St. Mary Medical Center, located near downtown, is another major hospital in Long Beach, employing 1,535 people. Founded in 1923 by the Sisters of Charity of the Incarnate Word, the 389-room hospital provides many services, including an HIV/AIDS program, internal medicine, pediatric and maternal care, orthopedic surgery and more. The latest technology introduced to the facility is the da Vinci Si Robotic Surgical System, which performs minimally invasive surgical procedures, and offers improved patient outcomes and recovery time, according to a hospital spokesperson.
There are plans in the works to build a new patient tower and expanded emergency room at St. Mary Medical Center, an initiative announced last year. Plans for the new tower include private patient rooms, operating rooms, new labor/delivery rooms and more. The project is still in the design phase.
Long Beach is also home to the VA Long Beach Healthcare System, which is housed in a sprawling campus next to California State University, Long Beach. The campus offers veterans comprehensive health care services ranging from mental health, dental, pharmacy, imaging and more. The system employs 3,330 people, according to a VA representative. Three new buildings are under construction to expand the facility's mental health care capabilities and to create a community center.
Serving the senior population, Long Beach-based nonprofit SCAN Health Plan offers Medicare Advantage plans throughout 10 California counties. It also provides community programs including Independence at Home, which offers a range of services designed to help seniors and their home caregivers, and Volunteer Action for Aging, which offers group activities for seniors meant to address loneliness and isolation. SCAN employs 1,226 people at its Long Beach headquarters, according to a spokesperson.
Also based in Long Beach, Fortune 500 organization Molina Healthcare provides Medicaid, Medicare and government health plans in 14 states and Puerto Rico. The firm was founded in 1980 as an affordable health clinic.
In addition to these major organizations, Long Beach is home to many private practices and specialty caregivers, including dentists, orthodontists, ophthalmologists, pediatricians, gastroenterologists and many others.
Hospitality And Tourism Snapshot
By Staff Writer Alena Maschke
The Long Beach Convention & Visitors Bureau (CVB) estimated that at least 7.9 million visitors came to the city in 2018 to attend its attractions and events such as the Grand Prix of Long Beach, the Long Beach Pride Festival, the JetBlue Long Beach Marathon and the ASICS World Series of Beach Volleyball.
The Long Beach Convention and Entertainment Center, which is located on Ocean Boulevard in Downtown Long Beach, brought 1.3 million visitors to the city for conventions and meetings in 2018. The 400,000-square-foot space offers two VIP lounges, 34 meeting rooms, a grand ballroom, three exhibition halls and several other event and performance spaces, including The Cove and the Beverly O'Neill and Terrace theaters. In 2018, 274 conventions and meetings booked by the CVB were held in Long Beach. These conventions and meetings generated 208,097 overnight stays in hotels, according to CVB data.
Many of the city's most prominent tourist attractions are located on the downtown waterfront. Located across Queensway Bay, the historic Queen Mary has remained open while undergoing major rehabilitation work. This has included roofing and decking repairs, an update to the fire sprinkler system and renovations in the boiler room that allowed for the re-launch of a popular tour focused on the supernatural. The ship's leaseholder, Urban Commons, recently announced further structural repairs to ensure safety aboard, but is yet to release a timeline for previously announced upgrades to hotel rooms and common spaces.
A partnership between the Queen Mary and Goldenvoice, the company responsible for producing the annual Coachella Valley Arts and Music Festival, is now in its second year. In May, the "Just Like Heaven" festival is slated to bring indie rock favorites Phoenix, MGMT, Beach House and other acts to Long Beach.
That same month, the Aquarium of the Pacific is opening a new wing, Pacific Visions, which will feature live exhibits as well as a 300-seat immersive experience theater and an art gallery. These new offerings are expected to increase the Aquarium's annual number of visitors from 1.7 million to 2 million.
Carnival Cruise Line is planning to bring more visitors to its Long Beach terminal by expanding its capacity for cruises to the Mexican Riviera. The company's newest ship, the Carnival Panorama, is scheduled to dock and replace the Carnival Splendor starting December 2019, adding close to 1,000 spots on the company's seven-day cruises. "We've been cruising both short and long cruises from Long Beach for a very long time, and those cruises have continued to be very successful for us," Carnival's vice president of revenue planning and fleet deployment, Fred Stein, told the Business Journal. "There's more than enough demand to meet the additional capacity."
Ashore, new hotels are poised to draw more visitors to Long Beach. Guest capacities in the downtown area alone are expected to increase by 1,000 new hotel rooms over the next couple of years, including within the historic Breakers building and a planned 30-story hotel tower at the former site of the historic Jergins Trust Building. Near the airport, a 125-room Staybridge Suites is under construction, replacing parts of the adjacent Holiday Inn Long Beach Airport, which still hosts guests in its landmark tower.
Home sharing and vacation rentals have become popular alternatives to traditional hotels across the world, and Long Beach is no exception. According to Connie Llanos, deputy policy manager for the Greater Los Angeles region at Airbnb, the company counted 1,100 active Long Beach hosts offering rooms, apartments or entire homes through the platform. An economic impact study conducted by Airbnb found that the approximately 101,000 guests who've booked a stay with an Airbnb host in 2018 have contributed $42 million to the local economy.
"We know that our guests tend to stay outside of the traditional tourist centers, which means that they are spreading those dollars out further into the community," Llanos noted. "It creates a really great economic ecosystem."
International Trade Snapshot
By Editor Samantha Mehlinger
International trade is a major driver for the local economy thanks to the presence of the Port of Long Beach, the second largest port in the nation after its neighbor, the Port of Los Angeles. Trade activity through the port drives activity in a number of industry sectors, including trucking, logistics, warehousing, retail, shipping, rail and even maritime law. The port recently released its first economic impact analysis since 2004, revealing that it supports 51,090 jobs in Long Beach, 394,220 jobs in Los Angeles County, 705,430 statewide and 2.6 million throughout the nation.
In total, the port's nationwide economic output is estimated at $374 billion, according to the report, which was compiled by research firms EDR Group and Tioga Group. In Long Beach, its economic output is $9 billion.
"It clearly shows us that the port continues to be an economic engine in regard to job creation," Mario Cordero, executive director of the Port of Long Beach, said of the report. In 2001, the port supported 1.5 million jobs compared to 2.6 million today. "That's one of the most notable aspects of this report in terms of job creation," he said.
The flow of cargo through the Port of Long Beach is the main driver of this economic activity. Although the port's market share among its competitors declined slightly between 2001 and 2017, the port continues to grow its overall trade volumes, according to the report. Since 2001, the value of goods moving through the port has increased by 66%, according to the report. In 2017, the value of goods that passed through the port totaled $194.1 billion.
In 2018, the Port of Long Beach broke its all-time record for cargo volumes passing across its docks. Compared to 2017, overall cargo volumes increased 7%. "I think it's fair to say that when we had the kind of growth that we had in 2017 and 2018, the American shipper has confidence with the Port of Long Beach," Cordero said.
Despite ongoing tariffs and tensions between the U.S. and China, Cordero expects trade growth to continue this year, albeit at a more modest pace. "We're looking to a more conservative growth for this year. I think [around] maybe 4%," he said. "I believe we're going to continue to be competitive. I will admit, it's a highly competitive environment right now," Cordero said. "We continue to focus on our capital improvement project investment, and of course our continued quest to excel here not only in terms of the customer service that we're known for . . . [but also] striving for operational excellence."
The Port of Long Beach is investing billions of dollars in infrastructure upgrades, including its replacement of the aging Gerald Desmond Bridge, the revitalization of Middle Harbor into a state-of-the-art terminal capable of handling the world's largest ships, and an upcoming expansion of its on-dock rail capacity at Pier B.
Cordero noted that the port has been able to undertake massive construction projects and grow its business while being a leader in green policies and initiatives. "I am very satisfied, as you look back 10 years, we have been able to grow and grow green," he said. "That has been a tremendous effort, and I think leadership that this port has shown with regard to the sustainable development concept is extraordinary."
Oil Snapshot
By Staff Writer Pierce Nahigyan
Nearly a century after it was first discovered in Long Beach, oil remains an essential resource to the city. Revenues generated from the Wilmington Oil Field, located beneath Long Beach and extending northwest into Torrance and southeast along the coast, are directed into infrastructure and maintenance projects through the Tidelands and Uplands Funds. According to Kevin Tougas, oil operations bureau manager for the Long Beach Energy Resources Department, the Tidelands Fund received $17 million in oil revenue in Fiscal Year 2018. The Uplands Fund received $12 million over the same period.
The City of Long Beach partners with the California Resources Corporation (CRC) to drill the Wilmington Field, which is the largest oil field in the Los Angeles Basin and the third-largest oil field in the United States. "We operate this [field] in partnership with the state lands commission and go through an engineering review on any major projects or investments that we'll be making," Tougas said. About 6,000 individual owners have mineral interests in the Wilmington Field, according to CRC.
CRC contracts with the City of Long Beach to procure oil from the Wilmington Field through its subsidiaries THUMS Long Beach and Tidelands Oil Production. "Those companies prepare development plans for approval by the city and state, operate the wells and facilities and make capital investments in the field, and in turn receive a share of the production," according to a statement provided by CRC. Tougas said the oil field provides more than 2,000 direct jobs in the city, half of which are CRC employees or contractors.
Part of the revenue from the Tidelands and Uplands Funds are set aside each year in preparation for the eventual end of oil operations. "This is a fund that we'll use to pay for our share of our responsibility for properly abandoning the oil field when that time comes," Tougas said. This will include removing facility equipment and sealing oil wells to ensure there is no risk of leakage into the surrounding water. It is not possible to calculate an exact end-of-life date for a petroleum source due to the varying price of oil, Tougas said, but he said the city has estimated that oil pumping will cease in the Wilmington Field between 2035 and 2040.
Though well past its early 20th century boom, the oil field continues to be worked by several businesses in the area, including Signal Hill Petroleum, which operates on the border of Long Beach and Signal Hill. The city is also home to  many oil service firms and petroleum product providers, such as Amber Resources and A.P. Fischer in the Westside. United Pacific, one of the largest independent owners and operators of gas stations in the Western United States, relocated its corporate headquarters to Douglas Park at the Long Beach Airport last year.
Real Estate Snapshot
By Senior Writer Brandon Richardson
Long Beach real estate remains in high demand across all markets, with stable or increasing prices and moderate to very-low vacancy rates. The city offers a wide array of housing options – from low-income to luxury living in apartments, townhomes, condominiums and single-family homes – as well as a plethora of industrial, office and retail options.
"With a diverse population, architecture and neighborhoods, Long Beach stands as a unique part of Southern California that offers a tremendous amount of choice to its residents," Coldwell Banker Coastal Alliance President Phil Jones said. "Our real estate marketplace remains the most affordable beach community in California. Long Beach continues to catch the interest of visitors with its beauty and vibrant energy."
Coastal Alliance has 350 sales associates and 22 staff members working at its five offices – three in Long Beach, and one in both Lakewood and Seal Beach. First Team Real Estate, located in Bixby Knolls, has 85 employees working under Operating Principal Phil Mazzocco. A lifelong Long Beach resident, Mazzocco noted that a renaissance is occurring citywide, which makes Long Beach a prime location for real estate firms.
Apartment living throughout the city's various neighborhoods continues to get pricier by Long Beach standards, but remains more affordable in comparison to other Southern California cities, according to industry experts. Currently, thousands of new units are under construction or in the pipeline. These residential projects include senior and veteran housing, affordable housing, artist lofts, and one-, two- and three-bedroom apartments. More than 1,000 units are expected to come online this year.
Industrial space is highly concentrated on the Westside and at Douglas Park in Northeast Long Beach. This year, Pacific Pointe Northwest – the final major development at Douglas Park – is adding hundreds of thousands of square feet of industrial space west of Long Beach Exchange, a large retail center that opened last year. The nearly 220-acre business park includes two hotels and is home to several national and international headquarters, such as Virgin Orbit and Mercedes-Benz USA's West Coast campus.
"Long Beach real estate has been a good market for investors, as well as business and owner-users," Bill Townsend, president of INCO Commercial, said. "The location, climate and access to freeways and airports all make Long beach an excellent city to do business and own real estate in." Eleven agents and two employees work out of INCO's office, which is located in Southeast Long Beach at the Marketplace.
Up the street from INCO's office is 2nd & PCH, a large retail center development that is slated to open in October after being delayed due to heavy rains. The project will bring 245,000 square feet of retail and restaurant space to a market that has long been dominated by nearby Belmont Shore – an area packed with restaurants, services and boutique retail.
Long Beach's office market is broken up into two categories: suburban and downtown. The bulk of the suburban market is located near Long Beach Airport at Kilroy Airport Center and the Long Beach Airport Business Park. Offices in Bixby Knolls and a large office complex off of Hughes Way where the 405 and 710 freeways meet represent much of the city's suburban office space, as well. The buildings in the suburban market are popular due in large part to their proximity to the freeways and easy accessibility to both Los Angeles and Orange County markets.
The downtown market boasts several Class A buildings, numerous Class B buildings and some Class C product. Some older stock has been transformed into creative office space, while some buildings are being converted to residential buildings or hotels.
"Long Beach is attracting a new age group not seen for many years. College graduates and local workers are moving into Long Beach, especially the downtown, high-density areas, encouraging new businesses such as restaurants and entertainment venues," Becky Blair, president of Coldwell Banker Commercial BLAIR WESTMAC, which has 14 employees working out of its downtown office, said. "Long Beach is attracting residential business, as well as commercial entrepreneurship, making it probably the most sought after area for investment in Southern California."
Technology Snapshot
By Staff Writer Pierce Nahigyan
The technology sector continues to be a major job provider in the City of Long Beach, with companies like Laserfiche, Epson America and DENSO Products and Services America providing hundreds of jobs each. Mayor Robert Garcia has made clear that it is his desire to see the city become the "Silicon Valley of the South," and several major tech firms are spearheading that goal.
Long Beach is home to the corporate headquarters of FreeConferenceCall.com, the second largest audio conferencing provider in the world. Founded in 2001, the majority of its 150 employees work in Long Beach. Haley Steinhauser, company director of public relations and social media, said FreeConferenceCall.com is currently developing a new mobile app called Bullhorn.fm to enable users to stream and download podcasts.
Long Beach has been the headquarters of DENSO Products and Services Americas, Inc., a supplier of automotive parts and systems, since 1984. A spokesperson for the company said DENSO chose the area due to its proximity to major West Coast automotive customers and the Long Beach/Los Angeles port complex. DENSO employs about 400 workers in Long Beach and 170,000 around the world.
"The auto industry is in the midst of a major shift. We are moving from the information age to the age of mobility," a statement from DENSO to the Business Journal said. "In the last three years, DENSO has invested nearly $3 billion in autonomous driving and safety technology in order to be well positioned for the future." Since coming to Long Beach, the business has expanded from an original equipment parts manufacturing operation to include automated, robotics and data capture technologies.
Headquartered in Bixby Knolls, documents and digital data management software provider Laserfiche plans to break ground on a second office building by the third quarter of this year. CEO Chris Wacker said the company hired construction contractor Millie and Severson to build the 100,000-square-foot building at 35th Street and Long Beach Boulevard.
Laserfiche employs 430 people worldwide and about 300 in the Long Beach area, Wacker said, with plans to hire many more. "In the new building that we're constructing, we will have a capacity of 500 approximately. We'll move our 300 over there, and then expand till we reach capacity, and then backfill into this building that we have now," he said.
Wacker said Long Beach is a great base of operations for his company. "I personally think it's a beautiful city," he commented. Wacker cited its numerous amenities, lower real estate prices than Santa Monica and Irvine, and geographic location between Los Angeles and Orange County as prime features. "Tech companies, and all companies in this area, have the ability to recruit from both. There's a much larger talent pool available in this location than elsewhere."