Located in the heart of Long Beach's 4th District and at the intersection of three major streets – Lakewood Boulevard, Pacific Coast Highway (PCH) and Los Coyotes Diagonal – the Traffic Circle is awhirl with commuters and commerce. More than 60,000 vehicles travel through the roundabout every day, according to a 2017 report from the California Department of Transportation.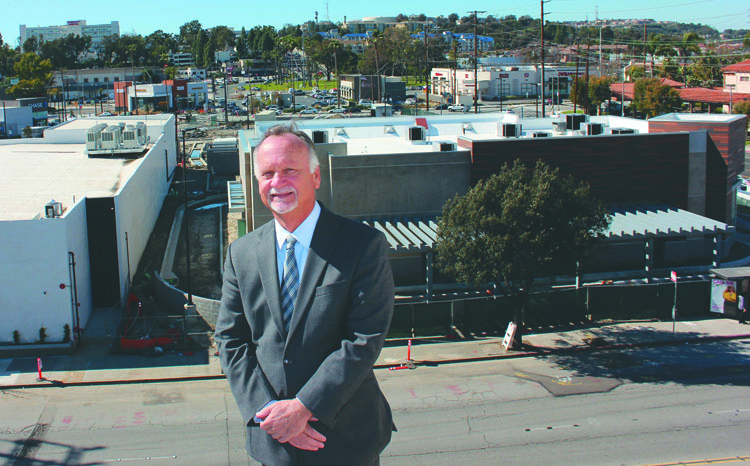 "It's a great landmark," 4th District Councilmember Daryl Supernaw told the Business Journal. "And that connection to the I-405, right up Lakewood Boulevard, is a huge benefit." Developers have taken notice of the area, Supernaw said, and the last few years have seen a "retail renaissance" in the properties that ring the Traffic Circle.
New construction has been concentrated in the wedge of land bordered by PCH, Atherton Street and Ximeno Avenue. Frontier Real Estate Investments purchased land on the corner of PCH and Ximeno, where it developed the buildings for tenants Chase Bank, Carl's Jr. and Rite Aid. "It's such great real estate there on the Traffic Circle," Frontier Vice President of Acquisitions Tom Carpenter said. "Just the amount of traffic, the density around there, it's a great trade area." Retailers report significant sales volume, he continued, and tenants in other areas have expressed interest in relocating.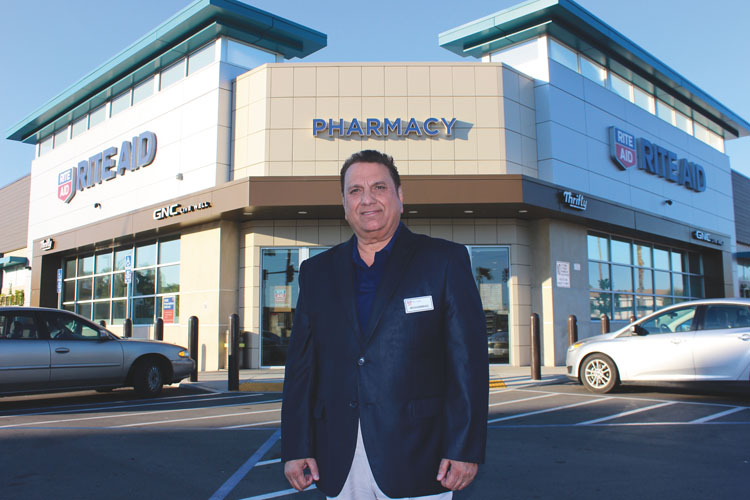 Carpenter said that Supernaw was "instrumental" in helping Frontier develop the property with the city. "He's very supportive and he's got a lot of enthusiasm about really bringing new life to the Traffic Circle," he said. The development firm worked closely with city planners to create a unified design for the new buildings, which Carpenter said was an atypical allowance on the part of the incoming tenants. "Rite Aid and Carl's and Chase agreed to deviate from their national [architectural] prototypes in order to have a cohesive look . . . something unique just for the Traffic Circle," he said.
Construction is nearly finished on a multi-tenant building at the corner of Ximeno Avenue and Atherton Street that will house two retailers and the Starbucks formerly located across Ximeno Avenue on PCH. "We just needed more space," Starbucks Director of Store Development Charlie Arbing said.
Starbucks first opened its 4549 East PCH location in fall 2000. The recent new development around the traffic circle was encouraging to the coffee franchise, Arbing said. "It's much easier to relocate a store where there's a defined store base," he commented. The new 2,000-square-foot Starbucks has a drive-thru, as well as more parking than at its former lot. Arbing expects the new café to employ about five to 10 more workers than before. "We try to hire locally where we can, and we have capacity to do that," he said.
Arbing, who lives in Long Beach, said that the new development in the traffic circle is encouraging for both residents and business owners. "It's growing," he said. "I'm a big believer in the city."
The Long Beach Planning Bureau has confirmed that a Raising Cane's restaurant is set for construction on the 4,000-square-foot parcel across from the Starbucks. At 1755 Ximeno Ave., in the former Smart & Final building, recreational and medical cannabis dispensary The Circle has scheduled its grand opening on March 1-2.
Despite the new businesses and buildings popping up in this slice of the circle area, Supernaw said the development was more serendipitous than strategic. "This magnitude of development would usually be a plan for the whole area," Supernaw said. "These are individual property owners who felt the timing was right." Seven of the tenants in the area are incorporating drive-thrus: Chase, Wells Fargo, Chick-fil-A, Carl's Jr, Rite Aid, Starbucks and Raising Cane's.
A spokesperson for Rite Aid told the Business Journal that the drugstore chain was interested in locating a branch in the area due to its "high volume of traffic and visibility to attract customers." The store relocated from its 1890 Ximeno Ave. to 4525 E. PCH and has reported increasing customer traffic over the last 15 months. "The new construction appears to have revitalized the area and refreshed consumer interest," the spokesperson said.
"They wanted to come out here [to PCH] for the exposure and the drive-thru," Supernaw explained. "The great part is, where they left, the spot is now a Planet Fitness. We didn't create empty storefronts in doing this development here."
Kristie Bergstrom, owner and operator of the Chick-fil-A at 4401 E. PCH, said the chance to make a positive impact on the community was what motivated her to open a franchise in the area. Bergstrom, who moved to California 10 years ago, said that she fell in love with the culture of Long Beach. When the Chick-fil-A corporate office offered the Traffic Circle as a site for a potential restaurant, she was eager to get started.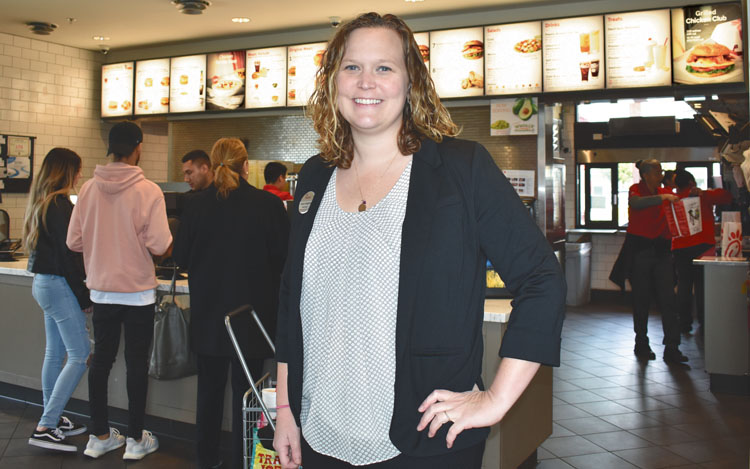 Since opening in October 2017, Bergstrom said customer traffic has markedly increased. Her Chick-fil-A is heavily involved with local schools, which has been a major driver of activity. "About 70% of our team members are students," Bergstrom said. These students hail from local high schools as well as California State University, Long Beach and Long Beach City College. The restaurant tailors its schedules to meet the various demands of school hours and activities, she said, which is how it has come to employ around 100 people. "During our busiest time, we'll have about 20 people working in the front and 11 in the back," she explained. Team members rotate throughout the week depending on availability.
Bergstrom also encourages her employees to apply for the Chick-fil-A educational scholarship, which increased this year to $15.3 million in available funds. Ten of Bergstrom's employees have received $2,500 scholarship grants this year, and one team member received a $25,000 scholarship. All told, Bergstrom's Chick-fil-A has awarded $50,000 in scholarships to its local students.
Bergstrom said it was exciting to be part of the new wave of businesses revitalizing the Traffic Circle. "This is a great area," she said. "I love watching all of the new businesses come in."