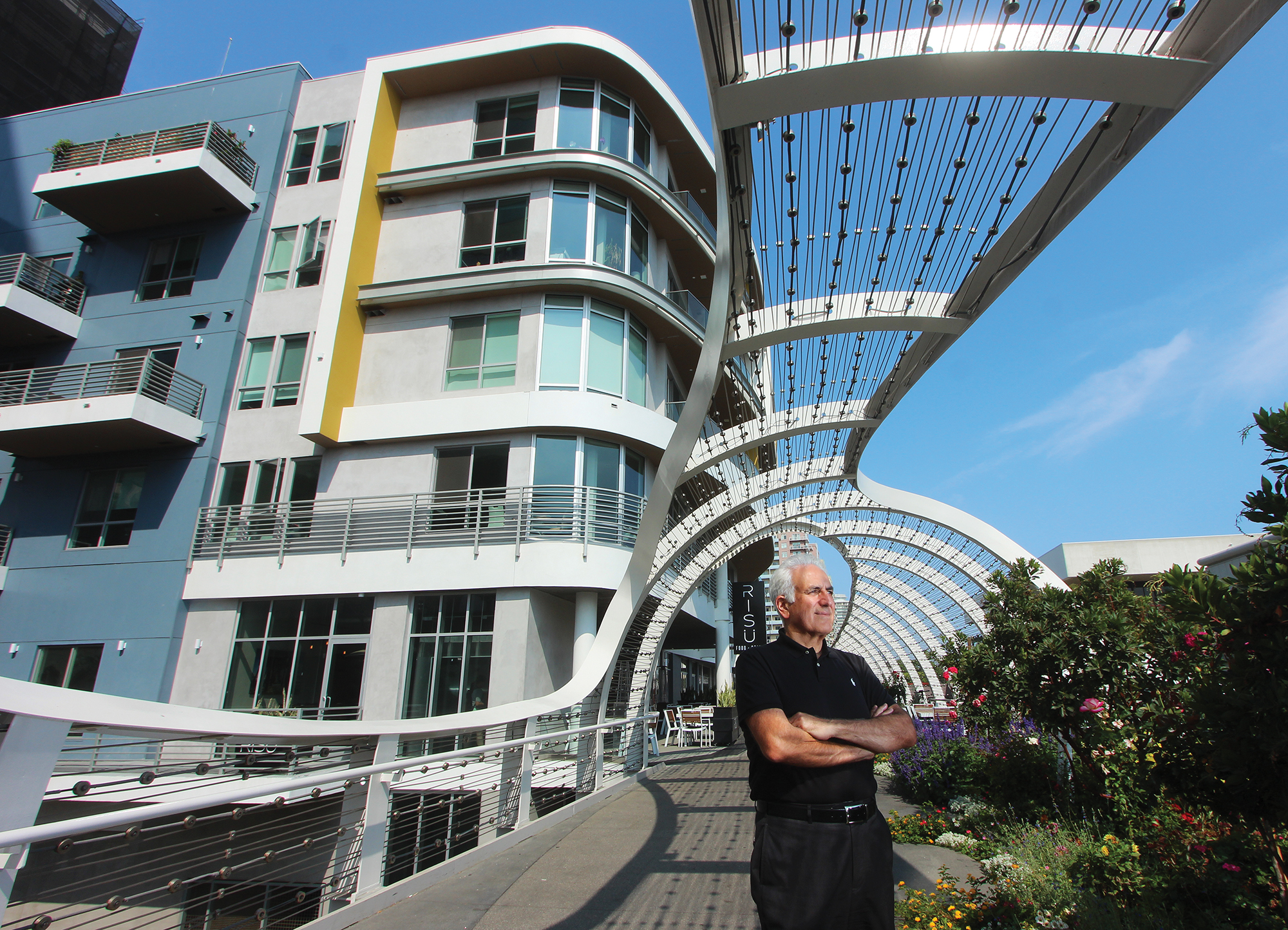 Over the last five years, developer Ensemble Real Estate Solutions & Investments has been busy in Downtown Long Beach, having already delivered two residential buildings with a third slated for completion by the end of the year and another in the pipeline.
Founded in 1981 by Kam Babaoff and his father in Los Angeles, the firm relocated to Long Beach in 1996 and is now celebrating its 25th year in the coastal city.
"Long Beach is a much bigger and better city due to the presence of Ensemble," Mayor Robert Garcia said in a statement. "They have had an impact as a local employer, amazing developer and community leader. Every project and program Ensemble is involved with is a winner."
Since coming to Long Beach, the company has made a name for itself operating popular hotels and for its involvement with numerous office buildings in the Downtown area.
"When we relocated, our goal was to open and operate in a city that we could make an immediate impact and truly have a long lasting economic and community effect," Babaoff said in a statement. "We found that and more in the city of Long Beach and we are grateful to call it home."
Today, Ensemble owns and operates 830,000 square feet of real estate, including the Hotel Maya, a DoubleTree by Hilton, the Residence Inn Long Beach, the 444 West Ocean office tower and multiple residential properties. The company also owns and operates the Doubletree Carson.
Ensemble also has been involved with the Hilton Long Beach, World Trade Center property and other office buildings at 110, 115 and 200 Pine Avenue.
The firm's first foray into the local multifamily market was the simultaneous construction of the 94-unit 442 Residences on Ocean Boulevard and the 112-unit Crest adjacent to the Long Beach Convention Center. Both projects are "performing well" and are near full occupancy, according to Ensemble spokesman Cameron Andrews.
At 500 W. Broadway, construction of The Magnolia is well underway. The seven-story, 142-unit project is expected to be completed in December, Andrews said. A fourth Ensemble residential building dubbed 3rd+Pacific, which includes 345 units in two eight-story towers at 131 W. Third St., has been approved by the city but construction has not begun.
Ensemble has 11 other multifamily projects in the pipeline totaling nearly 4,900 units in Northern California, Reno and Philadelphia, according to Andrews.
Each residential project is mixed-use and features ground-floor retail, including RISÜ at The Crest, a restaurant and wine bar that opens up onto the Rainbow Bridge.
"We're proud to be involved in every aspect of life here," Babaoff said, "from providing jobs for hundreds of employees to welcoming thousands of visitors to our properties each year."
In its 40-year history, Ensemble has invested in or developed more than $2 billion in real estate across the country—$500 million in Long Beach alone. The 58 development and redevelopment projects it has completed in that time includes office, hotels, multi-family and mixed-use for a total of 3.6 million square feet, according to Andrews.
In addition to its Long Beach headquarters, Ensemble has offices in Philadelphia, Phoenix, Las Vegas and Reno, with 750 employees, about 180 of whom are in Long Beach.
Ensemble executives in Long Beach have been active in the community, including Senior Vice President of Hotel Operations Kristi Allen, who has served on boards for the Long Beach Convention and Visitors Bureau, the Downtown Long Beach Alliance and the Long Beach Area Chamber of Commerce. Allen also served as a member of the Long Beach Economic Development Commission.
"From a Downtown perspective, Ensemble continues to have a positive impact in the city but most importantly, in leadership positions within our organization," DLBA President and CEO Kraig Kojian said in a statement. "We are grateful for their expertise and contributions to the success and growth of Long Beach."