Real estate markets in the City of Long Beach continue to be strong, with high demand and supply struggling to keep up. Despite the dwindling space and the uncertainty surrounding the nation's current political climate, commercial real estate experts in the city expect the market to continue doing well thanks to the city's booming economy.
Industrial
Local and regional realtors agree that the industrial real estate market in Long Beach – and all Los Angeles County – is strong, which has led to the market being all but been sucked dry.
"The industrial market is incredibly tight. In L.A. County as a whole, the vacancy is at 1% or just below that," Lance Ryan, senior vice president of marketing and leasing for Watson Land Company, said. "There is such a lack of supply available, and at the same time, so much of L.A. County is an infill market where there really isn't available land to develop industrial product for the constraining supply."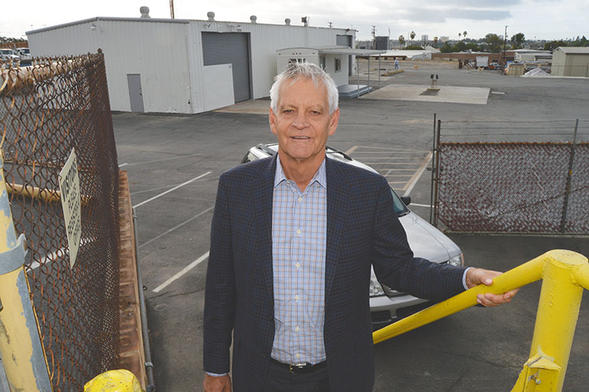 Industrial real estate continues to face rising sales prices and lease rates, according to John Eddy, an agent and broker at Long Beach-based Coldwell Banker Commercial BLAIR WESTMAC. (Photograph by the Business Journal's Larry Duncan)
Macro indicators of the market that Ryan said he follows include port activity and volume, which he said are up year over year despite Hanjin Shipping's bankruptcy. According to Ryan, logistics is the primary driver of the industrial real estate market, specifically imports because that is what many Long Beach and South Bay Area cities utilize most.
With port growth, Ryan explained that companies are more willing to renew leases early, especially since they are aware of how tight the market is for industrial space. With a more positive economic outlook than previous years, Ryan said he is working with a lot of companies trying to expand.
"What we're seeing now in the few spaces that become available – and this is across the L.A. County region – we're seeing multiple bids in terms of leases," Ryan said. "We're seeing multiple customers come in and make proposals, and as a result of that, rental rates have a lot of upward pressure. And we predict that will continue throughout 2017."
Brad Miles, vice president of INCO Commercial Realty Inc., agrees that port activity and a stronger overall economy are key factors to the tight industrial market. He noted that low interest rates and confidence in California's economic future outweigh national trends.
"I think the California economy is so big that we're not impacted on the national level, except for the overall economic value for shipping and transportation," Miles said. "Consumers are buying stuff."
Miles said he thinks lease and sales rates are going to settle at current levels, or maybe dip slightly, because he doesn't believe the current prices are sustainable for a long period of time. He explained that the value is tied to interest rates, and if there is an uptick in rates, then value will have downward movement. However, he believes the Long Beach market will continue to be strong over the next several years, particularly when the 60 acres of the former Boeing C-17 site become available for development.
One thing Miles does not think is affecting the market is the presidential elections because "there's a lot of confidence that Donald Trump will not get elected." However, the presidential outcome is not the only concern for the industrial market on the ballot, according to Brandon Carrillo, a principal at Lee & Associates Commercial Real Estate Services.
Carrillo explained that his company has offices nationwide, including one in Denver where recreational marijuana use has been legal since 2012. After the state legalized it, marijuana manufacturers and distributors overran the industrial and retail real estate markets. This could be an unintentional consequence of California's Proposition 64 and Long Beach's measures MM and MA.
"It basically priced out all the industrial users in the market place. What happened was they saw values pretty much double because of that," Carrillo said. "You imagine [Long Beach's] real estate is already very expensive compared to other areas nationally and globally. You put this variable in here, and that could really change where values go. And I just get concerned that we could have a Denver situation."
According to Lee & Associates' third quarter industrial market report, the average rent for industrial space in the Los Angeles and Long Beach area is $0.81 per square foot, and the average sale price is $149.54 per square foot. Carrillo said California propositions, as well as the presidential election outcome, make the future of the market and how it will play out in the coming years murky.
Though businesses are somewhat uncertain about the national political climate, Long Beach has seen a rise in businesses coming in from outlying areas, according to John Eddy, a real estate agent and broker at Coldwell Banker Commercial BLAIR WESTMAC. Eddy explained that Long Beach has traditionally been a market fueled by Long Beach businesses, but in the last several years, companies from surrounding areas have seen the value in the coastal city.
Even with this surge and prices continuing to rise, Eddy said the pace of the market has slowed from a year ago. "I'm cautiously optimistic," he said. "The days of the easy negotiation are certainly over. They're long and drawn out, and people are cautious about the future. There's just so much uncertainty. I wouldn't want to speculate out more than a year, that's for sure."
Office
With an overall vacancy rate in Long Beach at 15.9% – including 10.7% downtown and 7.1% in the suburbs – the city's office real estate market has seen continued positive absorption, largely as a result of job growth, according to Robert Garey, senior director at Cushman & Wakefield.
"Job growth is the fuel for office space demand, and we're seeing that trickled into the market here," Garey said. "Health care has been a primary driver in the Greater Long Beach area. Molina [Healthcare's] corporate headquarters are here and continues to expand in the market. They took additional space at the World Trade Center."
Aside from health care, the most notable change in the market is the rise in technology and creative firms and the demand for creative space, Garey explained. WeWork is hoping to meet that demand when it opens creative office space in The Hubb at 100 W. Broadway. In addition, Urbana Development LLC is constructing the Terminal at Douglas Park, which will include four buildings totaling roughly 100,000 square feet of creative office space.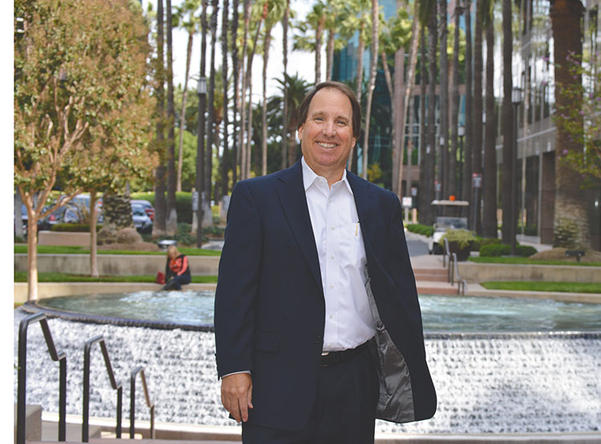 Robert Garey, senior director at Cushman & Wakefield, described job growth as the fuel for office space demand, which he said continues to experience positive absorption with the city's office vacancy just below 16%. (Photograph by the Business Journal's Larry Duncan)
"I think WeWork came to the market because they think Downtown Long Beach is the right environment for creative companies, which I truly believe as well," Garey said. "You have the live-work-play environment there, which that industry is looking for. Cool, trendy restaurants. Nightclubs. Shopping. Places to live. You don't have to have a car – you can ride a bike, take public transportation if you need to."
Garey described this creative shift as being similar to Santa Monica, Marina del Rey and Venice. He also thinks companies like WeWork will be a catalyst for more creative companies to relocate or start up in Long Beach.
New capital being deployed to purchase or reposition buildings is also having an impact on the desirability of the market, according to Garey. Major conversions and repositioning to buildings such as 444 W. Ocean, 211 E. Ocean and 100 W. Broadway have already taken place or are underway. Garey said the investment is already seeing a return in companies looking to Long Beach.
However, while makeovers and several projects are aiding the office space market, it also is facing severe contractions. "In Downtown Long Beach, the 110 Pine building is being converted to residential, and they've given notices to their tenants to move them out. Just like the 200 W. Ocean that is going residential and other buildings that are looking to go residential," Garey said. "The stock in Downtown Long Beach has actually been reduced over the last couple years due to the conversion of some of the older buildings."
Garey said the city is not seeing enough construction of new projects to offset the losses, with many of the new downtown projects being residential. However, Garey added that residential is needed to create density so the retail businesses and restaurants can thrive. But regardless of product loss and the current political climate, Garey thinks the market will remain strong over the next year.
Jeff Coburn, a principal at Lee & Associates, attributes the market's success to Long Beach being conveniently located to serve a large area and its population.
"Long Beach has always been a great midway point, as we find ourselves right at the border of L.A. and Orange County," Coburn said. "So traditionally, it's been a market where companies, instead of having a Downtown L.A. office or an Irvine address, they could have something in Long Beach. And it really serves both those areas."
Coburn agrees with Garey that the downtown market is appealing due to the restaurants, retail and other amenities afforded to employees in the area. He added that the suburban market, such as Douglas Park, is easily accessible by being conveniently located near the 405 Freeway and has ample parking. Along with these attributes, Coburn pointed out that Long Beach is still less expensive than surrounding markets, such as Irvine, El Segundo or Newport Beach.
According to CoStar Group Inc., a Washington, D.C.-based commercial real estate information and marketing provider, the average asking rent for office space is currently $2.17 per square foot in Downtown Long Beach and $2.02 in the suburban market.
"For office product, if you're an owner-user, you're in the mid-$200s [per square foot] for older product. We're at $325 per square foot for new product in Douglas Park," Coburn said. "Projects in El Segundo that are very similar to [the Terminal at Douglas Park] are in the high $400s to low $500s per square foot range."
Retail
Much like other markets, retail prices continue to see upward movement, according to Doug Shea, president of INCO Commercial. However, unlike other markets, Shea said retailers are getting more selective in where they want their businesses located.
"For instance, one of our clients is Jimmy John's. And whereas before, they'd go into any center, now it's got to be a corner – it has to be a lighted corner – and they prefer a drive-thru," Shea said. "So it seems more and more retailers are getting more refined in their request requirements."
Shea describes Long Beach as the most underutilized retail city of its size in the nation. But that is based on the amount of businesses and retail space, not the vacancy rate, which he said is upward of the high-90% range for desired locations. However, he acknowledged higher vacancy in places with low density, low demographics and high crime.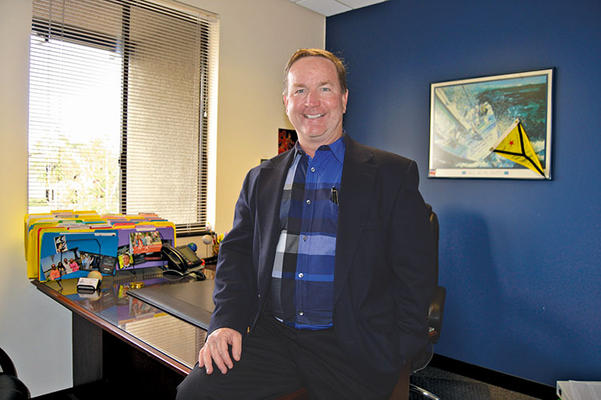 Doug Shea, president of INCO Commercial, said the retail real estate market continues to be strong and that tenants are becoming more selective with where they want to be located. (Photograph by the Business Journal's Larry Duncan)
There are two key components that could contribute to further improving the retail market in Long Beach, according to Shea: more space and more realistic pricing in certain areas.
One project that has been discussed but has yet to overcome countless hurdles, according to Shea, is a retail center near the corner of 2nd Street and Pacific Coast Highway. He said this project would be great for the city but faces pushback from residents regarding traffic concerns, the aesthetic appeal and even the concern that birds would fly into the buildings.
Another project, which was recently approved, is Burnham USA's Long Beach Exchange on the corner of Carson Street and Lakewood Boulevard. Construction is expected to begin by the end of the year on the 26.67-acre vacant lot. Once completed, the project will include 266,049 feet of retail and restaurant space.
"That will be great. That will be fantastic. I think you have the correct demographic," Shea said. "Up there by the airport, you have a lot of businesses. And it keeps growing. That will help the retail during the day when it's quiet."
As far as pricing, Shea said 2nd Street is finally starting to price restaurants out of the market. Le Donuts & Croissants has closed its doors and will soon become another Long Beach taco spot. The Shore Public House became The Shore Steak House, which will soon become Rances, a Chicago-style pizza joint that has another location in Costa Mesa.
Brian Russell, vice president of Coldwell Banker Commercial BLAIR WESTMAC, agrees with Shea, adding, "There are three vacancies in Belmont Shore, and I can't remember the last time we had three vacancies right on 2nd Street. Off 2nd Street, yeah, but not right on 2nd Street. What's that tell us? I think it's kind of priced to the top there."
Despite 2nd Street's pricing, Russell said the market has seen 67 lease deals since July 1. He explained that when looking at the market, one has to keep in mind that the city is comprised of many small pockets: Bixby Knolls is different from Los Altos, which is different than Naples, which is different from North Long Beach.
Russell pointed out two properties on his company's third quarter retail sales report that demonstrate the vast difference in location pricing within Long Beach. The 2,123-square-foot property at 5296 E. 2nd St. is currently under contracting with an asking price of $1.95 million, which comes out to $918.51 per square foot. On the other hand, a 6,000-square-foot sale at 6082-6090 Atlantic Ave. is in escrow with an asking price of $949,000, which comes out to $158.17 per square foot.
Sean Lieppman, a senior associate at Lee & Associates, said, "I think just the lack of product is driving those rates. But I think the city has been good at incentivizing businesses from outside of Long Beach to come in, and I think there have been a lot of good things drawing businesses to [the city]."
Liepmann said the Long Beach market saw the vacancy rate decrease from 3.8% to 2.78% in the third quarter overall and saw the average lease rate per square foot increase from $2.06 to $2.12. Noel Aguirre, also a senior associate at Lee & Associates, said the numerous projects around the city, including several mixed-use residential buildings that feature retail on the ground floor in the downtown area, should help the market in the coming years.
Aguirre also said the larger projects, such as the development of land near the Queen Mary by Urban Commons and the Long Beach Exchange, will be a huge boost for retail in the city, but that until the projects are completed, the market will continue operating under the status quo.
"It's been fun to see changes and the evolution of things and the incorporation of culture and the arts and everything that sort of gives this city its soul," Aguirre said. "It's been great being part of that process."