Coldwell Banker Coastal Alliance Acquires Main Street Realtors
Around 300 employees gathered at the Old Ranch Country Club on August 1 to celebrate Coldwell Banker Coastal Alliance's (CBCA) acquisition of Main Street Realtors, two Long Beach real estate agencies specializing in residential properties. Main Street's 142 sales associates began operating under the Coldwell Banker banner, for a new total of approximately 345 sales associates.

Phil Jones, managing partner of Long Beach-based Coldwell Banker Coastal Alliance (CBCA), addresses about 300 employees following the announcement that CBCA acquired fellow Long Beach company Main Street Realtors. CBCA now has about 345 sales associates operating under its banner. (Photograph by the Business Journal's Brandon Richardson)
"This idea has been on and off for years, but the final acquisition began coming together in May," Phil Jones, managing partner at CBCA, said. "We finally reached an agreement on terms about the middle of July."
While CBCA technically acquired Main Street, Jones said the move is really more of a merger. Sales associates will continue operating out of Main Street's 244 Redondo Ave. office, and Managing Partner Geoff McIntosh will remain with the company as a broker-associate and consultant. Jones explained that he and McIntosh have been friends for years and have worked together as part of local, state and national realtor associations.
The idea to join forces was first brought up in the mid-1990s, Jones said, adding that CBCA's commission structure was the main obstacle. As part of the acquisition, CBCA transitioned to a 100% commission concept, as opposed to the company taking 10% off the top of sales associate commissions. The company will make its money from franchise fees, monthly subscription fees and other fees associated with a transaction.
"I am so excited to be able to offer vastly state-of-the-art resources, training and tools to the 142 associates that were Main Street Realtors, positioning them to be more successful, profitable and dynamic in a rapidly evolving real estate industry," McIntosh said.
CBCA has technology platforms related to data and listing information previously unavailable to the former Main Street sales associates. Jones noted that, while the access to technology is beneficial, some agents don't utilize it as much as others. He added that the size, scale and large support staff of the company allows associates to better compete in the marketplace.
The Coldwell Banker network has more than 3,000 offices in 49 countries and territories. CBCA is one of the top 20 Coldwell Banker firms in the United States, Jones said. According to Real Trends magazine, CBCA is one of the top 250 residential real estate firms in the country overall. In 2017, CBCA completed 1,500 transactions         for a total sales volume of $987 million.
CBCA is offering its new sales associates classes and training to educate them on the new technologies and services available to them through the Coldwell Banker network. Jones added that both he and McIntosh have always promoted similar cultures in the workplace and held strongly to the National Association of Realtors Code of Ethics. The two companies' shared values for high standards of business performance should make for a smooth transition, Jones said.
"We're just very excited about it," Jones said. "Geoff and Jean Shapen [a partner at Main Street] left a wonderful legacy and we are proud to be able to carry on that legacy."
Tenants Announced For 2nd & PCH Retail Center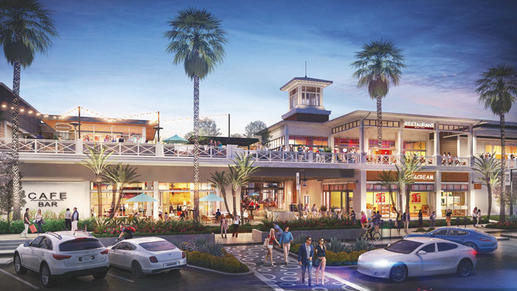 CenterCal Properties announced seven new tenants for its 220,000-square-foot 2nd & PCH retail center. Tenants includes Free People, Ola Mexican Kitchen, Tocaya Organica, Holly & Hudson, Linne's Boutique, Cotton Blow Dry Bar and Motion Stretch Studio. Twelve more tenants will be announced in the next 30 to 45 days, according to CenterCal. (Rendering courtesy of CenterCal Properties; photograph by the Business Journal's Brandon Richardson)
Construction continues on the 220,000-square-foot 2nd & PCH retail center, which will have around 60 individual tenants once completed and fully leased, according to developer CenterCal Properties LLC. The following tenants were confirmed by CenterCal on August 10: women's clothing store Free People; Ola Mexican Kitchen; organic fast-casual Mexican restaurant Tocaya Organica; high-end nail lounge and spa Holly & Hudson; women's fashion store Linne's Boutique; makeup and hair salon Cotton Blow Dry Bar; and Motion Stretch Studio. Twelve other leases should be finalized and announced in the next 30 to 45 days, CenterCal added. The developer originally hoped for a grand opening in late summer next year but now plans for an October 2019 opening.
Moffatt & Nichol Purchase New Office In Douglas Park
Long Beach-based engineering consultant firm Moffatt & Nichol closed on the purchase of a 25,000-square foot building at The Terminal at Douglas Park on July 27.
"The main decision was to find a location where folks can walk to lunch and other amenities, and be part of a community, not just a tenant," President and CEO Eric Nichol said in an e-mail to the Business Journal. "The company has been in Long Beach since 1945 so having our own building is a low risk to us – this city is our home. Prior to our existing location [at Kilroy Airport Center], we had our own building on Wardlow Road for over 30 years."
The building is part of phase two of the development, which consists of a pair of two-story, 25,000-square-foot buildings. Long Beach-based Retail Design Collaborative is designing the new space for Moffatt & Nichol. The buildout of the interior is slated to begin in September, with the company moving into its new digs at the end of January, Nichol said.
"Beyond the local amenities and being close to hotels for visiting employees from other offices, the move will improve quality of life for many of our team members," Nichol said. "In conjunction with the Long Beach office move, we are also significantly expanding our Orange County office, and opening a new Los Angeles office to attract even more great engineers and scientists. To be clear, our main office and headquarters will always be in Long Beach."
Marina Pacifica Best Buy Closing Its Doors October 6
Best Buy at Marina Pacifica will be permanently closing its doors on October 6, the Business Journal confirmed on August 1. Sergio Ramirez, deputy director of the Long Beach Economic Development Department, said the city is working with the property management and leasing team to fill the 35,000-square-foot space. "We meet with brokers and other businesses on a regular basis, so we can kind of play matchmaker and link up properties and businesses," Ramirez said. "That's what we're here to do, especially at such a high-profile location." The current development of the 2nd & PCH retail center adjacent to Marina Pacifica should make the Best Buy location more attractive to prospective tenants, Ramirez noted. It has not been determined whether or not the space will be subdivided into smaller spaces, Ramirez said. Best Buy vacating the center is an opportunity for additional entertainment, service and/or food businesses to enter the space, according to Ramirez. The retail location will be marketed at the upcoming conference of the International Council of Shopping Centers in Los Angeles, he added. Best Buy's corporate office did not respond to an inquiry regarding the reason for the closure. Beta Retail, which oversees leasing at the Southeast Long Beach retail center, did not respond to multiple requests for comment regarding future plans for the space.
More Businesses Coming To Long Beach Exchange
Burnham-Ward Properties, developer of the Long Beach Exchange retail center on the southwest corner of Lakewood Boulevard and Carson Street, recently announced new tenants that will open in the coming months. The following is a list of confirmed new tenants:
• Amorcito, which was previously announced under the moniker Amor Y Tacos, will be the third location for Chef Thomas Ortega. The menu's flavors are inspired by the chef's Mexican roots and includes affordable gourmet dishes, hand-crafted micheladas and fresh aguas frescas.
• Georgia's Restaurant will serve up Southern comfort food, such as chicken and waffles, jambalaya and fried catfish. This will be the concept's second location, with the first located in Anaheim.
• Panini Kabob Grill is an upscale, fast-casual joint serving up Mediterranean-inspired food from scratch. The location will serve food made from organic, antibiotic- and hormone-free, and all-natural ingredients. Vegetarian and vegan options will be included on the menu.
• SchoolsFirst Credit Union was founded in 1934 in Orange County, with a focus on serving school employees. Today, the company serves more than 823,000 school employees and their families, with savings, loans, and investment, retirement and insurance products.
• The day spa spavia® will open its 31st location at Long Beach Exchange, where it will offer customers an affordable, neighborhood spa experience that promotes personal wellness, local business and giving back to the community. Services include massage, facials, waxing, body wraps, makeup, a spa boutique and more.
• Tastea has an extensive menu of artisan teas, coffees, smoothies and slushies. According to the company, "the center of the Tastea experience is [its] unique tea bar, where customers can hang out with friends and make some new ones, all while enjoying the most refreshing treat around."
• Temakira, the hand roll shop, serves up sushi in a contemporary setting, with a fusion of Brazilian creative. The concept has three locations in Orange County and expects the Long Beach location to open early next year.
Port Of Los Angeles Unveils Development Opportunity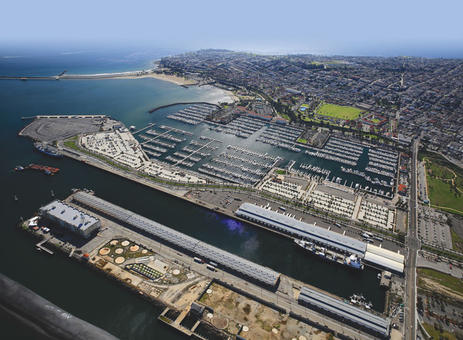 Pictured at center right is an 87-acre commercial development opportunity recently announced by the Port of Los Angeles Waterfront Commercial Development Group. The site is adjacent to the Cabrillo Way Marina in San Pedro. (Photograph courtesy of the Port of Los Angeles)
The Port of Los Angeles Waterfront Commercial Development Group released a prospectus on August 6 for an 87-acre commercial development opportunity at Cabrillo Way Marina in San Pedro. The project site includes land and water located at the southwest corner of Miner and 22nd Streets, including 12 acres of commercial development area and 9.2 acres of landscaped parking that are already entitled. "We are excited to begin the process of bringing the Cabrillo Way Marina development opportunity to the marketplace," Gene Seroka, executive director of the Port of Los Angeles, said. "We look forward to meeting with interested parties, answering questions and receiving input on this unique waterfront development opportunity in the Port of Los Angeles." The Cabrillo Way Marina has 700 slips with a 325-dry-boat storage facility. The port completed $125 million worth of upgrades to the marina in 2011, which included adding nearly a mile of public waterfront promenade within this development site. The port will release a formal request for qualifications and subsequent request for proposals later this year. The new opportunity is adjacent to the San Pedro Public Market and AltaSea developments, which are already underway and represent more than $200 million in private investment at the port.
Long Beach Housing Development Slated For Winter Completion
The 131-single-family-home Riverdale development by Brandywine Homes and Integral Communities in Northwest Long Beach is expected to be completed in December, according to Brandywine Principal Dave Barisic. Forty-eight of the homes have been completed and moved into. Already, 120 homes have sold, leaving only 11 on the market. The development offers three floor plans ranging from 1,925 to 2,242 square feet in size. Prices start in the high $600,000 range. The entrance to the gated community is located at 4747 Daisy Ave.
Regional Apartment Association Removes Executive Director
The Apartment Association, California Southern Cities (AACSC), has removed Johanna Cunningham from the position of executive director and is seeking a replacement, according to Board of Director Vice President Gary DeLong. Senior staff will handle day-to-day operations, DeLong explained, adding that Board President Michael Pollack will step in when additional authority is needed in the interim.
"Due to the recent local rent control effort, as well as efforts at the state level to repeal Costa Hawkins legislation, the AACSC felt it was necessary to make some organizational changes to ensure that we are prepared for the battles that are clearly headed our way," DeLong stated today in an e-mail response to a Business Journal question. "We will be using an executive search firm to obtain the necessary skill set to meet these oncoming challenges, as well as perform an operational assessment of the organization to see what systemic changes might be needed to improve our effectiveness and become a model for other apartment associations to emulate. We anticipate achieving these goals over the next 90 days. We have a very competent staff at AACSC and expect smooth operations on a continuing basis."
The membership association is headquartered in Downtown Long Beach and  serves 54 cities, stretching from Culver City across to Whittier and down to Seal Beach. It was founded in 1924 to "promote, protect and enhance the rental housing industry and to preserve private property rights."
Average Multi-Family Rent Reaches All-Time High
The average United States multi-family rent hit an all-time high of $1,409 in July, according to commercial real estate data firm Yardi Matrix's recent survey of 127 markets. The report states that year-over-year rent growth in all classes within the Los Angeles Metropolitan Area was 4%, while the national average was 2.8%. The forecasted rent growth for 2018 is 4.3%. The occupancy rate in the L.A. metro area decreased from 96.9% in June 2017 to 96.6% in June of this year, according to the report.
Lawsuit Against SEASP Has Been Settled
The Los Cerritos Wetlands Land Trust announced August 1 that its lawsuit against the Southeast Area Specific Plan (SEASP) has been settled. The trust filed its California Environmental Quality Act lawsuit on the grounds that the zoning plan allowed too much density, building height and traffic, as well as wanting "better and more science-based wetlands buffer protection," the announcement stated. In working with the city, the trust said there is better clarity as to buffers, protections, and five-story building heights – down from seven stories. The group added that it will continue to advocate for additional wetlands buffers and protections as the matter is taken up by the California Coastal Commission.