Development News
Aquarium Groundbreaking Ceremony
Hundreds gathered for the groundbreaking ceremony of the Aquarium of the Pacific's nearly 29,000-square-foot Pacific Visions on February 2.
"This morning we celebrate our future, and we pause in this key event in the realization of Pacific Visions," Jerry Schubel, president and CEO of the Aquarium, said. "It will give our visitors the opportunity to connect to the ocean and to our planet in new and important ways by providing them opportunities to explore alternative pathways to the future. It can be a glorious future."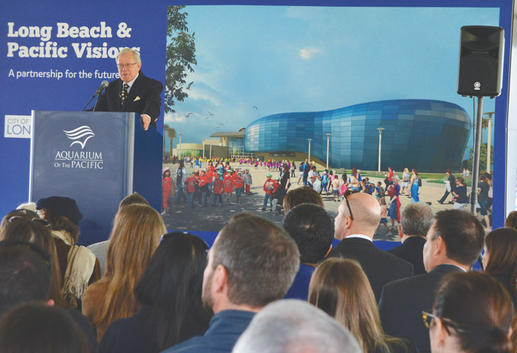 Jerry Schubel, president and CEO of the Aquarium of the Pacific, address a crowd gathered for the groundbreaking ceremonies of the facility's newest wing, Pacific Visions. The $53 million, 29,000-square-foot wing is the Aquarium's first expansion since opening in June 1998. (photograph by the Business Journal's Larry Duncan)
The $53 million wing is the Aquarium's first major expansion since opening in 1998. The project includes the Honda Pacific Visions Theater, which will contain over 300 seats with interactive technology such as mist, wind, scent and seat rumblers; a 32-foot-tall, 130-foot-wide arc projection wall; and a 30-foot-diameter floor projection disc. The expansion also includes 6,000 square feet for temporary live animal exhibits and programmatic digital content, as well as 2,800 square feet of art gallery space and an orientation area.
The facade of the new wing will be covered in more than 800 glass panels, each of a unique size and shape to accommodate the curves and angles of the building's design.
"This expansion is really going to make the City of Long Beach the leading city when it comes to climate protection and climate resiliency. There will be no other facility like this, I think, anywhere in the country," Mayor Robert Garcia said.
"I want to thank . . . all of the generous donors for making contributions to this facility and its growth. But I also want to thank the people of Long Beach," Garcia added. "This is really the public's aquarium, and every single person in Long Beach has an investment in this very special place. And that's something that we should all be very, very proud of as a community."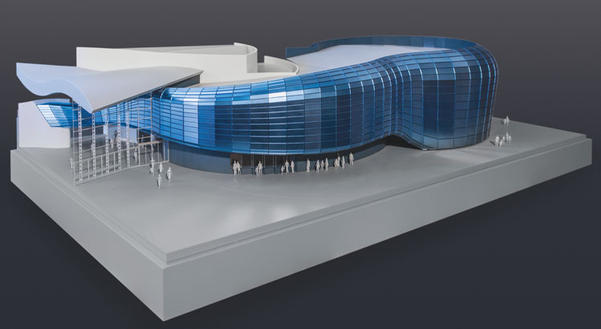 (Rendering by EHDD; photo of rendering by Bret Janak)
To date, donations for the project have totaled $42 million. More than 24 donations of $100,000 or more were made to the fund, including $15 million from the City of Long Beach and $5 million from American Honda Motor Company.
In addition to its large donation to the Aquarium, earlier this month Honda announced the establishment of the Honda Marine Science Foundation. The initiative's goal is marine ecosystem restoration by looking at human impacts and climate change on oceans and intertidal areas.
According to Steve Goodling, president and CEO of the Long Beach Area Convention & Visitors Bureau, the Aquarium expansion will have a positive impact on tourism and conventions in the city.
"The Aquarium already is a landmark for our city, and the expansion will continue to create additional reasons to come to the Aquarium, as well as to Long Beach," Goodling said. "I think this new facility will give the opportunity even for conventions . . . in addition to being a tourism opportunity for the city."
The construction firm for Pacific Visions, Clark Construction, which also is overseeing construction of the new Long Beach Civic Center, estimates project completion in late 2018 or early 2019.
Signal Hill Library
Construction on the new 12,000-square-foot Signal Hill Library is expected to begin this year and is estimated to be completed in spring 2018. The project will include a children's reading area, a learning lab, reservable study rooms, a Signal Hill historical room, an outdoor patio and an updated book selection.
Toyota Leaves Traffic Circle
After 45 years, the former Toyota showroom near the traffic circle has vacated the premises, and demolition has commenced. Located at 4401 E. Pacific Coast Hwy., the dealership has carried the names Marina Toyota, Toyota of Long Beach and Hooman Toyota. The property will be subdivided into two lots to accommodate a Chick-Fil-A drive-thru restaurant and a Wells Fargo Bank.
Long Beach Exchange Groundbreaking
After being rescheduled due to inclement weather, the groundbreaking ceremony for Burnham Ward Properties LLC's Long Beach Exchange was held February 14. The project consists of 266,000 square feet of retail and restaurant space on 27 acres of land located on the southwest corner of Lakewood Boulevard and Carson Street. The centerpiece of the project is a 16,800-square-foot, hangar-shaped building that will be home to small shops and restaurants. It was recently announced that the Lakewood Center Nordstrom Rack will relocate to the new center and take over 28,000 square feet of retail space. A 365 by Whole Foods location is also expected to open at the Long Beach Exchange. The project is expected to be completed in spring 2018.
Beach Concession Improvements
Two community meetings are scheduled for the public to meet the architect and review the proposed designs for renovations of the Alamitos, Junipero and Granada Beach concession buildings. The meetings are scheduled for tomorrow, Wednesday, February 15, at 5:30 p.m. at the Leeway Sailing Center located at 5437 E. Ocean Blvd., and Thursday, February 16, at 5:30 p.m. at Bixby Park Community Center located at 130 Cherry Ave. Both meetings will provide similar information.
Real Estate News
Broadway/Linden Building Sale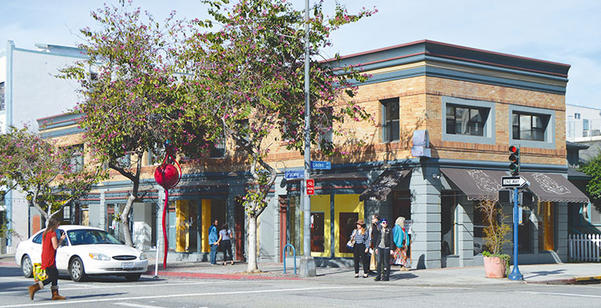 The two-story building at 435 E. Broadway (pictured above) recently sold to Gregory Yu at Great Broadway Investment LLC for more than $1.3 million, according to Martin Porter, director of the National Retail Group at Marcus & Millichap. The 2,400-square-foot ground floor will be renovated and occupied by the same restaurant-operating partner that owns Padre, a restaurant tenant of another building Yu owns up the street. The project is in the approval stage and includes a coffeehouse, a restaurant and improvements to the apartment units on the second floor. The four previous tenants were PJs Pet Cafe (now located on 7th Street), Modern Emporium Boutique (which moved to Dallas), The Look (now on 4th Street) and Native Sol (relocated to Retro Row on 4th Street). Yu hopes for approval by March 1 and for the project to be completed by mid-to-late summer.
Stepp Commercial Sale
Long Beach-based Stepp Commercial recently completed the sale of 36 units for approximately $6.15 million. The properties located at 1121 Daisy Ave. and 1164-1170 Daisy Ave. were built in 1964 and renovated in 2009. According to a press release, the occupancy of the buildings at the time of sale was 97%, and current rents are about 14% below market rate value.
Retail And Professional Services News
SteelCraft Grand Opening
On February 2, Mayor Robert Garcia and 7th District Councilmember Roberto Uranga celebrated the grand opening of SteelCraft with a ribbon-cutting ceremony. The food court, made of modified shipping containers, is located at 3768 Long Beach Blvd. and includes eight vendors: Smog City Brewing Co., Steelhead Coffee, Pig Pen Delicacy, Waffle Love, Desano Pizza Bakery, Lovesome Chocolates, Tajima Ramen and The Fresh Shave.
Roots Through Recovery
Roots Through Recovery, an addiction and mental health outpatient treatment center, celebrated its grand opening at 3939 Atlantic Ave. in Bixby Knolls. The center has been taking clients since the beginning of January and offers several treatment methods, including cognitive behavioral therapy, dialectical behavioral therapy, mindfulness and meditation, and motivational interviewing.
The Pizza Press On 2nd
Renovations are underway at the latest location of Orange County-based The Pizza Press. Located at 5242 E. 2nd St., the newspaper-themed pizza joint is scheduled to open in May or June. Patrons can choose to "publish your own" pizza or choose from press classics, such as "The Tribune" or "The Times."