Draft Drive-Through Guidelines Available For Public Review And Comment
Long Beach Development Services has released a draft of proposed drive-through facility design guidelines for public review and comment. The document consists of no less than 73 guidelines related to site planning, parking and circulation, building design, outdoor dining areas, landscaping and buffering, off-site improvements, mechanical equipment, servicing and utilities, and lighting.
The primary goal of the guidelines is to "ensure the health, safety and welfare of residents and visitors by promoting designs that can be beneficial to everyone, not just automobile users," according to the document. The guidelines also aim to reduce negative impacts associated with drive-throughs, direct the development of such facilities to shopping centers and freeway-adjacent lots, enhance outdoor dining areas, locate drive-throughs away from schools and "encourage equitable distribution of healthy foods."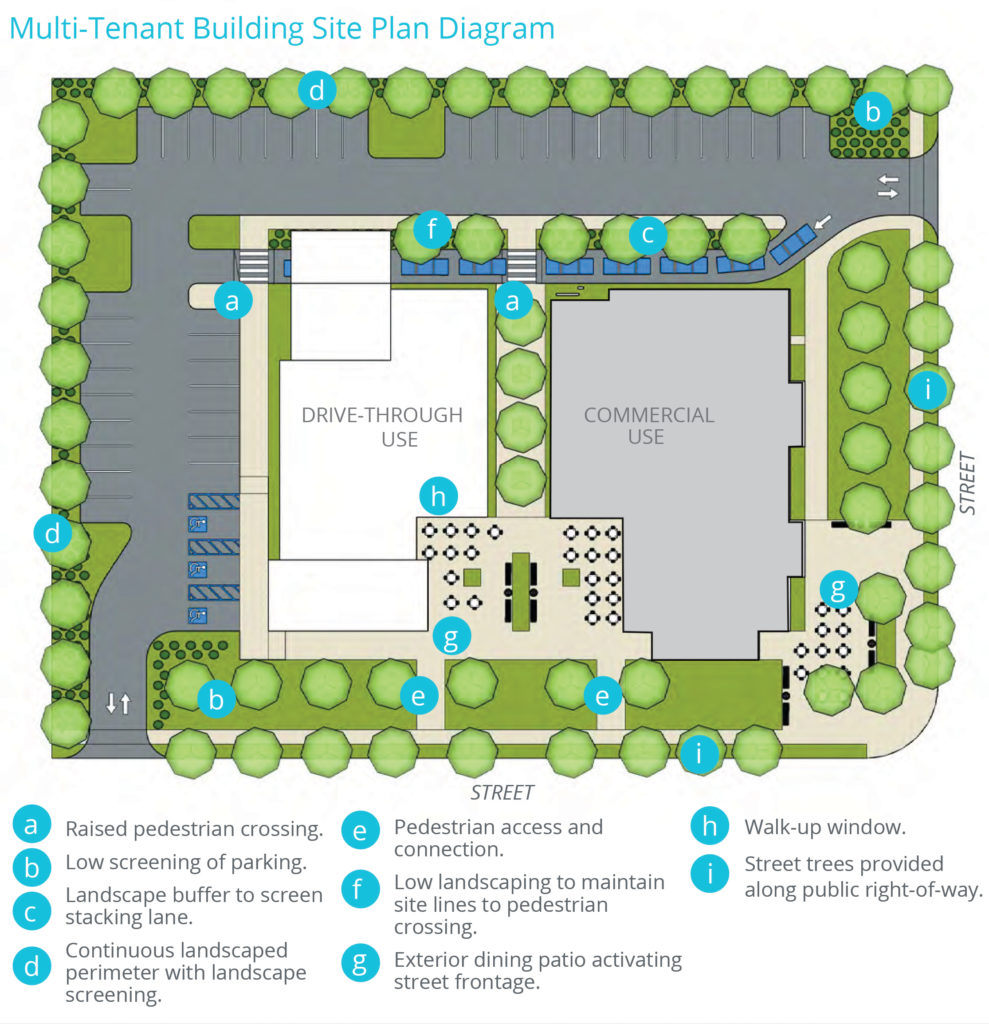 While many current drive-through lanes are placed between the building and the street, the proposed site planning guidelines note that buildings should be placed close to/oriented toward the street instead. Pedestrian and bicycle routes through the site should be separated from parking, driveways and drive-through lanes, the document adds. City staff included several diagrams demonstrating desired site plans for mid-block sites, buildings fronting a commercial center or mall, and multi-building sites. In general, it is noted that parking lots and drive-through lanes should be "located away from and out of sight of the public right-of-way."
Additional guidelines specific to drive-through lanes include allowing for a minimum of four cars to queue behind the vehicle at the ordering menu and discouraging double-stacked drive-throughs, which are utilized at two local Chick-fil-A restaurants. Drive-through lanes should also be "defined by continuous planter or landscaped area" that are at least five feet wide, the document notes.
For the full guidelines, visit longbeach.gov and search "drive-through." Comments may be submitted to Refugio Torres-Campos at refugio.torrescampos@longbeach.gov by September 25 or by calling 562-570-6571.
City Releases Draft Short-Term Rental Ordinance
Long Beach Development Services has released a draft short-term rental (STR) ordinance along with a notice of intent to adopt an initial study and negative declaration, meaning that staff has determined the proposal would have no discernible environmental impacts.
The draft ordinance outlines rules and regulations for operating an STR property within the City of Long Beach, which are currently not included in the city's municipal code. First and foremost, the proposed ordinance would require all STR operators to register with the city and would need to be renewed annually. STR operators also would be responsible for paying transient occupancy taxes to the city; the current rate is 12%, according to the city's website.
The ordinance also outlines eligibility requirements, including the following: the unit cannot be a deed-restricted affordable unit; total non-primary STRs, such as backhouses, registrations issued cannot exceed 1% of the city's total housing units; a local contact person must be available 24/7 to respond to complaints within one hour; a consent form is required if the operator is not the property owner; and the unit cannot be the subject of an active or pending code enforcement action. The ordinance also limits the number of STRs a person can operate.
The ordinance limits the number of STRs allowed within a multi-family development. Properties with two to 10 units would be allowed one STR, 11-50 units would be allowed 10% STRs, 51-100 would be allowed 12% STRs, and 101 or more would be allowed 15% STRs.
STRs must be an approved residential unit. Other structures or vehicles, such as RVs, boats or sheds, are prohibited. Additionally, un-hosted stays in a primary residence would be limited to 90 days per year, the number of guests would be limited to two people per bedroom, plus two, and the use of outdoor pools and spas would be prohibited between 10 p.m. and 7 a.m.
The ordinance also places responsibilities on hosting platforms like Airbnb, including working with the city to regulate unauthorized STRs advertised on their sites. Hosting platforms would also be required to provide the city monthly updates on their listings, including the STR registration number, name of the person responsible for each listing, the address for each listing and total price for each rental.
Per California Environmental Quality Act regulations, the negative declaration document, along with the draft ordinance, will circulate publicly through October 15, one month from its release date. To view the documents, visit longbeach.gov/lbds/planning/environmental/reports.
Commission Approves 345-Unit Mixed-Use Development
The Long Beach Planning Commission unanimously approved of site plans for Ensemble Real Estate Investment's Third + Pacific mixed-use development, which includes 345 residential units. Located at 131 W. 3rd St., the project consists of two buildings – a 23-story tower and an eight-story mid-rise building – on a 1.22-acre lot, which currently serves as a parking lot, and nearly 14,500 square feet of ground floor retail space. It is one of four recent Ensemble projects in Long Beach. The 442 Residences at 442 W. Ocean Blvd. is completed and more than 50% leased, Sonata Modern Flats is nearing completion at 207 Seaside Way and the 142-unit Magnolia and Broadway mixed-use project has been approved for development at 500 W. Broadway by the planning department and is awaiting entitlements.
Long Beach Is First L.A. County City To Receive Planning Grant
The California Department of Housing and Community Development awarded Long Beach a $625,000 grant, making it the first Los Angeles County city to receive funding from the state's Senate Bill 2 Planning Grants Program, which is meant to support projects that increase housing stock and address homelessness.
"Creating more quality, affordable housing is one of the city's top priorities," Mayor Robert Garcia stated in a press release. "We have a responsibility to ensure that no one in our vibrant community is left behind and that means making housing options accessible to all. This grant will help us sustain those priorities."
The majority of the funding is going towards a plan to rezone the Anaheim Street corridor from standalone commercial usage into mixed-use residential. This transition would create more housing in the area through market-rate and affordable housing developments, as well as create a more walkable community, the announcement explained.
The funds also will support master plan update efforts for the Century Villages at Cabrillo, an affordable-housing and support services community, which is looking to introduce 1,000 additional units in Long Beach. Lastly, the grant will support the city's proposed year-round homeless shelter in North Long Beach by funding community outreach and engagement for the shelter.
"Long Beach continues to evolve as a desirable place for residents," Long Beach Development Services Director Linda Tatum stated. "This state grant supports our efforts as a city to create affordable housing that strengthens our neighborhoods and commercial corridors."
Final Douglas Park Industrial Development Nears Completion
Pacific Pointe Northwest, the final major development at Douglas Park, is expected to be completed November 1, according to Larry Lukanish, senior vice president of commercial development and investment for developer Sares-Regis Group. The project consists of four buildings ranging in size from 74,723 square feet to 138,413 square feet for a total of just under 400,000 square feet of industrial space west of the Long Beach Exchange retail center. According to Lukanish, lease negotiations are underway for the 94,525-square-foot Building 15 and the 74,723-square-foot Building 17.
New Apartment Deliveries Declining Nationally
The number of new apartment deliveries is expected to decline for the third straight year, according to a new report released by RENTCafe utilizing Yardi Matrix market data. Construction on less than 300,000 new units is expected to be completed in 2019, down 8.2% from more than 326,000 last year and nearly 332,000 in 2017, a nine-year peak.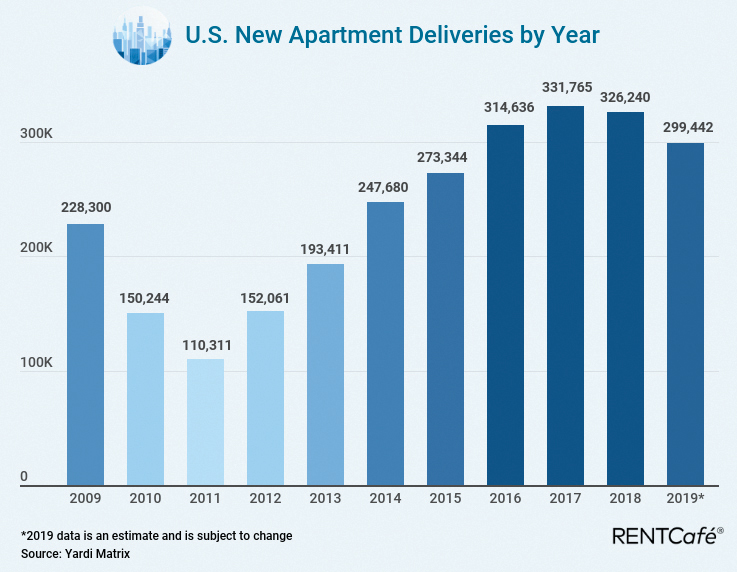 "Despite growing demand across the U.S., apartment construction started to face some challenges beginning with 2018," according to the report. "High construction costs and a narrow pool of skilled labor are just a few of the factors hindering the development of new apartment units."
The Los Angeles Metro area, including Long Beach and Anaheim, is expected to deliver 9,768 new apartment units in 2019, the seventh-highest amount among nationwide metro areas. However, despite its seventh-place ranking, this marks a 23% decrease in L.A.'s apartment deliveries compared to last year. According to a RENTCafe spokesperson, Long Beach has delivered "no more than 900 units from 2015 through 2019," with half being delivered in 2016 alone. However, nearly 6,000 units are currently under construction or planned throughout Long Beach.
New Restaurant Appears In East Village Arts District
New awnings bearing the logo for a new eatery dubbed Burger Daddy have gone up at the former Linden Public location on the southwest corner of Linden Avenue and Broadway. Signs of interior construction can be seen at the site, which has sat vacant since October 2018. Neither the business owner nor leasing agent could be reached for further details.
Recent Transactions By Local Firms
The following is a list of recent commercial real estate transactions by the teams at Lee & Associates and Marcus & Millichap:
Lee & Associates' Jeff Coburn, Jordan Mannisto and Shaun McCullough finalized a new 7,411-square-foot lease by Metzger Law Group at 555 E. Ocean Blvd. The group also represented the landlord in the 5,458-square-foot lease by SJM Enterprises at 555 E. Ocean Blvd., and represented both Marron Lawyers and the landlord in a 4,982-square-foot lease at 5000 E. Spring St.
Marcus & Millichap's Steve "Bogie" Bogoyevac, Shane Young and closed a $1.82 million sale of a multi-family building at 1135 E. 12th St. The property includes 12 one-bedroom units, eight of which have been renovated.