Signal Hill Mercedes Dealership Has Plans To Expand
Exclusive negotiations are underway between the City of Signal Hill and Signal Hill Properties LLC for the sale of five former Signal Hill Redevelopment Agency-owned properties to expand Mercedes-Benz of Long Beach's operations, according to City Manager Charlie Honeycutt.
"We're always trying to expand the auto center because the city is heavily reliant on sales tax. We're what's known as a low/no property tax city," Honeycutt said. "In order to provide services to the community, the city has had to be strategic in its economic development."
The properties include vacant lots located at 2650-2660 Cherry Ave., 2065-2099 E. 27th St., 2701 St. Louis Ave. and 1850 E. 28th St. The property located at 2700-2730 Cherry Ave. is an existing building that is currently occupied by several tenants, including mobile phone repair shop Long Beach iRepair.
The city is required by the state to sell former redevelopment properties regardless of their current use, Honeycutt explained. The buyer intends to expand Mercedes' operations with a new pre-owned dealership and various auto-related support services. The properties in question are zoned for auto-related use, he noted.
The City of Signal Hill has hired a consultant to assist soon-to-be-displaced businesses, Honeycutt said, adding that the tenants are also being offered financial assistance to offset relocation costs. Negotiations with the prospective buyer are expected to be completed in the next several months, according to Honeycutt.
Laserfiche Unveils Campus Expansion Plan For Long Beach Boulevard
Prominent software firm Laserfiche has announced the details of its planned Long Beach headquarters expansion to accommodate the company's growth, with local employment expected to double from 300 to 600 by 2025. The company currently has 420 employees worldwide.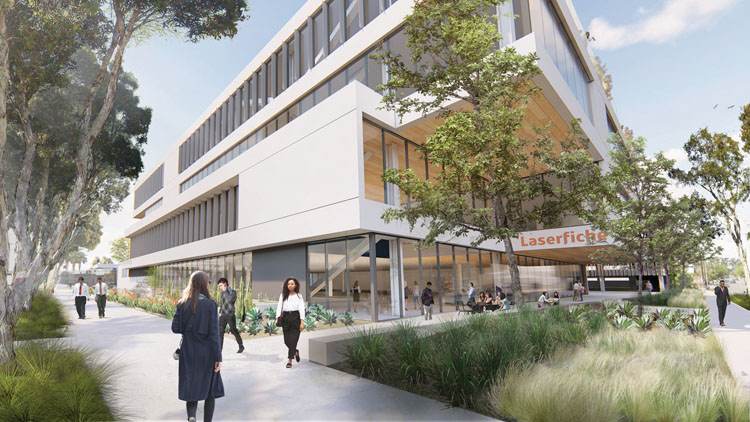 "Laserfiche is entering an era of accelerated innovation, which requires workforce growth and the evolution of our headquarters to align with our visionary products," Chairman and CEO Chris Wacker stated. "We are committed to continued investment in Long Beach, and look forward to bringing hundreds of well-paying tech jobs to the city."
Located on Long Beach Boulevard near Wardlow Road, the planned 100,000-square-foot creative office building was designed by Long Beach-based Studio One Eleven and will be developed by Urbana Development LLC, also a Long Beach company. The project is the first new-construction office building in the area in nearly 30 years, and will be Laserfiche's fourth structure along the corridor, according to a press release. It is scheduled for completion in 2021.
According to Laserfiche Public Relations Manager Linda Domingo, the company will continue to occupy its current building at 3545 Long Beach Blvd., less than a block north of the new site. Official plans for the current building's future use have not been announced.
Laserfiche moved its headquarters to Long Beach in 2001 and maintains offices in Washington D.C., Guadalajara, Hong Kong, London, Shanghai and Toronto.
Multiple New Businesses Open In Belmont Shore
The vacancy rate for retail and restaurant space on 2nd Street in Belmont Shore has fluctuated several percentage points over the last three years, according to data from Long Beach-based Kinnery's Brokerage House. In the second quarter of 2016, it hit a low of 3.3%. In the fourth quarter of 2018, it reached a high of 5.1%. Today, the vacancy rate in Belmont Shore sits at 4.5% with no sign of change, according to Kinnery Vice President Brian Russell.

"We've seen a constant acceleration in lease rates because the markets can support that," Russell said, noting that he expects rates to flatten. "Because of that, larger spaces are being carved up into smaller spaces."
The former Children's Place building, located at 4801 E. 2nd St., closed about a year ago and has since been divided into three smaller storefronts. Two are already open for business, including Philz Coffee and The Lash Lounge, the first entrepreneurial endeavor of Mark Price, husband of 3rd District Councilmember Suzie Price. An Earl of Sandwich location is currently under construction in the third space.
On social media, Belmont Shore and other Long Beach residents have voiced concerns about the business corridor ranging from unsustainable rents to disapproval of chain stores and eateries. However, Belmont Shore Business Association Executive Director Dede Rossi said the Shore is as strong as ever. "We need corporate. We need The Gaps, we need the Banana Republics to attract people," Rossi said. "But we're tending to get more small businesses now."
Over the last year and a half, numerous long-time Belmont Shore staples such as The Rubber Tree, Babette's Feast, Magic Lamp and Romance Etc., have closed or, in the latter's case, relocated. Even the Jack in the Box called it quits after 57 years. However, it did not take long to attract new tenants. The following is a list of recently opened or forthcoming stores in Belmont Shore:
@Sushi, 5372 E. 2nd St. – opening soon at the former Theory Café location
El Pollo Loco, 5252 E. 2nd St. – formerly Jack in the Box
House of Intuition, 5018 E. 2nd St. – formerly The Rubber Tree
LB Tap House, 5110 E. 2nd St. – formerly Tavern On 2
Louie's On 2nd, 5283 E. 2nd St. – formerly Acapulco Inn
Lungu Law Group, 5320 E. 2nd St., Suite 6
Mac's on 2nd, 5340 E. 2nd St. – formerly Belshore Liquors
Natura Bowls, 4816 E. 2nd St.
OGourmet, 4621 E. 2nd St. – formerly Babette's Feast
Pressed Juicery, 4923 E. 2nd St. – formerly Jamba Juice
Proper LBC, 5209 E. 2nd St. – formerly Romance Etc.
Quality Wellness Center, 201 Covina Ave., Suite 9
Stanfield Real Estate Group, Sotheby's International, 5375 E. 2nd St.
Shara, 4900 E. 2nd St. – formerly Laurenly
Urban Eden, 200 La Verne Ave.
Both Russell and Rossi agree that the impact of future retail development 2nd & PCH to the small businesses on 2nd Street remains unclear. However, Rossi is confident the area will remain a Long Beach attraction.
"It's a destination," Rossi said. "When you get to Long Beach you have to come to Belmont Shore because of what we have surrounding us – the beach, the bay [and their activities] – and our shops. We're going to keep doing what we do."
Stepp Commercial Closes Two Multimillion Dollar Sales
Stepp Commercial Principal Robert Stepp, Vice President Todd Hawke and Senior Vice President Michael Toveg have closed two multimillion-dollar transactions this month.
On January 17, the company announced the $4.4 million sale of a 20-unit apartment property near Downtown Long Beach. Located at 737 W. 5th St., the complex was built in 1963 on a 12,059-square-foot lot in the Willmore City Historic District and features 11 one-bedroom units and nine two-bedroom units. Fifteen units were recently renovated by the seller, Long Beach-based Keely Partners LP. Stepp and Toveg represented both the seller as well as the buyer, Santa Monica-based Hollywood Properties LLC, in the transaction.
On January 25, the company announced the $4.53 million sale of a portfolio consisting of two apartment buildings with 14 units. Stepp represented the seller, Miramar Capital Managing Partner Paul Fuhrman, while Hawke represented an overseas all-cash buyer. The two properties, located at 314 Hermosa Ave. in Alamitos Beach and 4321 E. 10th St. in Belmont Heights, consist of eight units and six units, respectively. Both properties were built in the 1980s and feature two-bedroom townhouse units.