For Sale: Parkview Village In Northeast Long Beach
Parkview Village, the long-time East Long Beach commercial center on the northwest corner of Carson Street and Bellflower Boulevard, is for sale by the property owner, according to a listing by investment sales advisors at Holliday Fenoglio Fowler LP (HFF). The portfolio includes five one-story buildings and seven two-story buildings totaling 116,371 square feet of retail, restaurant and office space. The six-acre site is 90% occupied and was originally constructed in 1950s, with several renovations and additions since.
The portfolio is being marketed as a site for value-add repositioning or future redevelopment, according to HFF documents. "Best Offer," is listed under pricing; however, a report by HFF analyzing potential return on investment used the example of a purchase price ranging from $34.5-$35.5 million.
HFF notes that current rental rates at the site are "substantially below" market value, adding that repositioning the buildings could attract higher-paying tenants. Regarding the prospect of future redevelopment, HFF states that the current zoning allows for commercial use with a height limit of two stories, but that zoning variances could allow for a mixed-use development with taller buildings. According to Long Beach Development Services staff, height variances are only made under special circumstances, which are not present at Parkview Village. This means variances would not be issued to develop buildings higher than two stories in the area, according to city staff.
Under the city's land use element (LUE), a future development guideline adopted by the Long Beach City Council in March of last year after much community debate, Parkview Village is zoned for community commercial use with a maximum building height of two stories. Early iterations of the LUE allowed for moderate density housing in the area, with buildings up to four stories tall. However, after community pushback, the city reduced the plan to match the use and heights already in place.
The Westin Undergoing Millions Of Dollars In Renovations
Construction is underway on $22 million worth of renovations at The Westin Long Beach. From the main lobby to the restaurant to the rooms, the hotel is receiving a fresh, new look, according to Managing Director John Thompson.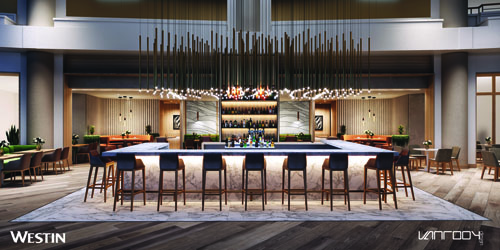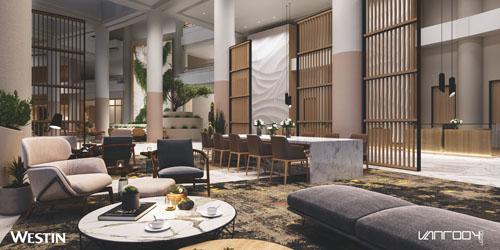 "This is such a great time to be in Long Beach. There is so much growth and an overall elevation of our city. More and more we are able to compete with Los Angeles and other major markets for convention business," Thompson said in an e-mail to the Business Journal. "Our location and the warm hospitality of our residents and workers has a lot to do with this, but as businesses like the Westin upgrade, [Long Beach] truly becomes a world class destination."
While guest rooms are being freshened up, the most notable renovations are being made in the lobby and restaurant area, which will include an altered floor plan, new furniture, new white marble flooring, a new color scheme and a "larger than life" living wall, according to Thompson. The space was designed by architect Houston Tyner and designer Vanrooy Creative Group.
The restaurant is being renamed Navy Proof Food & Spirits, a concept created by Howe & Brown Hospitality specifically for the hotel. A three-story sculptural chandelier will hang above the restaurant and bar to "set the tone for a new way to gather, interact and connect over curated cocktails and bold new food," Thompson said.
Australian-inspired coffee shop, cafe and lifestyle brand Bluestone Lane is also coming to the ground floor of the Westin. The shop will serve premium coffee and healthy food options to hotel guests and Long Beach residents alike.
The Westin Long Beach was originally built in 1988 and consists of 469 guest rooms and 51,000 square feet of meeting space. The guest room renovations are expected to be completed by mid-April, while the public space renovations are anticipated to wrap up in mid-May.
"Transformations like the one we are currently going through bring a new, fresh dynamic to the overall cityscape of Long Beach but also instill a sense of pride for the many long-term associates who have been with the hotel for up to 30 years," Thompson said. "We are so happy to honor their service with the gift of renovation."
L.A., National Multi-family Markets Expected To Remain Strong Through 2019
Across the country, the vacancy rate of Class A multi-family properties is expected to increase to 5.8% this year due to an influx of market-rate and luxury developments, according to Marcus & Millichap's 2019 North American Multifamily Investment Forecast Report. The nationwide vacancy rate for Class B properties is expected to remain stable at around 4.7%, with the Class C market tightening to 3.9% – the lowest year-end level in 19 years. On the National Multifamily Index, a system that ranks 46 major areas to show relative supply-and-demand conditions at the market level, Los Angeles County dropped two slots to number four. For all unit sizes combined, the average effective rent countywide is expected to increase 4% this year after climbing 6.1% in 2018. Developers delivered 9,700 new units countywide last year and 14,800 additional units are anticipated in 2019. The vacancy rate in the L.A. market is expected to increase by 0.5% to 3.9%.
Recent Local Transactions
The following is a list of recent multi-family and office property transactions by the teams at Centennial Advisers, Lee & Associates Commercial Real Estate Services, Marcus & Millichap's Bogie Investment Group and Stepp Commercial:
2789 Long Beach Blvd. – Lee & Associates Principals Shaun McCullough and Jeff Coburn completed a 10-year lease valued at $3.2 million for this 8,947-square-foot medical office building directly across the street from MemorialCare Long Beach Medical Center. McCullough and Coburn represented the landlord, 2H Property 4101 LLC, while Justin Cheung of Realty Advisory Group represented the tenant, Fresenius Medical Care Long Beach LLC.
640 Stanley Ave. – Stepp Commercial Principal Robert Stepp and Senior Vice President Michael Toveg represented the seller, Long Beach-based Keely Partners LP, and the buyer, a group of private investors, in the $5.2 million sale of this 16-unit apartment property in the Rose Park neighborhood. The two-story complex was built in 1973 and is composed of two-bedroom, 1.5-bathroom townhome units.
910, 918, 924 and 930 Freeman Ave. – Stepp represented the seller, Long Beach-based VMG Properties LLC, in the $11.05 million sale of this 36-unit multi-family portfolio. Stepp Commercial Vice President Todd Hawke and Stepp represented the buyer, Long Beach-based Raven Properties LLC. The transaction included four two-story buildings, each with a single one-bedroom unit and eight two-bedroom units. All but nine of the units were renovated last year.
1088 Alamitos Ave. – Marcus & Millichap's Bogie Investment Group founder Steve "Bogie" Bogoyevac and Vice President of Investments Shane Young represented the seller in the $4.6 million sale of this 22-unit apartment complex across the street from Lincoln Elementary School. Built in 1979, the property consists of 18 one-bedroom units, two studio apartments, two two-bedroom units, on-site laundry and 28 single-car garages.
1867 Temple Ave., Signal Hill – Stepp and Toveg represented the seller, Long Beach-based Wallup LP, in the $5 million sale of this 24-unit apartment complex. Stepp represented the buyer, VMG Properties. The two-story hilltop property was built in 1964 and includes 13 one-bedroom units, 11 two-bedroom units and 24 subterranean parking spaces.
3211 E. Wilton Ave. – Centennial Adviser's Ryan Rayburn and Eric Christopher represented the seller in the $1.2 million sale of this four-unit multi-family building near the traffic circle.