Southern California real estate experts told the Business Journal in June that they forecast a strong and steady market heading into the end of 2019, although there could be a slight decrease in single-family home sales.
Multi-Family Market
Kevin King, senior managing director of investments at Marcus & Millichap, said Long Beach's multi-family market will see historically low interest rates. "Buyers will remain enthusiastic," he said. "Many sellers are considering coming to the market, as they see changes on the horizon that will affect how they operate their properties."
Factors that could impact the market include tenant relocation fees, which are now required in Long Beach to be paid to tenants if a rent increase of 10% or more is given and the tenant elects to move out as a result, King said. It would also be required if a landlord wanted to take possession of the unit for the purposes of upgrading it. Tenant-relocation fees may cause sellers to re-evaluate their hold periods, he said.
"That said, buyers remain bullish on the market and velocity remains healthy," he said. "Multi-family remains the strongest sector due to the high demand for housing."
The looming potential passage of Assembly Bill 1482, a statewide rent-control initiative that would prevent landlords from raising rents more than 5% a year after inflation, could pose significant changes to the multi-family market, King added. The bill is set for its first committee hearing on July 9.
Single-Family Market
Jordan Levine, deputy chief economist for the California Association of Realtors, forecasted that sales for single-family properties would slightly decrease in the Long Beach region. "This year, we have a mid-single-digit decline in Southern California, and that's because we're starting to get to the point where affordability is becoming a bigger crunch," he said. "We have some reluctance on the part of buyers, and I think that both of those are putting themselves together to reduce home sales and a bit softer growth in prices, as well."
Levine said the rate for a 30-year fixed-rate mortgage has dipped to below 4%, compared to 5% in November 2018. In analyzing the single-family market, Levine said experts with the California Association of Realtors focus on the number of homes sold and look at how that trend affects prices.
Levine said changes in tax reform have played a role in the economic outlook of single-family real estate. Increases in standard deduction rates, which allows a fixed amount of income to not be subjected to tax, have made the market more challenging, he said.
A standard married couple, for instance, has a $24,400 deduction, a tax advantage that is granted to them regardless if they rent or own a home. "I do think that is playing a role in reducing demand at the entry level," he said. "That has diminished the incentive to become a homeowner."
Levine also emphasized the top end of the market is experiencing a slower pace of sales than it did this time last year. He said part of the slowdown has to do with the current cap on the amount of mortgage interest that homeowners might be able to deduct.
"It's less demand, not no demand," Levine clarified. "You still don't see much discounting [of list prices], yet prices are still growing, just at a slower clip. Obviously, you want more and more folks able to achieve the dream of homeownership. I do believe that the market is going to be more challenging this year, but I also don't think that it's time to panic, either."
Industrial Market
Brandon Carrillo, a principal with Lee & Associates, said Long Beach's industrial real estate vacancy rate is hovering around 1.2%, a slight increase compared to last year, when it was about 1%.
Lease rates for Class A industrial properties have climbed above $1 per square foot, especially for cannabis businesses. "Class A [are] really the ones that are driving that," Carrillo said.
He said in Long Beach there are comparable sales, or industrial sites located in the same area with similar features to other properties, that are available at 20 to 30 cents per square foot. The properties are available at a triple-net lease, in which the buyer agrees to pay all real estate taxes, building insurance and maintenance, in addition to normal fees.
Carrillo said the industrial market looks healthy, complimenting Long Beach Mayor Robert Garcia's approach in "creating a welcoming, business-friendly attitude" for companies to establish in the city.
But Carrillo said that a lack of supply of industrial properties is still plaguing Long Beach. Although there is no clear solution, Carrillo said city officials must develop "creative ways" to drive industrial business to the region. "We're trying to see how we can transition [companies] here to Long Beach," he said.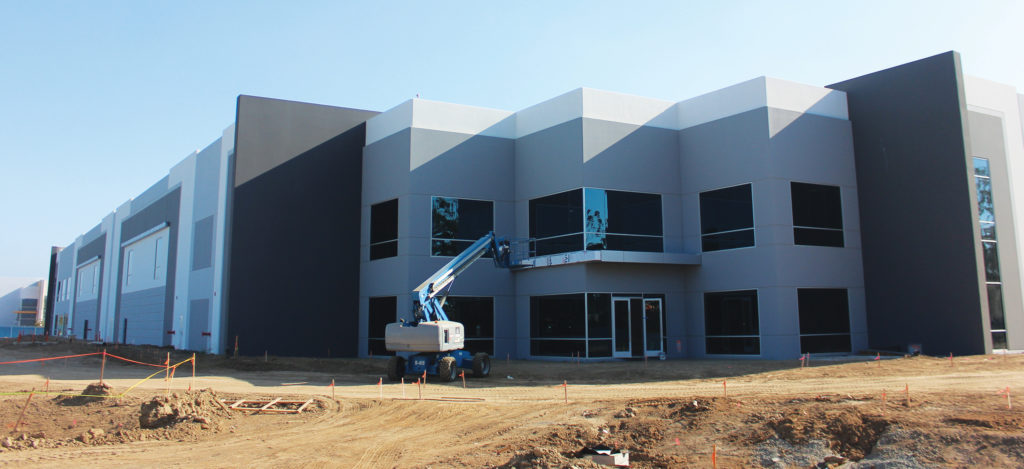 Commercial Markets
Sales of Long Beach office properties remain solid, but leasing activity is beginning to wane, said Becky Blair, president and principal of Coldwell Banker Commercial BLAIR WESTMAC.
Certain properties are creating market competition, including B- and C-class buildings that are being repurposed to create higher cash flow, she said. The attraction for buyers to purchase smaller buildings, at about 10,000 square feet, is becoming popular as lease rates are rising.
Smaller office buildings, ranging from 10,000 to 15,000 square feet, are leasing at a rate of about $1.50 to $1.75 per square foot. Blair said the office market would remain stable as long as interest rates remain low, but added that several regionwide experts are anticipating a slowdown beginning in 2020.
"It's tough to lease spaces today, because most investors . . . are really looking to purchase rather than lease," said Blair, who mentioned vacancy data is still being collected for the downtown region but is estimated to be at 12%, lower than last year's average of 13.3%.
Martin Porter, a Marcus & Millichap associate, said commercial properties will move on an "upward-growth model" for 2020, when interest rates will fluctuate from 5.25% to 6%.
In Downtown Long Beach, the vacancy rate of retail properties is 5.7%, while suburban rates are 5.1%, according to a June 2019 report by real estate firm CoStar. Porter said there are notable vacancies in traditional retail in Belmont Shore, especially along East 2nd Street, where seven to 10 units are available at over 2,000 square feet.
Porter mentioned that multi-family projects that are under construction in Downtown Long Beach will warrant demand over the next six to 24 months. This uptick in density will contribute to the success of retail and restaurant businesses in downtown, he said.
Overall, downtown and suburban retail is forecasted to remain steady, with no outstanding shifts. "We're going to be cooking along in 2019 and more than likely 2020," he said.