All sectors of real estate should expect continued rent and sales price increases as vacancy continues to decrease while demand is on the rise, according to regional economists and local real estate professionals.
"We're entering 2018 on really solid footing – no sign of recession nationally or locally. Long Beach, L.A. County, California and the United States as a whole all are essentially at full employment, so growth is really going to be restrained by our ability to add workers to the labor force," Robert Kleinhenz, economist and executive director of research at Beacon Economics, said, noting that low unemployment rates boosted both residential and commercial real estate markets.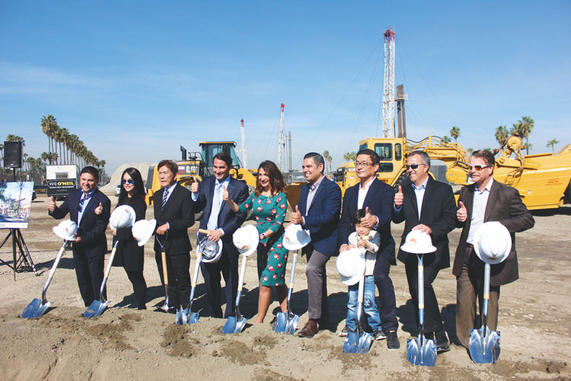 On February 1, hundreds gathered for the long-awaited groundbreaking ceremony of 2nd & PCH, a 220,000-square-foot retail development overlooking Alamitos Bay. No tenants have been announced for the project that is expected to be completed next year. Pictured from left: Ruben Perez of CenterCal Properties; Amy Lin and Wu-Lang Lin of Taki Sun Inc.; Jean-Paul Wardy of CenterCal; 3rd District Councilmember Suzie Price; Mayor Robert Garcia; Ray Lin of Taki Sun; and Steve Shaul and Eric Wilson of CenterCal. (Photograph by the Business Journal's Brandon Richardson)
Office markets in the region have seen a steady decline in vacancy rates over the last several years, according to Kleinhenz. The L.A. County vacancy rate overall has been in the high 13% range and generally improving, he said. Long Beach and the South Bay have seen a slight decrease in vacancy to 15.2%.
Decreasing vacancy is causing upward pressure on office market lease rates, which have gone up 8% year over year in the South Bay area compared to a 2.5% increase in Los Angeles. While decreasing vacancy and increasing prices are positive signs for the office market, Kleinhenz noted several long-term challenges, including the decline in the amount of space utilized per employee and the rising demand for creative space in industrial settings. Despite these challenges, Kleinhenz expects steady improvement in the market.
In the case of industrial real estate, Kleinhenz said the greatest challenge in Long Beach and the South Bay is simply that there is not enough of it. Vacancy rates in the area are hovering around 1%, which has caused lease rents to increase by one-third year over year, compared to Los Angeles's 8% increase, he said.
"Whereas on the office side they are trying to figure out a way to increase occupancy, on the industrial side, the question would be is there any way Long Beach and its neighbors would be able to increase the available capacity?" Kleinhenz said. "I think the answer is probably no. So we need to be mindful of the fact that we have very limited industrial space that has to be devoted to what seems to be an increasing variety of uses."
The retail real estate market is a landscape in flux, as retail in general is changing due to e commerce and the "Amazon affect," according to Jodie Poirier, South Bay managing director for CBRE Inc. For all commercial real estate sectors, Poirier said a live-work-play environment is becoming more and more desired by residents. She explained that retail is a driving force in this trend, and that ample shopping and dining options within walking distance is essential in creating such an atmosphere.
To be successful, Poirier said retailers and restaurateurs must create an experience for customers, as conventional shopping can for the most part be done online, and chain restaurants are a dime a dozen. She explained that a live-work-play environment requires retailers to create activity in areas, such as downtowns, that have many office buildings and residential units.
"There's definitely a shift toward smaller businesses that offer experiences," Poirier said. "The big-box stores [and] the larger format type stores that are doing well are the ones that are able to incorporate the e-commerce aspect to fit the way that we buy and live. They are adapting to our new way of consuming. And the ones that are not [doing well] are the ones that are shuttering their stores."
Unique and experiential retailers draw new residents to areas, such as Downtown Long Beach, which has a "tremendous amount" of residential construction planned and underway, according to Poirier. As many projects are a year or more from coming online, the market will not see a meaningful impact for quite a while, but Poirier said the future impacts will benefit the city greatly.
Rents for residential units are expected to continue to rise in the region, and Poirier expects Long Beach to have greater growth than some surrounding areas. Poirier explained that CBRE research shows submarkets with higher live-work-play scores tend to have more substantial rent growth than those with low scores. Millennials are also playing a large role in the strength of the multi-family market.
"We still have this sort of shortage of housing, so young people can't afford to buy a house right now, facing these kinds of high prices. They would rather rent, and we see rent is still rising," William Yu, an economist at UCLA Anderson Forecast, said. "We are going to see a lot of high-end apartments coming into the market this year and next. This is basic economic supply and demand – when you see a huge increase of supply, the price will probably be more moderate. The rent growth in the downtown area will be much slower."
The single-family market in the Los Angeles area has also experienced price increases over the past year – between 8% and 9% – while Long Beach had 7.2% growth, according to Yu. Low-tier homes, those priced below $500,000, have been experiencing the more extreme price appreciation due to the fact that their values dropped more substantially than high-tier homes when the housing bubble burst at the beginning of the Great Recession.
Home prices are further exacerbated by a tight market with very little single-family product under construction in most areas, Yu said. This upward pressure on prices is forcing some families to opt for a lower-tier home than they previously would have considered in the past because moderate homes have become too expensive.
While Yu said the new federal tax law will put more money in the pockets of residents, if only temporarily, he explained reductions on the caps for mortgage interest deductions would likely have a negative impact on the housing market. These caps compounded with slowly increasing interest rates means homeowners are more likely to stay in their current homes, as opposed to selling to upgrade, further constricting the low-tier and moderate markets.
But it's not all bad news for the single-family market. "I don't see [the housing market] declining or turning over to a bear market because the whole economy and the nation and California are still doing OK. Especially with the new federal tax cut," Yu said. "So, I would say it will probably slow down, slower than the previous years. But still probably in the positive territory in terms of price growth rate."