Although there is still strong demand to invest in Long Beach multi-family properties, two elements may dampen that demand in the coming months, according to local apartment specialists: rising interest rates and the specter of rent control.
According to Steve Bogoyevac, senior vice president of investments for the Long Beach office of Marcus & Millichap, interest rates for five-year fixed rate loans to purchase multi-family properties ranged from about 3.5% to 3.8% last year. So far this year, they are hovering between 4% to 4.5%. "If you just take the price of a property and plug in the two [different] interest rates, the returns drop pretty dramatically on even that small of a hike in rates," he said.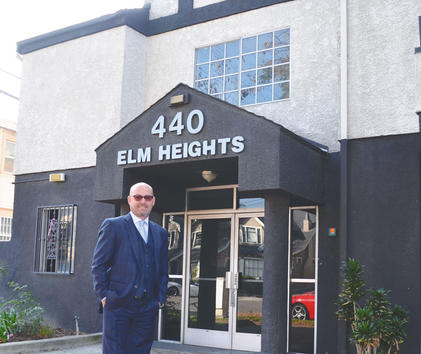 Steve Bogoyevac, senior vice president of investments for the Long Beach office of Marcus & Millichap, is pictured in front of one of his newest multi-family property listings at 440 W. 5th St. The apartment complex features 21 units, with 12 two-bedroom and nine one-bedroom units. It was built in 1987 and is listed for $8.5 million. (Photograph by the Business Journal's Pat Flynn)
Bogoyevac explained that interest rate increases are tied to 10-year treasury note yields, which have increased by about 10 basis points since the start of the new year. "That's going to have a pretty tremendous effect on the value of properties going forward," he said. It is possible that prices for multi-family properties     in Long Beach may be reaching a ceiling, he noted.
Both Bogoyevac and Robert Stepp, principal of Stepp Commercial, have observed that more property owners in Long Beach are making moves to sell their properties to avoid contending with rent control. Efforts by a local housing advocacy organization are underway to collect signatures for a rent control ordinance to be placed on the November ballot.
"There is some uncertainty in the market because of what's happening with the rent control ordinance," Stepp said. "Certain owners are interested in selling now to hedge their bets, especially if they own several properties in Long Beach." However, he added that some Long Beach property owners also own apartment buildings in rent-controlled markets and are comfortable with operating under those conditions.
Property owners are equally concerned by the concept of just cause eviction, which is included in the proposed rent control ordinance, according to Stepp. The ordinance would require landlords to have proof that their tenants were causing disturbances in order to evict them, he explained.
"There are plenty of people who are actively still acquiring properties in Long Beach, but it's going to have a pretty tremendous impact if it passes," Bogoyevac said of the rent control initiative. "I have had some specific owners who are selling just because they don't even want to take the chance." Bogoyevac said he represents some property owners who specifically invested in Long Beach to get out of nearby rent-controlled markets like Los Angeles and Santa Monica. "They are now looking to where they can move next," he said.
Bogoyevac said that, while the inventory of multi-family properties for sale in Long Beach is about the same as at the end of 2017, properties are sitting on the market for longer periods of time. "Last year I talked a lot about inventory being low, but there were still a lot of transactions," he said. "And what was happening was properties were going on the market and being sold so quickly that it always felt like there was no inventory."
Rental rates are continuing to increase, according to Stepp. "There is still a lot of demand. We are still seeing a higher-end demographic moving into the marketplace that can afford these higher rents," he said. "And we're seeing institutional product trading at record-high prices."
Bogoyevac speculated that rental rates in Long Beach may also be reaching a ceiling. "I think we are kind of hitting a number where it's hard to continue increasing rents," he said. The exception is in cases for property owners who are maintaining below-market rents. If those properties received tenant improvements, rental increases could be accomplished, he explained.