Strong demand for all types of commercial real estate in Long Beach continues to put upward pressure on rental rates. Rents increased for office, retail and industrial space during the second quarter, according to reports by leading firms.
Office
"We're definitely seeing pricing continue to increase in terms of asking rents and signed-deal rents," David Smith, senior vice president at CBRE, said. "We're not looking at dramatic increases, but we have seen steady increases over the last couple of quarters and I would expect that to continue for all products."
With few large blocks of office space available, Smith said leasing activity by small businesses has been stronger than among larger tenants in both the downtown and suburban markets of Long Beach. This activity is prevalent in buildings that have been renovated into a more creative work environment such as The Hubb at 100 W. Broadway, and 211 Ocean, Smith explained.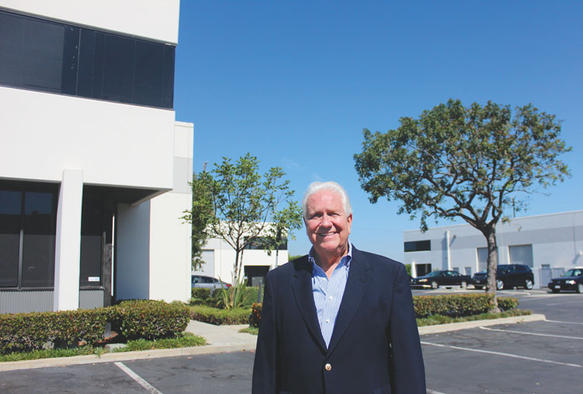 Patrick O'Healy, president of O'Healy Commercial Real Estate Services, is pictured at the Signal Hill Technology Park, which he owns and manages. He said the park has 11% vacancy, with the available space currently being renovated. (Photograph by the Business Journal's Brandon Richardson)
Continued conversion of office space into residential units and hotels will reduce vacancies twofold, Smith said. When an office building is converted into another use, that space is taken off the market, thereby reducing vacancy. Additionally, displaced businesses that desire to stay in Long Beach would take up occupancy in other buildings, which reduces the vacancy rate further, he explained. With several office buildings such as The Edison having already been converted into residential units and with other projects underway, including a former Verizon office building at 200 W. Ocean Blvd., Smith said lower vacancies could mean quicker rent increases.
During the second quarter, asking lease rates increased 1% downtown and 2% in the suburban market, according to a Cushman & Wakefield report. Absorption of available space was down nearly 16,600 square feet downtown, while the suburban market was up almost 5,200 square feet. The report shows overall vacancy in downtown at 18.3%, with the suburban market vacancy at 9.2%. Combined, office vacancy in Long Beach was 15.4%, down slightly from 15.8% the previous quarter.
"Building owners are seeing the effects of higher minimum wage and price increases impacting their costs to deliver services in the building, which is part of the rental rate increases," Robert Garey, senior director at Cushman & Wakefield, said. "There are certain elements of the rental rates that are services – for example, window washing, landscaping, janitorial services – that are all part of the rent. Those costs have been rising."
One of the major question marks for the office market is due to decisions to be made by Molina Healthcare, Garey said. The health care company occupies a lot of office space in the city, but Garey said it is unclear how much they will continue to fill in the future. He explained that a lease is coming up at 1500 Hughes Way and the company has not decided whether or not to renew.
Of all the downtown office space, the World Trade Center building is struggling the most, according to Toliver Morris, president of William Morris Commercial. He explained that the building has almost 250,000 square feet of vacant office space, due in large part to Molina and the Federal Bureau of Investigation leaving the building. The building's high vacancy rate is bringing down overall market numbers, he added.
"The World Trade Center has a location that is not central. Everyone wants to be close to amenities and wants to be in the heart of a bustling urban metropolis," Morris said. "The World Trade Center is off in the wings and has its challenges as it relates to amenities."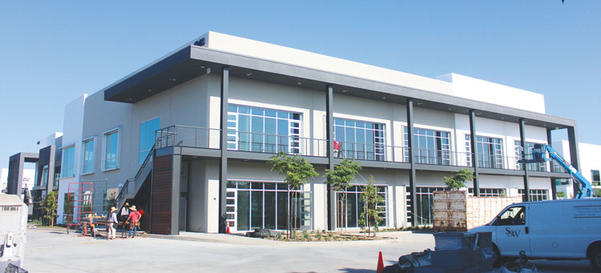 Moffatt & Nichol Purchases Building At The Terminal For New Headquarters
Long Beach-based engineering consultant firm Moffatt & Nichol, which was founded in the city in 1945 and currently operates 36 offices in seven countries, closed on the purchase of a 25,000-square foot building at The Terminal at Douglas Park on July 27. The building is part of phase two of the development, which consists of a pair of two-story, 25,000-square-foot buildings and should be completed within the week, according to Lee & Associates Principal Jeff Coburn. The ground floor of the second building is currently in escrow with an undisclosed company. Once the buildings are completed, Moffatt & Nichol and other owners may begin the interior build-out of their respective spaces. (Photograph by the Business Journal's Brandon Richardson)
Aside from the World Trade Center, Morris said Class A buildings in the downtown area are doing well, with Shoreline Square are over 90% leased and two deals in the works to take Landmark Square into the 90% range. Landmark Square is leading the area in terms of rental rates, achieving more than $3 per square foot, he added. The average rent for Class A space in the downtown is $2.90 per square foot, Morris said. Creative space is hitting the $2.75 per-square-foot mark, while the rest of the Class B market is closer to $2.30 per square foot, he explained.
Long Beach office space is seen as a good value compared to surrounding cities, Morris said. Because of this, companies in El Segundo and other coastal cities to the north that are more expensive have been showing greater interest in Long Beach, he explained.
In terms of office building sales, Patrick O'Healy, president of O'Healy Commercial Real Estate Services, said the suburban Long Beach and Signal Hill markets are very tight. However, he said many small businesses are opting to purchase office space rather than rent. With a United States Small Business Administration loan, a business owner can purchase a small office space and have a lower after-tax cost than if they were to lease, he explained.
O'Healy owns the Signal Hill Technology Park on the corner of 29th Street and Orange Avenue, which includes office and warehouse space. He said he had been having trouble leasing space at the center until he made significant improvements, including exposed steel ductwork and installing LED lighting and skylights. Once the improvements were made to vacant spaces, it was leased quickly, he said. The park currently has an 11% vacancy and the unleased space is being renovated, with companies already showing interest, O'Healy added.
"My biggest problem working in the marketplace is a lack of inventory. I've been in the market 39 years and I've never had less inventory," O'Healy said of the overall office market. "I don't compete with national and international companies for high-rise or mid-rise office – that's never been my jam. I've tended to focus more on things that are for sale, although at Signal Hill Technology Park we've got a high degree of leasing and the response to our space has been astounding."
Industrial
The regional industrial market continues to have record-low vacancy rates, with demand outstripping supply, Lance Ryan, senior vice president of marketing and leasing for Watson Land Company, said. In the South Bay area and the region as a whole, developable land is hard to come by, he explained. Land that is available often requires remediation and lengthy approval processes, which means relief is unlikely for the tight market, Ryan added.
Record port cargo numbers and increasing e-commerce sales are the main driving force behind the strong demand for industrial space in the South Bay, Ryan said. He attributes the strong economy to consumers' willingness to spend, which is keeping online sales up and making distribution centers a major industrial space occupier.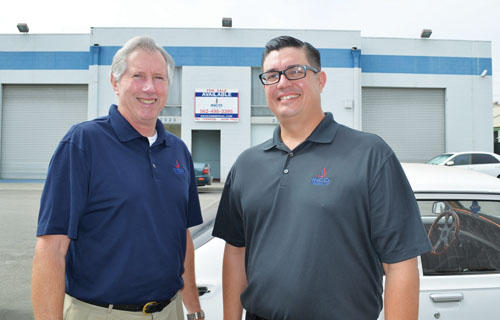 Bill Townsend, president of INCO Commercial, and Jay Price, an agent at INCO, are pictured at an industrial property located at 2020 W. 15th St. on the Westside. Townsend said his office still receives daily calls for marijuana businesses looking for industrial space in Long Beach. (Photograph by the Business Journal's Pat Flynn)
"There's no doubt that Long Beach and the South Bay – coastal markets where the population is – are always going to remain very tight in terms of availability," Ryan said. "The market, of course, is cyclical, so the expectation is that we will enter a period where demand will back off a little bit and supply and demand will become a little bit more in balance."
The industrial market has had year-over-year increases in rental rates, and continued demand coupled with 1% vacancy will ensure upward pressure on pricing even further, Ryan said.
According to a second quarter market report by Lee & Associates, average rents are 97 cents per square foot, up from 92 cents in the first quarter. Brandon Carrillo, a principal at Lee & Associates' Long Beach office, explained that, once fees are included, rents are well above the $1 mark at a Class A industrial property. Average sales prices are up to $178 per square foot, from $169.02 in the first quarter. Sales transactions during the second quarter were up to more than $281 million, the report indicated.
Carrillo said that, with the port driving much of the industrial space use, there are concerns about what the impacts of the China-U.S. trade war and other tariffs could be on imports. A national economic correction is another worry that is playing a role in the industrial market, Carrillo added.
"Each correction looks different and they never come about the same way. Especially with the type of president that we have – a bit erratic and not consistent – it's very troubling for markets," Carrillo said. "Markets want consistency and repetitiveness because they can make business decisions easier that way. And when you have a leader who's not, business owners get concerned about what the repercussions are and how that trickles down to trade volume and our markets here."
Bill Townsend, president of INCO Commercial, agreed, saying the trade war could have a negative impact on industrial space. However, he noted that the lack of available space is likely to ensure the Long Beach and South Bay markets remain strong, regardless. Even with the effects of rising interest rates, Long Beach and the South Bay will continue as one of the strongest industrial markets in the country, he added. Townsend noted that, if interest rates continue to rise, sales price increases could begin to stall.
Ever since Long Beach voters approved the cultivation and sale of medical marijuana in the city in November, cannabis businesses have been very active in the industrial areas, Townsend noted. "We're getting calls daily on the properties we have listed in the green zone for cannabis buyers," he said. "It's not at the peak it was last summer but there are still plenty of buyers looking at these properties."
Cannabis business owners are offering much higher prices than traditional industrial businesses, sometimes up to 40% per square foot more, Townsend said. Because of this trend, he explained that traditional industrial businesses are looking outside of the green zones where marijuana businesses are allowed to be located.
Retail
"From an investment perspective, we've continued to see a lot of interest [from] capital investors that are non-traditional Long Beach investors but who are excited and drawn to the area by what the city has been doing," Justin White, managing partner for Centennial Advisers, said. "They're seeing opportunity and they want to be a part of what's going on in Long Beach."
Retailers are still combating e-commerce and the Amazon effect, so many new businesses are providing experience- and service-driven models, White explained. Businesses that offer customers something they can't receive with the click of a mouse are filling in spaces of those that have closed up shop. Talks about the "death of retail" are inaccurate, White said, adding that the industry is simply transforming.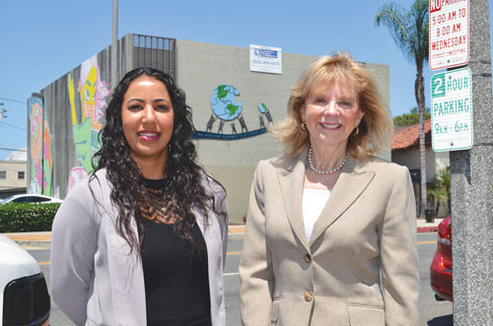 President Becky Blair, right, and Associate Vice President Sheva Hosseinzadeh of Coldwell Banker Commercial BLAIR WESTMAC are pictured at 741 Atlantic Ave., a property currently owned by a nonprofit organization. Blair said new mixed-use projects in Downtown Long Beach are having a positive impact on the retail market. (Photograph by the Business Journal's Pat Flynn)
Retail space vacancy rates in Downtown Long Beach are at 4.3%, while the suburban market is 5.4%, according to a second quarter report by Lee & Associates' Principals Noel Aguirre and Sean Lieppman. Average rental rates are up, with quoted rates in downtown at $2.09 and suburban rates at $2.03. The report shows that, in the past year, average sales price per square foot is up to $296 and sales volume reached $24 million, whereas the five-year average is $5.3 million.
The inclusion of many mixed-use projects in Long Beach's current downtown development boom is a large factor in much of the retail interest, according to Becky Blair, president of Coldwell Banker Commercial BLAIR WESTMAC. However, Blair noted that the amount of space that will come online in the next several years could pose a challenge in being filled.
"What's good about the trend that's happening now is that retailers in the past would look at demographics in these urban areas like Long Beach that were two or three years behind," Blair said. "Today, a lot of developers are using transitional data, showing area pedestrian counts and new developments that are surrounding the area to give a more predictable measure of future housing growth that will spur on demand for retail."
New downtown retail amenities for current and future renters are attracting the interest of people outside of Long Beach who are looking to relocate, Blair said. Both mixed-use and standalone retail stores are of great value to residents, whether they rent or own their homes, which is why the residential development boom is keeping retail demand strong and why lease rates continue to creep up.
The Streets, formerly known as City Place, recently celebrated the openings of contemporary restaurant Table 301, Mediterranean eatery Ammatoli, Poki Cat and Loose Leaf Boba Company. Soul food joint Georgia's Restaurant, Panini Kabob Grill, Tastea, hand-rolled sushi spot Temakira, Spavia day spa and SchoolsFirst Federal Credit Union are all recently announced tenants for Burnham-Ward Properties' Long Beach Exchange retail center at Douglas Park. The 2nd & PCH retail center construction is well underway and anticipated to open mid to late next year. Aside from anchor tenant Whole Foods, no announcements have been made regarding tenants for the project.
"When we look long term and we look at all the things the city is doing and just the positive vibe that Long Beach has overall, I think the outlook is really strong," White said. "For the most part we're going to continue to see a strong appetite for owning buildings in Long Beach."