A vacant eight-acre parcel of land next to the closed-down Fresh & Easy at the corner of Cherry Avenue and Crescent Heights Street may be transformed in coming years into a mixed-use development with luxury apartments, retail and community space.
Signal Hill Petroleum (SHP), which owns the Fresh & Easy property and adjacent land, has entered into an exclusive negotiating agreement with the City of Signal Hill to purchase parcels surrounding the property. Assuming a deal is signed within the coming months, Signal Hill Petroleum will begin fleshing out its conceptual plans for the site into reality.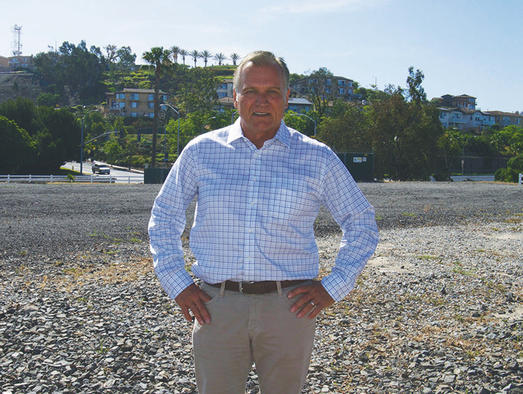 Kevin Laney, vice president of development for Signal Hill Petroleum, stands in the midst of a vacant parcel of land off of Cherry Avenue between Burnett and Crescent Heights streets. The oil company is planning to pursue a mixed-use development on the site. (Photograph by the Business Journal's Larry Duncan)
Renderings by architectural design and planning firm KTGY reveal a development, tentatively dubbed Heritage Square, that would hearken back to the history of Signal Hill as an oil town but also integrate modern elements.
"The idea behind this is very open concept," Kevin Laney, vice president of business development for SHP, said. "It's not your run-of-the-mill strip center. . . . That's not what we're going for here."
Tentative plans for the site include 35,000 to 50,000 square feet of retail, which will be mostly food-oriented and accessible and open to the surrounding Cherry Avenue, Crescent Heights Street and Burnett Street.
SHP hopes to develop a two-story restaurant fronting the corner of Cherry Avenue and Burnett Street for "a very reputable restaurant group" that has a location in Long Beach and has expressed interest, Laney noted. A covered community space will serve as the development's center.
"We and the city very much feel this needs to be kind of the town center," Laney said. "We have worked hand-in-hand with the city so far, and we will moving forward, as well as with the community."
At the rear of the site, SHP hopes to create a luxury apartment complex with potentially 200 units wrapped around a four-story garage to serve both residents and shoppers, according to Laney.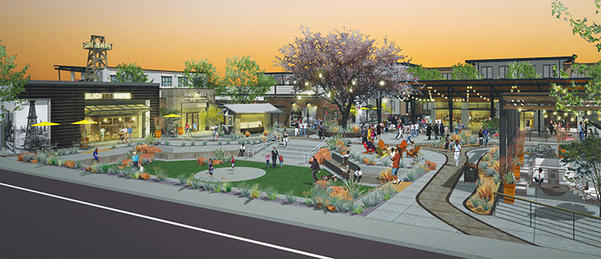 Signal Hill Petroleum's proposed project off of Cherry Avenue would include a new market where Fresh & Easy once operated, as well as an adjacent community center. This conceptual rendering shows what such a center might look like. (Rendering provided by Signal Hill Petroleum)
SHP is already in negotiations with multiple boutique grocers for the former Fresh & Easy location. "The residents of the hill are very excited about having another nicer market coming in here," Laney said. "It will be somebody that has a lot of fresh fruits and vegetables, probably a deli section, probably an outdoor dining patio [and] that sort of thing."
Because SHP already owns that site, the market will open in advance of the new development, Laney noted.
Perhaps unsurprisingly, given the city's history, there are several oil wells on the site that need to be abandoned (properly closed off) or re-abandoned, Laney said. "They are kind of scattered throughout. And there will probably be a couple of producing wells that are retained that stay within the project, which is something that we've done all over town," he said. This remediation work, which Laney pointed out SHP is well versed in, must take place before the development breaks ground.
Due diligence work associated with seismic assessments must also be undertaken. "Right now we are working on a fault study," Laney said. "The Cherry Hill Fault, which is a sliver of the Newport Inglewood Fault system, runs through Signal Hill. . . . You have to locate that fault to know where it is in proximity to the building you are going to build."
An agreement with the city for the purchase and development of former redevelopment agency-owned parcels within the proposed development footprint is being drafted, according to Laney. "I would hope we would have a signed agreement within six to nine months. . . . Then we are full steam ahead, actually investing in construction drawings," he explained.
"Obviously, we want to respect the heritage of Signal Hill, and that is kind of the main theme of the entire project," Laney said.