Commercial real estate is expected to experience continued increases in rental and sale rates, as demand remains strong, according to industry experts. Vacancy rates have decreased year over year for office and industrial space, causing upward pressure on rental rates across the board. Vacancy and lease rates for retail space, despite perceived challenges, have remained relatively level.
Office
"I would say, overall, in Long Beach for 2017, there were a lot of positive signs," Dave Smith, senior vice president of CBRE Inc., said. "Rental rate growth was very good in both suburban and Downtown Long Beach. Overall absorption was OK in both markets, though I think we'd like to see better velocity in both."
According to Smith, Downtown Long Beach vacancy rates overall are 14.7%, with 11.2% in Class A space and 18.5% in Class B. However, he said, those numbers are expected to decrease significantly this year. During the fourth quarter of 2017, Smith noted large leases by Novogradac (15,000 square feet) and Pacific6 (9,000 square feet) at 211 Ocean, as well as two substantial leases by the State of California at Shoreline Square, which brought occupancy up significantly.
The suburban office market vacancy is "very healthy," Smith said, citing an overall vacancy rate of 8.3%. Class A space vacancy is at 5.9%, while Class B space sits at 10%. He said very few large blocks of space are available in the market and noted the uncertainty of Molina Healthcare's future at 1500 Hughes Way where the company occupies around 275,000 square feet of office space.
Rates in the downtown office market are at $2.85 cents per square foot for Class A space and $2.09 for Class B, according to Smith. Suburban office space rates are $2.60 for Class A and $1.93 for Class B; however, Smith noted that the Class B numbers are skewed due to some low-rent buildings that bring the average down.
"In Downtown Long Beach . . . everyone seems to want some form of that creative space, and the traditional Class A model of space is not really what is desired anymore," Smith said. "Suburban Long Beach . . . tends to be more of a tenant base that really desires mobility and freeway access, so that is more of a traditional tenant type. I think the desire is definitely there for creative type space but they are more focused on it being functional."
Jeff Coburn, a principal at Lee & Associates Commercial Real Estate Services, noted strong demand for owner-user space but that supply is down for that product type. He cited The Terminal at Douglas Park, an office condominium development currently underway, and its success as evidence of the market's need for more owner-user space.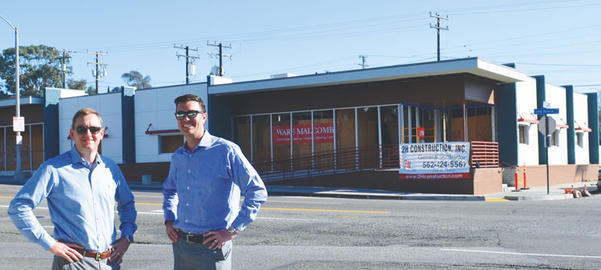 Shaun McCullough, left, and Jeff Coburn are principals at Lee & Associates Commercial Real Estate Services in Long Beach. They are pictured at 3200 Long Beach Blvd., where Starview Behavioral Health Group leased 14,866 square feet for a behavioral health urgent center. 2H Construction, a Signal Hill-based company, is the developer and owner of the property. (Photograph by the Business Journal's Pat Flynn)
The Terminal project consists of four two-story, 25,000-square-foot buildings in which companies can purchase space. Coburn said phase one of the project, consisting of two buildings, is sold out. Phase two, which is still under construction and expected to come online in May, has an entire floor (about 12,500 square feet) in escrow, with a full building very nearly under contract, which would leave only one floor unsold.
"It's just a tight market. You look at the way the economy is going and you look at unemployment being down," Coburn said. "I think in 2018 we're already seeing a lot of activity in our business, so I think it's going to be another strong year."
The most notable sale during the fourth quarter, according to Coburn, was office buildings at 6615-6695 E. Pacific Coast Hwy. totaling nearly 105,668 square feet, which sold for $25.5 million. Other notable sales included the purchase of 7,000 square feet at 3447 Atlantic Ave. for $7.7 million and 8,382 square feet at 3111 Long Beach Blvd. for $3.885 million.
Industrial
Industrial real estate in the area continues with historical low vacancy at around 1% as demand remains strong, especially in Long Beach where medical marijuana growers, distributors and testers are seeking space.
"It's certainly difficult for the non-cannabis [tenant] to compete because the prices are much higher," Bill Townsend, president of INCO Commercial, said. "We're working with a number of clients looking in other areas for space that's going to work for them."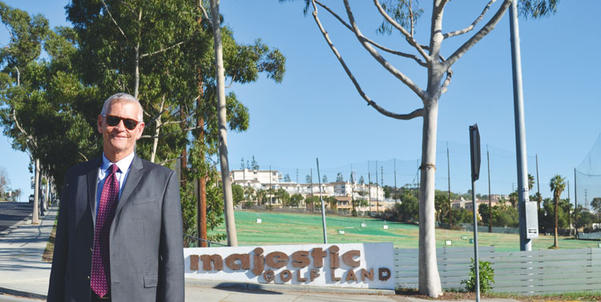 John Eddy (pictured) and Becky Blair, executive vice president and president of Coldwell Banker Commercial BLAIR WESTMAC, respectively, recently closed a $7 million deal at 2550 Orange Ave. The property is currently a golf ball driving range but the new owner plans on developing between 115,000 and 140,000 square feet of industrial space. (Photograph by the Business Journal's Pat Flynn)
Townsend explained that non-cannabis tenant whose leases have come up for renewal are being denied, as property owners are opting for the higher rents offered by marijuana businesses. On the sales side within zones that allow cannabis tenant, Townsend said some deals have closed for as much as $300 to $400 per square foot. By comparison, Lee & Associates reports an average sales price of $187.26 per square foot during the fourth quarter of 2017.
The marijuana craze is affecting not only the Westside of Long Beach, but also the Cherry Avenue corridor and North Long Beach as well, according to John Eddy, executive vice president of Coldwell Banker Commercial BLAIR WESTMAC. He explained that property owners that leased to marijuana businesses in 2012, before Long Beach banned the sale and production of the substance, had negative experiences.
"The experience that my clients had was that those type of tenants came in and made significant modifications to their buildings in both electrical power and plumbing, and the result for the owner was very harmful," Eddy said. "So most would not entertain leasing to that type of use again."
Outside of marijuana's impact on industrial real estate, Eddy said the sector is very fluid and booming. He and Coldwell Banker President Becky Blair recently closed a deal at 2550 Orange Ave. at Willow Street for more than $7 million. Currently, the site is a driving range, Majestic Golf Land, but the buyer is planning to develop between 115,000 and 140,000 square feet of industrial space.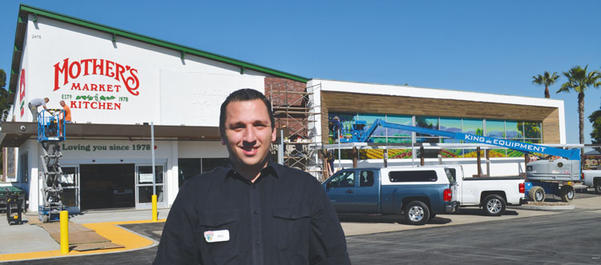 Mother's Market & Kitchen Opening February 17th In Signal Hill
Eric Katz will serve as store manager of Mother's Market & Kitchen – a natural foods market and restaurant – at 2475 Cherry Ave. in Signal Hill. The location is the brand's first in Los Angeles County and will celebrate its grand opening with a ribbon-cutting ceremony on Saturday, February 17. The company is headquartered in Orange County where it has seven locations. (Photograph by the Business Journal's Pat Flynn)
The strong demand for industrial space can be largely attributed to record-breaking activity at the ports of Long Beach and Los Angeles, according to Lance Ryan, executive vice president and COO at Watson Land Company. He explained that an increase of inbound containers through the ports due to the changes in retail and e-commerce have greatly increased the need for fulfillment and distribution centers.
The extremely tight market has resulted in tenants requesting early renewals on their leases for fear of being displaced. The results are high retention rates for Watson, Ryan said. In addition to increased sales prices, lease rates have also been forced up by high demand.
"[Lease and sale prices] have both exceeded peak levels, our prior peak being roughly 2007 and 2008 for leasing and sales, whether it's brand new product or stuff that was built 40 years ago," Ryan said. "All of them have reached higher lease rates than what we have ever seen historically."
Both newer and older product lease rates saw about a 10% year-over-year increase from 2016 to 2017. Ryan said newer product – buildings constructed in the last 10 years – have hit prices in the mid 80 cents-per-square-foot range. He explained that all signs point to continued increases in sale and lease rates, as it is impossible to develop enough industrial space to meet demand in Long Beach and the South Bay.
Retail
Vacancy rates for retail space in Long Beach are 4.7% in the downtown and 3.3% in the suburban market, according to Lee & Associates. Both markets have asking lease rates just above $2 per square feet, though some areas, such as Belmont Shore, are up as high as $4 and $5 per square foot.

Westland Real Estate Group announced the development of a 26,880-square-foot retail center at 6151 Atlantic Ave. between Atlantic and Linden avenues and Harding and East 61st streets, the project will replace an existing center, as well as fill a vacant property formerly owned by the city. Most of the current tenants, including 7-Eleven and WaBa Grill, will remain in the center. (Rendering courtesy of Westland)
"It's always changing. There are definitely silver linings in the general sentiment of retail. You read the news and the sky is falling, but I think retail is pretty stable," Noel Aguirre, senior associate at Lee & Associates, said. "On a macro level, the bigger companies are the ones being hit more [with decreased sales]. But developers just reposition those bigger blocks and backfill with medical or food halls or residential – depending on how it's laid out, there is always potential for that."
On February 1, 2nd & PCH, a 220,000-square-foot retail center, broke ground at the former location of the SeaPort Marina Hotel. The project joins the 265,000-square-foot Long Beach Exchange development at the intersection of Lakewood Boulevard and Carson Street as a highly anticipated retail center at a previously underutilized location.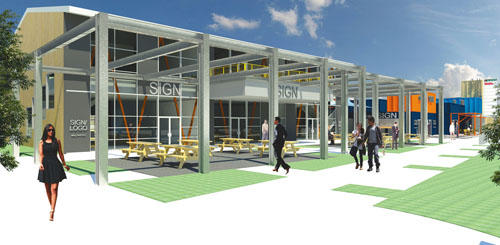 The Westland project will incorporate shipping containers and other modern building styles in its design, and is currently in the entitlement phase. "We are excited about The Uptown project. This side of Long Beach deserves a development like this one," Westland President Yanki Greenspan said. "Sometimes neighborhoods just need a developer to come in and look past what is and see what can be." (Rendering courtesy of Westland)
Orchard Hardware Supply has already opened at Long Beach Exchange, with other retailers such as In-N-Out Burger, Nordstrom Rack and Whole Foods 365 preparing to open this year. Tenants of the 2nd & PCH center have not been announced but developers are promoting an experiential shopping experience with an emphasis on dining with a view of Alamitos Bay.
Aguirre said developments such as The Uptown and a project by LAB Holdings will transform North Long Beach along the Atlantic Avenue and South Street corridors, bringing much needed retail space to the area. He noted the success of SteelCraft as a hotspot for foodies in the historically bedroom community of Bixby Knolls.
"Belmont Shore, a lot of that is what the general public sees Long Beach as – beachy with walkability, restaurants and entertainment," Aguirre said. "There has been some rollover but, historically, once a tenant leaves, you have a tenant to backfill it. It's typically restaurants with some alcohol content to it."
Paul Phillips, a broker associate with INCO Commercial, focuses his efforts on East Long Beach, and said space is very tight with prices "way up" from where they were previously. In the traffic circle area, at 4600 E. Pacific Coast Hwy., where he has 4,000 square feet available, the asking rate is $3.50. However, at a recently vacated location at 3960 Studebaker Rd., the rate is $2.25 per square foot.
"It's hit or miss. It really depends on the timing and who's looking, but it still takes a couple months to get them full," Phillips said. "It's not like an apartment where you can backfill it in a few days."
"The whole landscape of retail has changed – you can buy anything online through your phone," Aguirre said. "You have to create an environment and a sense of community to drive the consumer [to a retail location]. The consumer has gotten more sophisticated. Brand loyalty and all that is not what it used to be."