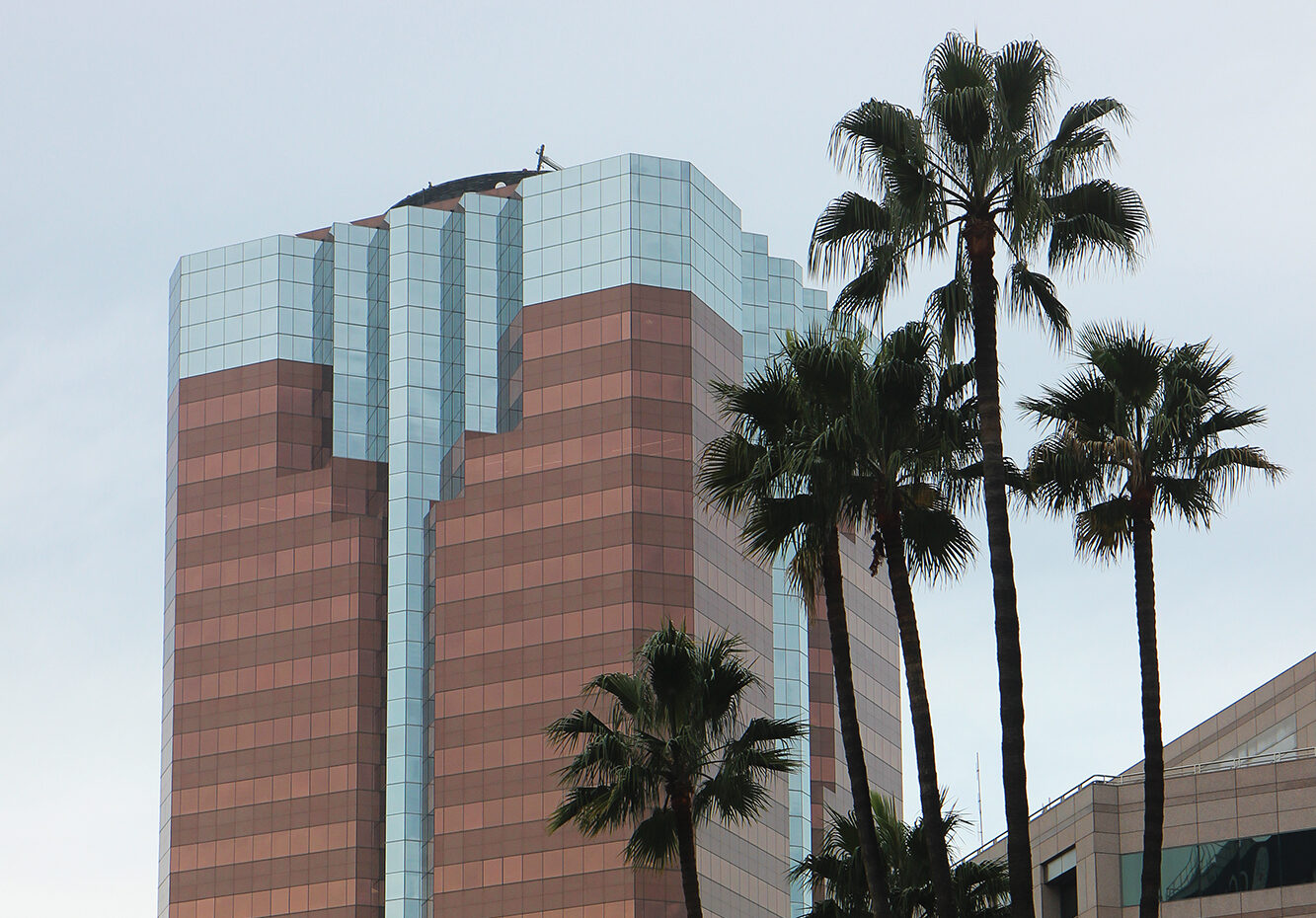 As Long Beach and the world prepare to enter year three of the coronavirus pandemic, local real estate experts predict 2022 will be a year of rebound and growth for the retail and office sectors—which faltered as a result of the virus—while industrial real estate continues to thrive amid the chaos.
Retail
After taking a pounding due to forced closures, retail real estate has rebounded and is expected to have a strong 2022, according to Pat Weibel, senior vice president at SRS Real Estate Partners. Weibel said there continues to be demand for high-quality retail space in Southern California, which is backed by the recent sale of Long Beach Exchange and the offers he has seen on the Vons in the East Village.
The Vons location was listed for $43.3 million in November, and Weibel said there have been numerous offers on the property. A buyer is expected to be announced before the end of the month, he said.
Retail that proved itself throughout the pandemic—namely grocery stores and markets, fast and fast-casual food, and outdoor retail centers—continue to be attractive to investors, Weibel said. Drug stores also are popular retail options, Weibel noted, saying the recent announcement that CVS is closing nearly 10% of its stores over the next three years has caused some movement in the market despite the company not announcing which locations will be shuttered.
For these types of locations, leasing teams have seen big growth in rents and sales prices, Weibel said. The limited availability in Southern California continues to drive rents up for national chains.
"Groups like In N Out, Chick-fil-A, Raising Cane's, Starbucks—drive-thru users—are fighting each other for that space," Weibel said. "Rent has gone up a good amount and it's been a very, very competitive space."
Even before the pandemic, there have been closures of some large big-box stores locally and across the country, including K-Mart and Best Buy. And COVID-19 did not help many retailers.
"Throughout the pandemic, there has been some big-box vacancy—things like movie theaters and other large box tenants have gone out of business," Weibel said. "But leasing teams have really shown the ability to backfill those mid- to large-box spaces with new and emerging tenants.
"So even where there have been sort of mass closures announced, we believe there is opportunity to fill those voids with new and exciting retail."
New fitness concepts and small-format grocers have proven ideal for backfilling mid-size vacancies, Weibel said. Major fitness groups also are taking over former big-box locations, as is the case with LA Fitness, which is moving into the former Best Buy at Marina Pacifica in Southeast Long Beach.
Medical uses such as dialysis and plasma centers also are taking more retail space, Weibel said, as are churches in some tertiary markets.
In general, Weibel said the U.S. as a whole is "over-retailed," which has created other opportunities, namely the development of additional housing on parcels occupied by outdated retail. The Marina Shores retail center in Long Beach, for example, recently sold to developer Onni Group for nearly $68 million. The firm has plans to redevelop the property with multifamily housing that could introduce hundreds of units to the area.
Looking forward, Weibel said he expects robust demand and transaction volume through at least the first half of 2022. Nontraditional uses will continue to grow strong, but the resilience of the market will continue to prop up traditional brick-and-mortar spaces—for good operators.
"Target is a great example of a really strong operator. We've seen them change store format, product offerings and how they run their business," Weibel said. "[Good] operators are being very creative in how they service their clients and continue to get customers in the door."
Office
Office real estate has been a rollercoaster throughout the pandemic, with mini cycles following along with the spike and decline in cases, according to Jason Fine. Many office-based operations can have some or all staff work remotely and remain productive, which has cast a continued uncertainty.
"It was touch and go in 2021. I guess you could say peaks and valleys," Fine said, noting that each variant saw tenants pull back, sometimes canceling deals. "Downtown took a bit of a hit."
Vacancy in Downtown offices increased from about 23% in the third quarter to 26% at the end of the year, Fine said. Buildings that have undergone renovations into more creative and modern spaces such as 211 E. Ocean Blvd. continue to perform well, remaining nearly fully occupied.
For the most part, Downtown Class A buildings such as the World Trade Center and Shoreline Square have maintained decent occupancy rates, at around 80%. Landmark Square, meanwhile, has taken a bit of a hit, Fine said, noting that the building's occupancy is around 65% after several tenants downsized or moved out.
"The overall sentiment was that tenants were kind of steering away from [high-rise offices]," Fine said. "But Downtown Long Beach is really well positioned for this year, and I'm optimistic with the growth and development happening."
The vacancy rate in the suburban market is 34%, virtually unchanged from 34.3% in the third quarter, he said. Suburban vacancy is led by two properties: 384 Kilroy, a 138,000-square-foot building previously occupied entirely by Epson America but that now sits 100% vacant; and 4801 Airport Plaza Dr., a 130,000-square-foot building that previously served as the interim headquarters for the Port of Long Beach, which is now 75% vacant.
Market rents increased in both markets by three cents per square foot, to $2.91 in Downtown and $3.03 in the suburbs, Fine said.
Once companies have a better grasp on when—or if—employees will return to the office in full, the market can begin to work itself out. Amid the current surge of the omicron variant, however, the uncertainty continues, Fine said.
Many office-based businesses have determined hybrid models with a mix of in-person and remote work will stay long-term, meaning the company needs less space as fewer employees are in the office at a time. Fine said the hybrid model will likely remain for many. However, businesses have also rethought the use of space, opting for more open and collaborative areas as well as amenities, which will in part offset the need for less space, Fine said.
How these trends will play out in the long run remains to be seen, but Fine remains optimistic for Long Beach's office market's future.
"It can only go up from here," Fine said. "I think 2022 will be a year of getting back to the office."
Industrial
The industrial real estate market remains the hottest sector in the South Bay and across the U.S. In the third quarter of last year, Cushman & Wakefield reported a record 521.4 million square feet of industrial space was under construction nationwide, the first time the pipeline has exceeded 500 million square feet.
In Long Beach, millions of square feet of industrial space have been delivered over the last six years, including the recent completion of a 415,320-square-foot warehouse in North Long Beach and the sprawling Douglas Park. Three more industrial buildings are on the way at the southwest corner of Spring Street and Orange Avenue on the Long Beach-Signal Hill border, ranging from 36,000 to 68,000 square feet.
But space for new industrial construction is scarce in the South Bay, and demand continues to be strong, especially for operations related to goods movement and Long Beach's budding space sector. The industrial vacancy rate in the South Bay is just below 3%, according to John Eddy, executive vice president with Coldwell Banker Commercial BLAIR WESTMAC.
"I've never seen a market so fluid in the 35 years I've been in this business," Eddy said. "By the time I price out a property, within a very short time period, the value may have fluctuated—and not downward."
High demand and low vacancy continues to put upward pressure on asking rents and sales prices, Eddy said. In Long Beach and Signal Hill, the average lease rate for a space under 5,000 square feet is between $1.15 and $1.55 per square foot, he said, while larger spaces rent for $1 to $1.50 per square foot.
Eddy said he is working with a client on the lease of 60,000 square feet in Carson for between $1.20 and $1.30 per square foot. He leased the same building in 2018 for 75-80 cents per square foot, he said.
Sales prices for industrial properties also have a wide range, from $215 to $375 per square foot, according to Eddy. The reason for the extremes is that cannabis operations are willing to pay exorbitant amounts for space due to the fact that they are limited by cities' regulations on where they can be located.
"When I'm working with a client, I give them two tables—regular uses and cannabis," Eddy said. "We can put a property on the market and a buyer will put an offer into the seller that far exceeds [our price] just to secure the building. It's a frenzied pace."
Looking ahead, Eddy said he expects logistics and goods movement related operations to continue to have strong demand, especially given the continued congestion at the Port of Long Beach, which has seen record cargo volumes for months. The burgeoning space sector also is likely to continue playing a major role in Long Beach's industrial real estate, particularly Relativity Space's ongoing conversion of the former Boeing C-17 site.
"I think we're in for another year of growth," Eddy said. "I don't foresee 2022 having any downturn. All indicators are that [this year] should be as robust as 2021."